Nearly 100 attendees filled the Social Hall at Mastick Senior Center on Saturday afternoon, October 15, for in-person Mayoral and City Council candidate forums for the November General Election. Organized by the Alameda Post, the forum was hosted by publisher Adam Gillitt and moderated by reporter Karin K. Jensen.
Alameda County's Registrar of Voters recently mailed ballots to all registered voters, and the General Election will be held less than three weeks from now, on November 8. Recently, other groups have held candidate forums over Zoom (LWVA Council, LWVA Mayor, BWA/CASA Mayor, BWA/CASA Council) which focused on topics of interest to their organizations. Saturday's event was the only forum for this election held in person, and the only event produced by a news organization covering a range of topics of interest to local voters.
Mayoral Candidates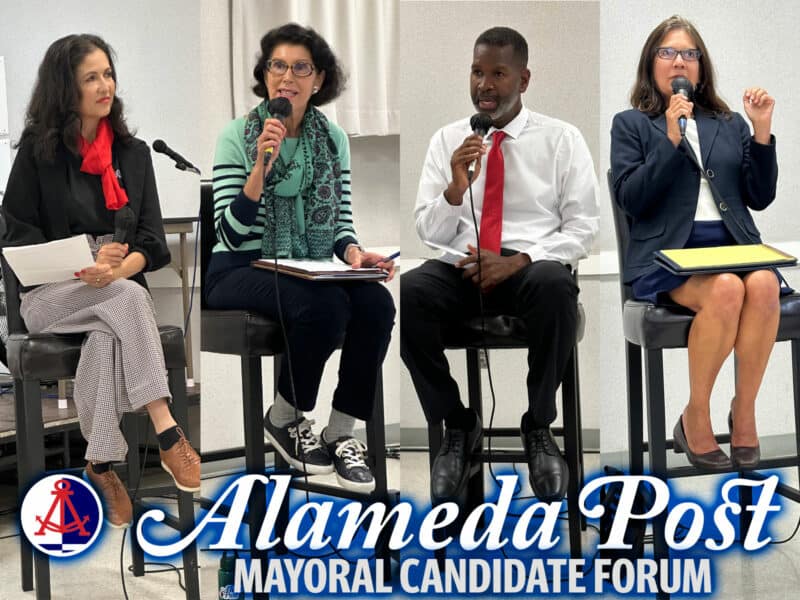 Mayoral candidates—incumbent Mayor Marilyn Ezzy Ashcraft, Councilmember and former mayor Trish Herrera Spencer, and business owner Barack D. Obama Shaw—discussed a variety of topics during the forum. The candidates started with a one minute introduction about why they are the best candidate for mayor, and then proceeded to answer questions prepared by the Post's editorial team or suggested by readers.
Traffic management: Ashcraft favored reducing single-occupancy vehicle trips by strengthening public transit and securing funding for additional ferry and water taxi service. Obama Shaw called for a bicycle/pedestrian pathway on Pacific Avenue and suggested greater cooperation with the Alameda Police Department. Spencer pointed out that a majority of forum attendees drove to the event.
Safety in Alameda: Each candidate expressed a desire to closely collaborate with the Alameda Police Department, and in particular with Chief Nishant Joshi. Spencer discussed the importance of City Council supporting Joshi's recommendations as well as Council's recent debate over implementation of license plate readers. Obama Shaw suggested creating a neighborhood watch program and increasing respect and honor for police officers, while Ashcraft celebrated a diverse academy of new police officers coming to Alameda.
Addressing homelessness: Spencer brought up her critical efforts that led to the creation of Alameda's CARE Team, and hailed the partnership with Alameda Family Services as key to connecting people with resources. Ashcraft highlighted the Alameda Wellness Center and Dignity Village near the College of Alameda campus and said Spencer was part of a "small minority" that has fought against their implementation. Obama Shaw suggested establishing a program to better understand homelessness and connecting the unhoused not only to resources but also to themselves.
Other topics discussed include strategies to encourage civil discourse, successfully retaining city managers, and what candidates learned from a mistake they made. The full video of the Mayor forum is now available, indexed so viewers can choose which questions and responses they wish to view.
City Council Candidates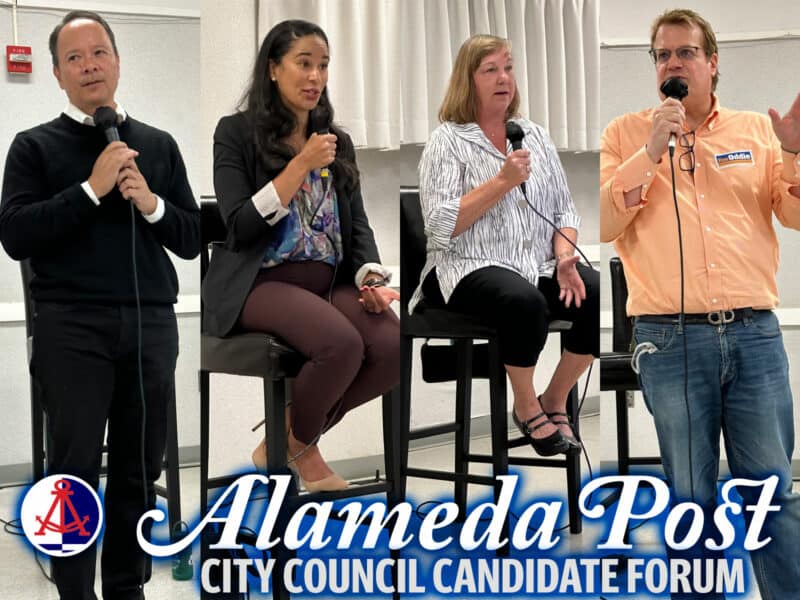 City Council candidates present at the forum included incumbent Councilmember Tony Daysog, former Councilmember Jim Oddie, Tracy Jensen, and Hannah Groce. Paul Beusterien was unable to attend the in-person forum, but submitted written answers to the questions after the event. Bill Pai suspended his campaign on September 1 and did not attend.
Draft Housing Element: Groce, Oddie, and Jensen generally supported the Housing Element. Daysog opposed the Housing Element and suggested most new development be concentrated at Alameda Point, given its accessibility to existing and future transportation infrastructure. Jensen disagreed, citing increasing difficulty with entering and exiting the island on the West End and supported Alameda's shopping centers as favorable locations for housing. Groce and Oddie warned against the "builder's remedy," a legal loophole developers can use to construct housing—and ignore local zoning requirements—if a municipality fails to comply with the State of California's housing mandates.
Automated license plate readers (ALPRs): Each candidate expressed a desire to review data and case studies, although Daysog explicitly declared his support of ALPRs. Oddie and Groce questioned the effectiveness of ALPRs in solving or deterring crime, while Jensen emphasized creation of a diversity, equity, and inclusion (DEI) policy that would guide ALPR implementation. Daysog said he would rely on professional judgment, specifically the recommendation of the Alameda Police Department.
Climate change solutions: Daysog and Oddie discussed their support of the Climate Action and Resiliency Plan (CARP) and greater funding to implement climate resilience projects, such as the creation of new wetlands around the island. Groce and Jensen bundled transportation and climate solutions together and suggested strategies to encourage use of electric vehicles and active transportation.
Homelessness and affordability: Oddie and Groce emphasized the importance of preventative measures, with Groce suggesting additional staff and programs to support people at risk of becoming homeless. Oddie additionally called for greater protection for renters in the City, while Jensen and Daysog broadly supported building more affordable housing through ordinances or by building accessory dwelling units (ADUs).
Other topics discussed included candidates' personal leadership styles and personal heroes, City Council's collaboration with the city manager, and knowledge of and support for public art in Alameda. The full video of the City Council forum is now available, indexed so viewers can choose which questions and responses they wish to view.
Audience Takeaways
Following the forum, attendee Todd said he enjoyed the chance to learn more about the candidates, particularly newcomer Obama Shaw. Todd's top issues included transportation, climate change, and housing, and he expressed appreciation for Ashcraft's ongoing efforts to collaborate with mayors and city leaders nationwide to tackle these major topics.  Sue, an Alameda resident since 1959, highlighted transportation and housing as her key topics of concern as well.
Wade, a 12-year Alameda resident, also listened intently to candidates' discussion of sea level rise and climate concerns but wished the forum also would have covered campaign contributions. Information about campaign contributions is available in a Letter to the Editor from the League of Women Voters of Alameda.
Election day is Tuesday, November 8. Visit our Election 2022 page for more information about candidates and measures on the ballot, and review our Voter's Guide for information on how to cast and verify your ballot.
Ken Der is a contributing writer for the Alameda Post. Contact him via [email protected]. His writing is collected at AlamedaPost.com/Ken-Der.