Island voters need to know where campaign contributions are coming from.
To the Editor:
Whether you look at the local, state or national level, you'll see an extremely high correlation between campaign contributions and election outcomes. In Alameda, the City Council candidate with the most money was seated in every election from 2012 to 2020. Perhaps that's why spending on City Council races increased 250% during that time period.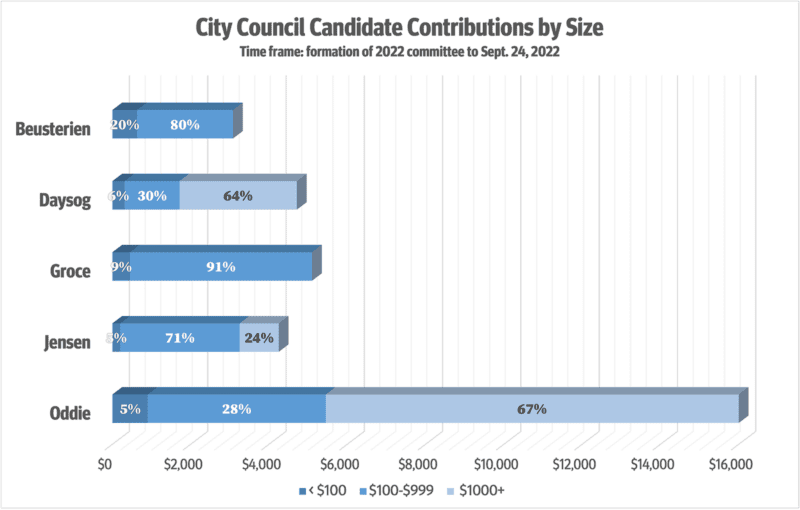 We'll leave it to political scientists to determine whether a flood of campaign mailers can actually sway an election. However, the one thing we know for certain is that a good chunk of the money influencing local elections is not the result of support among individual Alameda voters.
During the 2020 election cycle, 40% of contributions to all candidates and measures came from outside Alameda, 60% came from groups rather than individuals and 70% in amounts of $1000 or more.
Is big money generating more influence on local races than grassroots donations?
Alameda is one of the few cities in the Bay Area without campaign contribution limits.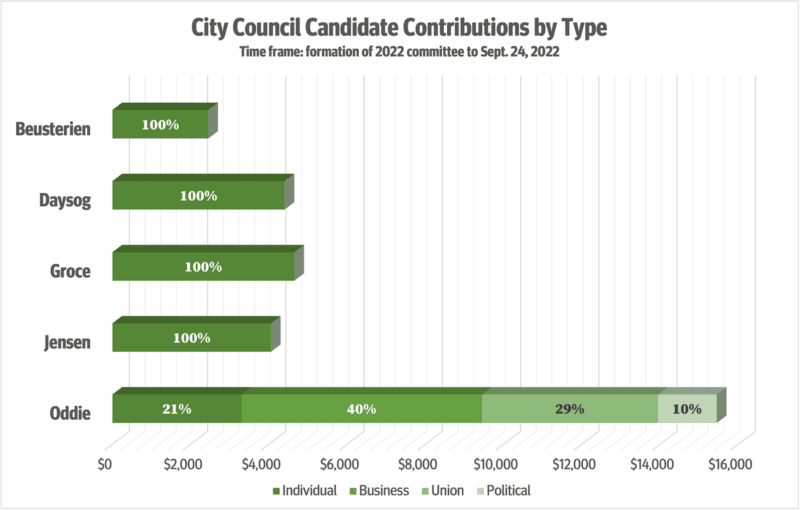 However, a law went into effect at the beginning of 2021 imposing the same $4,900 contribution limit per individual contributor for State Assembly and Senate seat on any candidates in local jurisdictions without contribution limits of their own. Since Alameda has no campaign finance regulations, the de facto limit for City Mayor, Council and School Board races (but not measures) is now $4,900.
Even with this limit, the money will likely keep flowing in because special interests can spend unlimited amounts to support candidates by making independent expenditures on their behalf rather than contributing directly to their campaigns.
Campaign Contributions to City Council Candidates $1000 or more*

Tracy Jensen
Madlyn Murphy
Alameda
$1,000
Total
$1,000
Jim Oddie
Variphy Inc.
Lafayette
$4,900
Sheet Metal Workers Union PAC
Livermore
$2,500
Operating Engineers Union PAC
Alameda
$2,000
Mia Bonta for Assembly 2022
Sacramento
$1,500
Total
$10,900
*Includes monetary and non-monetary contributions
We'll have a chance to see how that works in real time this election cycle since nearly $90,000 of the funds contributed to City Council candidates in 2020 exceeded the new limit.
Fortunately, independent expenditures on behalf of candidates need to be reported to the state's Fair Political Practices Committee along with direct expenditures. The League of Women Voters Alameda will be tracking both direct contributions and independent expenditures to local candidates from all sources so voters who can follow the money and see who is funding whom.
We invite you to view the full set of graphs and tables at Alameda Campaign Finance – LWV OF ALAMEDA (lwvalameda.org) for detailed analysis.
Allan Mann
Chair, League of Women Voters Alameda Campaign Finance Review committee.
---
Editorials and Letters to the Editor
All opinions expressed on this page are the author's alone and do not reflect those of the Alameda Post, nor does our organization endorse any views the author may present. Our objective as an independent news source is to fully reflect our community's varied opinions without giving preference to a particular viewpoint.
If you disagree with an opinion that we have published, please submit a rebuttal or differing opinion in a letter to the Editor for publication. Review our policies page for more information.