City Candidates for Mayor and Council have submitted statements that will appear in the guide that will be mailed to every registered voter in the city. The City Clerk's office has made the candidate statements publicly available; they are listed below.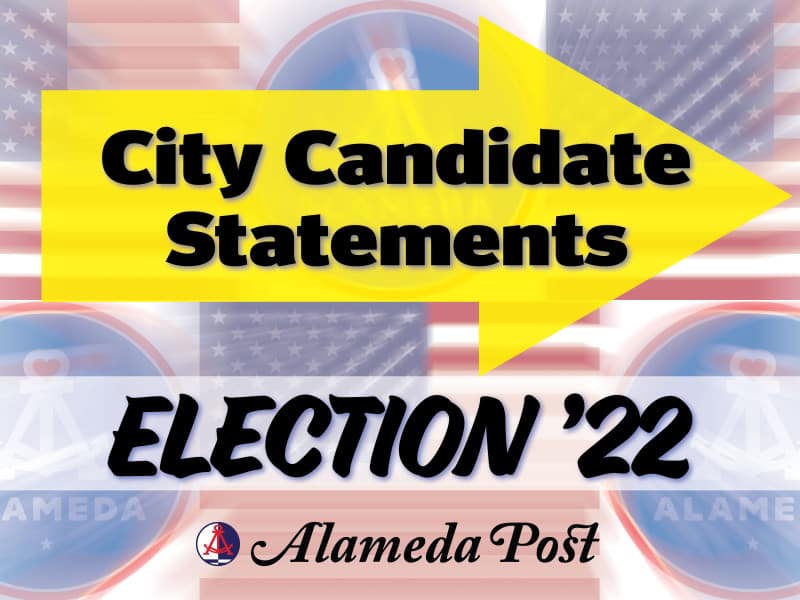 Candidate Statements – Mayor
Marilyn Ezzy Ashcraft
Occupation: Mayor, City of Alameda
My education and qualifications are: As Mayor, I've worked with you over the past four years to: build affordable housing; improve transit opportunities; assist vulnerable residents and local businesses during the pandemic; increase parks and open space; continue the transformation of Alameda Point; and mitigate the impacts of climate change and sea level rise. Because we have worked together, Alameda is a more vibrant, thriving city, but there are still more challenges to tackle. I'm running for a second term to continue addressing these challenges, including: providing transitional and permanent housing for unsheltered individuals and families; continuing to create affordable housing for working families, and ensuring kids who grow up in Alameda can afford to live here as adults; increasing public safety; and investing in innovative transit solutions to decrease traffic on our island and reduce greenhouse gas emissions. I grew up in Alameda and graduated from our public schools. My husband and I raised our family here. I love our city and have worked hard to be a Mayor people can trust, by listening to your concerns, keeping you informed with regular communication, and promoting an ethical, accessible city government. I hope I've earned your vote. UC Davis (BS); Santa Clara University School of Law (JD) www.Marilyn4Alameda.org
Barack D. Obama Shaw
Candidate statement submitted as a letter to the Editor on September 21, 2022.
Trish Spencer
Occupation: Victims Advocate/Attorney, City Councilmember, Community Volunteer including Community Emergency Response Team (CERT).
My education and qualifications are: I am a proven, compassionate leader and data- driven, outside-the-box problem solver who treats all Alamedans respectfully. I'm uniquely qualified: current Councilmember, former Mayor, Alameda Unified School District Boardmember, PTA Council President, Girl Scout leader. As Mayor, I helped save Alameda Animal Shelter, Corica Park Golf Complex, and Jean Sweeney Open Space Park, brought The Ocean Cleanup to Alameda, and developed Asian-Pacific sister cities and "Art in City Hall." Since leaving the mayor's office, Alameda suffered dramatic increases in crime (shootings, assaults, thefts, hate crimes), massive luxury overdevelopment, and dangerous traffic gridlock. We must change course! We must reduce crime, and fully staff Alameda Police Department while utilizing Alameda's new mental health non-police response team for which I successfully advocated. We need smart growth, homeownership opportunities for the "forgotten middle," and commonsense traffic solutions. I will support businesses being attacked by unnecessary lawsuits. I collaborate with stakeholders. I'm fiscally responsible, support disclosing all expenditures and oppose unnecessary, expensive consultants. For exemplary public service, I was awarded a Lifetime Membership in Associates of Vietnam Veterans of America, Inc., from Vietnam Veterans of America, Chapter 400, and the highest U. S. Coast Guard civilian public recognition. My husband and I raised our daughters here. They attended public schools, graduated from Harvard College and U.C. Santa Cruz and one serves in the U.S. Coast Guard. Let's responsibly change direction, working together! I respectfully ask for your vote. www.Trish4U.com; 510-761-5123 #WorkingTogether4U
Candidate Statements – City Council
Paul Beusterien
Occupation: Software Engineer
My education and qualifications are: As a career software engineer at startups and large companies, I've proven myself as an even-keeled leader by building and mentoring high-functioning teams to deliver high quality products. I've been successful by working to gather the facts, listening to stakeholders, and driving smart solutions to completion with tenacity. I've built on those skills as a homeowners association board member for the last 10 years to resolve numerous community challenges, including several involving city government. As a city, we face serious challenges: balancing the housing availability/affordability crisis with neighborhoods and traffic; supporting our police force, including restoring full staffing, to address public safety; ensuring that Alameda has the necessary infrastructure for the future, especially as our shorelines become increasingly threatened; and managing our finances effectively for both short-term priorities and long- term sustainability. Let's work together to make Alameda government more effective by reducing staff turnover, attracting quality leaders, and increasing constituent participation. I'll strive to transition Alameda to use Ranked Choice Voting to create a more representative, cooperative government. I pledge to hear community input both as a candidate and councilmember. www.paulb4alameda.com
Tony Daysog
Occupation: Alameda City Councilmember
My education and qualifications are: I was the Student Body President of Encinal High School in the Spring of 1984 when I helped bring the first jet (A-4 Skyhawk) onto the front lawn of Encinal. Over the years, I have had the honor of helping our community including as a current Councilmember, current AUSD-City Council Sub-Committee member, former Economic Development Commissioner, and past military base closure commission member. I am running for re-election to continue to implement the kind of changes that strengthen our city's quality of life, such as sending medical \ mental health professionals instead of the police in response to certain non-violent 911 calls (https://bit.ly/3JDj7LV). Because I am a product of AUSD (Paden Elementary School, Chipman Middle School, and Encinal High School), I am running for re-election to have City Hall continue partnering with the school district on matters such as mental health funding (https://bit.ly/3zNP67t). I will continue to guard against over-building given our traffic- handling constraints (e.g. Posey Tube, Island Drive, and Park Street Bridge). I am an urban planner with a Master's degree in City Planning from UC Berkeley, where I also earned my BA degree. Thank you for your consideration. http://www.daysog.com/
Hannah Groce
Occupation: Affordable Housing Policy Fellow
My education and qualifications are as follows: Because I was fortunate enough to grow up in Alameda with strong support, I had the opportunity to attend college and then return home to give back to the community I love. I feel a responsibility to ensure that our city remains healthy and stable for the next generation. As a matter of community health and safety, housing must be equitably accessible and affordable for every resident. We must continue to improve pedestrian and bicycle infrastructure while mitigating neighborhood traffic. Alameda, especially, must be preparing for the impacts of climate change. The challenge of protecting our community and shoreline will take substantial resources and long-term planning. Neighborhoods feel unheard and are surprised to learn decisions were made without their knowledge or input. It's the City's responsibility to proactively engage, inform, and solicit feedback with critical conversations to weigh our options and work toward solutions. Over the last decade, I've established a reputation for collaboration, respectful engagement, and problem-solving. I've spent years impacting housing—regionally and countywide; I have the courage and experience to address housing insecurity and affordability. I'm optimistic and committed to providing the foundation we need to meet the challenges ahead. I respectfully ask for your vote. Hannah4Alameda.com
Tracy Jensen
Occupation: Director, Alameda Health Care District/Mother/ Senior Services Administrator
My education and qualifications are: Positions in local, state and federal government agencies laid the foundation for my election to public office, where my record of accomplishments has improved the lives of Alameda children, youth, families and seniors. I am proud to have served two terms on the School Board, ensuring that Bayport developers helped to pay for construction of Ruby Bridges Elementary School and leading the adoption of elementary curricula designed to teach children to be more accepting of their peers' diverse and unique families. As a founding member of Alameda Collaborative for Children, Youth and Families, I developed community partnerships to reduce bullying and encourage academic success. On the board of the Alameda Soccer Club and Alameda Youth Basketball I established recreational programs and activities to keep kids active and safe. Under my leadership as Director, Alameda Hospital's stroke center was nationally recognized for quality care, and I made Alameda Healthcare District a partner with the Alameda Fire Department's innovative CARE program supporting residents facing a mental health crisis. I hired 2 superintendents and 3 health system CEOs, allowing each of them to do their job without interference. I grew up here and my "Alameda values" are inclusivity, transparency, and responsiveness. With your support we will build responsibly, develop new jobs, protect our Island environment, and ensure ethical city government. www.TracyJensen2022.com
Jim Oddie
Occupation: VP, Finance/General Counsel
My education and qualifications are: We all chose to call Alameda home because it's a safe community with distinct neighborhoods, open space and parks, and a unique island character. I'm fortunate to be a part of this diverse city of neighbors and friends and want to give back to the city I love. My experience as a former councilmember and legislative aide, problem solving for constituents and connecting them to services, will chart my course on the council. I'm committed to strengthening what's best about Alameda and improving our quality of life. My top priorities: Preserve public safety, keep neighborhoods safe, enhance training to eliminate bias in policing, and support the Alameda CARE team pilot. Expand affordable housing, protect renters, provide coordinated support services to unhoused residents, and move medically frail unhoused seniors to permanent housing. Protect core services, ensure equity in public services, improve pedestrian and bike safety, repair streets, and maintain fiscal stability. Protect working families and seniors and invest in economic development to create local jobs and improve Alameda. Preserve our shoreline and boost actions to combat climate change. I'm supported by working families, small business owners, locally elected officials, and Assemblywoman Mia Bonta. I'd be honored to have your vote. Oddie4alameda.com
Bill Pai
Occupation: HOA Leader and Hospital Advocate
Withdrew from campaign on September 1, 2022. My education and qualifications are: Together we can make Alameda a better place to live. My wife and I moved here over 20 years ago and raised a son who went through all levels of Alameda Unified School District through graduation in June 2022 from Alameda High School. I've heard your concerns and share your hopes. Housing is a key issue facing our city. I will work to address this challenge in ways which increase supply at all income levels yet also preserves our quality of life, especially in our residential neighborhoods. This also requires traffic solutions which reduce commute times and car volume getting on and off the main island during peak hours. Public Safety is a priority and I will act to keep our police and fire departments staffed and funded. Supporting modern tools and policies which make our communities safer will be a focus area for me. As president of a homeowners association with 9,000 residents for over a decade, I have shaped community policies covering new development, security, staffing and budgeting. I also serve on the board of the Alameda Hospital Foundation, because I consider Alameda Hospital to be a vital asset in an island city and support modernizing its facilities for the future.