Bike Walk Alameda (BWA) and Community Action for a Sustainable Alameda (CASA) teamed up to host a mayoral candidate forum on Thursday, October 6, focusing on transportation, housing, and voting issues.
Opening statements
In her opening statement, incumbent Mayor Marilyn Ezzy Ashcraft clarified her "no" vote on the Grand Street Improvement Project during Tuesday's City Council meeting, stating that the safety concerns she previously had raised about the project had not been sufficiently addressed by City staff. However, further discussion with BWA following that vote provided "new information," she said, so she proposed having City Council re-evaluate the project in early November.
Barack D. Obama Shaw opened with his policy priorities, which include supporting schoolchildren and teachers, as well as boosting earthquake preparedness and tourism efforts in the City. Current Councilmember and former Mayor Trish Herrera Spencer highlighted her extensive experience in City politics and discussed her background as an avid cyclist before being injured in an accident years ago.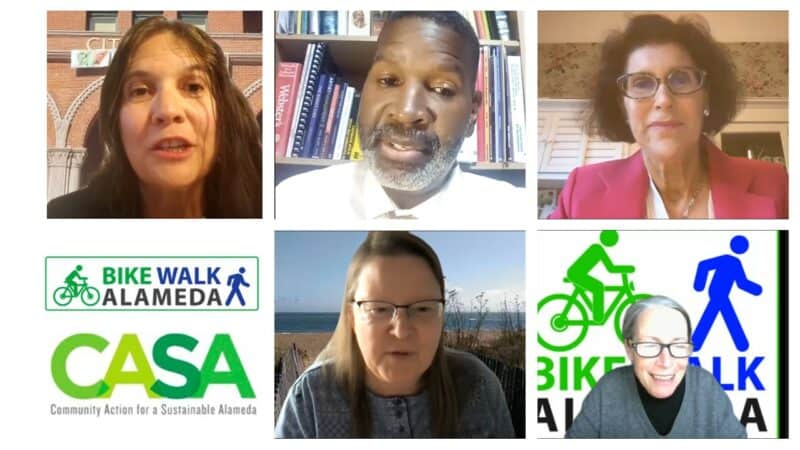 Climate action and transportation
Prior to the forum, BWA and CASA sent each candidate a questionnaire related to climate action and resilience. Moderators Denyse Trepanier of BWA and Ruth Abbe of CASA asked candidates to clarify or embellish upon their prepared responses, which are posted on the CASA website.
A majority of the questions focused on candidates' opinions of transportation practices and policies. Trepanier said a BWA analysis showed Spencer often does not support City staff recommendations on road safety improvements when casting her vote as a Councilmember. In response, Spencer noted that she does not "flippantly disregard staff's recommendation" but also relies on advice from BWA as well as "educated community members…and research online" to inform her actions. She also discussed safety and reliability concerns of AC Transit buses and suggested better bus tracking technology and additional onboard cameras to improve rider experience.
"The best way to meet the transportation needs of individuals and also reduce greenhouse gas emissions is to make sure we are supporting a robust public transit system," agreed Ashcraft. She also voiced her strong support for a West Alameda bicycle/pedestrian bridge that could potentially reduce 40,000 vehicle trips per week, as well as a possible BART station to be built in Alameda as part of the Link21 program. Combined with traffic safety improvements citywide, she said, these two projects would provide substantial benefits to mobility in Alameda. Spencer questioned the feasibility and high cost of both proposals and suggested that shorter-term, last-mile solutions should be pursued first.
Obama Shaw recommended incentives to carpool or ride bicycles as the quickest and most cost-effective strategy to immediately and substantially reduce carbon emissions, coupled with a campaign to help Alamedans feel proud about doing their part for the City. He declared that clear, open communication about the goals of road safety improvements is critical to get the public on board, and suggested using police data and feedback to inform decision-making.
Housing
The forum also focused on housing issues in Alameda. Obama Shaw pledged to involve City staff and community members in order to make rezoning decisions in a fiscally responsible manner. Ashcraft supported building new housing in all neighborhoods in order to distribute the state's mandated allocation across the city as a way to address the missing middle. Spencer generally disagreed, proposing that Alameda should follow the example of certain Southern California cities that did not upzone all neighborhoods but still met state requirements. She also reminded the audience of her opposition to Measure Z—defeated by voters in November 2020—noting that it would have allowed for demolition of older homes and pushed out Alamedans.
Other topics discussed during the forum include Ranked Choice Voting and budgets. A full video of the forum is available on the CASA website. BWA and CASA will host a forum for City Council candidates on Thursday, October 13, at 6 p.m.
Ken Der is a contributing writer for the Alameda Post. Contact him via [email protected]. His writing is collected at AlamedaPost.com/Ken-Der.