The League of Women Voters of Alameda (LWVA) held a candidate forum on Monday night, posing questions to the five contenders seeking to win two seats on the Alameda City Council in the upcoming November election. Candidates included incumbent Councilmember Tony Daysog and former Councilmember Jim Oddie, who were joined by previous Council candidate Tracy Jensen, and newcomers Paul Beusterien, Hannah Groce.
More information about local candidates, ballot measures, campaign events, and other voting information is available from our Elections 2022 page.
League President Anne McKereghan welcomed the candidates and viewing audience to the online forum and explained that candidates would have two minutes to respond to each forum question prompted by moderator Anna Crane.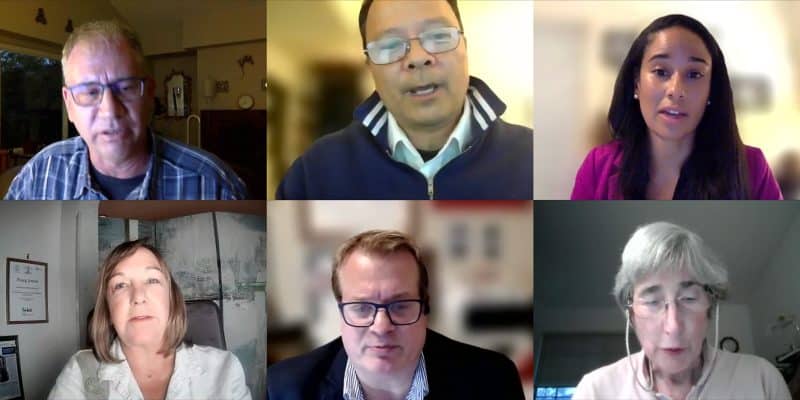 Opening Statements
The five candidates made their opening statements in the order in which they are listed on the official ballot.
Beusterien introduced himself as a software engineer and a longtime Alameda resident with a background in homeowners association (HOA) leadership. Daysog announced that he has "worked tirelessly and hopefully successfully" to make City Hall responsive to the community's needs during his last four years on the Council.
Groce, a lifelong Alamedan, expressed her excitement and commended everyone who decided to run as individuals who care deeply about the city. Jensen discussed her experience serving on the Alameda Health Care District Board and Alameda Unified School District (AUSD) Board of Education. And Oddie asked Alamedans to look at his past leadership on the Council to see where he stands on major issues, indicating that he acts on what Alamedans believe in.
Questions asked of the candidates
Would you favor the City Council having a measure to institute ranked-choice voting in Alameda, or should the City keep the current system where elections are decided by plurality?

All candidates generally favored exploring or implementing ranked-choice voting in Alameda.
Daysog, Groce, and Jensen discussed local (Oakland, Berkeley, San Francisco) and national (Alaska) examples of RCV. Groce and Jensen said RCV could help improve representation, address division, and encourage candidates to work together, but expressed concern about the City Council putting such a measure on the ballot.
Oddie also supported RCV but suggested that it would be difficult without implementing additional reforms such as District elections—splitting Alameda into six or seven districts and having Councilmembers represent their own district rather than the entire City.
Finally, Beusterien highlighted his extensive work with the LWVA in supporting RCV, noting that the model increases representation and participation and allows voters to build a consensus instead of resolving to extremes.
California has mandated that Alameda provides additional housing, including an increased availability of affordable housing. How should the City respond to these needs and where should affordable housing be built? Address whether supportive housing should be concentrated in specific areas of the City or spread out.

Beusterien, Groce, Jensen, and Oddie favored spreading out new housing development. Daysog favored concentrating new housing at specific locations.
Groce, Jensen, and Oddie each discussed their belief that housing is a basic human right and suggested that locating new housing at singular locations—specifically Alameda Point—is not conducive to a diverse, equalitarian city. Additionally, Groce called for housing for residents serving in public roles, including teachers and public safety officials, while Jensen opined that mental health support is crucial in housing unsheltered individuals.
Beusterien said he favors a middle ground between too much vs. too little housing, building infrastructure vs. traffic concerns, and promised to support middle income Alamedans with housing affordability.
Daysog, the lone supporter of concentrating new housing, drew on his background as a city planner and discussed the benefits of transit-oriented development (TOD) in progress at Alameda Point. According to Daysog, TOD marries major growth with extensive transportation improvements (new ferry, bus rapid transit, and shuttle service), which he said can only happen at Alameda Point. However, he also pointed out that South Shore Center and the Harbor Bay Business Park could also be ideal locations for RHNA-eligible housing.
Editor's note: The above paragraph has been corrected to reflect Daysog's statement that South Shore Center and the Harbor Bay Business Park could be ideal locations for RHNA-eligible housing.
Sea levels are rising, and many Alameda homes are in the floodplain. What should Alameda do to address these issues?
Jensen expressed concern about locating all new housing in the West End due to equity issues related to sea level rise. She suggested a regional approach in addressing risks. Oddie, Beusterien, and Daysog each discussed their previous efforts to help the City address climate issues. Oddie drew on his work on the City Council to declare a climate emergency, ban gas in all new construction, and lead on the development of the Climate Action and Resiliency Plan (CARP).
Beusterien suggested investing in infrastructure and restoring local wetlands, and mentioned his work to roll out FEMA flood plains maps in 2015-2016. Daysog also suggested an investment in upgrading Alameda's stormwater system to handle sea level rise and stronger storms. Finally, Groce said new construction in Alameda has also implemented infrastructure to address sea level rise.
Please discuss budget plans for the coming year. What are your priorities for the use of available resources?
Oddie discussed his work on the Council to preserve core services (parks, libraries, fire, public works) and favored providing more funding for these institutions that maintain an outstanding quality of life for Alamedans. Beusterien agreed, and suggested addressing unfunded pension liabilities—a point also echoed by Jensen, who also advocated for funding for city infrastructure and facilities.
Daysog pushed for increasing police staffing, particularly in the traffic division, in addition to partnering with AUSD to provide mental health support for teens. Similarly, Groce discussed funding for Alameda's Community Assessment Response & Engagement (CARE) Team to continue the pilot program that responds to residents suffering mental health emergencies.
Campaign spending has been increasing across the nation. Alameda has no restriction on donations. Should the City take action on money in politics?
All candidates discussed the affordability of running an election campaign, particularly the cost ($4,500) to write an official candidate statement.
Daysog and Groce both expressed interest in holding conversations about campaign finance reform and possibilities to make the process of running more affordable and equitable. Groce and Jensen noted that the high entry cost of campaigning could possibly turn away many qualified candidates. Several candidates also discussed increasing pay of Councilmembers.
What are your positions on the two City measures on the ballot: Measure E – Salary increase for City Councilmembers, and Measure F Increasing Alameda's Transient Occupancy Tax (TOT)

Beusterien, Groce, Jensen, and Oddie said they support a salary increase for Councilmembers. They cited greater accessibility, equity, and interest in becoming a Councilmember. Daysog, the only candidate who opposed a salary increase, said there is insufficient research to warrant a pay raise.
Beusterien, Daysog, Groce, Jensen and Oddie support increasing Alameda's Transient Occupancy Tax (TOT)—paid by people staying at city hotels, motels, and short-term rentals—from the current rate of 10 percent to 14 percent, in line with other Bay Area cities. All candidates welcomed the $910,000 in projected revenue for the City, noting that the change would not monetarily affect residents. Groce, however, expressed concerns that the Alameda Chamber of Commerce has opposed the measure, citing potential harm to businesses, but agreed with other candidates that reinvestment of these additional funds could boost tourism.
Closing statements
Groce was the first to give her closing statement, highlighting her experience living in Alameda and background in nonprofits and education. Jensen addressed traffic safety, mental health, and affordable housing as core issues she intends to focus on. Oddie reiterated his track record on the City Council on housing and other major issues, as did Daysog, who also alluded to mental health, policing, and climate as his priorities. Beusterien once more declared his campaign of "balance" and his mission to gain the consensus of all Alamedans.
The next LWVA forum, on Monday, September 19, is for candidates running for Alameda County Board of Supervisors and District Attorney. Other upcoming LWVA forums are listed in the calendar on our Election News page.
Ken Der is a contributing writer for the Alameda Post. Contact him via [email protected]. His writing is collected at AlamedaPost.com/Ken-Der.