Bike Walk Alameda (BWA) and Community Action for a Sustainable Alameda (CASA) jointly hosted their second candidate forum of the election season on Thursday, October 13, inviting City Council candidates to discuss transportation and sustainability issues.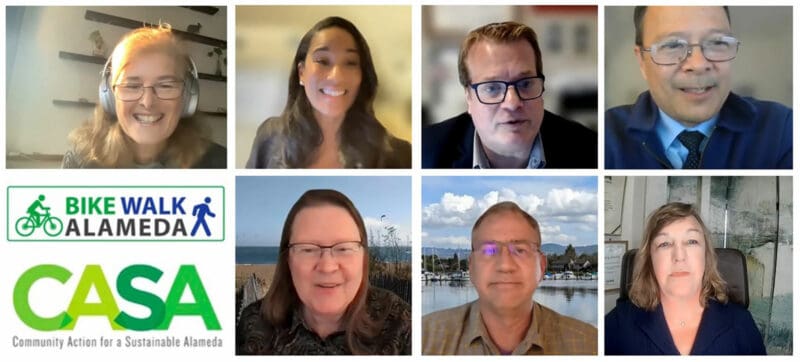 As with their previous week's mayoral forum, BWA and CASA sent incumbent Tony Daysog and candidates Paul Beusterien, Hannah Groce, Tracy Jensen, and Jim Oddie a questionnaire related to climate action and resilience. Moderators Lucy Gigli of BWA and Ruth Abbe of CASA prompted candidates during the forum to further justify their prepared responses, which are posted on the CASA website.
Opening Statements
In his opening statement, Beusterien voiced his support for the Grand Street improvement project as a crucial step in improving bike safety and easing school bell-time congestion along the corridor. Daysog announced he would prioritize maintaining Alameda's high quality of life by supporting local businesses and overcoming climate and transportation challenges together. Groce emphasized equitable outreach to ensure all voices are heard during public engagement for infrastructure and development projects. Meanwhile, both Jensen and Oddie said their past political experience and decision-making records make them the best choice for City Council.
Vehicular Issues
A major portion of the forum focused on electric vehicles (EVs), emissions, and parking availability. While discussing the future of Park and Webster streets, Oddie favored fully protected bike lanes and suggested parking spaces could be more efficiently utilized as parklets or outdoor dining. Despite BWA's concern that curbside EV charging stations could deprive valuable curb space from more productive uses, Daysog remained emphatically in support of upgrading underutilized spaces around local parks into charging stations to benefit neighborhoods around the city. Beusterien went one step further, suggesting it would be "unrealistic to expect car usage to go dramatically down in the near-term" and would therefore prioritize EV infrastructure rollout in addition to infrastructure like the proposed West End bicycle and pedestrian bridge.
Other candidates also discussed the feasibility of the bike/pedestrian bridge. Groce voiced support for seeking regional funding to finance the bridge, but emphasized in-person, door-to-door engagement to meet with residents and stakeholders to ensure all voices are heard. Daysog, however, commented on his ongoing opposition to the project, suggesting a water shuttle be prioritized instead due to cost—though Gigli pointed out that the ferry's effectiveness would be hampered by fixed schedules. In general, the candidates favored the Link21 effort that would potentially construct a new BART station in Alameda, with most supporting a location in the West End or Alameda Point in conjunction with new housing developments.
Housing Issues
Where to build new housing in the City also prompted debate among the candidates. Jensen hailed the State of California's decision to approve Alameda's Draft Housing Element but argued that multi-family housing should be built primarily at locations accessible to public transit across the island. Daysog, on the other hand, supported concentrating most new housing in Alameda Point—a suggestion soundly rejected by Groce, who declared that "we cannot affirmatively further fair housing if we are concentrating poverty in the Point…or the West End." Beusterien expressed concern that significant upzoning could cause gentrification, while Oddie repeated his longtime mantra that "housing is a basic human right."
Other forum topics included Ranked Choice Voting—which candidates tentatively supported in Alameda but disagreed on process and implementation—as well as funding and strategies for climate change. Beusterien and Oddie both announced support for a climate infrastructure bond to fund infrastructure resilience projects, while Daysog emphasized responsible spending of such funds.
Full video of the forum, along with the candidates' prepared responses to the questionnaire, is posted on CASA's website.
Ken Der is a contributing writer for the Alameda Post. Contact him via [email protected]. His writing is collected at AlamedaPost.com/Ken-Der.