On March 30, Mayor Marilyn Ezzy Ashcraft presented her State of the City address to the Alameda Chamber and Economic Alliance aboard the USS Hornet. City staff, elected officials, and Alameda business community members were on hand for her speech, which was themed "Alameda Moving Forward Together."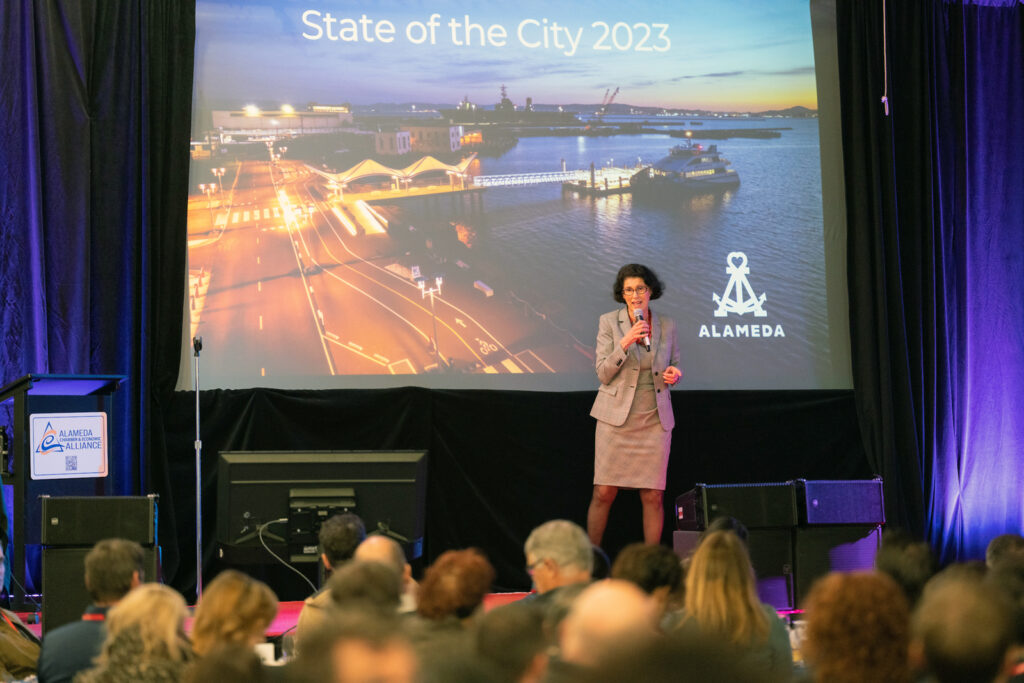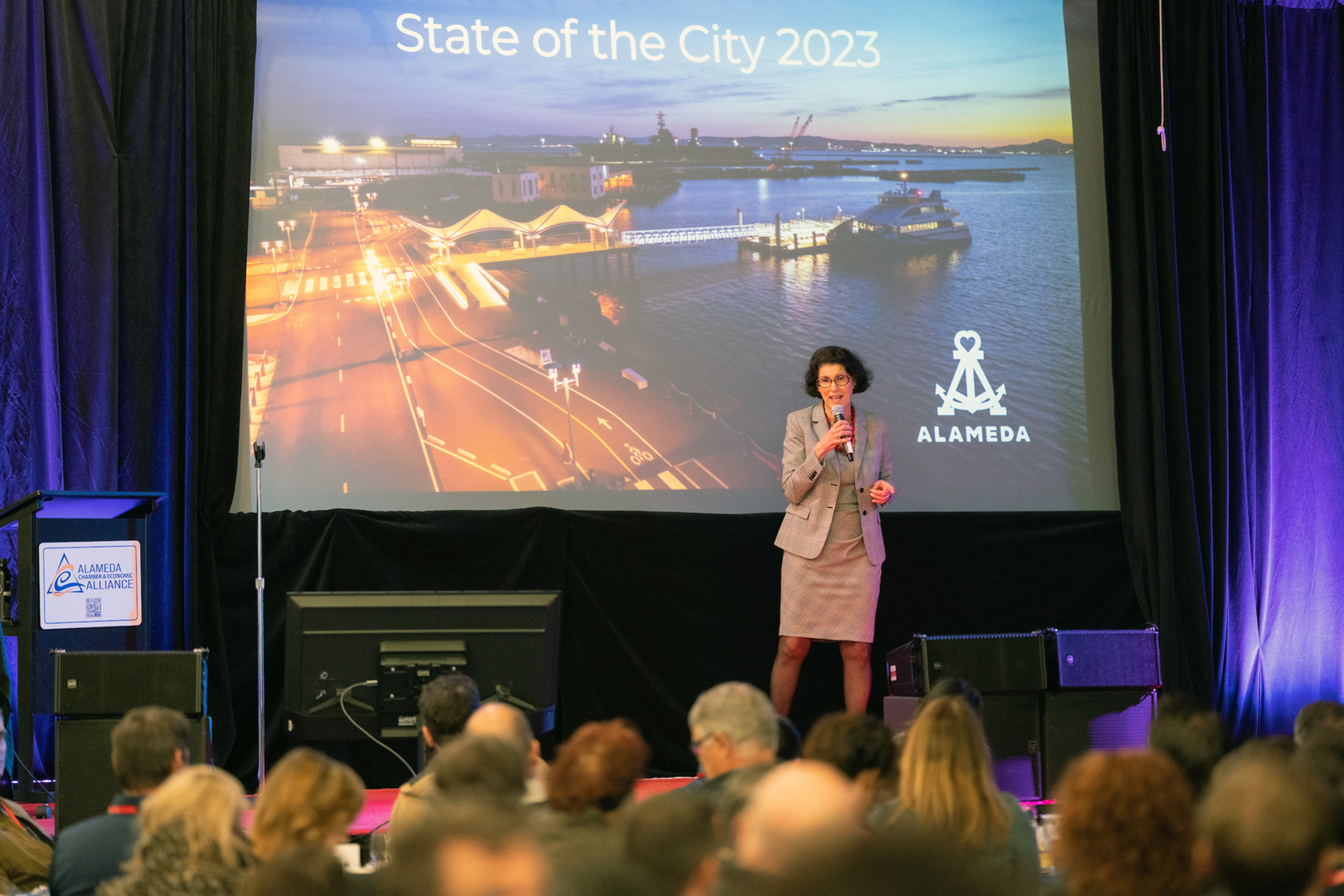 The Mayor began by asking, "What makes Alameda so special, in addition to its natural beauty, panoramic views, inviting beach, tree-lined walkable and bikeable streets, plentiful parks, distinctive downtowns, and friendly vibe?"
She argued that Alameda is the right-size city. With a population close to 80,000, she said Alameda identifies and addresses needs expeditiously without big-city bureaucracy. She cited Dignity Village, a transitional housing development to house and support formerly homeless individuals, as an example. In March 2022, the State awarded Alameda a $12.3 million grant for the development, supplemented by County funding. The City now looks forward to its grand opening in May. She also cited the City's Guaranteed Income Pilot Program, due to launch this summer. She noted that Village of Love, Alameda Food Bank, and Christ Episcopal Church assist the City in its work.
She recognized Alameda Municipal Power, Alameda Fire Department, and Alameda Police Department for tirelessly keeping the community safe during recent powerful storms that toppled trees and caused power outages across the island. And she applauded the Recreation and Parks Department for its latest parks, the Seaplane Lagoon Promenade and Bohol Circle Immigrant Park, and the start of planning for a new Aquatic Center at Jean Sweeney Park.
The Mayor recognized Finance Director Margaret O'Brien for reporting that the City has benefitted from a strong property market as investors continue to improve Alameda Point. Although the City anticipates a slowdown in permitting activity and property transfers as the economy adjusts to higher interest rates, Alameda will continue to reap financial benefits from previous property markets. Assessed valuations have grown an average of 6.5% annually over the past seven years, resulting in approximately 52% growth in property taxes from fiscal years 2017 to 2023. Growth is anticipated to total 65% by 2025.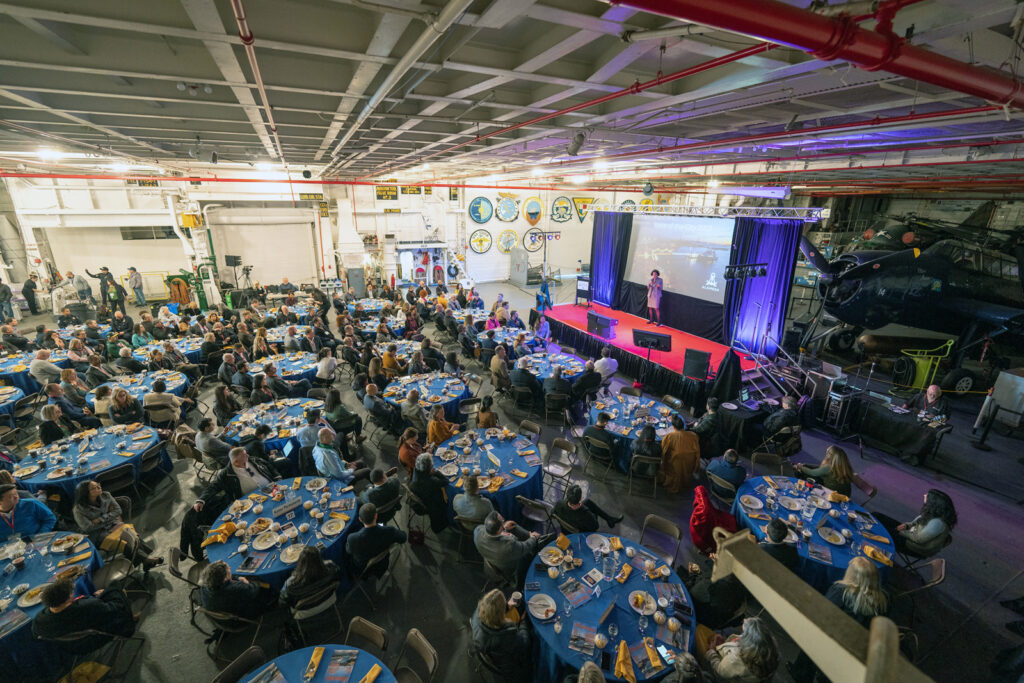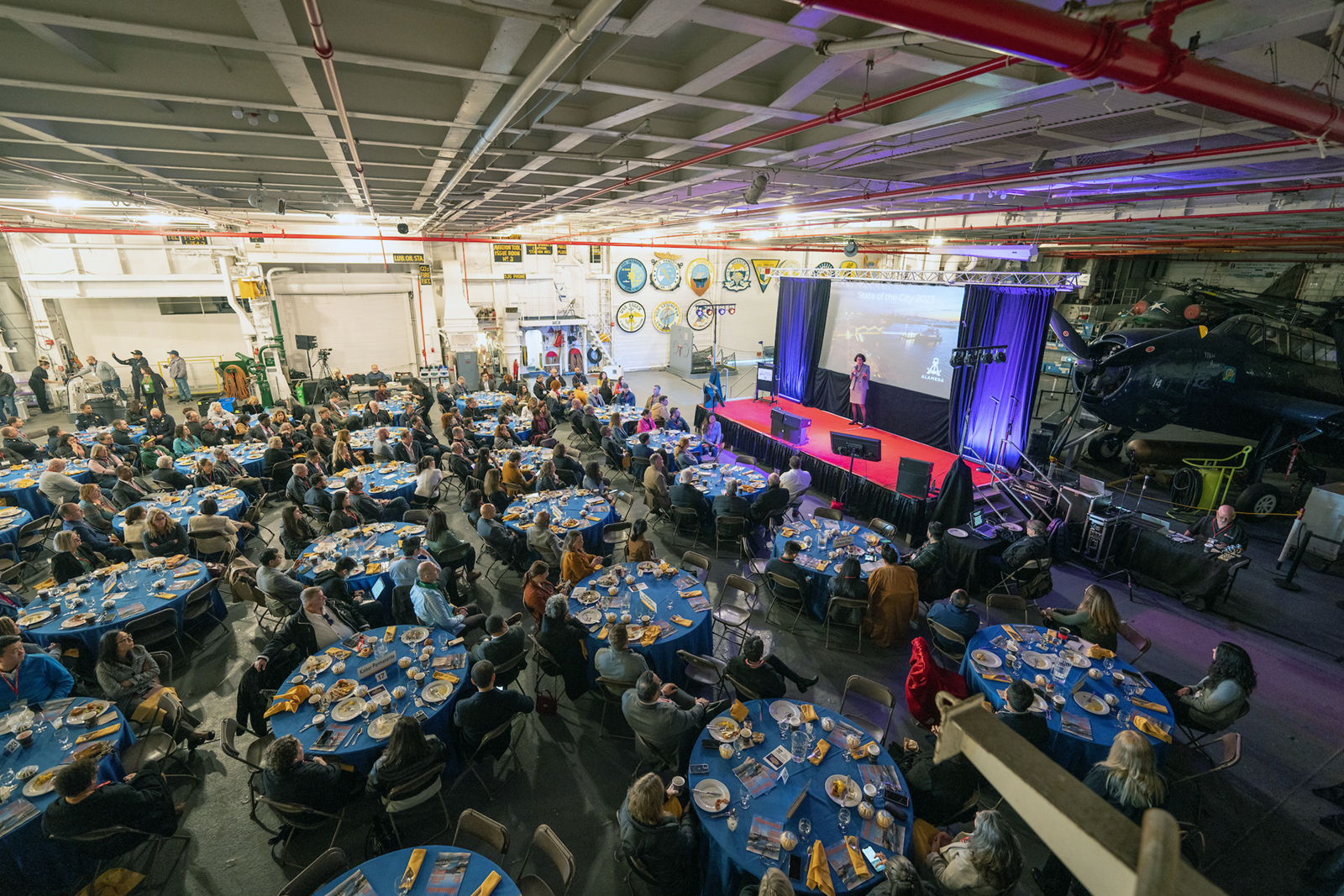 The Mayor touted City Council's record of encouraging economic development, noting that innovative businesses that have recently chosen to locate in Alameda include:
Regarding small businesses, she noted that the Council recently voted to continue limiting third-party food delivery fees to help restaurants stay in business.
She noted that California is the fourth largest economy in the world, yet more than 115,000 individuals are homeless across the state, including in Alameda. She argued that California's cities are legally and morally obligated to address this housing crisis and that Alameda is doing its part in being the first City in the state to get its Housing Element certified by the Housing and Community and Development Department.
Housing developments that opened recently or will open later this year include:
Finally, she said the City is taking global warming seriously because rising sea levels threaten Alameda's island community. To that end, the City has:
Adopted an equitable building decarbonization plan to phase out natural gas use in existing buildings.
Launched new rebates for electric heat pump systems, E-bikes, and solar projects.
Streamlined the solar permitting process.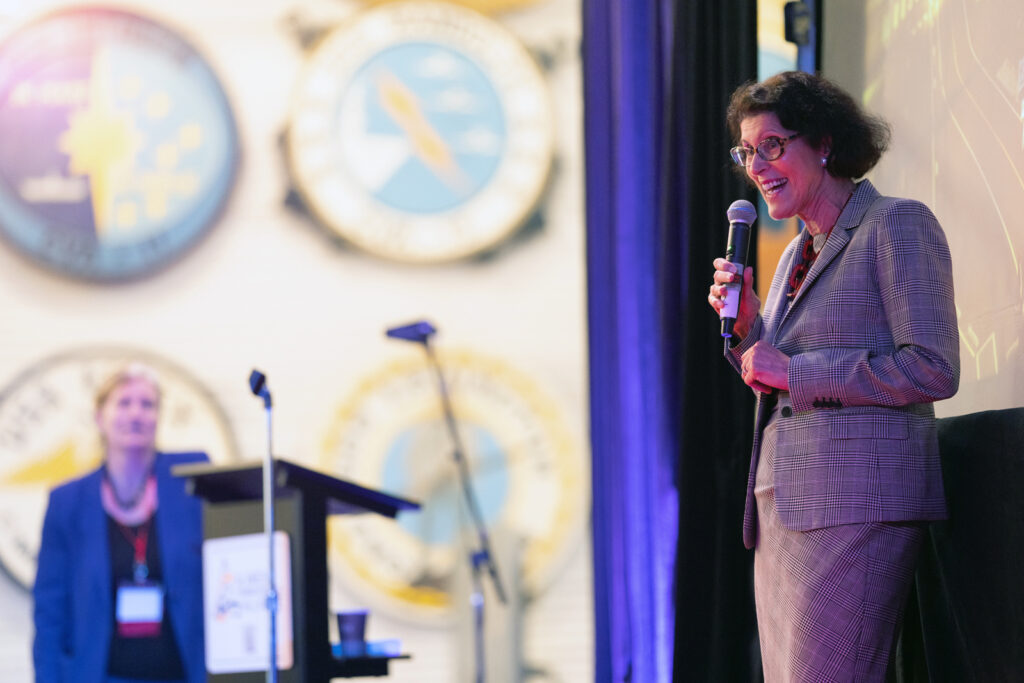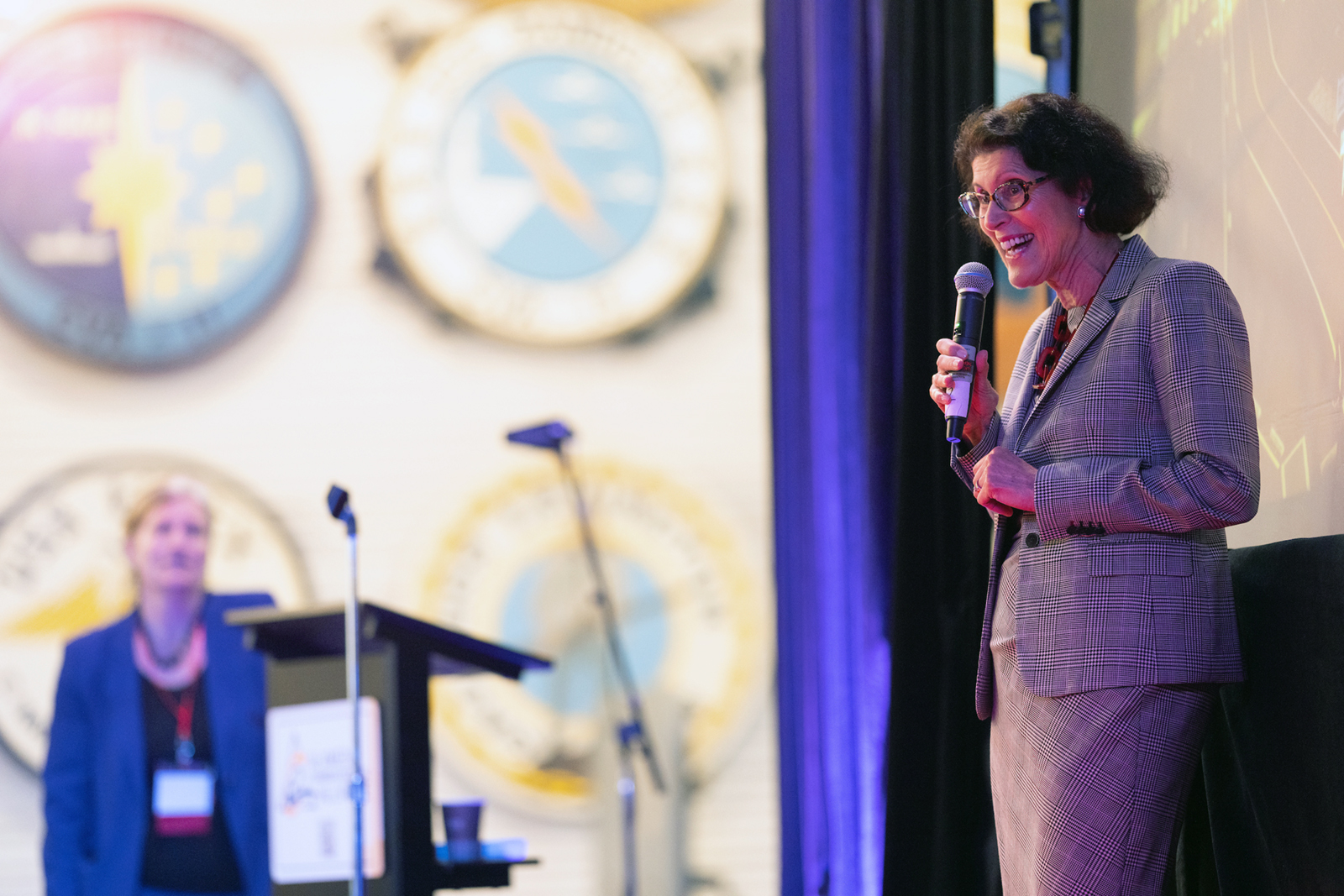 The Mayor concluded her State of the City address by praising new City Manager Jennifer Ott, who she said has hit the ground running since her arrival at the end of 2022 and demonstrates a deep understanding of the complexities of developing Alameda Point.
Contributing writer Karin K. Jensen covers boards and commissions for the Alameda Post. Contact her via [email protected]. Her writing is collected at https://linktr.ee/karinkjensen and https://alamedapost.com/Karin-K-Jensen.