Alameda's new affordable housing development, Rosefield Village, ticks all the boxes for a welcome addition to its West End neighborhood. For starters, it looks great. The 2.4-acre property at 727 Buena Vista Ave. is an artful mix of modern new apartments and renovated older homes.
The old and new in harmony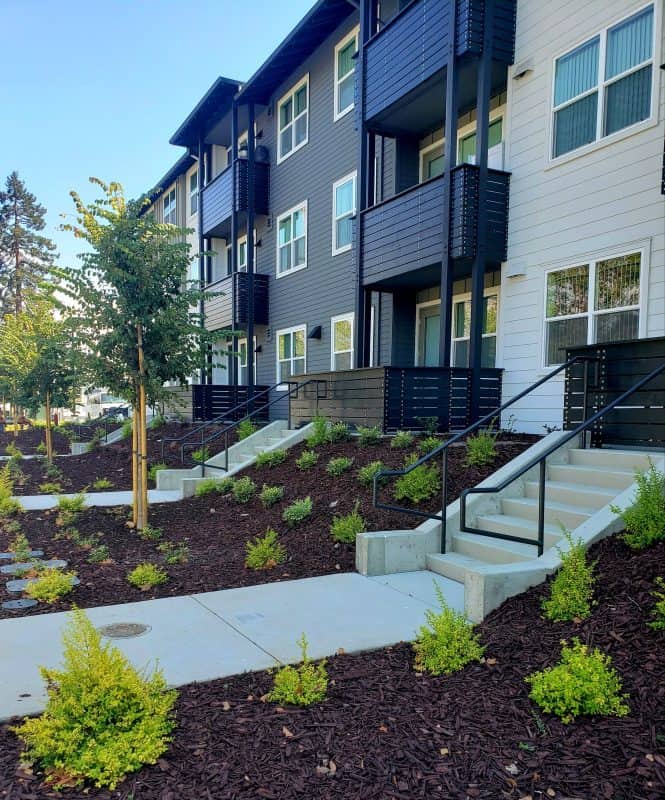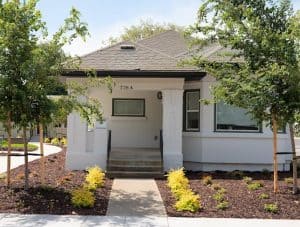 Walking past the side of the development that faces Eagle Avenue, one notices how the new Rosefield Village units with gently sloping front yards and terraced entrances perfectly complement the renovated older homes, just footsteps away. An earlier Alameda Housing Authority (AHA) apartment complex across the street, built in the 1980s, benefits from the upgrade because the entire block looks much better than it did just a couple of years ago.
Sustainability is a top priority, as is easily seen in the newly planted Bay-friendly landscaping throughout the complex and solar panels on the roof of the new building. The location is ideal—walking distance from the beach and just a short stroll from the West End library, Webster Street, and six AC Transit bus lines.
And the best part is that it will provide homes for 92 low-income households, almost twice as many as the original 53 units housed.

Housing with a mission
Rosefield Village doesn't just look good—it does good. Mayor Marilyn Ezzy Ashcraft said at the grand opening ceremony on September 15 that the development meets the "three P's" that are essential to keep people housed: production, preservation, and protection.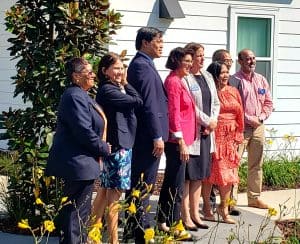 "You have to produce more affordable housing. You have to preserve the housing stock you have, especially the rental housing stock you have. And you have to protect your residents, your tenants, so they don't slide into housing insecurity," Mayor Ashcraft explained. "And I'm so pleased to tell you that with Rosefield Village, they've accomplished all three of those P's. They have produced new housing. They've preserved some of the existing homes that were here before and have done a beautiful job. And they're protecting people from sliding into housing insecurity and homelessness."
Fifteen formerly homeless individuals already were preparing to move into Rosefield Village units, AHA Executive Director Vanessa Cooper said during the grand opening ceremony.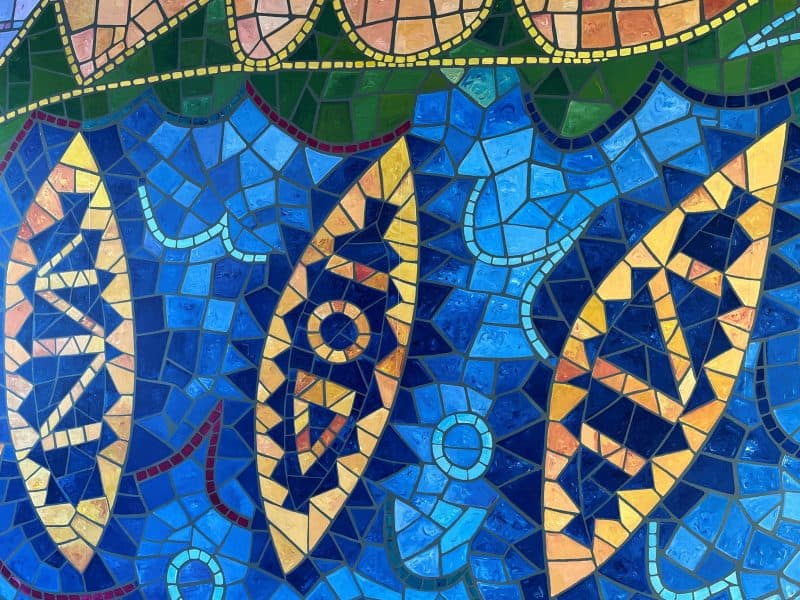 The leasing process is currently in progress, according to AHA Senior Project Manager Tony Weng. It involves working with a number of waiting lists, verifying incomes, finding appropriate units for each household, and other details. Units include studios as well as apartments with one, two, or three bedrooms, Weng said. Rental cost for these affordable units is based on the tenant's income and ranges from $513 to $2850 per month, according to city officials. Cooper said the development prioritizes employees of the Alameda Unified School District (AUSD) who are low-income Alameda residents.

Good for tenants and kind to the environment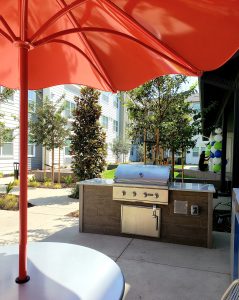 Mayor Ashcraft noted that Rosefield Village offers a lot of amenities for tenants, including outdoor play areas for children; patios and courtyards with shaded picnic tables and a built-in grill; a locked bike storage room; social gathering room; and laundry units on each floor. "The village is part of the Alameda Smart City plan with broadband access, a hotspot in the community room, and tablets that can be checked out without charge for two weeks at a time," she said. And all tenants get free transit passes.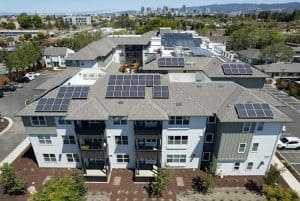 Rosefield Village was designed with sustainability in mind, according to the AHA, and is in the process of obtaining Green Point Rated Gold certification, an industry standard for sustainable development. Rooftop solar panels will provide energy to offset 20 percent of common area energy usage. Bay-friendly landscaping incorporates practices of water saving, maintenance labor savings, non-toxic weed suppression, reduction of runoff, and potential greenhouse gas reduction. Flooring throughout the building is made of sustainable materials. All lighting and appliances throughout the complex are energy efficient.
Proximity to public transportation also is a key part of Rosefield Village's sustainability model.  "That's another way that we accomplish our climate goals—getting people out of those automobiles and onto public transit," Mayor Ashcraft said.
Rosefield Village was developed by Island City Development, an AHA affiliate.

Liz Barrett is the Copy Editor of the Alameda Post and writes about our community. Contact her via [email protected]. Her writing is collected at AlamedaPost.com/Liz-Barrett.