Votes to rename Constitution Way to remember dedicated public servant
On Nov. 9, 2021, Alameda County Supervisor and Alameda resident Wilma Chan was struck and killed by a vehicle while walking her dog at the intersection of Shore Line Drive and Grand Street just after 8 a.m. Alameda Fire Department paramedics transported her to Highland Hospital in Oakland where she succumbed to her injuries.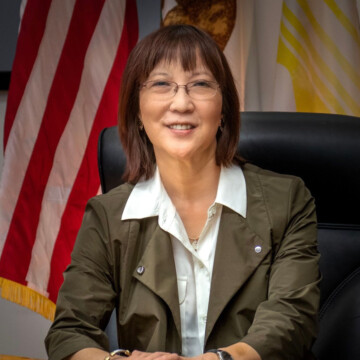 Chan graduated from Stanford University. She sat in the California State Assembly from 2001 to 2006. She represented Alameda County's Third District as its Supervisor from 1995 to 2000 and from 2010 until her death.
Chan lived in Alameda for 27 years. At its Feb. 15 meeting, City Council voted to honor Chan by renaming Constitution Way to Wilma Chan Way. The new Wilma Chan Way carries traffic into Alameda as it exits the Webster Street Tube. The road was originally a Central Pacific Railroad right-of-way.
It began carrying trains out of Alameda in 1872 when the Central Pacific decided to stop using the Alameda wharf and have all its westbound trains run to the wharves in Oakland. When the City decided to use this abandoned right-of-way for this new street, it had to pay the Southern Pacific Railroad $1.8 million for the property. The Southern Pacific took over the Central Pacific in 1885. In 1911, the Southern Pacific began running its Red Trains on part of this line. Some of the racks that carried these trains to the Bethlehem Shipyards are still visible along the new Wilma Chan Way north of Atlantic Avenue.

The City decided to build this road not only as way for traffic to bypass Webster Street, but as an easier access route to Marina Village, which was in the planning stages along with what was first called "Patton Way." It puzzles this writer as to whether the City was honoring General George Patton, as some suggest, or the Alameda architect William Patton. City documents called the street Patton Way, but never referred to anyone by first name during the planning stages in 1983. However, by 1988, documents referred to the street as Patton/Constitution Way. By the time it opened to traffic, the name Constitution Way had won out.
We will now remember Wilma Chan when we see her name on this street as we enter Alameda.
Dennis Evanosky is the Editor of the Alameda Post. Reach him at [email protected].