Ruby Bridges visits namesake school; Wilma Chan Way dedicated.
Students walk to school to honor civil rights icon
Civil rights icon Ruby Bridges came to Alameda on Monday, November 14, to celebrate Ruby Bridges Walk To School Day with students, parents, teachers, community members, and Mayor Marilyn Ezzy Ashcraft at Ruby Bridges Elementary School, the first school in the nation named in her honor.
"On November 14, 1960, 6-year-old Ruby showed remarkable courage after a landmark court case allowed her to be the first African-American child to attend a 'whites only' elementary school in New Orleans," Mayor Ashcraft wrote on her Facebook page. "As Ruby walked to school, mobs of angry white people yelled hateful things at her to try to prevent her from going to school. Despite all these challenges, Ruby walked to school every day for the rest of the school year and didn't miss a single day of school."
Forty-six years later, in 2006, Ruby Bridges Elementary (RBE) opened its doors in Alameda with the civil rights icon as the guest of honor at the dedication. Today, schools across the country honor that brave little girl at Ruby Bridges Walk to School Day, from Alameda to Alexandria, Virginia. Here in Alameda, the RBE event started with an assembly, when Bridges gave a speech of encouragement to students.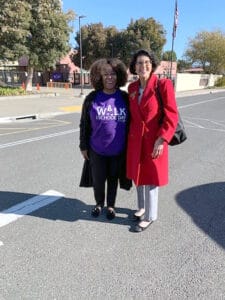 Mayor Ashcraft noted, "A Ruby Bridges student asked her, 'Did anyone else support you that year, besides your family and one kind teacher?' Ms. Ruby, replied, 'Oh yes! Every day, boxes of mail would arrive at our home from people across the country telling me they supported me and not to give up. I never felt alone.' That brave little girl grew up to become a civil rights activist who continues working to end racism and all forms of bullying."
After the assembly, which also featured remarks from the Student Council and Principal, as well as a guest performance of "Walk Like Ruby Did" by the Music Notes, students walked out of the back gates, down the walkway, and entered the school through the front gate as they were cheered by families and visitors who came to the celebration.
A number of community members expressed their gratitude for Ruby Bridges and the commemoration of her transformative walk to school on a City of Alameda Facebook post.
"It's jarring to realize how, relative to her big place in history, Ruby Bridges is pretty young," Ashley wrote. "Our society has to do so much healing and reconciliation from segregation and the harm it caused."
"Those kids are lucky to have heard her speak," Jenee commented. "Many of them wouldn't be sitting in that auditorium if it weren't for her and other activists."
Learn more about Ruby Bridges and the role she played in Civil Rights at the Ruby Bridges Foundation website and watch her speak on Instagram.
Late Alameda County Supervisor honored with new street name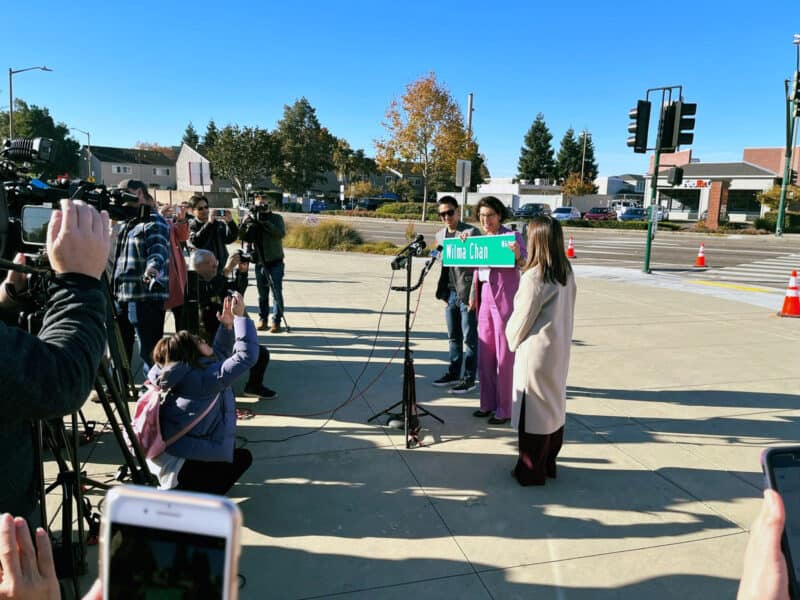 A major Alameda street was formally renamed as Wilma Chan Way in a ceremony held Wednesday morning, November 16, in Alameda. The street—previously known as Constitution Way—was renamed to honor the legacy of former Alameda County Supervisor Chan. Chan was an Alameda resident for 27 years and provided decades of public service to Alameda and its diverse community.
Chan died unexpectedly after being hit by a car while crossing Shoreline Drive just over a year ago, on November 3, 2021. The renaming of Constitution Way as Wilma Chan Way was approved by Alameda City Council on February 15, 2022, following a request by the late Supervisor's family.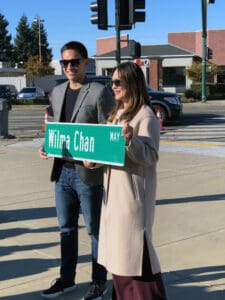 Her children joined Alameda Mayor Marilyn Ezzy Ashcraft and current County Supervisor for District 3, Dave Brown, for a street sign unveiling ceremony at the west end of Jean Sweeney Park near the corner of the newly named Wilma Chan Way and Atlantic Avenue.
The unveiling was followed by a presentation of a commemorative gift sign to Supervisor Chan's family by Mayor Ashcraft in recognition of the late Supervisor's enduring community advocacy and years of leadership on behalf of Alameda's residents as a member of the Alameda County Board of Supervisors and during her three terms in the California State Assembly.
"Wilma Chan was a remarkable leader whose life work will continue to have profound, positive, and lasting impacts on countless Alameda County residents, especially the most vulnerable among us," said Mayor Ashcraft. "Today the City of Alameda renamed Constitution Way to Wilma Chan Way to honor our longtime dedicated and beloved public servant Wilma Chan. Now everyone who enters Alameda through the Tube will be reminded of Wilma's legacy and devotion to her community."
Chan's many contributions to the City of Alameda and its residents include founding the Alameda Collaborative for Children, Youth, and their Families (ACCYF) in 1996, which created a community partnership aimed at serving Alameda's children and their families. She also founded First 5 Alameda County, a public entity that supports children from birth to age five by promoting optimal health and development while eliminating barriers that prevent access to essential services.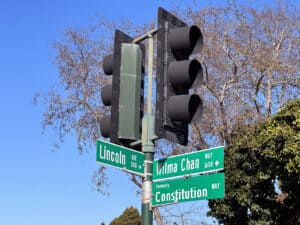 "Today's unveiling honors the legacy of Supervisor Wilma Chan, her years of dedication to public service, and her commitment to serving the Alameda community," said Supervisor Brown. "Wilma Chan Way will also serve as an enduring reminder of her love for the City of Alameda, which she was so proud to call home for almost three decades."
The election to be the next County Supervisor has yet to be decided. With the current vote tally, former Alameda City Councilmember and Vice Mayor Lena Tam leads Oakland Vice Mayor Rebecca Kaplan 53.1 percent to 46.9 percent. Ballot counting may be complete by week's end.