At its meeting on Wednesday, February 15, the City of Alameda Transportation Commission endorsed the Lincoln Avenue/Marshall Way/Pacific Avenue Corridor Improvements Project. David Parisi and Bri Adams from Parisi Transportation Consultants presented updates and design concepts for the full three-mile corridor.
The project aims to implement safety enhancements along the major crosstown arterial, via intersection visibility improvements, bicycle and pedestrian infrastructure, and a road diet. The design includes three proposed roundabouts at the intersections of Central Avenue/Main Street/Pacific Avenue, Lincoln Avenue/Marshall Way/Fifth Street, and Lincoln Avenue/Wilma Chan Way (formerly Constitution Way)/Eighth St.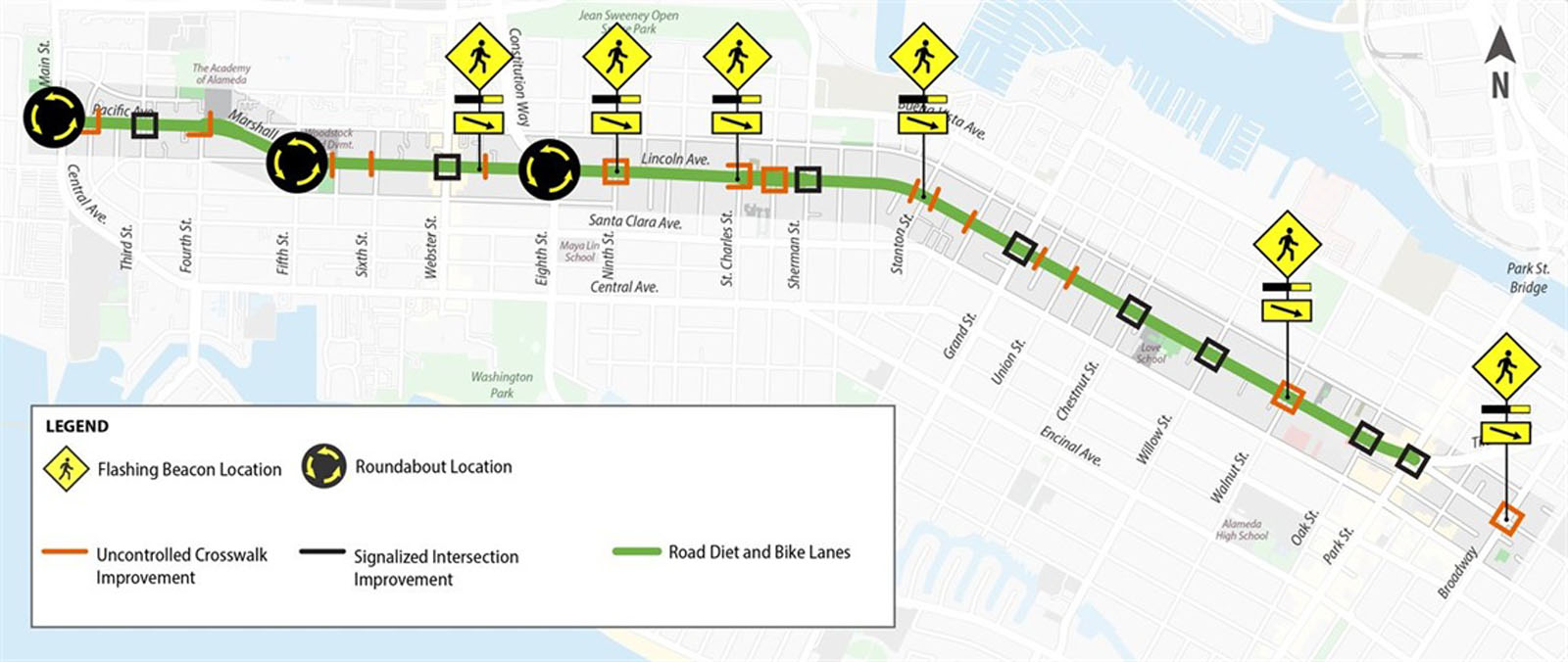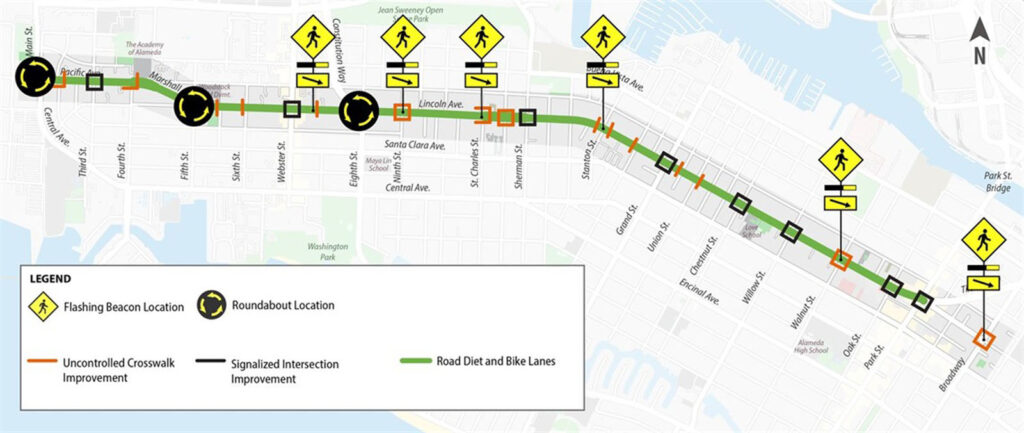 Parisi updated the original design in response to public comment at previous engagements. Importantly, the new proposal removes access to and from the northeast leg of Pacific Avenue at the complex intersection of Pacific Avenue/Marshall Way/Fourth Street, in front of the Academy of Alameda. Access for pedestrians, bicyclists, and emergency vehicles, however, would be maintained. Previously, only westbound travel on this leg of Pacific Avenue had been removed.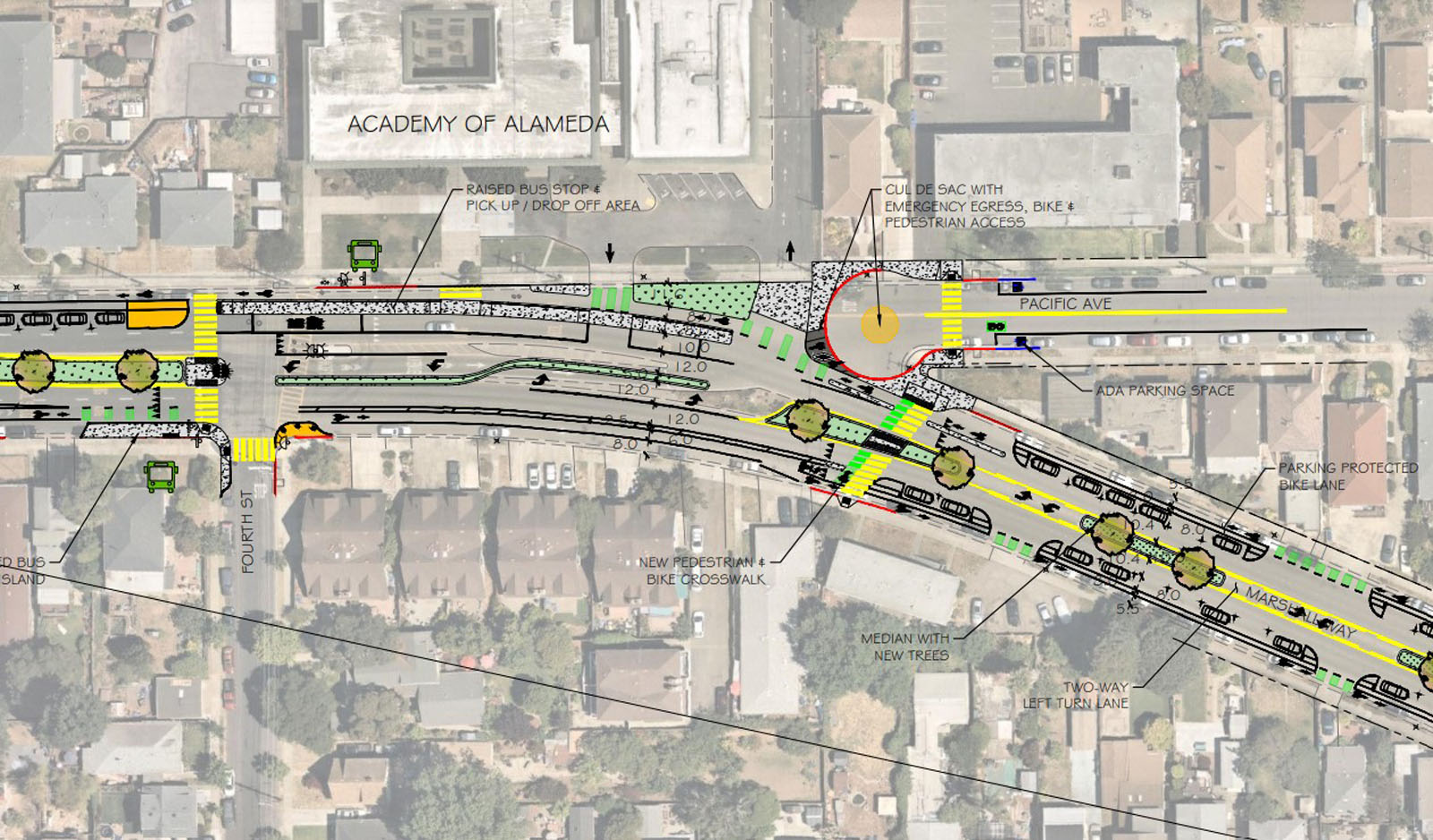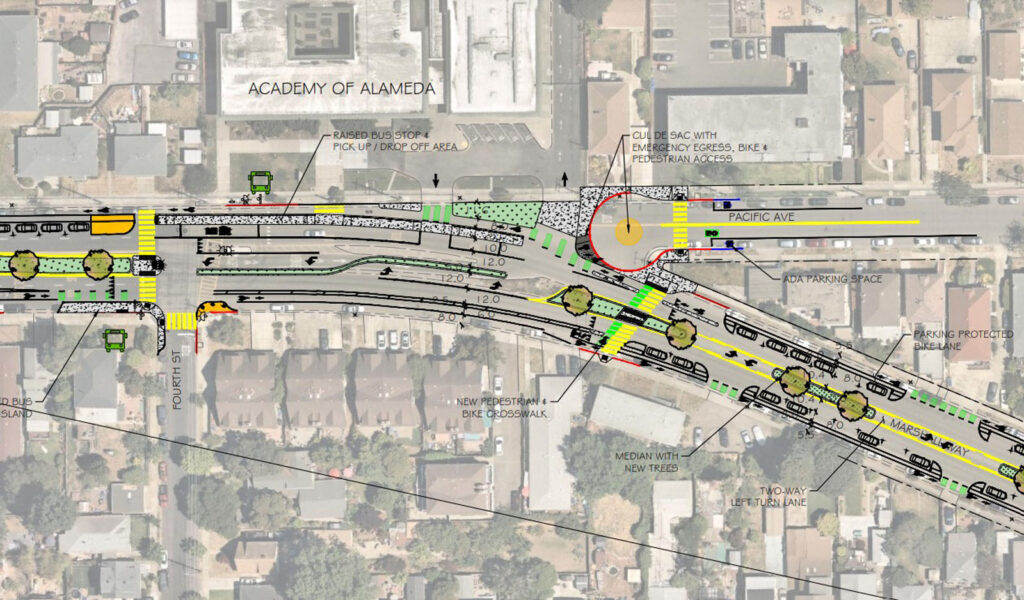 Public comment
Public commenters on Wednesday evening discussed a variety of views from across the corridor. Jeff, a resident near Lincoln Avenue and Walnut Street, explains that safety issues at the intersection are ongoing, with two crashes occurring just the past week. Speaker Jon discussed concerns about protected bicycle lanes and the visibility of cyclists to drivers at intersections, while commenter Jim disagreed with intersection changes at Fourth and Fifth streets. Other speakers broadly supported the project, including Bike Walk Alameda's Cyndy Johnsen. However, Johnsen urged additional crossing improvements to several intersections, including at Ninth Street, St. Charles Street, and Broadway.
Discussion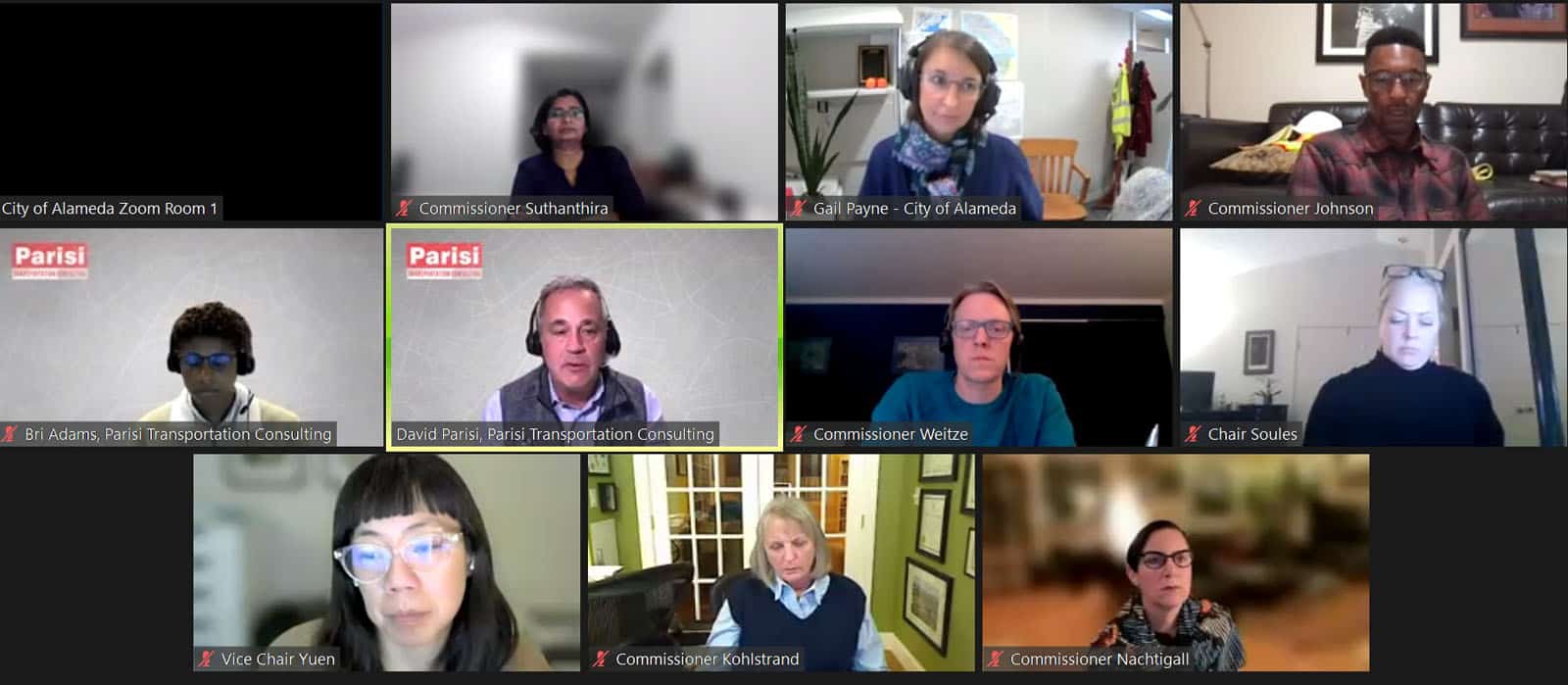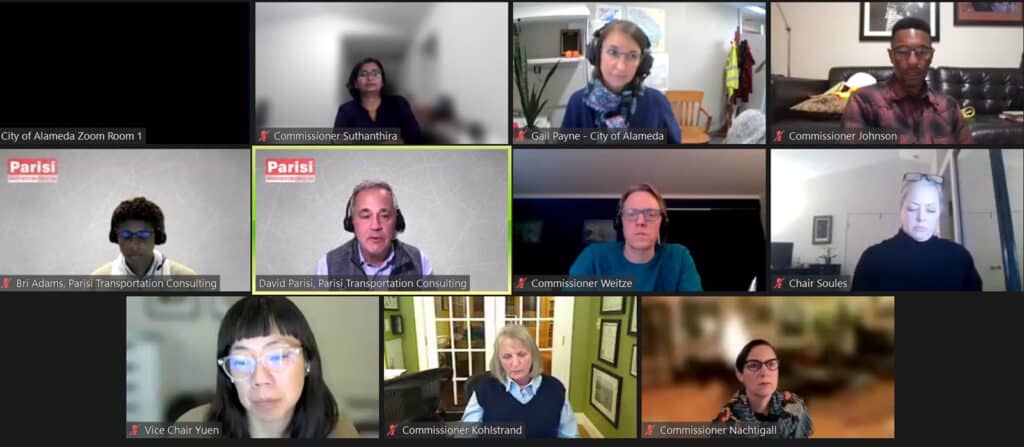 Commissioners had several clarifying questions for Parisi. Commissioner Rebecca Kohlstrand cautioned that with roadway changes approved on Central Avenue and already underway on Encinal Avenue, Lincoln Avenue will remain the only multilane east-west roadway left in Alameda. Kohlstrand, Chair Samantha Soules, and Commissioner Saravana Suthanthira each urged taking a broader perspective on roadway changes to account for future population growth across the island.
In response, Parisi noted that even the most conservative traffic forecasts determine a road diet on Lincoln Avenue will still have sufficient capacity to absorb additional traffic. Commissioner Tina Yuen added: "The future is really unknown. But what we know now is that we have safety issues on this corridor, and that need to be addressed now."
Commissioners, City staff, public commenters, and Parisi all agreed that the multilane roundabout at Lincoln Avenue/Wilma Chan Way/Eighth Street is a sub-optimal design for multimodal safety. Parisi will update the Commission in the next round with additional analysis of the intersection.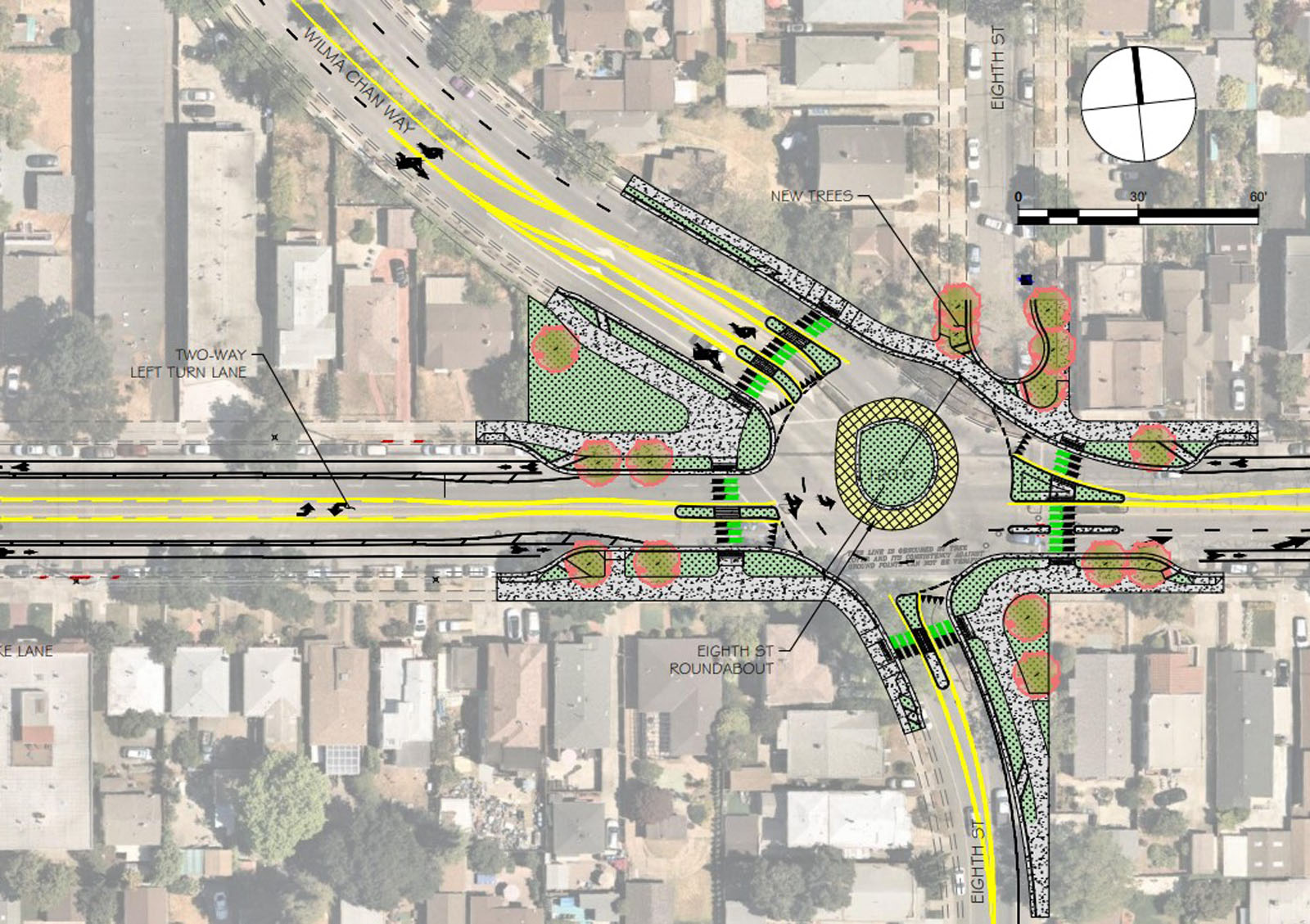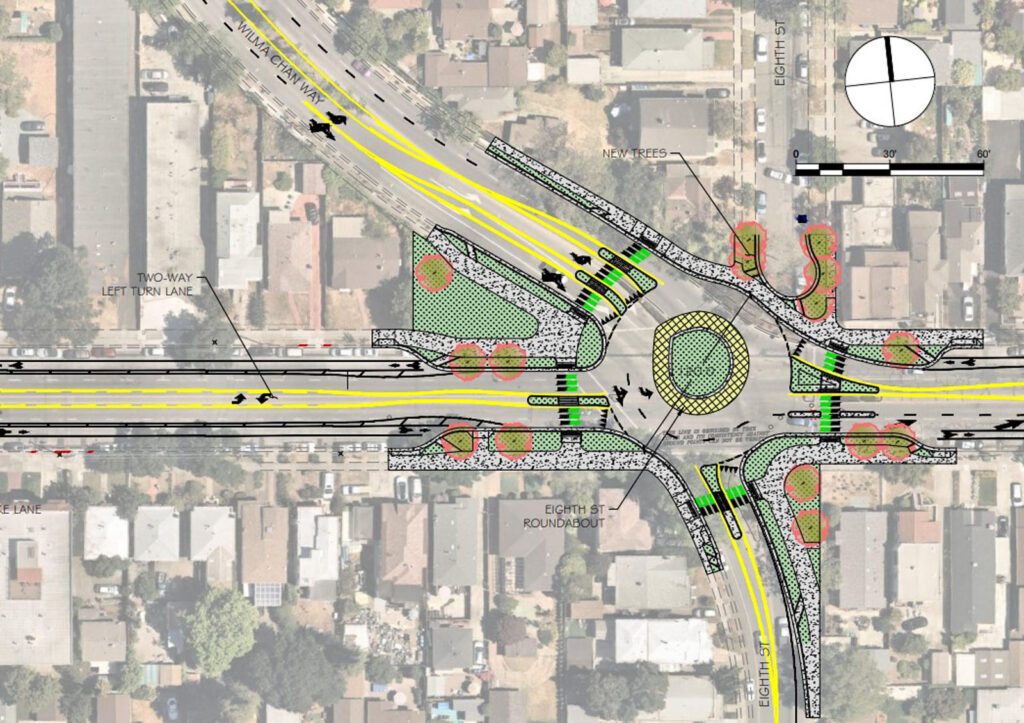 The Commission endorsed the project on the condition that Parisi further investigates the Wilma Chan Way/Eighth Street intersection. The vote was 6-1, with Commissioner Kohlstrand voting  against. The project comes before the City Council for endorsement at its meeting on Tuesday, April 4. View the latest design drawings for the entire corridor on the City of Alameda website.
Ken Der is a contributing writer for the Alameda Post. Contact him via [email protected]. His writing is collected at AlamedaPost.com/Ken-Der.