Bear's-Eye View of Alameda for May 14, 2023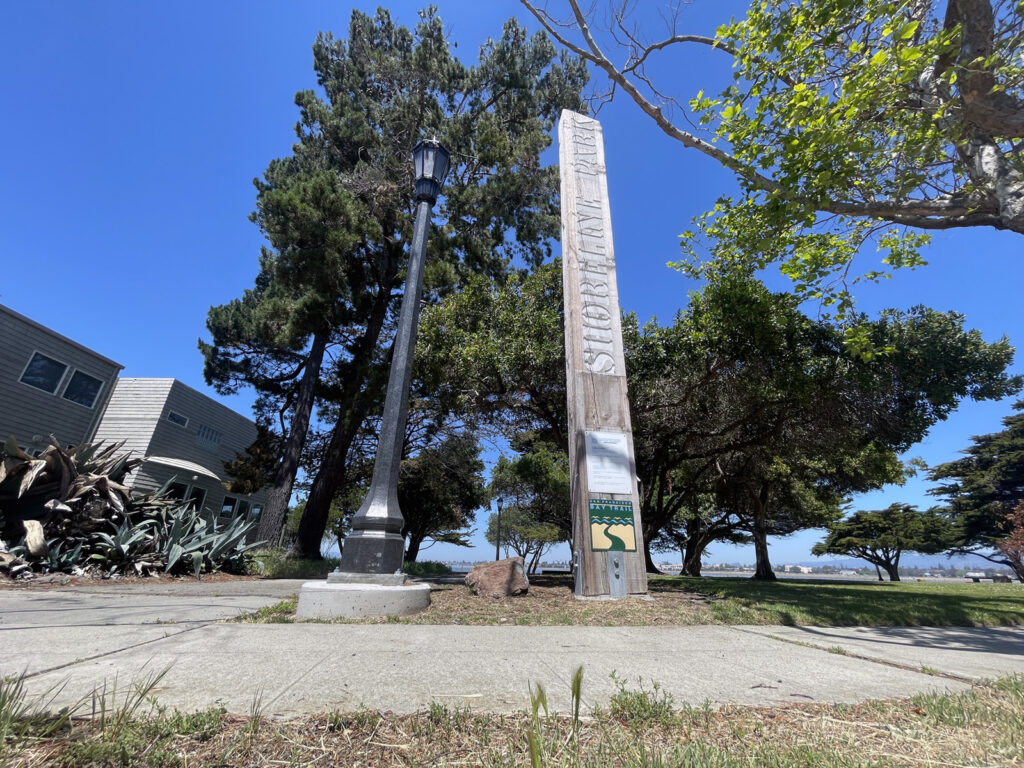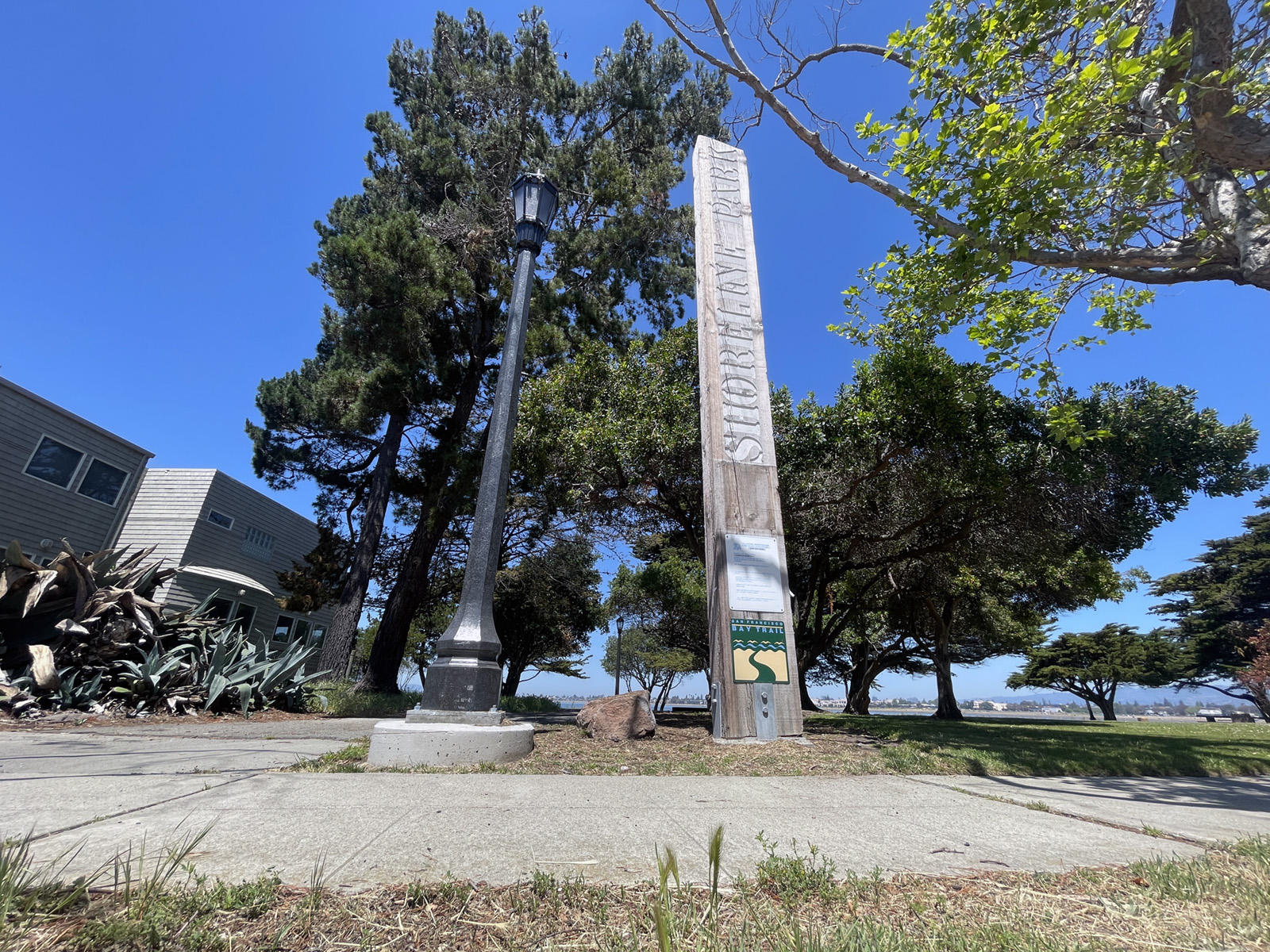 Last week, I started my featured and in-depth coverage of Alameda's park system beginning with Shoreline Park. For that report, I started at Picnic Area #3 by the Harbor Bay Ferry. This week, I returned to the same park to check out Picnic Areas #1 and #2, plus the section of the Bay Trail connecting all three areas.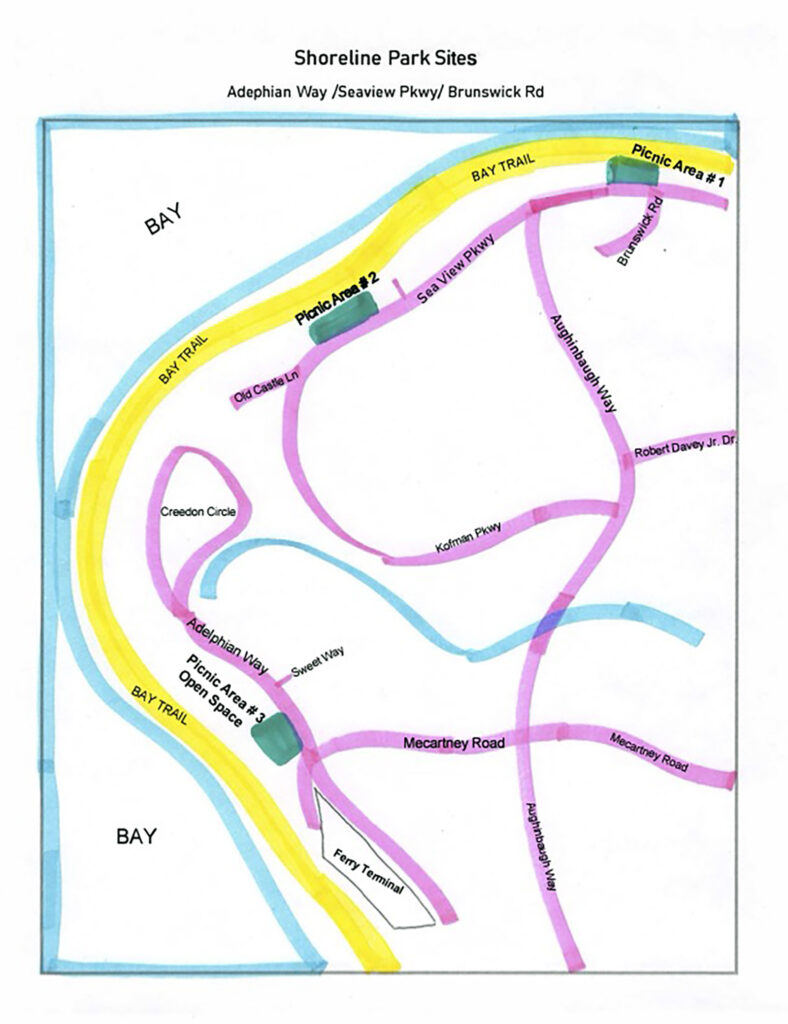 You can reach Picnic Area #1 by turning right from Island Drive onto Robert Davey Jr. Drive and driving to the end. There, you will make a right onto Aughinbaugh Way. Once again, drive to the end of the road and then you will turn right on Sea View Parkway to get to Picnic Area #1 or left to get to Picnic Area #2.
A lot of people bike along the Bay Trail to get to this park. From 94501, cyclists can take the bike bridge over to 94502 and then catch the Bay Trail at Memorial Park. No matter how you get there, one thing you can count on is a stunning panoramic view of the bay. Picnic Area #1 opens onto the main island's shoreline all the way to the USS Hornet and a view of San Francisco. Picnic Area #3 also has a San Francisco view and much more of the peninsula.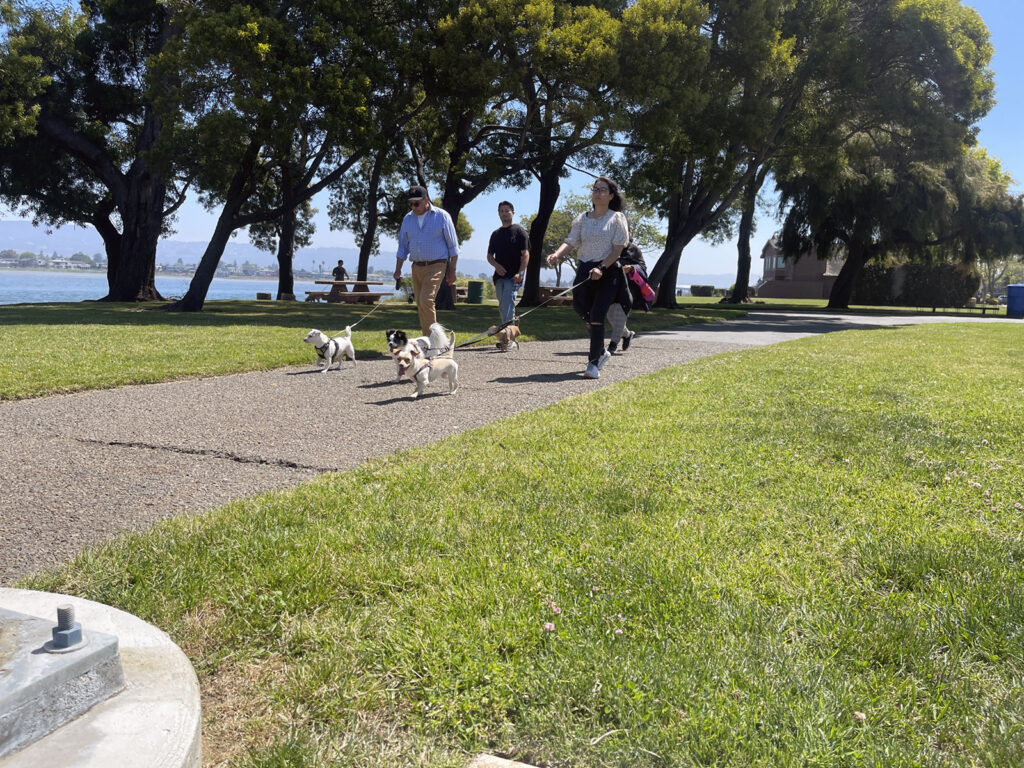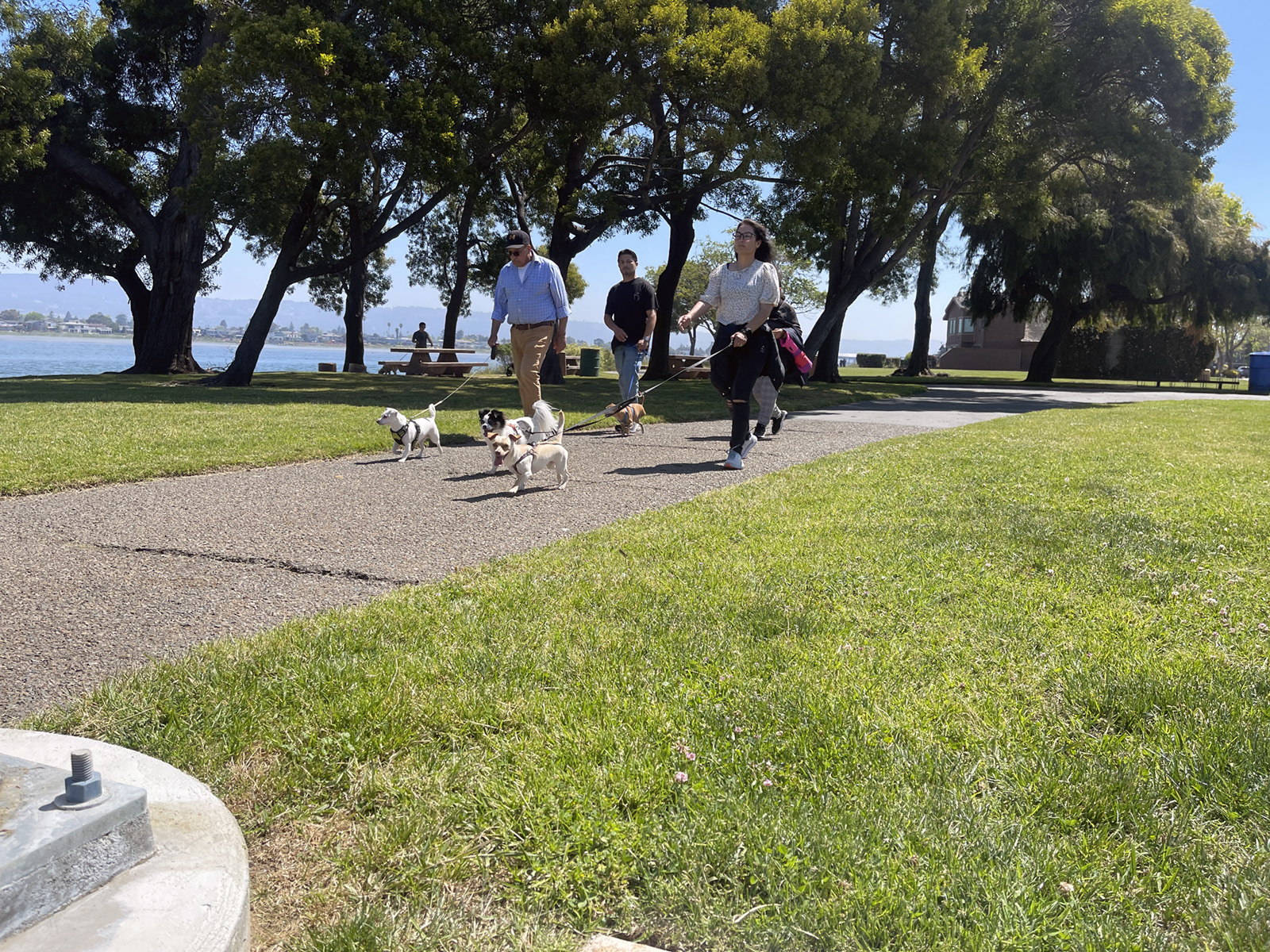 This is a heavily used park with lots of walkers, joggers, and cyclists using the extra-wide path much of which is paved and wheelchair accessible in several sections. You can count on meetings lots of canines along the way, too.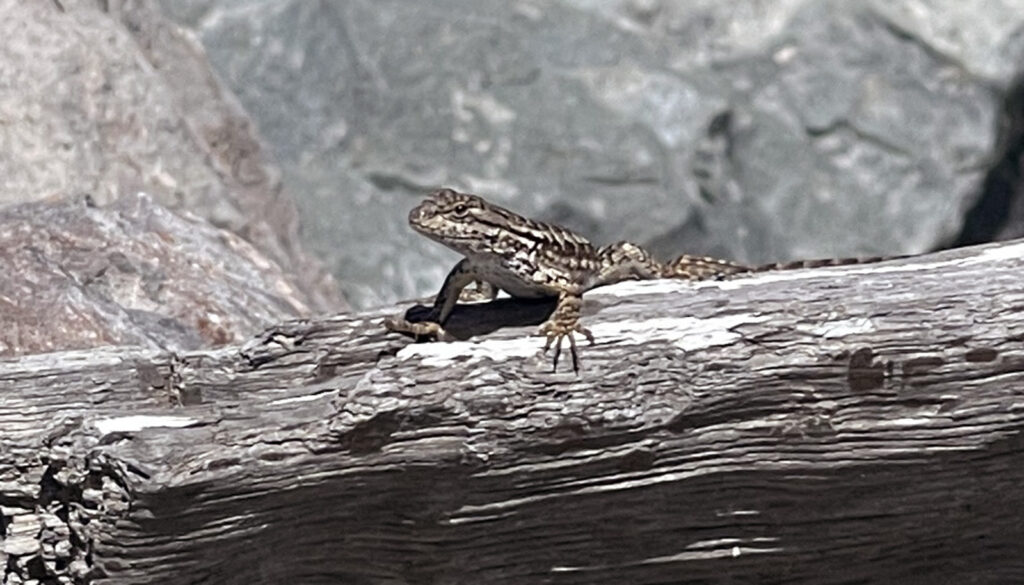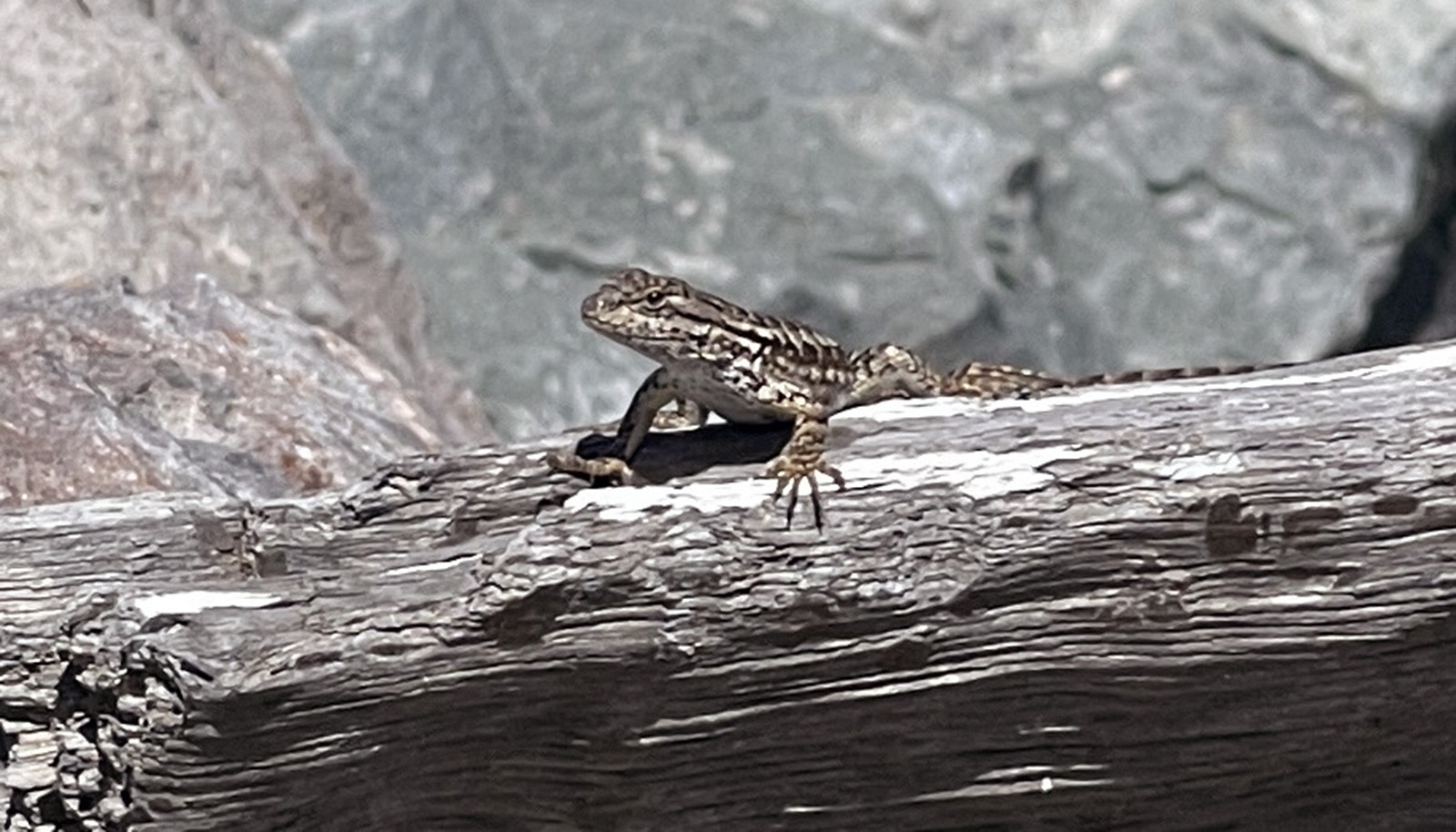 Other wildlife includes a full assortment of seabirds. On our walk, we met up with a Western Fence Lizard out sunning itself.
AND YES!! There were squirrels. Mostly along the trail between #1 and #2 Picnic areas.
Fortunately, there is a lot more to see than the squirrels. The Bay Trail runs between the three picnic areas and along the backyards of the houses along the shoreline so you can check out the many blooming plants.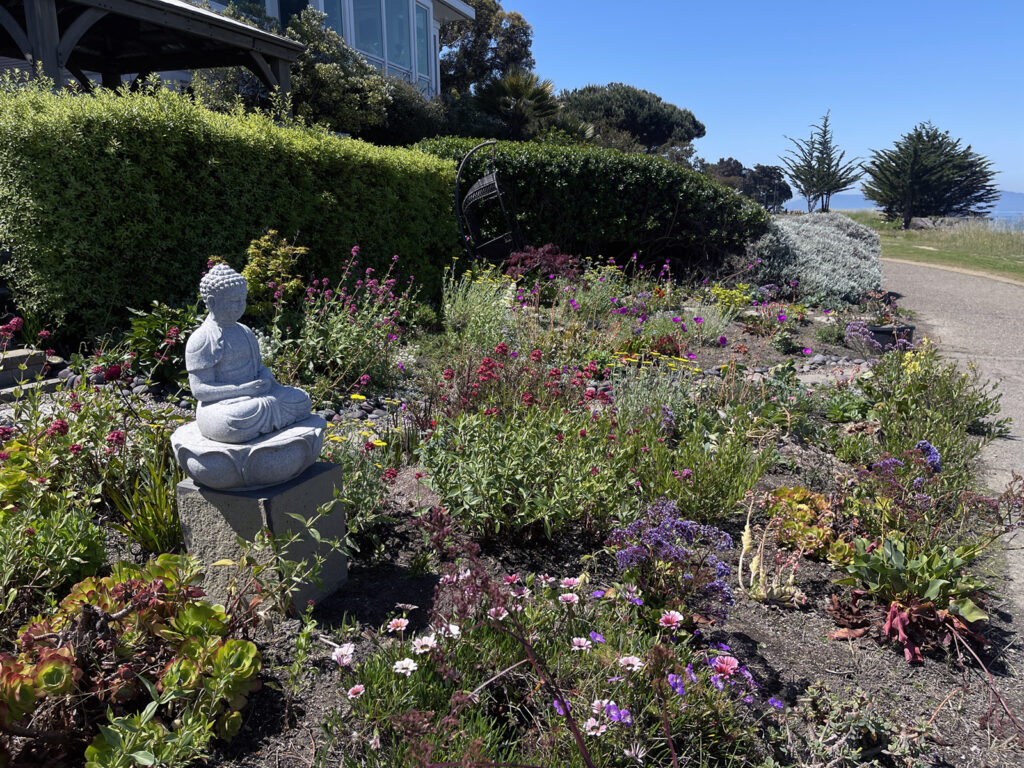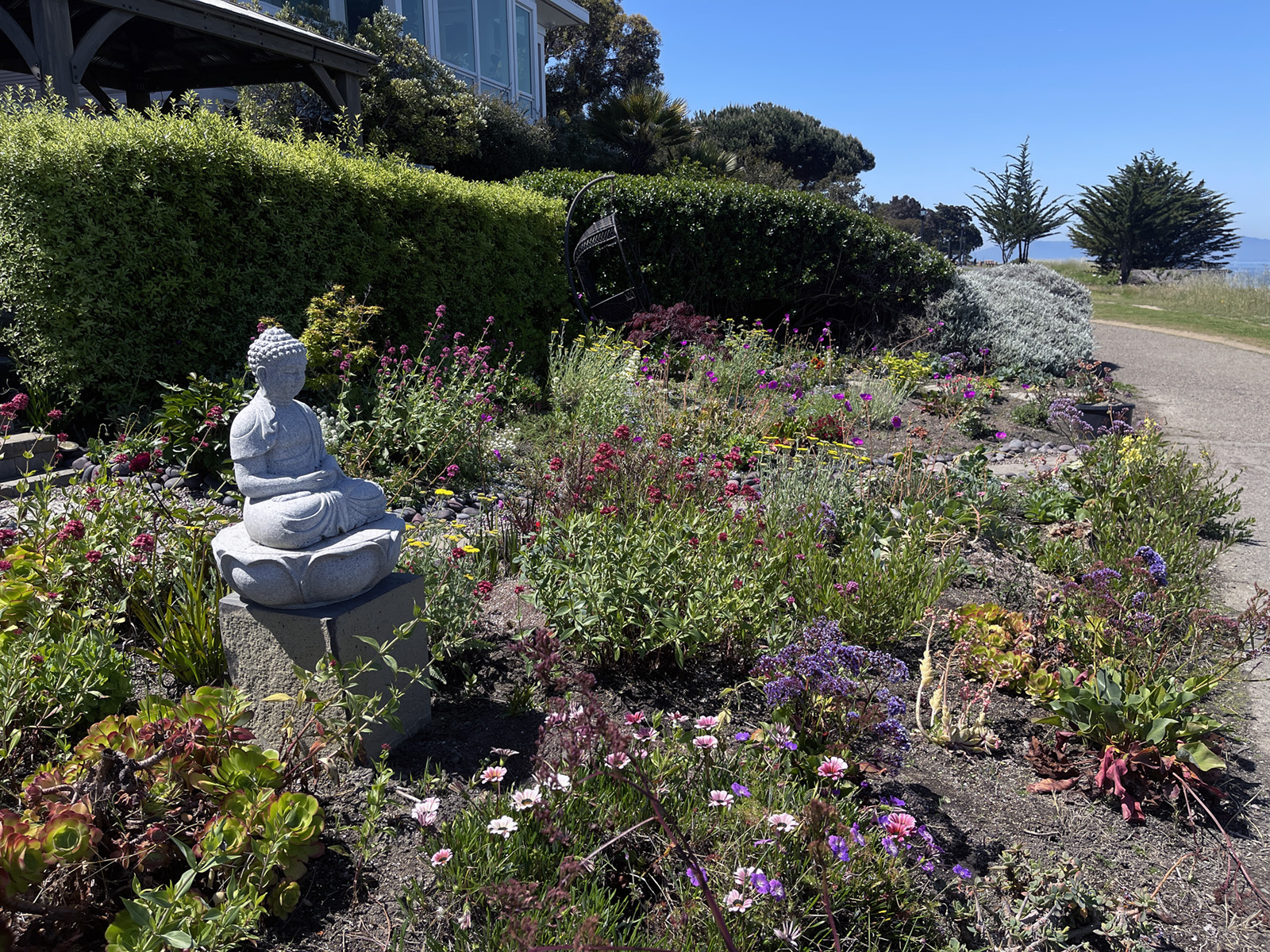 One resident planted an especially nice garden complete with a sculpture and a seat to enjoy the view.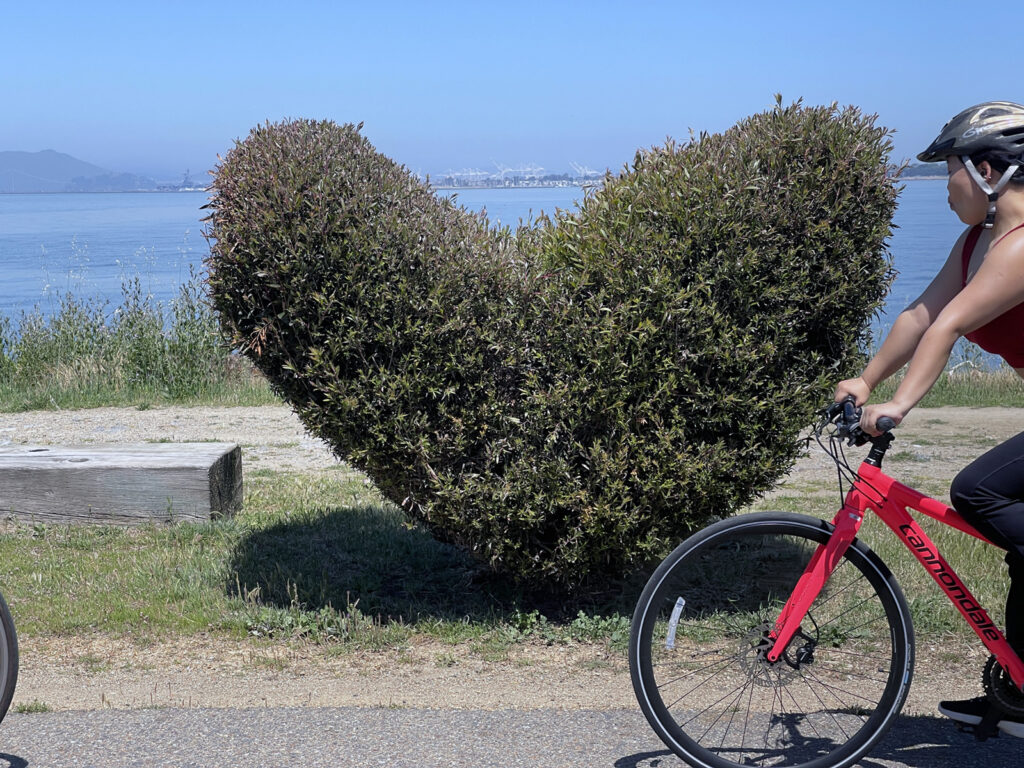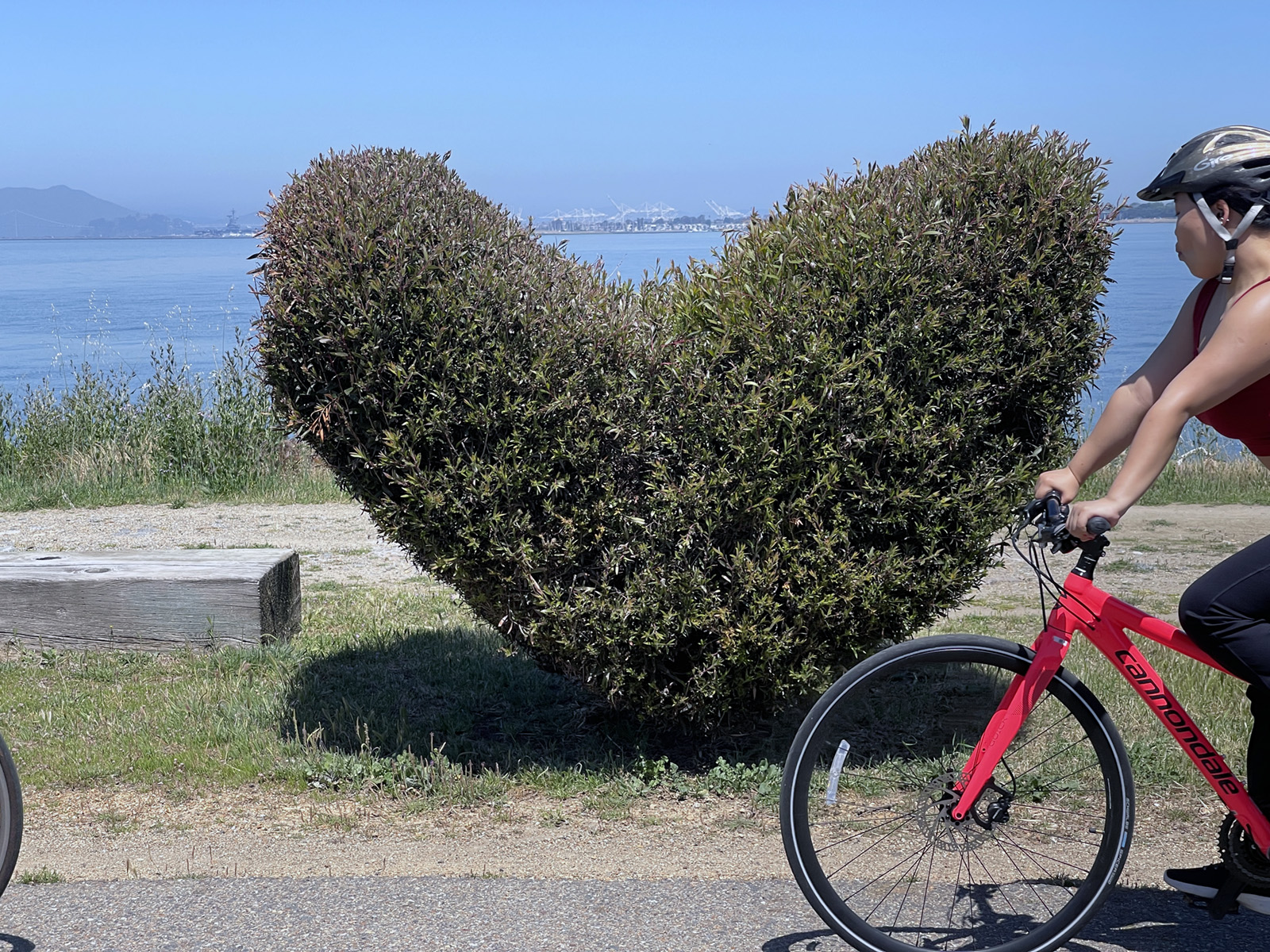 Another resident has taken up the topiary arts and has trimmed a bush into the shape of a heart.
Whether the wind is blowing or it's a calm day, you must go see the two glass sculptures in one of the homes' backyards. It is so beautiful, and I love the kinetic aspect that the artist included in this piece.
As we walked along the trail, I noticed little signs that were attached to trees containing a letter of the alphabet and a picture representing that letter. I am guessing that at one time all 26 letters were represented and over time some of them went missing. Does anyone know the story behind these signs?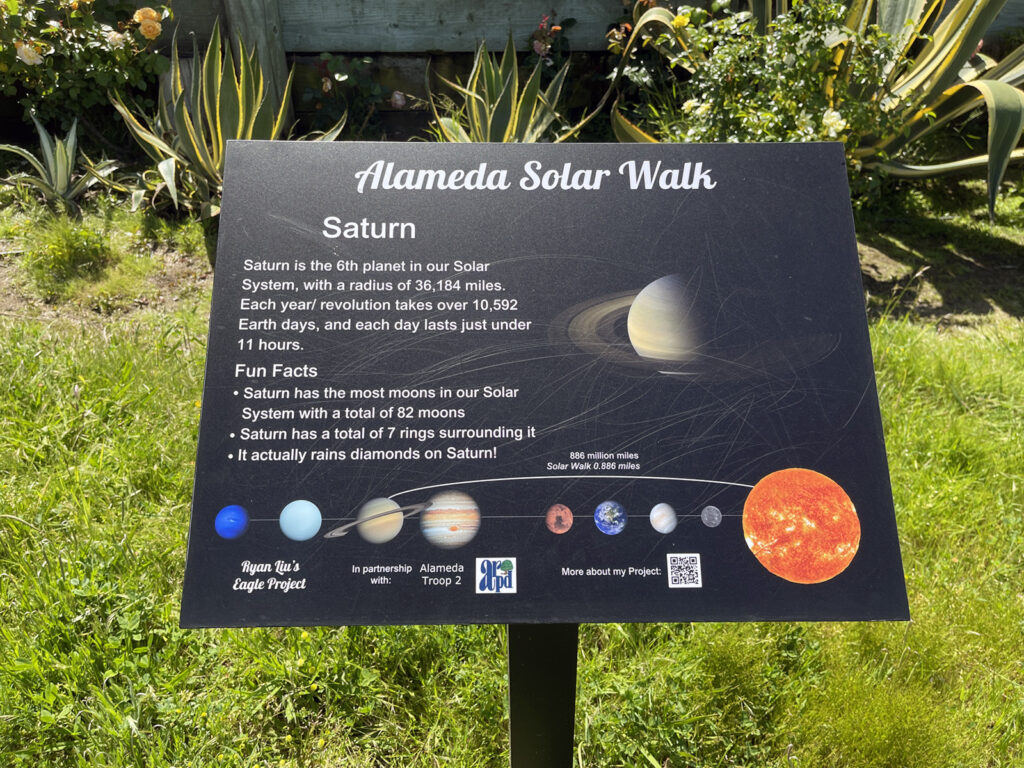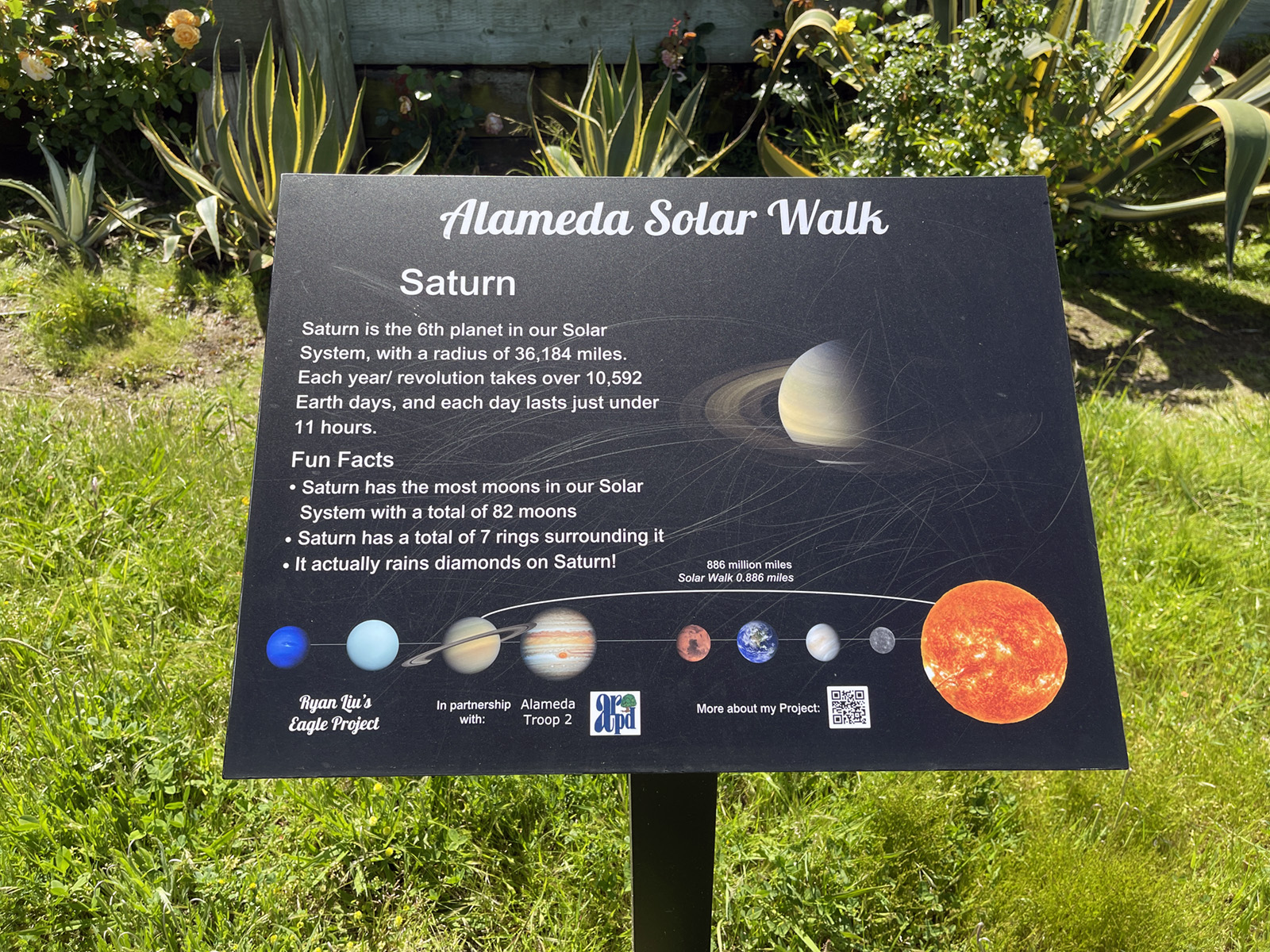 I want to give Ryan Liu a big shout out for his Eagle Scout project about Saturn. Ryan, Troop 2, and ARPD collaborated to install a nice plaque that contains some fun facts about this ringed planet. I had no idea that Saturn had 82 moons!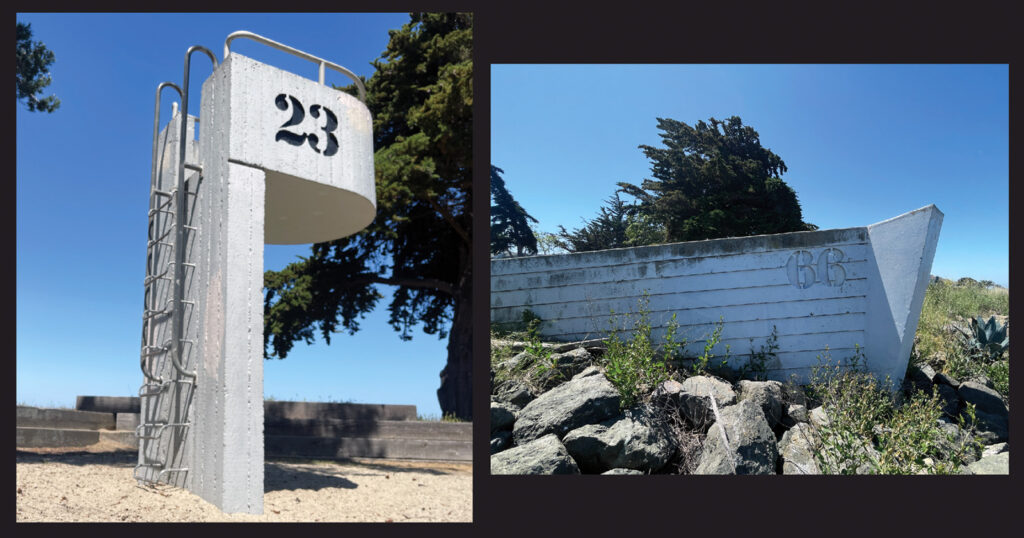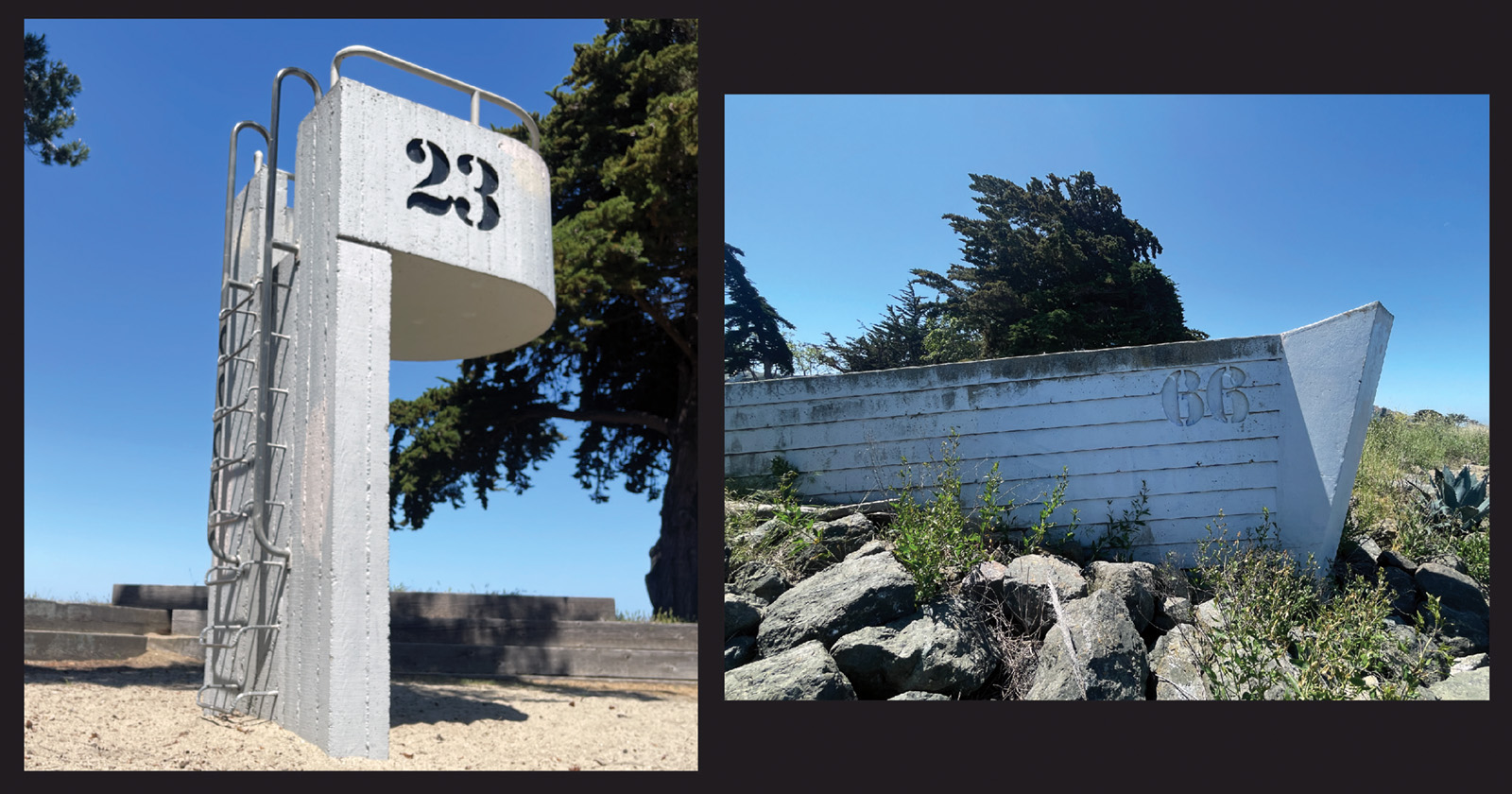 Picnic Area #2 has most of the amenities. There's a crow's nest structure with the number 23 on it and a cement bow of a boat with the number 66 on it. A perfect lookout for any want-to-be pirates. Aaarrrrggghh!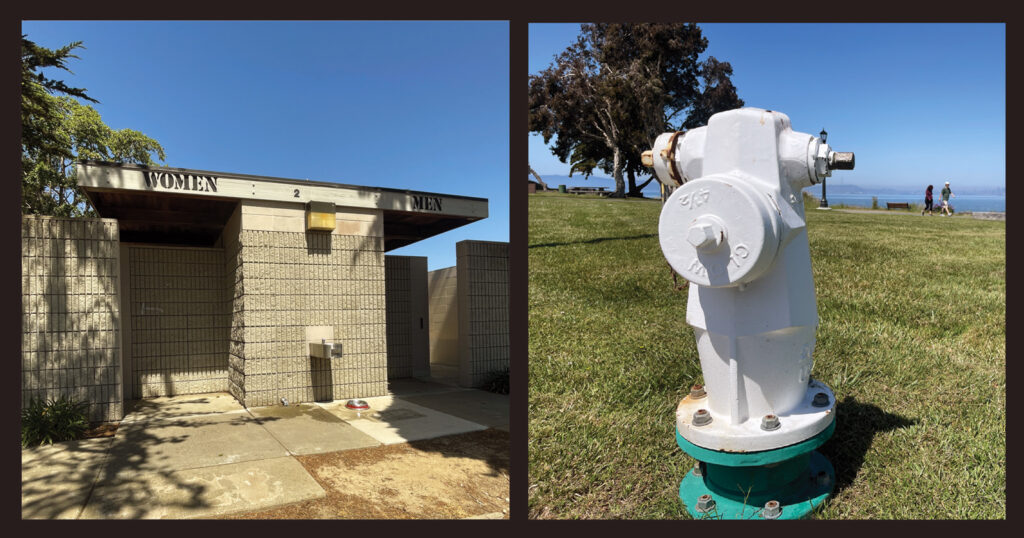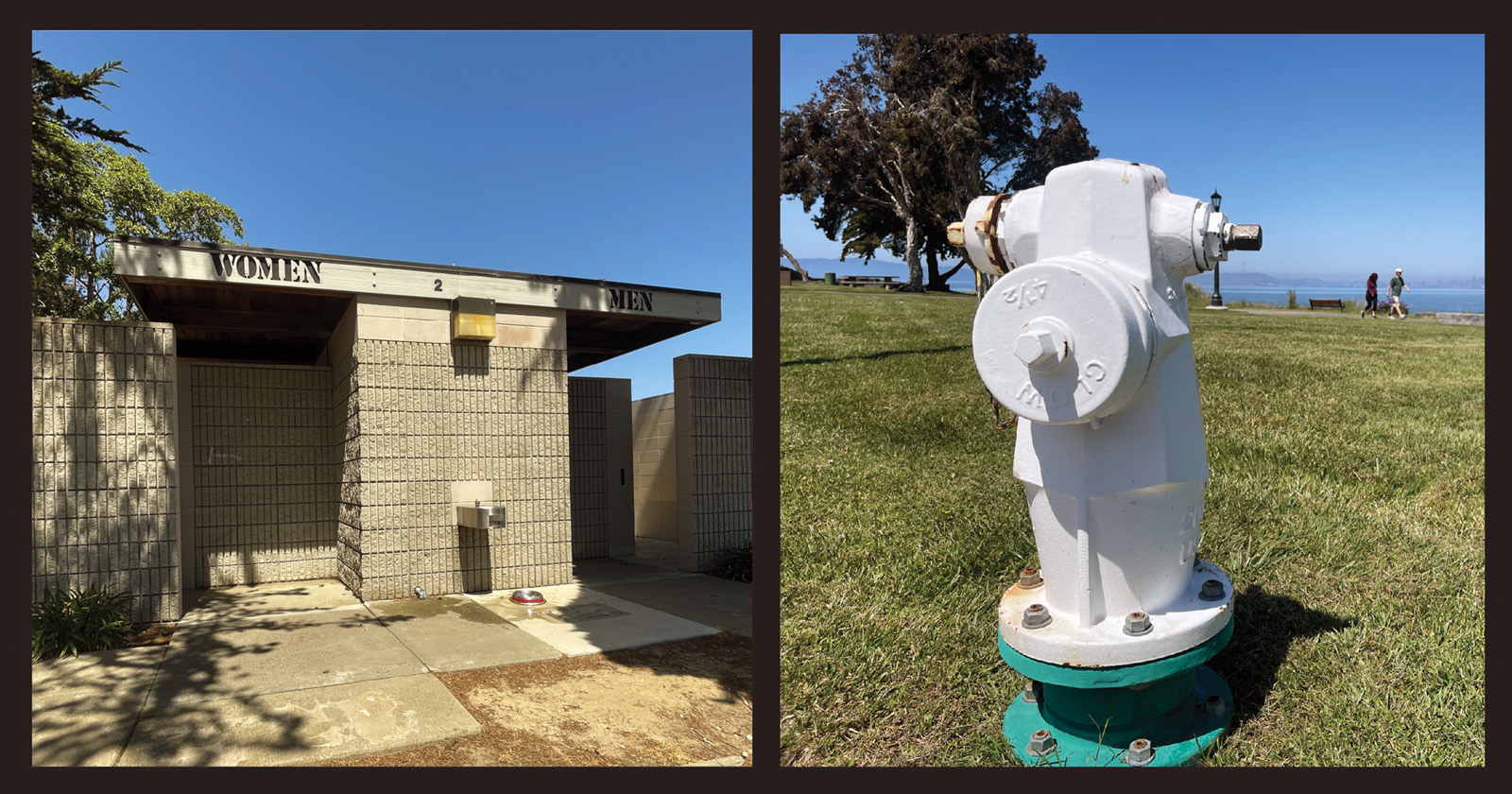 And this is where the bathrooms—both human and canine—are located.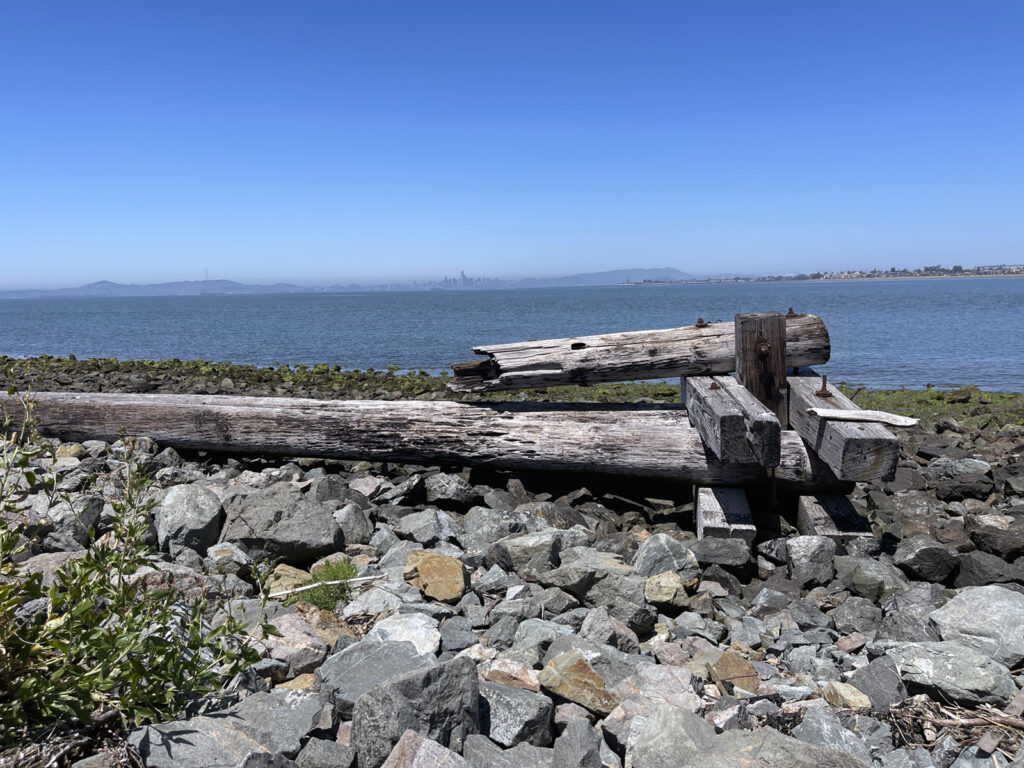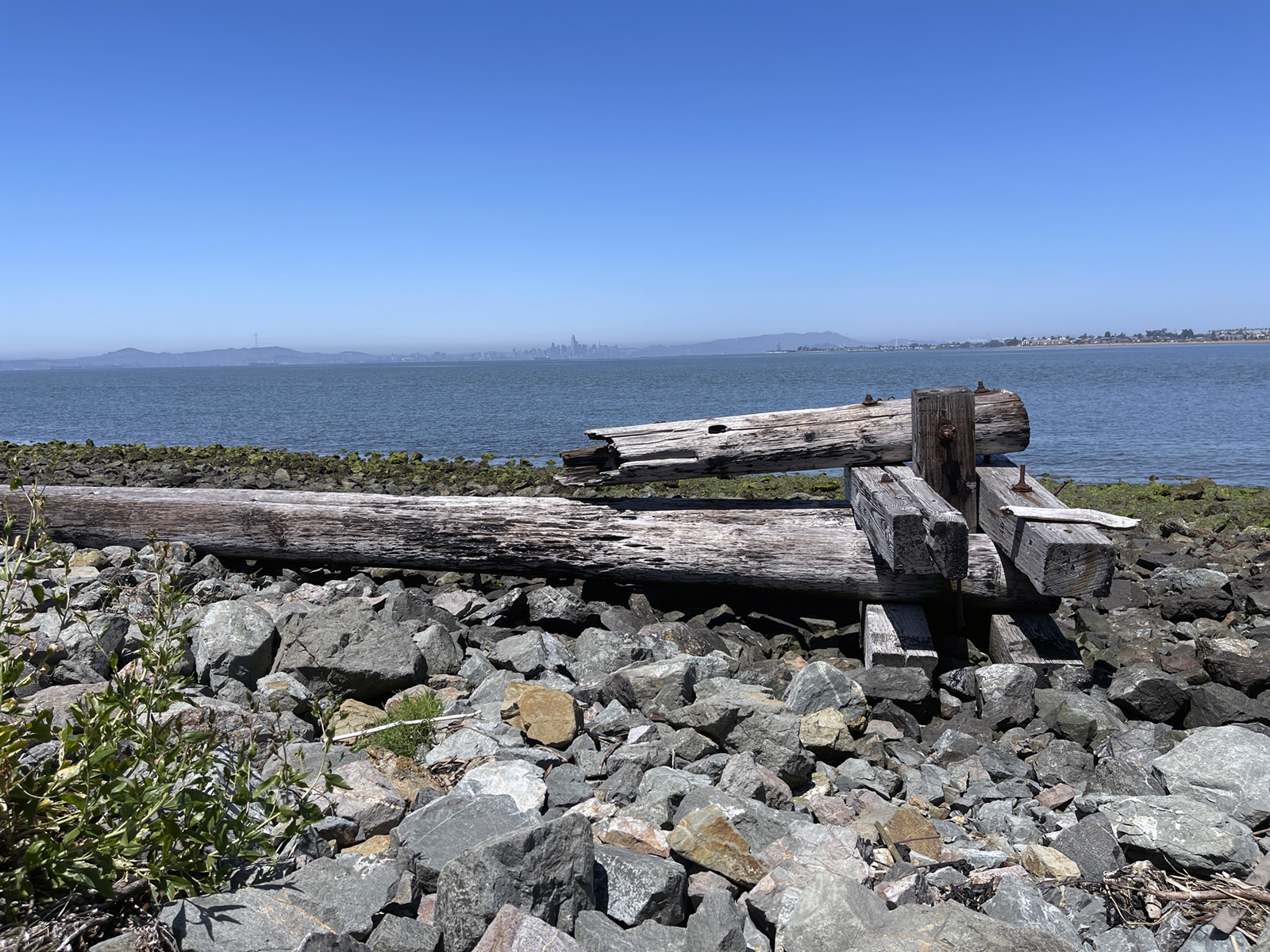 Finally, did anyone misplace their pier? I know where it is if you're interested in getting it back.
I hope you get a chance to head out to any of the three picnic areas in Shoreline Park and walk along the Bay Trail so you can experience all that this area has to offer to any age group.
I also want to wish all those human companions that identify as mothers a very happy Mother's Day.
Mouf, Roving Reporter
Bear's-Eye View of Alameda
Mouf and his human companion can be reached via [email protected]. Their stories are collected at AlamedaPost.com/Jeff-Cambra/. All photos by Jeff Cambra.