Bear's-Eye View of Alameda for September 25, 2022
So, you're probably wondering what the heck is a Fog Fest, and what does it have to do with me and my reporting? Well, my human companion has this side hustle organizing art and wine festivals, and this weekend he is in Pacifica producing the Pacific Coast Fog Fest.
The week before the festival is over the top crazy busy with assigning spaces to the vendors, making sure all the fire marshal's requirements are met, and that the food vendors are all following the guidelines.
What this means is that I was not able to get out for my normal walks to different parts of the island and bring you the latest happenings on our little island.  So, I apologize for this week's short report.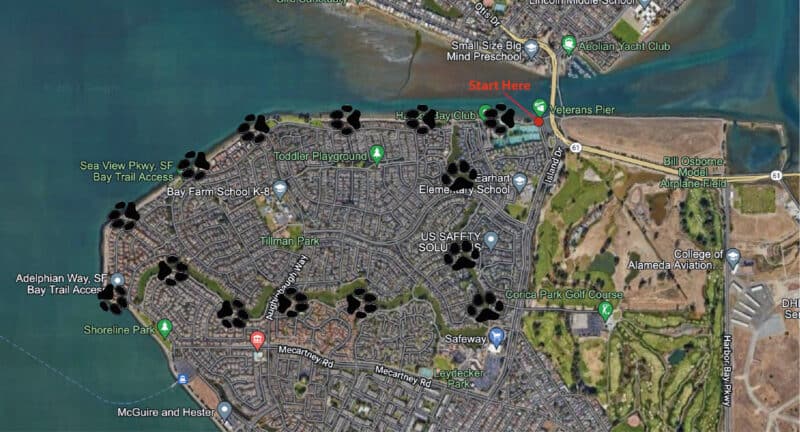 My one and only major walk was to the trail that runs along the perimeter of Harbor Bay. This was my second time on the trail, and I was impressed with the number of furry friends, walkers, joggers, and cyclists along the shore—even midweek.
I am wondering what the significance is of 23 and 66?
While Harbor Bay is very accessible by bicycle from the main island thanks to the bike bridge to Bay Farm Island, the parking is really easy if you need to drive to the trail head, which is located at the Veteran's Memorial.
This report will give you a feel for what you can see in the way of bay views and wildlife. If you're just hanging out today, think about a stroll around Harbor Bay.
Mouf, Roving Reporter
Bear's-Eye View of Alameda
Mouf and his human companion can be reached via [email protected]. Their stories are collected at AlamedaPost.com/Jeff-Cambra/. All photos by Jeff Cambra.