The morning calm was suddenly shattered by blowing car horns, barking dogs, and shouts of "Bear!" It had been a quiet morning at William Kent Campground, on the west shore of Lake Tahoe, as campers crawled out of their tents and RVs to begin another beautiful day at the lake. But the commotion grabbed everyone's attention, as coffee cups and cereal bowls were set down and all eyes started looking for the Ursus Americanus Californiensis, or California Black Bear. Since these bears can weigh up to 350 pounds, it shouldn't be too hard to spot.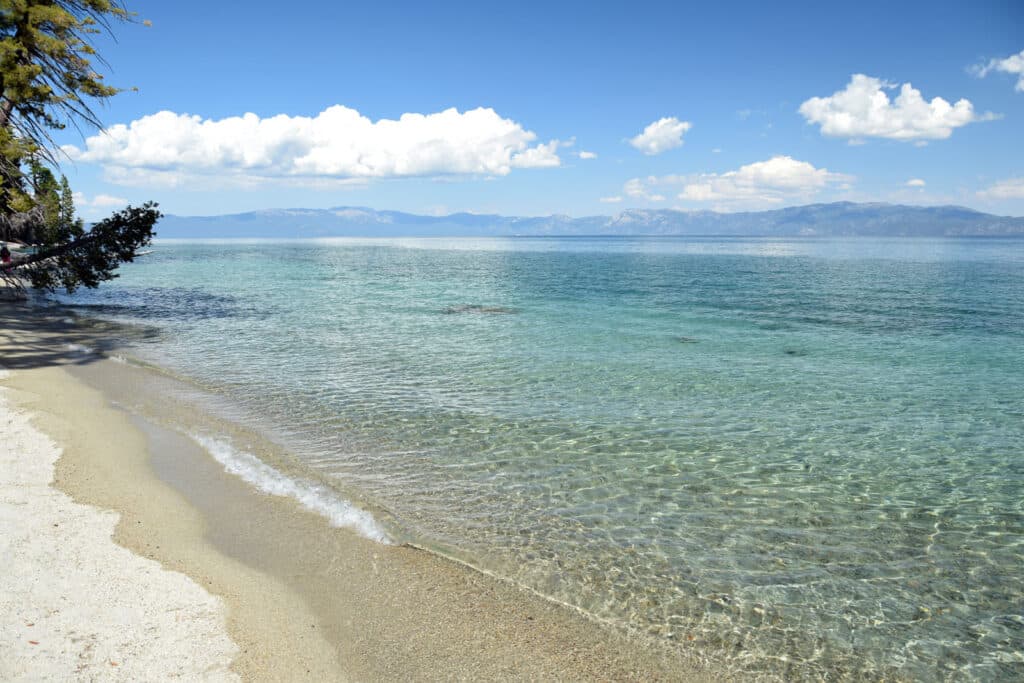 Camping and biking at the lake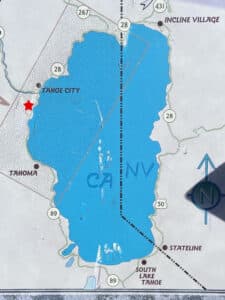 As the US Forest Service website describes it, "William Kent Campground is located on the West Shore of beautiful Lake Tahoe. The campground sites are surrounded by big pine and fir trees. A day use area is located across the street from the campground for lake access activities. William Kent Campground is on Forest Service land and is operated by the private concessionaire, California Land Management."
My wife Edie and I were on a four-night camping trip, meeting our camping buddies who had come in from Minden, Nevada. On this trip, we did something different—we brought our bicycles, so that we could explore some of the extensive bike trails offered on this side of the lake. This way, we'd be able to leave our vans in camp and do all of our exploring by bike. Good for the environment and our health.
Rolling on two wheels
Our first day's biking trip was on the West Shore bike trail, which would take us about 9 miles south, to Sugar Pine Point State Park. The path was relatively flat, with some uphill sections and a number of road crossings that featured crosswalks with flashing signals. At times the path followed along the lake, and at other times it veered inland a bit, passing beautiful vacation homes, lodges, and permanent residences. Many of the homes exhibit the "Tahoe style," using large timbers, steeply pitched roofs, and stone bases.
Tahoe Quarterly described the style in a 2014 article about the area's architectural timeline. "The Tahoe style is American Craftsman with a more rustic bent, meant to evoke the area's surrounding topography leaden with rock outcroppings, towering gymnosperms interspersed among the chaparral and manzanita, and the swaths of granite flecking the serrated ridgelines. Salient elements of the Tahoe style include wood or masonry buildings providing the foundation for a gabled roof designed to slough off heavy accumulations of snow. The style features elaborate stone chimneys, projected entrance bays, and intricate decorative ironwork."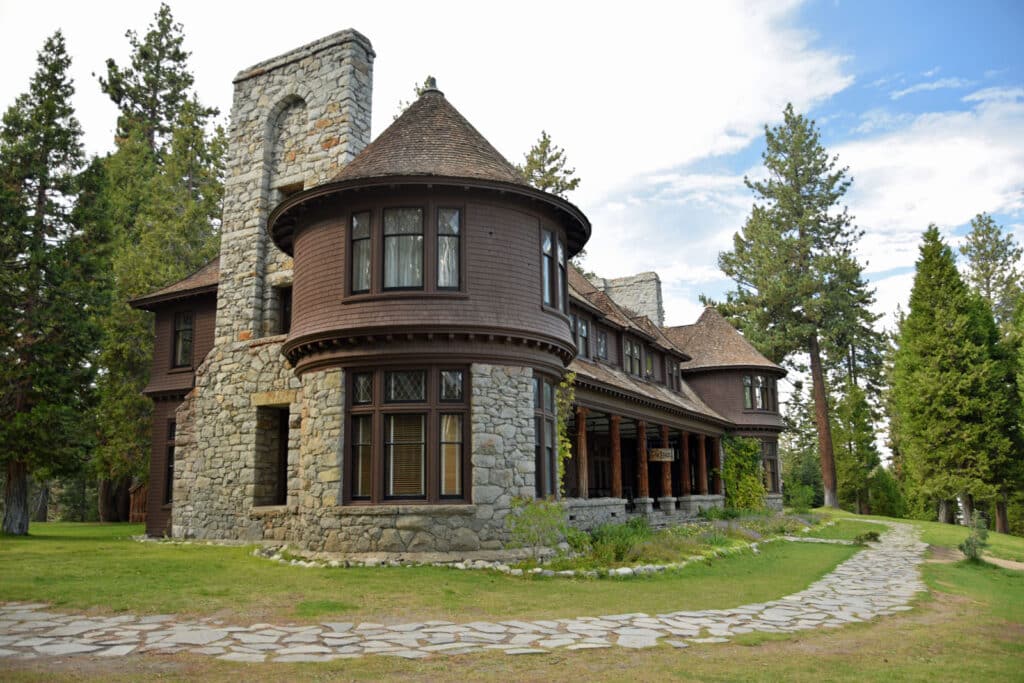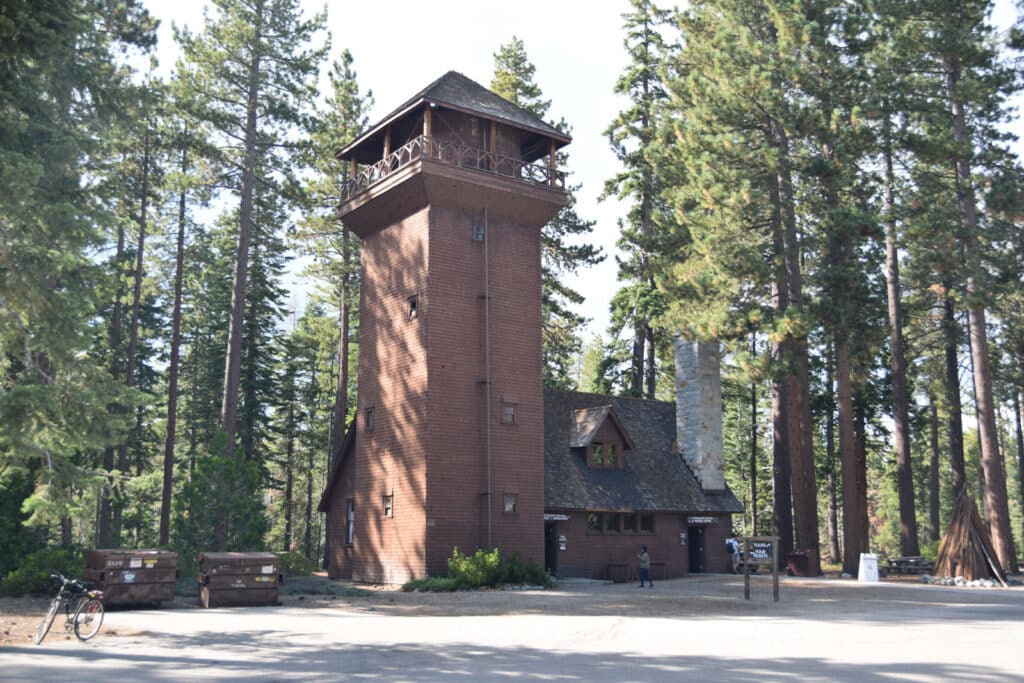 A grand lakeside estate
Our ride took us to Sugar Pine Point State Park, once part of the vast land holdings of San Francisco businessman Isaias W. Hellman (1842-1920). Hellman purchased a large plot of land next to Lake Tahoe in 1897, where he built a mansion in 1903. His stone and timber mansion was named Pine Lodge after all the sugar pines on the property. Isaias W. Hellman was the great grandfather of investment banker Warren Hellman (1934-2011), whom many Bay Area residents remember as the founder of the free annual Hardly Strictly Bluegrass festival that takes place in Golden Gate Park every fall.
The site of Pine Lodge was once a sandhill. Tons of topsoil was brought in from surrounding areas to provide a base for the home, lawns, and gardens, and most of the materials for the house and landscaping were obtained locally. Designed by Walter Danforth Bliss, this grand but informal summer home was considered to be one of the finest in the High Sierra when it was completed, and featured electric lighting and complete indoor plumbing. After Isaias Hellman's death in 1920, his daughter Florence Hellman Ehrman (1882-1964) inherited the estate, and she and her husband Sydney enjoyed many summers there, entertaining family and friends. After Florence's passing in 1964, the house and about 2,000 acres of the estate were acquired by the State of California, which operates the site as the Hellman-Ehrman Mansion state park. Today the house preserves the tradition of opulent Tahoe summer homes, and is open for tours during the summer months from 10 a.m. to 3 p.m.
After a picnic lunch on the beach alongside the turquoise waters of the lake at Sugar Pine Point, we spent the afternoon biking our way north towards our campground, enjoying the views along the way.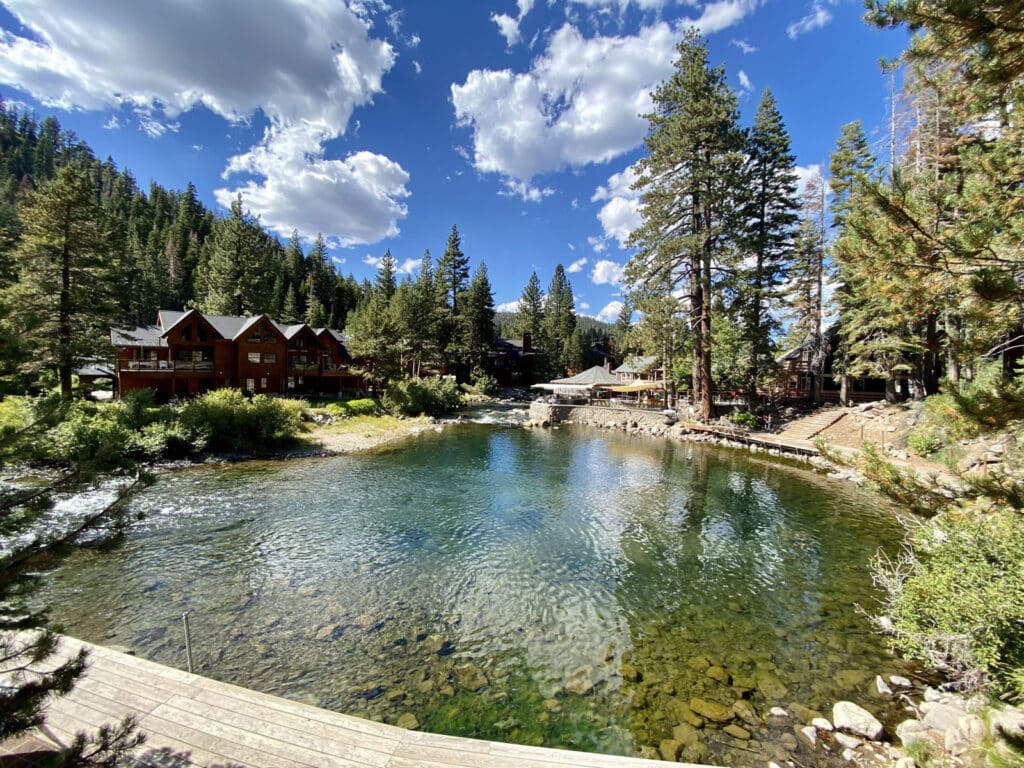 More bike paths
On another day, we decided to head north from our campground, taking the North Shore bike trail, and then the Truckee River bike trail. After picking up sandwiches at the West Shore Market, conveniently located right across from our campground, we started biking north. After a couple of miles, we connected with the Truckee River trail, which was an interesting scenic change from the lake trails we'd been on. This trail follows the river for about 4.5 miles, eventually reaching Palisades Tahoe ski resort, formerly known as Squaw Valley. Along the way we made many stops to take photos, including at the scenic River Ranch Lodge, located on a bend in the river. This would be a nice place to stop for lunch, but we already had a picnic lunch packed, so we continued on until we found a nice place to stop along the river.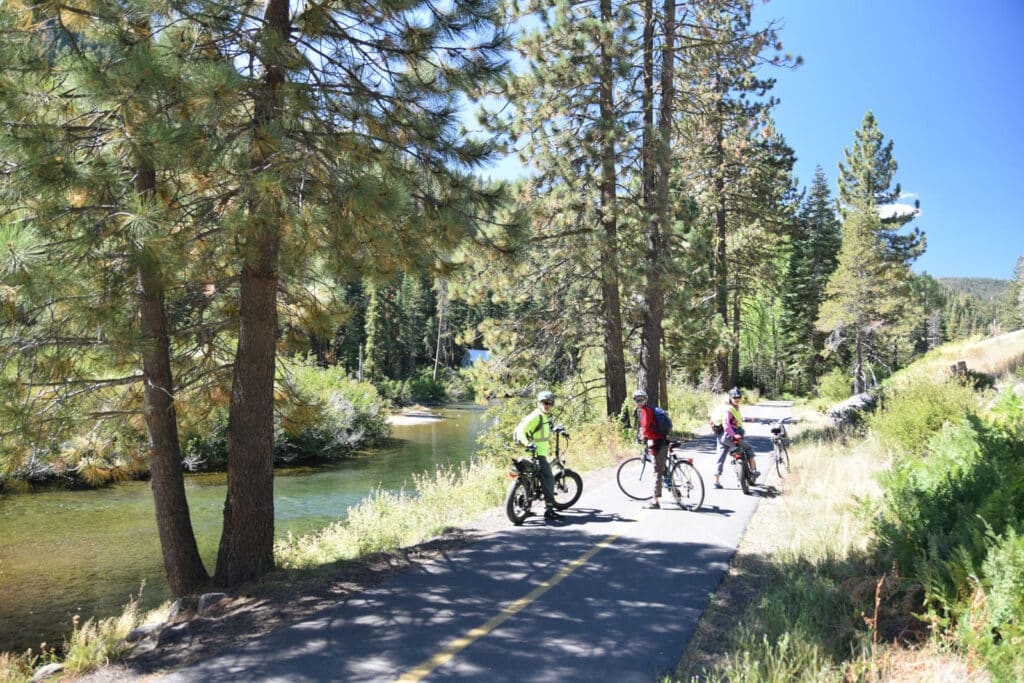 After lunch, and upon reaching the turnoff for Olympic Valley/Palisades Tahoe, we took the steep path leading up to the ski resort for a short time before deciding to turn back. Our bicycles weren't performing quite right—some repairs/adjustments were needed—so we decided to turn around and enjoy the 5 miles or so back to the lake on the Truckee River trail. In addition to the scenery, another thing that impressed me about these trails was how well marked and protected they were, and how quickly traffic stopped when we came to an intersection.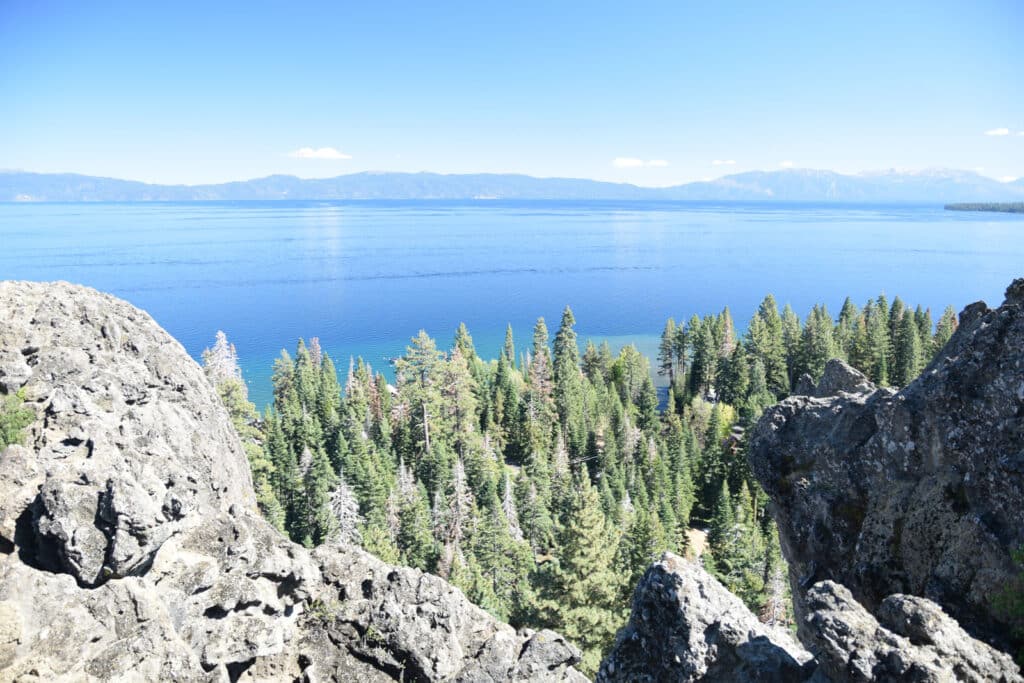 Eagle Rock
This trip wasn't all biking, though. We also did some hiking out of the Ward Creek Trailhead, located just a mile south of our campground, and the Eagle Rock trail, which was 2.5 miles south of camp. While the Ward Creek trail was a peaceful, uncrowded walk through virgin, undeveloped Tahoe forest land, the Eagle Rock hike led to a commanding view over the lake.
The Outdoor Project website describes the Eagle Rock hike: "This gem of a vista located on Tahoe's west shore between Tahoe City and Homewood is the remains of a volcano plug, meaning it plugged the surrounding ancient volcano like a cork. A short hike along a designated trail from Highway 89 climbs 250 feet up the south and west edge of Eagle Rock, gaining its summit. The trail is approximately a half-mile long, finishing at one of Tahoe's top panoramic views, a surprising reward for such an easy hike."
That quote describes the hike pretty well, and we enjoyed another picnic lunch up there, taking in the panoramic views. It felt good to stretch our legs on the steep uphill hike after all the biking we'd been doing.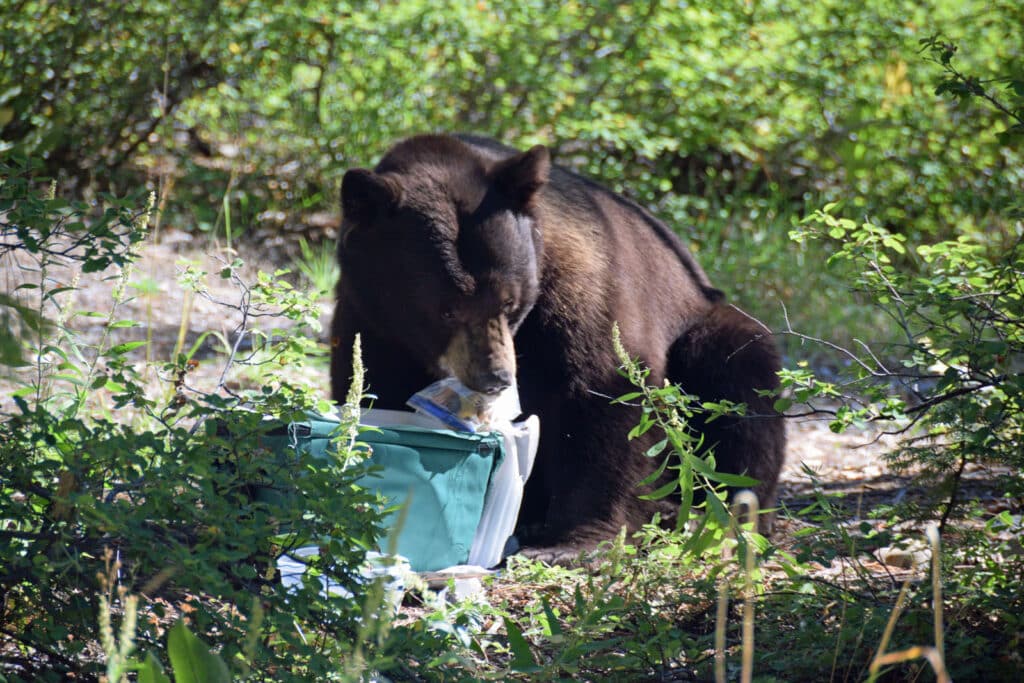 Bear!
Shouts of "Bear!" broke the morning peace at the upper loop of William Kent campground, as the camp host leaned ineffectually on her golf cart's horn and dogs barked frantically. Suddenly we saw the bear lumbering through the woods near our campsite, dragging a soft-sided cooler in its mouth. Coming to a stop, the bear began ripping at the material with its teeth and ample claws, and soon was tearing open plastic containers and Ziploc bags. The blowing horns, shouts and general commotion didn't seem to ruffle the bear at all. As it tore apart the cooler and chomped away contentedly, it seemed to have a single-pointed focus on just one thing: food.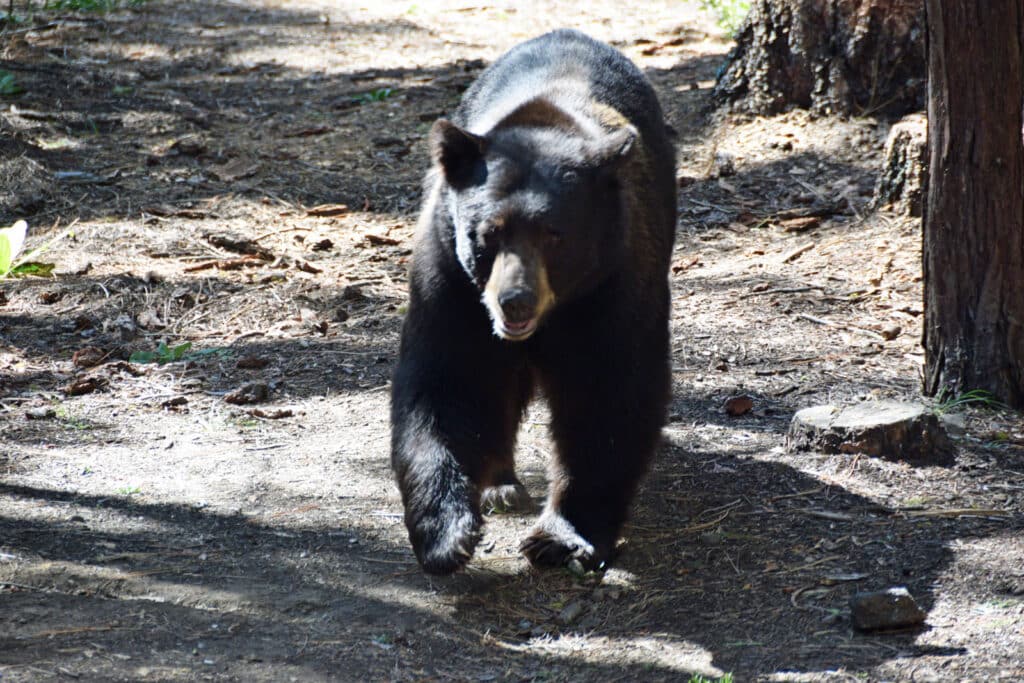 Grabbing my camera, I started snapping photos of the scene. Walking around to the other side, I came to where the camp host was still blowing her horn and shouting for the bear to go away. With the bear still chowing down, she finally said, "I'm going to call my husband." Soon her husband, also a camp host, arrived with a large metal shovel, and began banging it on the ground as he advanced slowly towards the animal. As he got closer, the bear started to move off, then quickly returned to grab one more food container "to go." As I retreated back to our campsite, the bear started heading directly towards our site. Jumping into the van, Edie and I watched the bear from the opening for the large sliding side door. As I snapped pictures and the bear got closer, I finally heeded Edie's pleas of "close the door!", and slid it shut.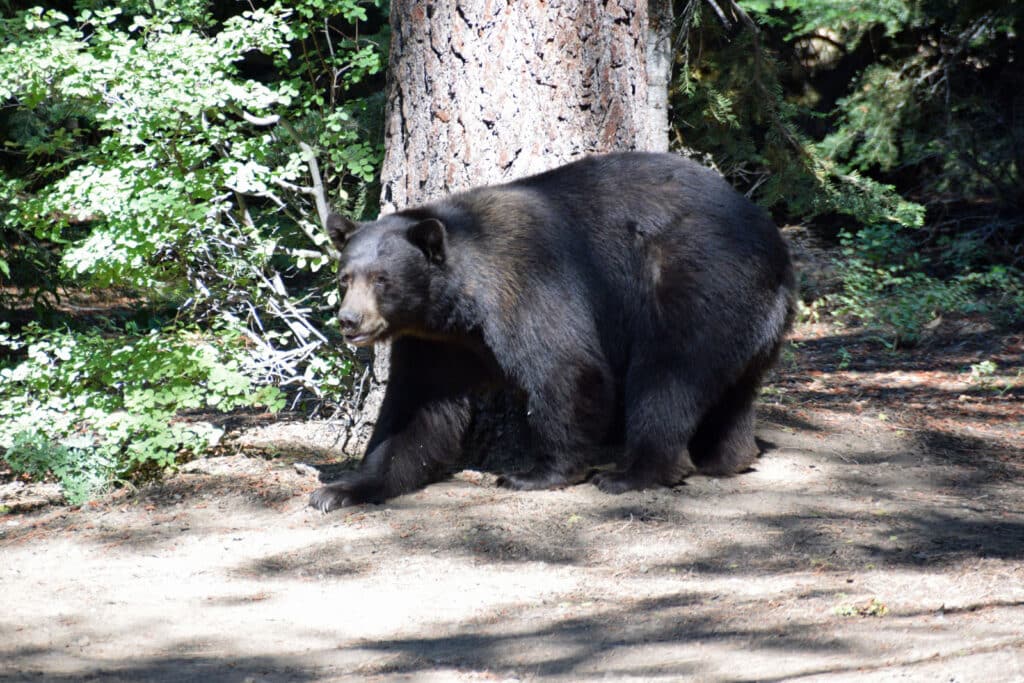 The camp host eventually got the bear out of the campground, but not before it had destroyed the soft-sided cooler and eaten all the contents. It turned out it was a dog's cooler, filled with dog food, treats and supplements. The dog's owner hadn't been careless with her food. She had been loading her car and getting ready to break camp when the bear suddenly appeared and moved towards the cooler. She could do nothing but get herself and her dog out of the way, since the bear was already upon the cooler. It is very bad when a bear gets human—or dog—food, since this can habituate them to these food sources, eventually causing them to become "problem bears" which may have to be trapped and relocated, or even euthanized in severe cases. This is why all campers must practice strict food and garbage control in camp, and use the metal bear boxes for food storage at all times. Even so, accidents like this can happen, which is a challenge for forest and park management.
A varied experience
And so our late summer trip to Lake Tahoe featured a little bit of everything: cool nights, warm days, hiking, biking, swimming in the lake, wading in the river, and even a visit from a rogue bear. We look forward to returning to this gem in the future, next time maybe bringing kayaks to paddle the clear blue waters. This trip only explored a small area of the west shore, and Tahoe has so much more to offer, with an incredible 72 miles of shoreline spanning two states. Lake Tahoe's greatest depth is 1,644 feet, making it the second-deepest lake in the United States, after Crater Lake in Oregon. Tahoe is also the largest alpine lake in North America, lying at 6,225 feet above sea level, and surrounded by mountain peaks as high as 10,800 feet. With statistics like these, it's no wonder this is one of California's and Nevada's premier recreation destinations, summer or winter.
If you go
More information is available at the William Kent campground and Sugar Pine Point State Park websites. To learn more about Tahoe's many different bike trails, selectable by region and style/challenge level, visit the Bike Tahoe website.
Contributing writer Steve Gorman has been a resident of Alameda since 2000, when he fell in love with the history and architecture of this unique town. Contact him via [email protected]. His writing is collected at AlamedaPost.com/Steve-Gorman.