To the Editor: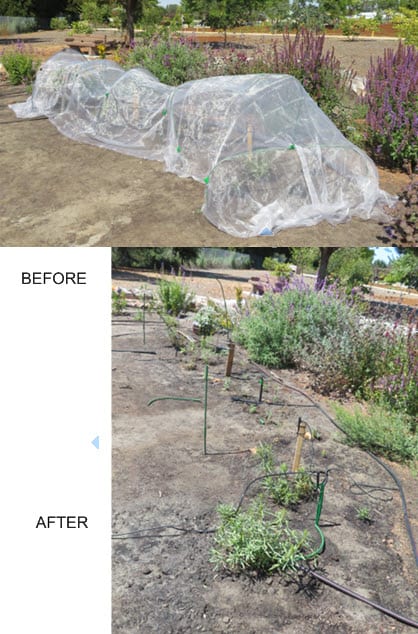 On Friday evening, September 3, the Monarch Butterfly Garden in the Jean Sweeney Open Space Park was hit by someone who decided to destroy the netting and bracing that was protecting the newly planted milkweed plants. The netting was needed to protect the young plants until they would be grown enough to support feeding the caterpillars that become Monarch butterflies.
The sad part is there were monarch caterpillars on some of the milkweed and there was already a chrysalis developing into an adult butterfly. They are now gone.
It appears that some group has been having parties in the Jean Sweeney Open Space Park on weekend nights. Last weekend we found broken glass in the plaza area, which was cleaned up by our volunteer group.
We reported the vandalism to the Alameda police and requested they visit the park on Friday and Saturday evenings to see if there are crowds that are misbehaving. We love it when people, especially young people, enjoy the park and not all groups of youngsters are destructive, but we need people to help us monitor and report bad actions to the Alameda Police Department. The non-emergency number is 510-337-8340.
The Monarch Butterfly Garden in the Jean Sweeney Open Space Park is a combined effort of the people of Alameda who have donated funding, Alameda Recreation and Parks Department, and the Jean Sweeney Open Space Park Fund.
Known for its bright orange colors and its incredible annual migration, the migratory monarch butterfly is now officially classified as endangered by the International Union for Conservation of Nature (IUCN). Small gardens like the one in Sweeney Park and in the back yards of Alameda homes are all helping migratory monarch butterflies survive. California plans to plant milkweed in the wild so the butterflies can recover to past numbers. Help us keep the park special for everyone, especially the monarch butterfly.
Dorothy Freeman
Jean Sweeney Open Space Park Fund
---
Editorials and Letters to the Editor
All opinions expressed on this page are the author's alone and do not reflect those of the Alameda Post, nor does our organization endorse any views the author may present. Our objective as an independent news source is to fully reflect our community's varied opinions without giving preference to a particular viewpoint.
If you disagree with an opinion that we have published, please submit a rebuttal or differing opinion in a letter to the Editor for publication. Review our policies page for more information.