1240 St. Charles Street, Alameda Historical Monument #30
As I walked through the door of 1240 St. Charles Street for the first time, I had the feeling of walking through history. Through this very door once walked Mr. and Mrs. Daniel Bruton, the first owners of the home in 1897. It had been built by Alameda's earliest homebuilder at the time, Denis Straub & Son, and designed by Straub's partner and stepson, Fred P. Fischer. I couldn't help but imagine how many times the famous Bruton sisters had entered this foyer, laughing together or talking about their latest art project. In Part 1, Part 2, and Part 3 of this story, we learned about Margaret, Helen, and Esther Bruton, and their extraordinary contributions to the art world throughout their lifetimes. And now, after many weeks of studying this family and their rich and colorful past, I was actually entering their home.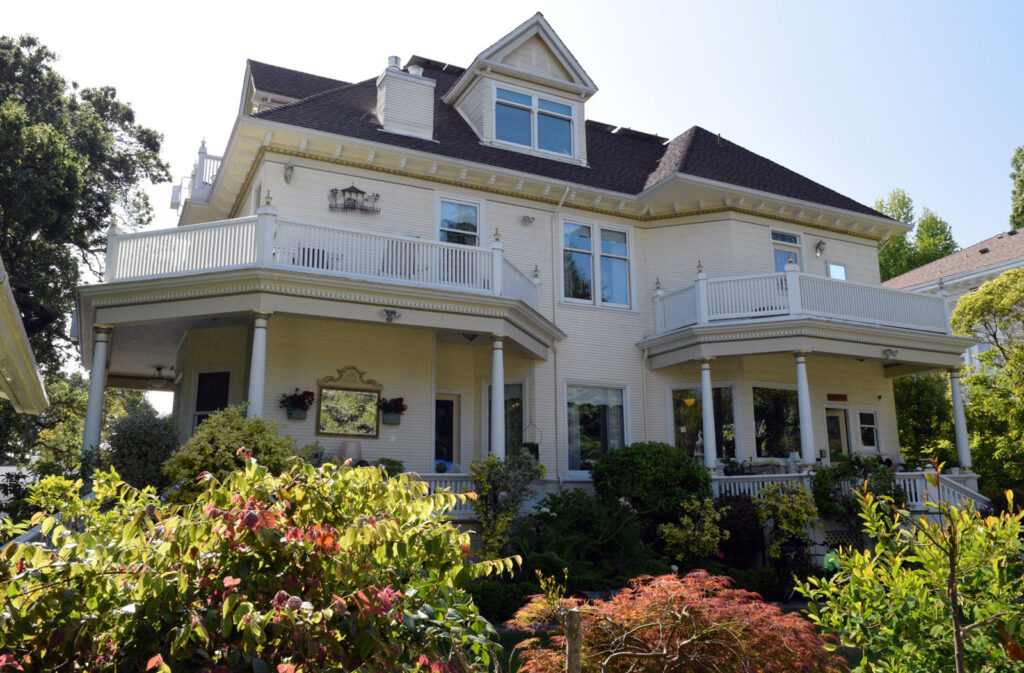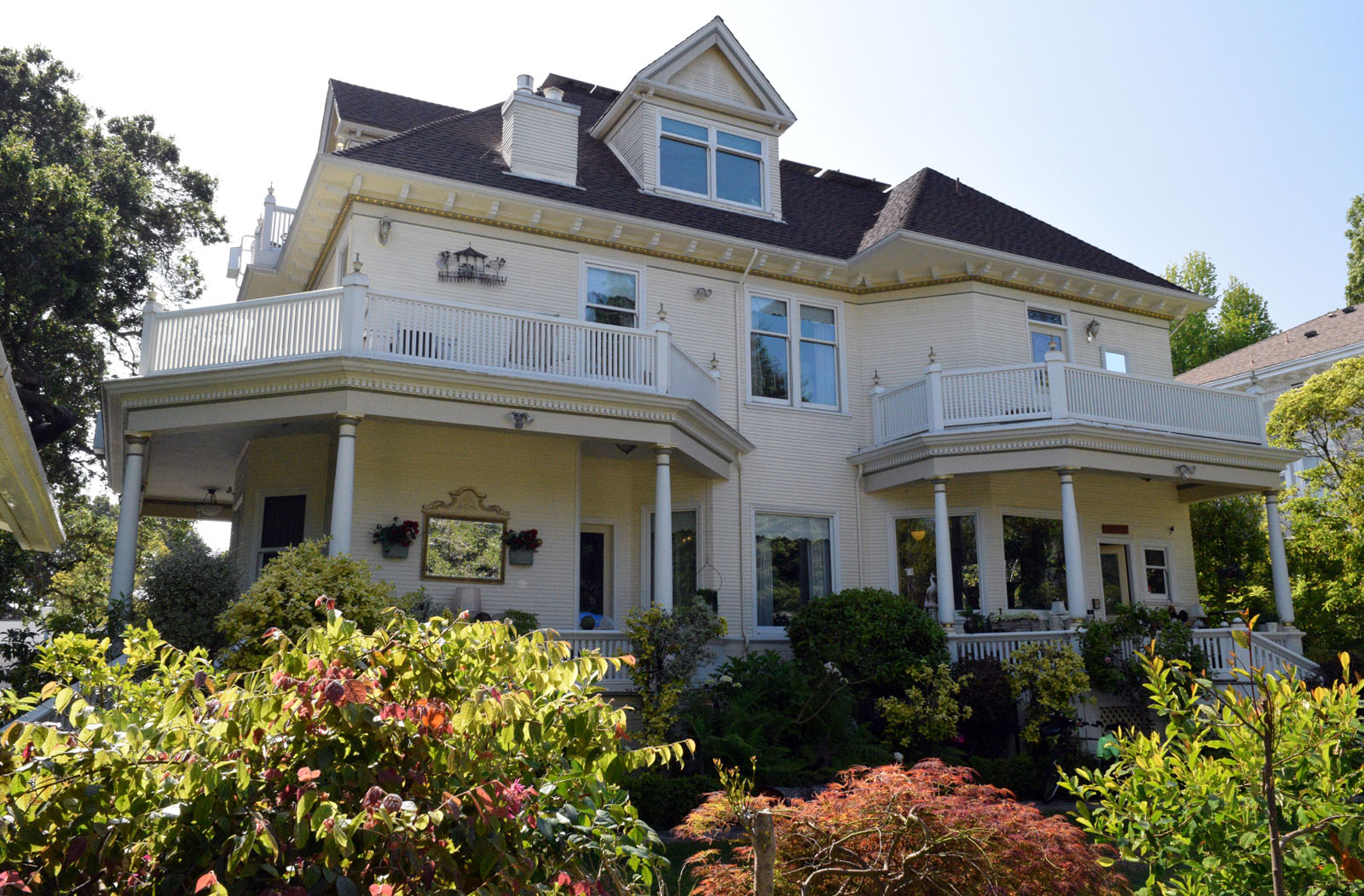 Beginnings of a neighborhood
This series began with a look at 1630 Lincoln Avenue, the first Alameda home of Irish immigrant Daniel Bruton and family. Bruton was a successful tobacco merchant, and in 1897 he purchased land in the newly developed Strybing tract on the east side of St. Charles Street near the bay shore. This new home would be larger, more opulent, and better situated than his former home on busy Lincoln Avenue, then known as Railroad Avenue. The west side of St. Charles Street had been held by the Teutonia Park and Homestead Association and was subdivided earlier, starting in 1877. The east side of St. Charles Street, however, was held by investor Christian Heinrich Strybing, and not subdivided until after his death in 1895.
"Some very fine residence property is now put upon the market," the Alameda Daily Argus reported in March 1896. The opening up of this prime real estate would create the opportunity for the Bruton family to build the very first home on this tract, and they would soon be joined by other fine homes. An interesting side note to this story—one that includes a San Francisco connection—is that when C. H. Strybing's widow Helene died in 1926, she left a sizable bequest for the creation of a botanical garden in Golden Gate Park. That garden is known to this day as the Strybing Arboretum.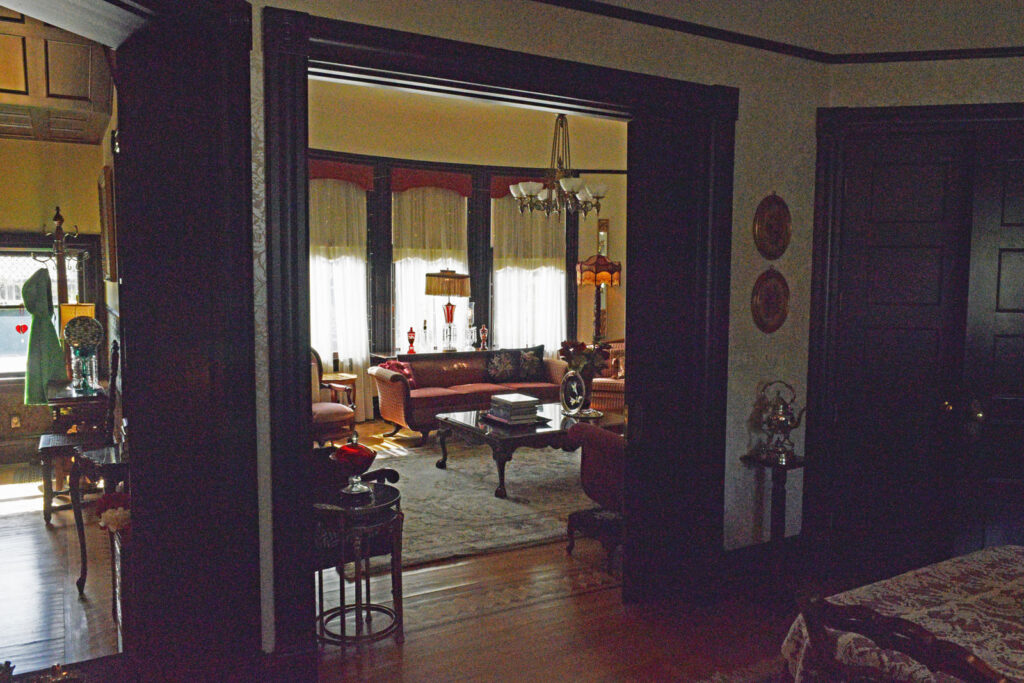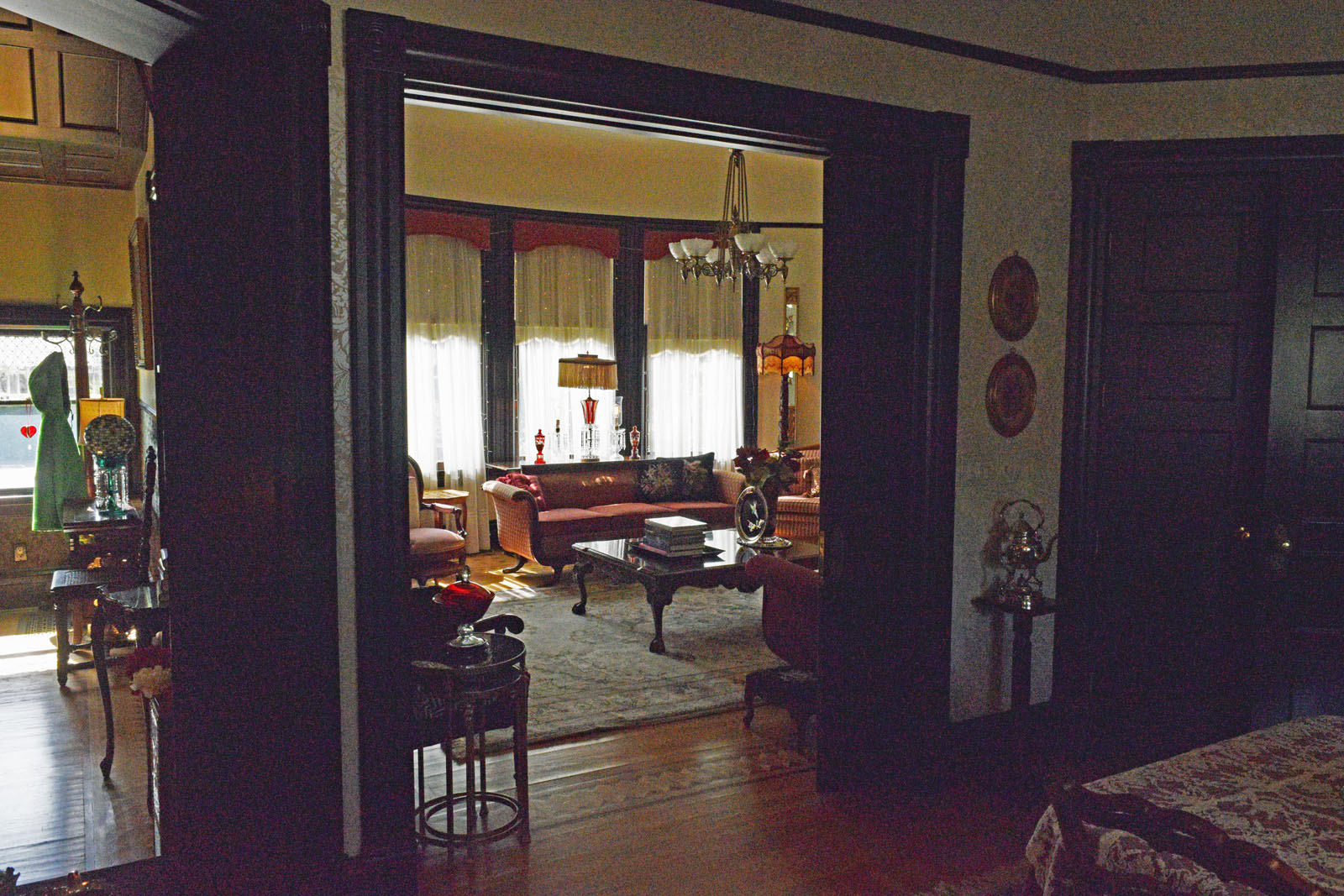 Entering a historical monument
As I was welcomed in by Jeannie Graham, owner of 1240 St. Charles Street since 1999, my eyes took in the scene. A large and graceful foyer greets the visitor, with its tall, coved ceiling and a rich wood staircase with mahogany banister to the left. Large stained and leaded glass windows on the staircase landings brighten the room. To the right is a parlor or sitting room, thought to have once been the music room. Other portals off the foyer lead to the formal living room, dining room, and further back, the large kitchen.
Everywhere are pocket doors, all in perfect working condition, and something I'd never seen before—a large pocket door that slides in from only one side of the wall. Typically, a large pocket door set features two halves, each coming in from its own side of the opening. But in this case, there was not enough wall space on one side of the opening, so the master designer Fred P. Fischer created a large door that slid out from just one side of the opening.
Jeannie brought my attention to the stained glass on the first landing of the staircase. Two matching corner windows feature upper panels graced by stained, leaded, beveled, and crystal glass in both clear and textured forms, featuring purple and amber colors. These unique stained glass panels came with Daniel Bruton from San Francisco, and were incorporated into his new home by Denis Straub & Son builders. I had admired these windows from the outside many times, so it was particularly satisfying to finally see them from the inside, with the afternoon light pouring in, and to learn that they predate the house itself.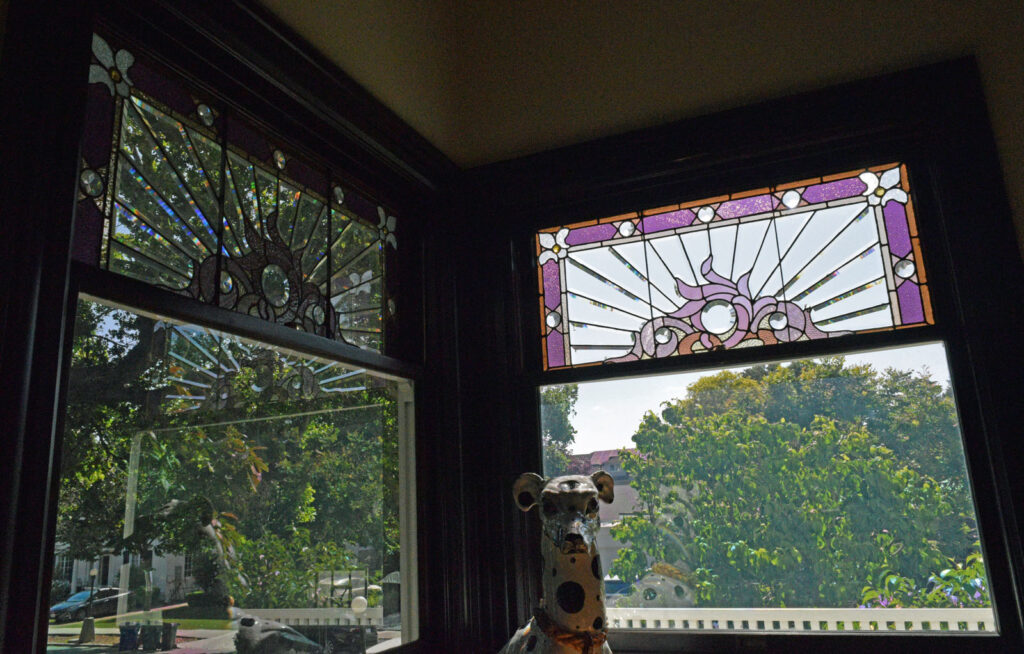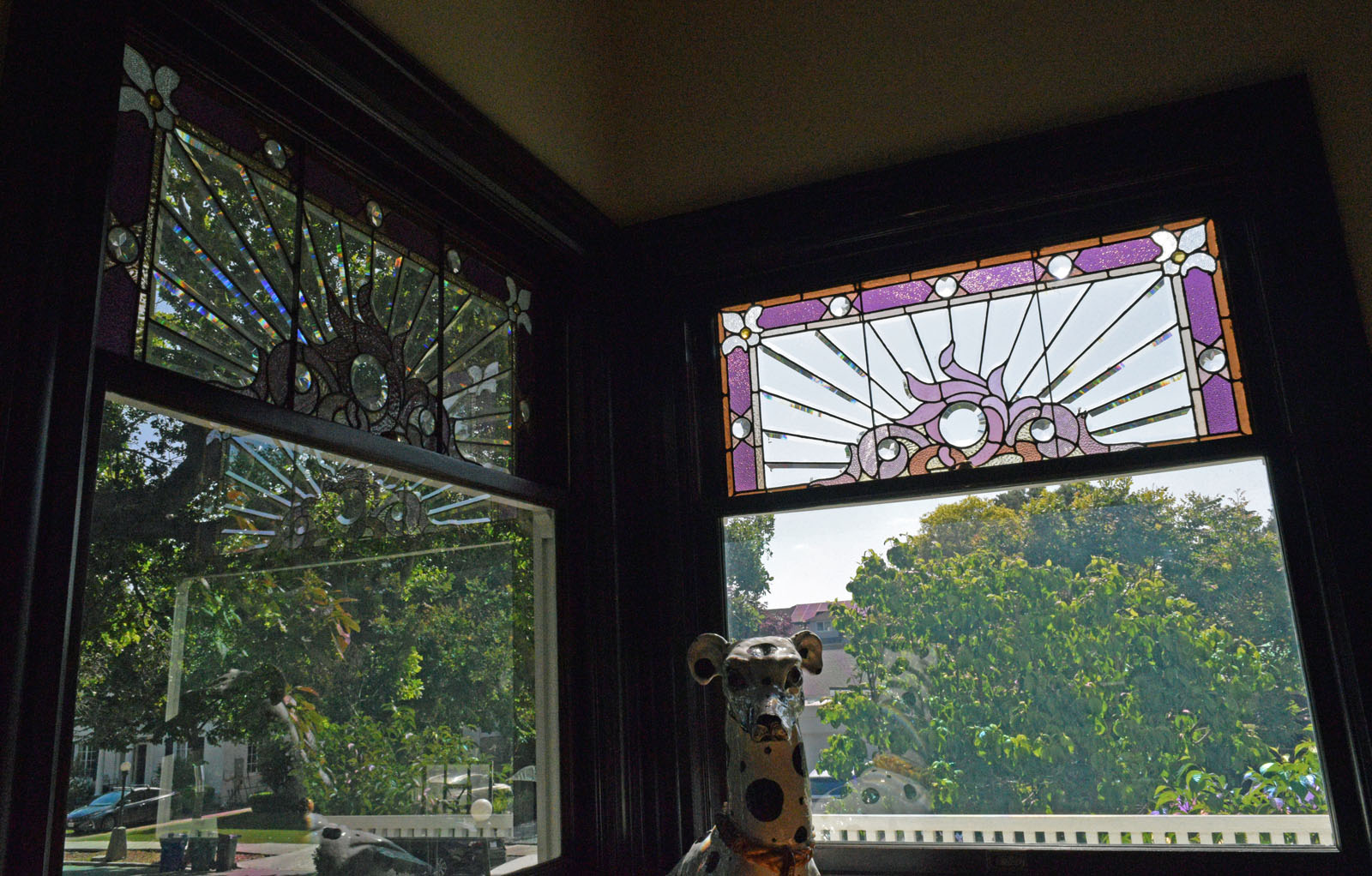 Keeping history alive
As we relaxed in comfortable chairs in the parlor, I learned from Jeannie that she and her husband Bruce Gilliat purchased 1240 St. Charles Street in 1999 for just under a million dollars. They had previously restored one Victorian-era house in Alameda, 2067 San Jose Avenue, built by Joseph A. Leonard in 1890. That home, which had been completely stripped of its historic detailing and covered in stucco decades before, became their "sweat equity" project over the next eight years. Although no records existed to inform their restoration, they consulted with Alameda Museum curator George Gunn, read Woody Minor's book, The Leonardville Heritage Area, and found a similar house on San Jose Avenue to use as a reference. Doing much of the work themselves, they brought the home back to the spirit of a 19th century Joseph Leonard Queen Anne residence. That experience would serve them well on their next big project, 1240 St. Charles Street, the Bruton house.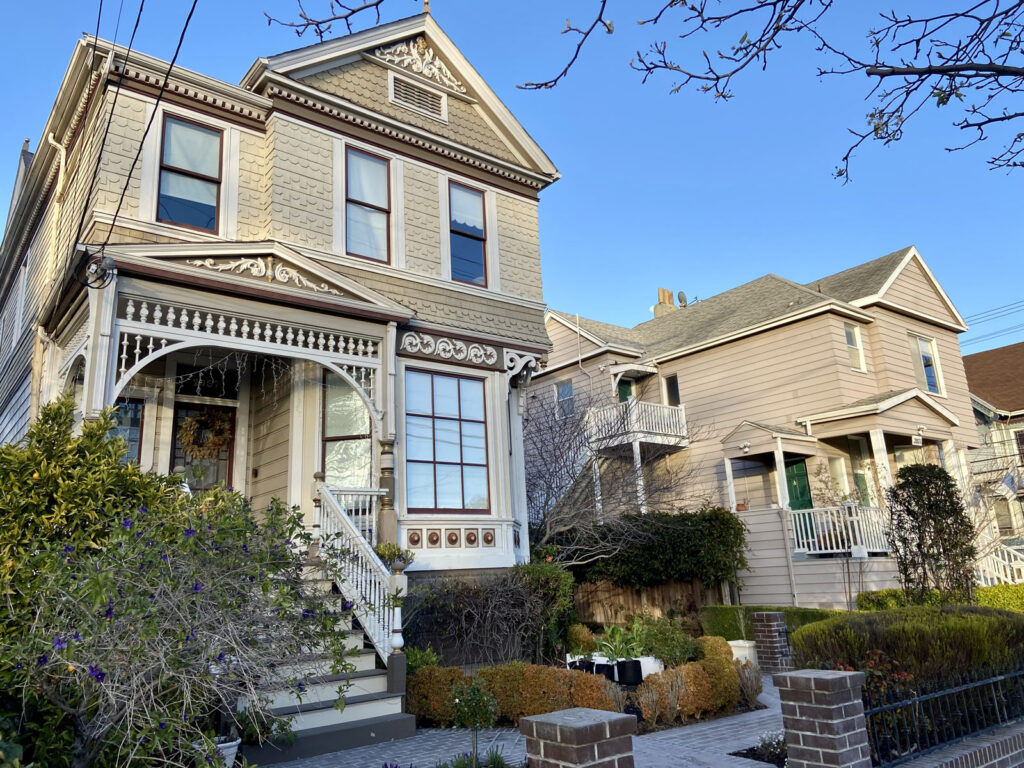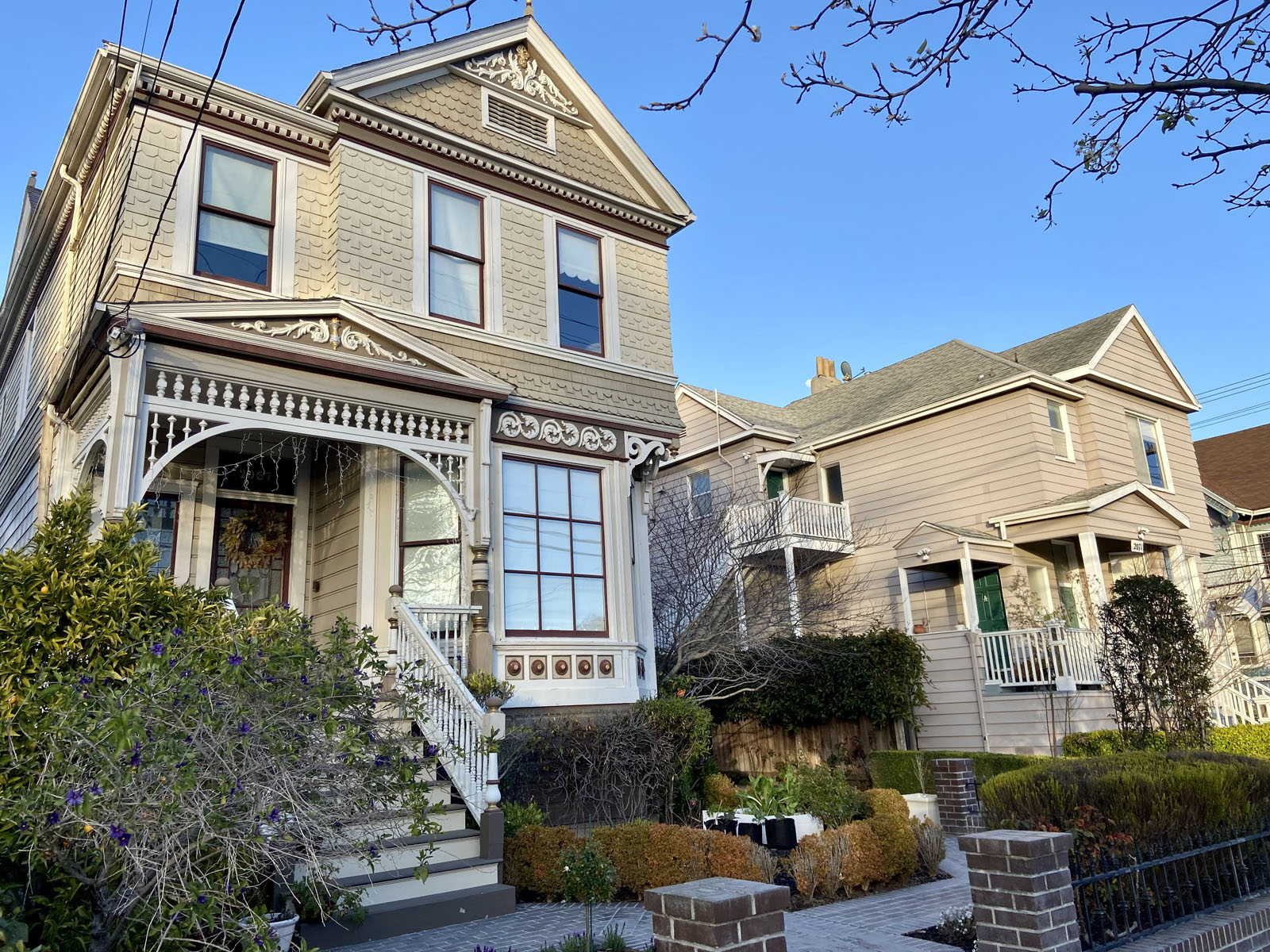 Different owners, different ideas
Prior to the ownership of Jeannie Graham, the Bruton house underwent relatively few major changes during the first 102 years of its life. Under the Bruton family's ownership, from 1897 to 1944, the only known change was the addition of a garage, built in 1923 and enlarged in 1937. The addition of garages to Victorian-era homes reflected the arrival of a new technology in the early part of the 20th century, the automobile.
The Plant family, who owned the home from 1944 to 1983, made several changes to the house, including a swimming pool and pool house, and a kitchen remodel. The Torres family, owners from 1983 to 1987 made no known changes. Skip and Nancy Everett, who owned the property from 1987 to 1999, made further alterations to the kitchen and bath, upgraded the foundation, and began a conversion of the attic into a master bedroom suite. This attic was once the art studio of the famous Bruton sisters, and so has a storied history all its own. The Everetts also began a major installation of Bradbury and Bradbury wallpaper.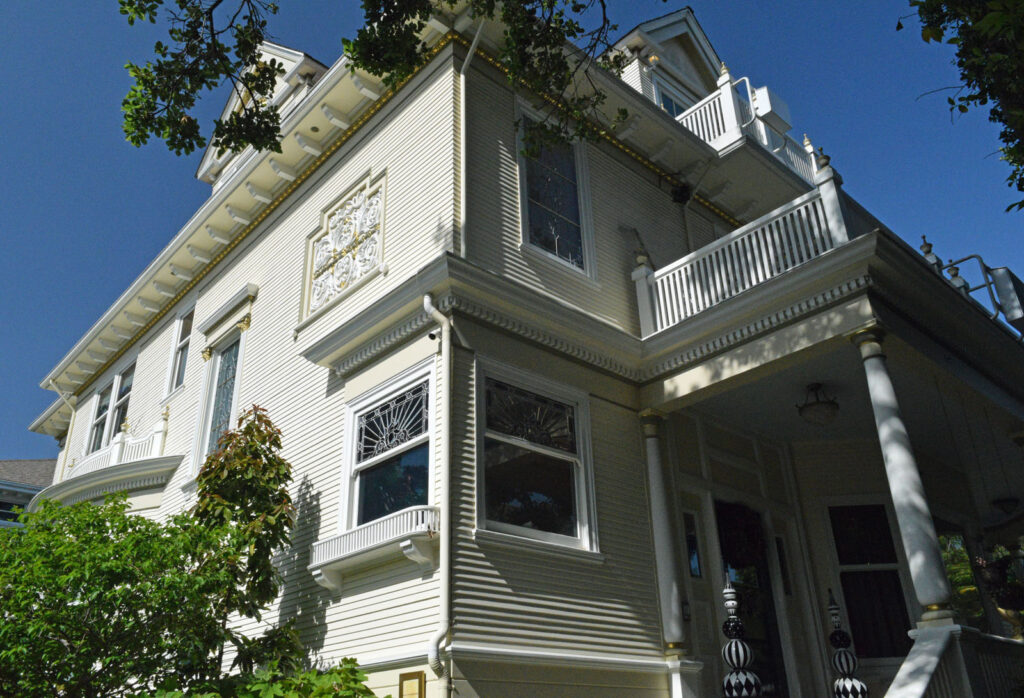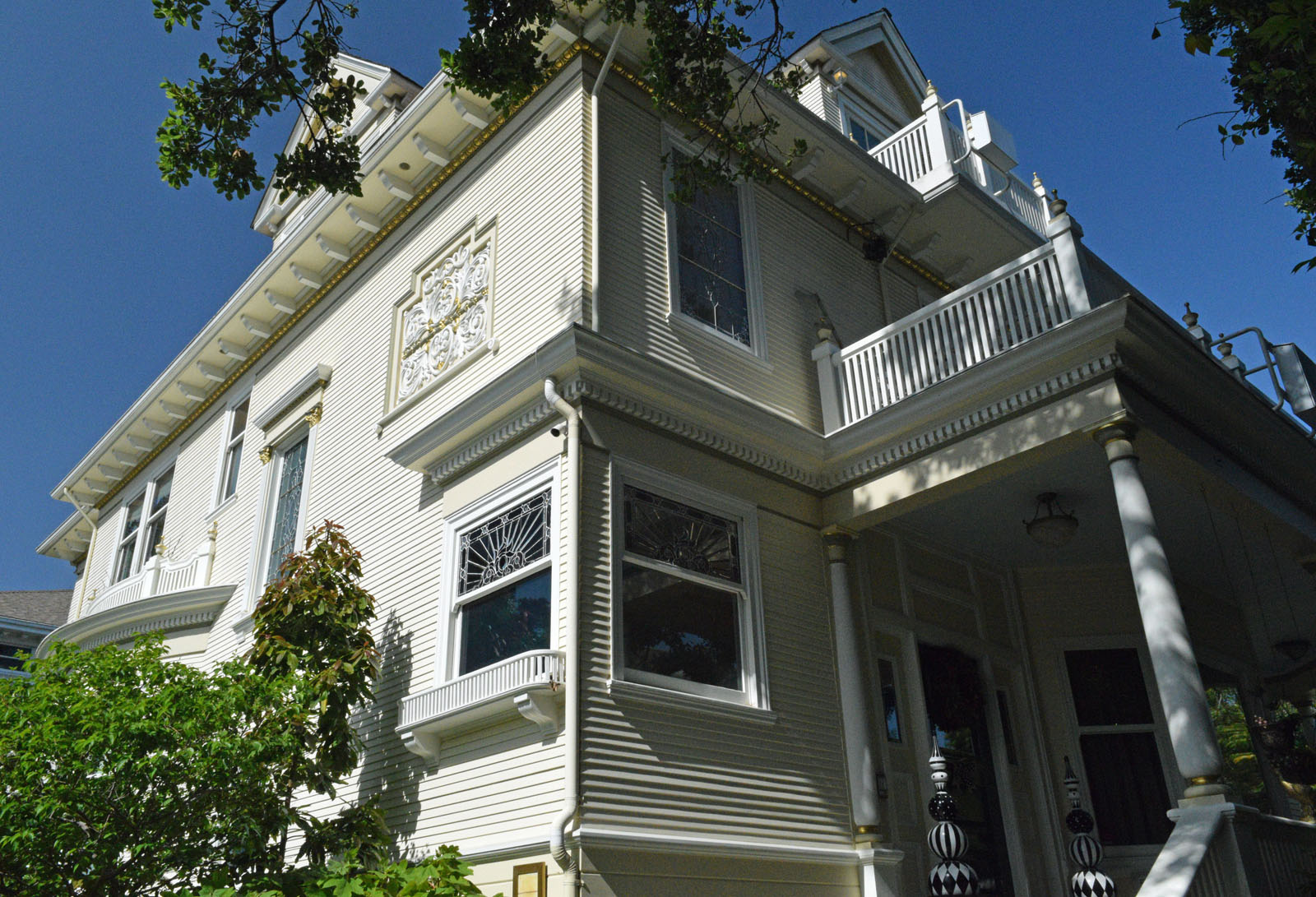 A noteworthy resident
Skip Everett (1942-2020) was a previous owner of 1240 St. Charles Street whose life story warrants a little deeper look. Born Norris Newcomb Everett in the Philippines on January 19, 1942, while his parents were in a Japanese prison camp, his family faced near-starvation conditions while in captivity during World War II. His parents had been taken prisoner days before his birth, and the family wasn't liberated until April 1945, when U.S. forces won the battle of Manila.
Skip's father had been president of the Everett Steamship Corporation, and after the war he reestablished his worn-torn company and moved the family to Shanghai for a few years. Skip then attended school in Manila, Philippines, through eighth grade, before moving to California in 1955. He learned to fly while in college, and went on to obtain his FAA Airline Transport Pilot and Commercial Seaplane licenses. Skip owned several airplanes, and in 1966 he and his father created the Sierra Academy of Aeronautics at Oakland International Airport. The company trained DC-6 pilots and flight engineers, and later expanded to training on Boeing 707 and 727 aircraft. At its pre-9/11 peak, the school had 900 full-time students and 125 staff.
Skip and his wife Nancy, a physician, raised four children while living at 1240 St. Charles Street, and subsequently rented it for a few years to Oakland Raiders football coach Michael White. As I often like to say, every house has a story to tell, and you never know what you're going to find when you start digging.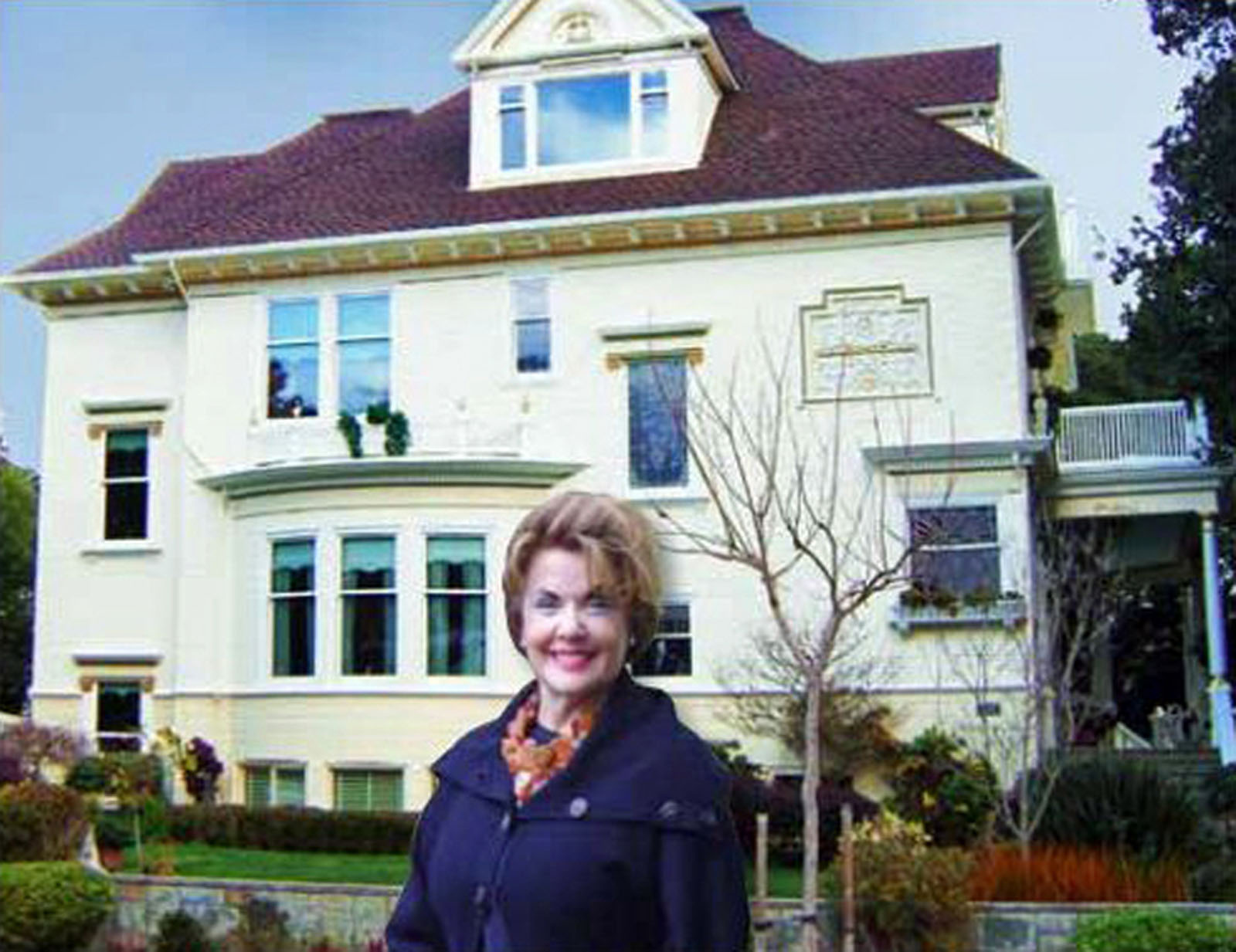 Next up
1240 St. Charles Street had undergone relatively few major renovations over its long lifetime, but that was about to change. Fresh off their successful restoration of 2067 San Jose Avenue, Jeannie and Bruce were ready to take on a new challenge with the historic Bruton house. But unlike some major renovations, which have spoiled the integrity of many historic homes, the approach they took with this home was more respectful of its character. As stated by historian Woody Minor in his October 2011 Case Report on 1240 St. Charles Street, "These alterations are of such quality and subtlety that they are difficult to detect and do not seriously detract from the original, historic character of the house." In our next installment, we'll learn more about those alterations, and how they improved this historic and significant Alameda Treasure. All that, and more, when our story continues.
For more information on Jeannie and Bruce's first Victorian-era home restoration, see the Alameda Architectural Preservation Society's 2067 San Jose Avenue web page.
Contributing writer Steve Gorman has been a resident of Alameda since 2000, when he fell in love with the history and architecture of this unique town. Contact him via [email protected]. His writing is collected at AlamedaPost.com/Steve-Gorman.