The Bruton sisters' homes at 1630 Lincoln Avenue and 1240 St. Charles Street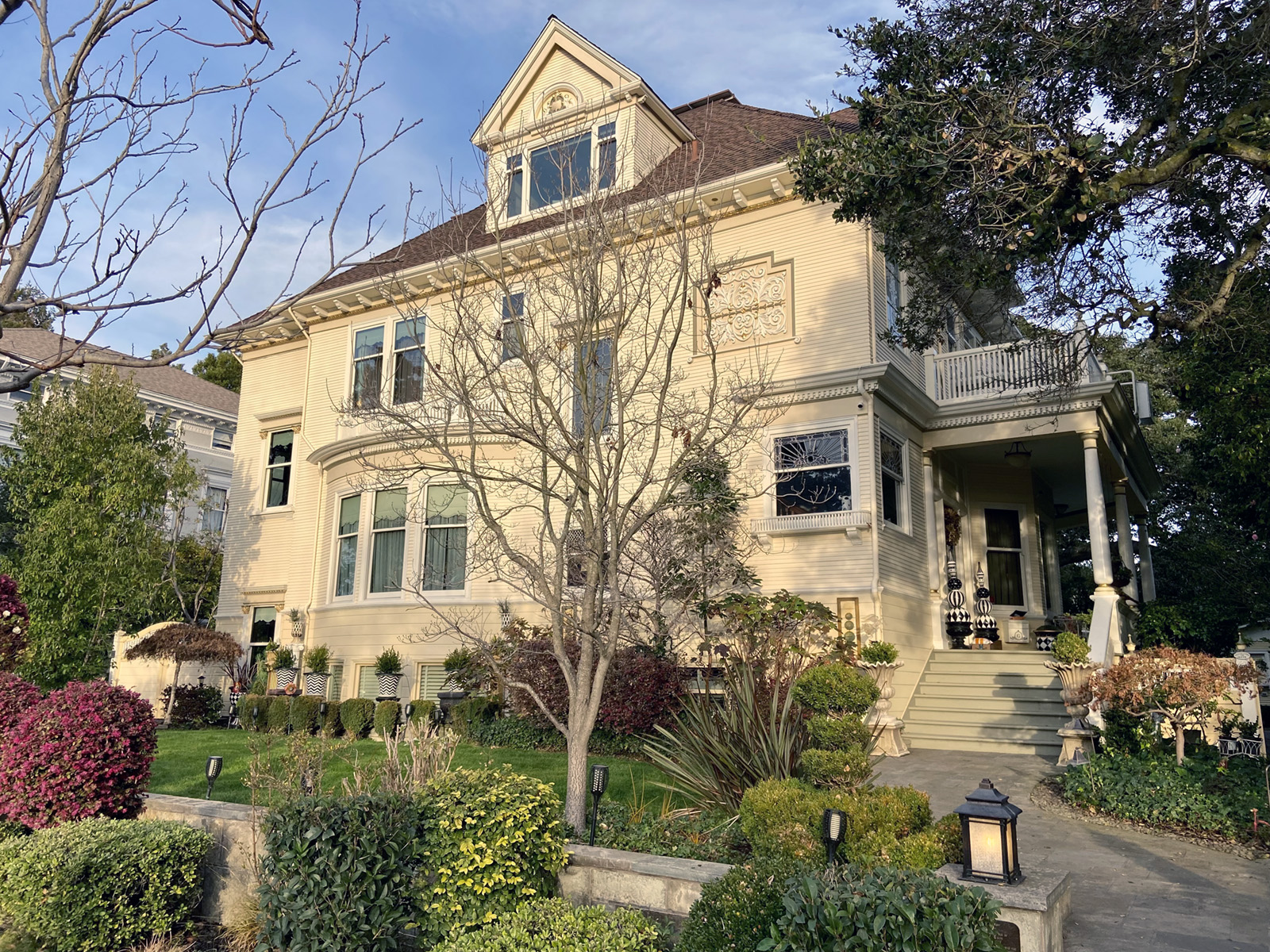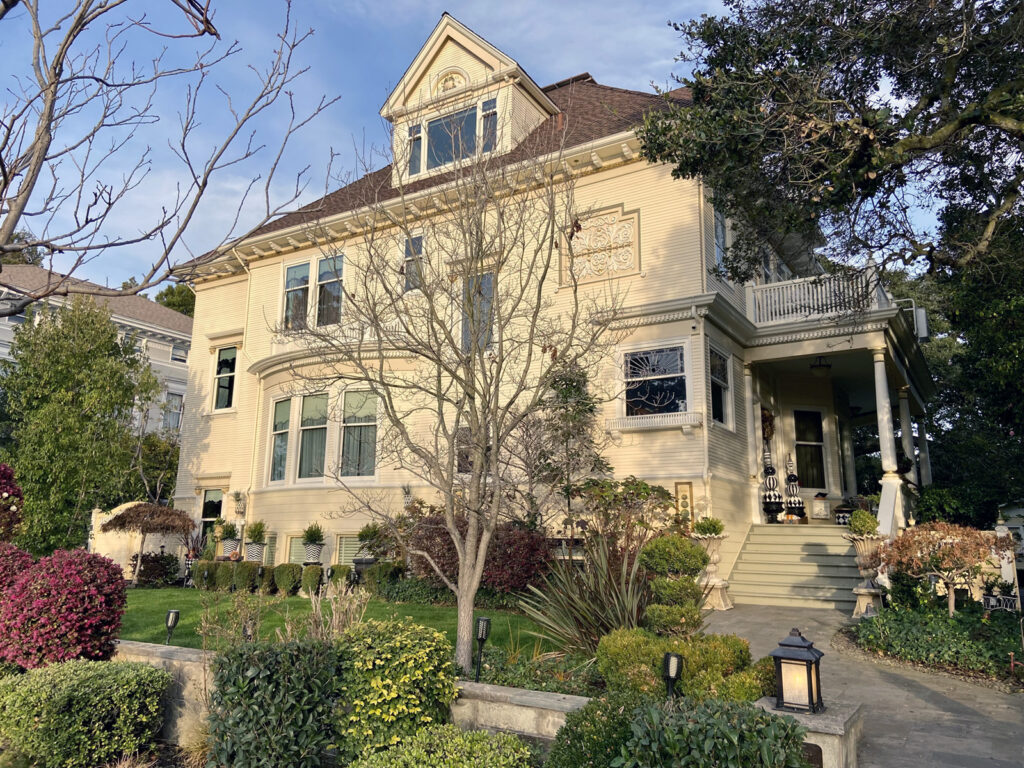 On a recent Friday morning, my wife Edie and I walked the UC Berkeley campus in search of artwork by Helen Bruton, one of the three famous Bruton sisters of Alameda. In our recent articles on the former Bruton family houses on Lincoln Avenue and St. Charles Street (see Part 1 and Part 2), we learned about Irish immigrants Daniel Bruton and his wife Helen Bell Bruton, and how their three daughters—Margaret, Esther and Helen—achieved great success in the art world.
A nostalgic trip
Walking that beautiful and historic campus was a trip back in time in more ways than one. Could it really be that many years ago that Edie and I first met at our alma mater, Syracuse University, in New York State? It doesn't seem all that long ago, and yet all of the young students around us—including the graduating seniors—could easily be our children, age-wise. And while this trip down memory lane was poignant, the real reason for this visit was to find Helen Bruton's work, hopefully still intact after 87 years.
Restoration of historic building and murals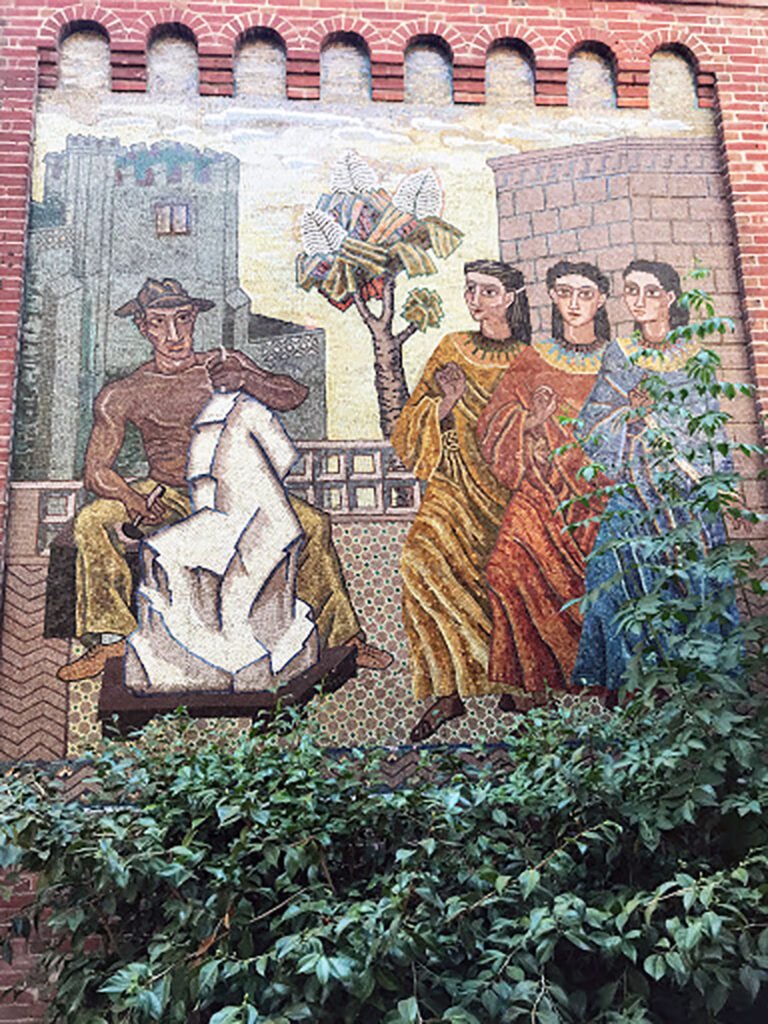 As part of research on the Bruton sisters, I learned that the UC Berkeley building known as the Old Art Gallery was being renovated and repurposed as Switch Station #8, part of the university's clean energy transition. This is especially apropos because the 1904 Romanesque Revival-style building by John Galen Howard was once the university's powerhouse. It had long since become obsolete for that role, but now, as part of a new 100% clean energy project scheduled to be completed by 2030, it will once again return to its roots. One of the first things planners realized, though, is that the historic 1936-1937 Federal Art Project/Works Progress Administration (FAP/WPA) murals on the building would need to be repaired and preserved. This is where the Alameda connection comes in, specifically the Bruton family connection.
The Bruton sisters were successful artists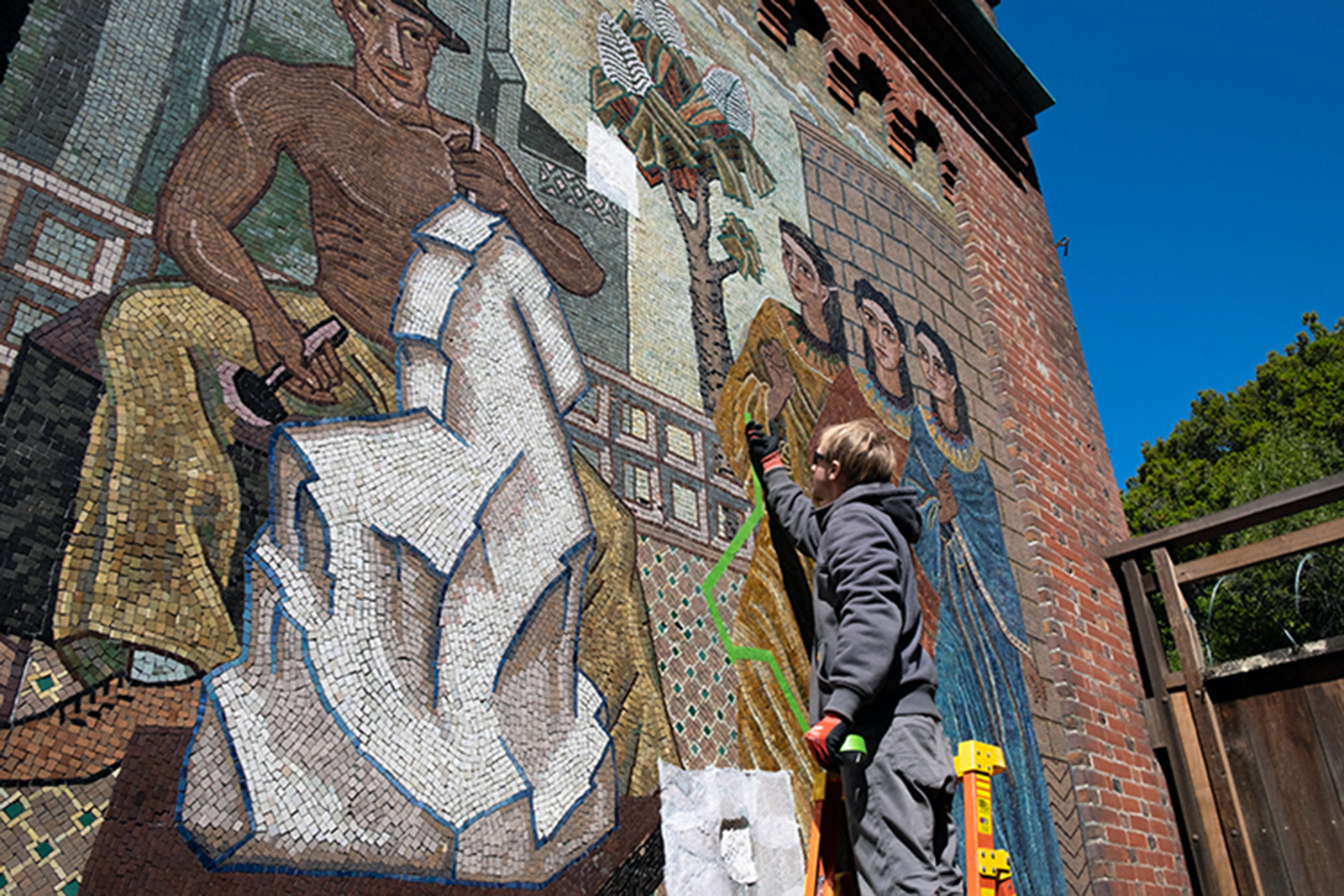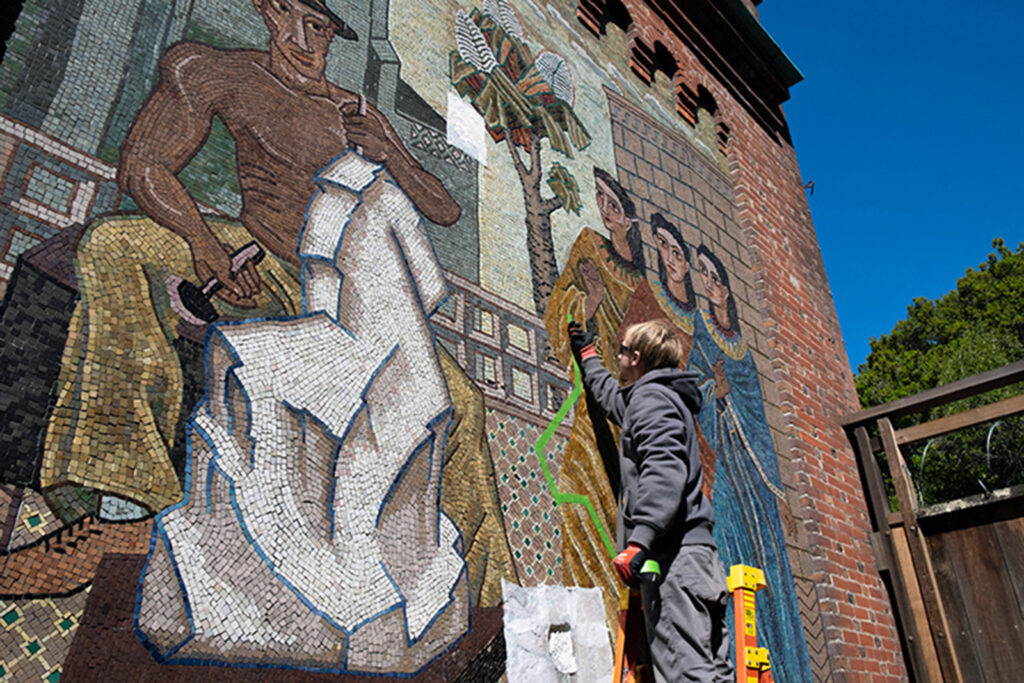 By the 1930s, the Bruton sisters were successful artists, all highly educated and experienced in their fields. They were doing solo shows, getting commissions near and far, and collaborating on projects. In 1936, Helen Bruton, along with her friend Florence Alston Swift, won a commission to create two large (18 by 10 feet) mosaic murals on the old powerhouse building on the UC Berkeley campus. Helen's mural was titled "Sculpture and Dancing," while Florence's was titled "Music and Painting."
These beautiful murals graced the brick niches of the building for generations and, though well-made, were sorely in need of maintenance by 2023. A recent San Francisco Chronicle article reported that each mural contains 80,000 individual tiles, and when conservators arrived, they found hundreds of them in the dirt below. Miraculously, all of the tiles were accounted for, and the murals were fully restored. My only hope was that I would arrive in time to see the restored murals before they were temporarily covered with protective paper, as part of the next phase of construction on the building.
Hidden gems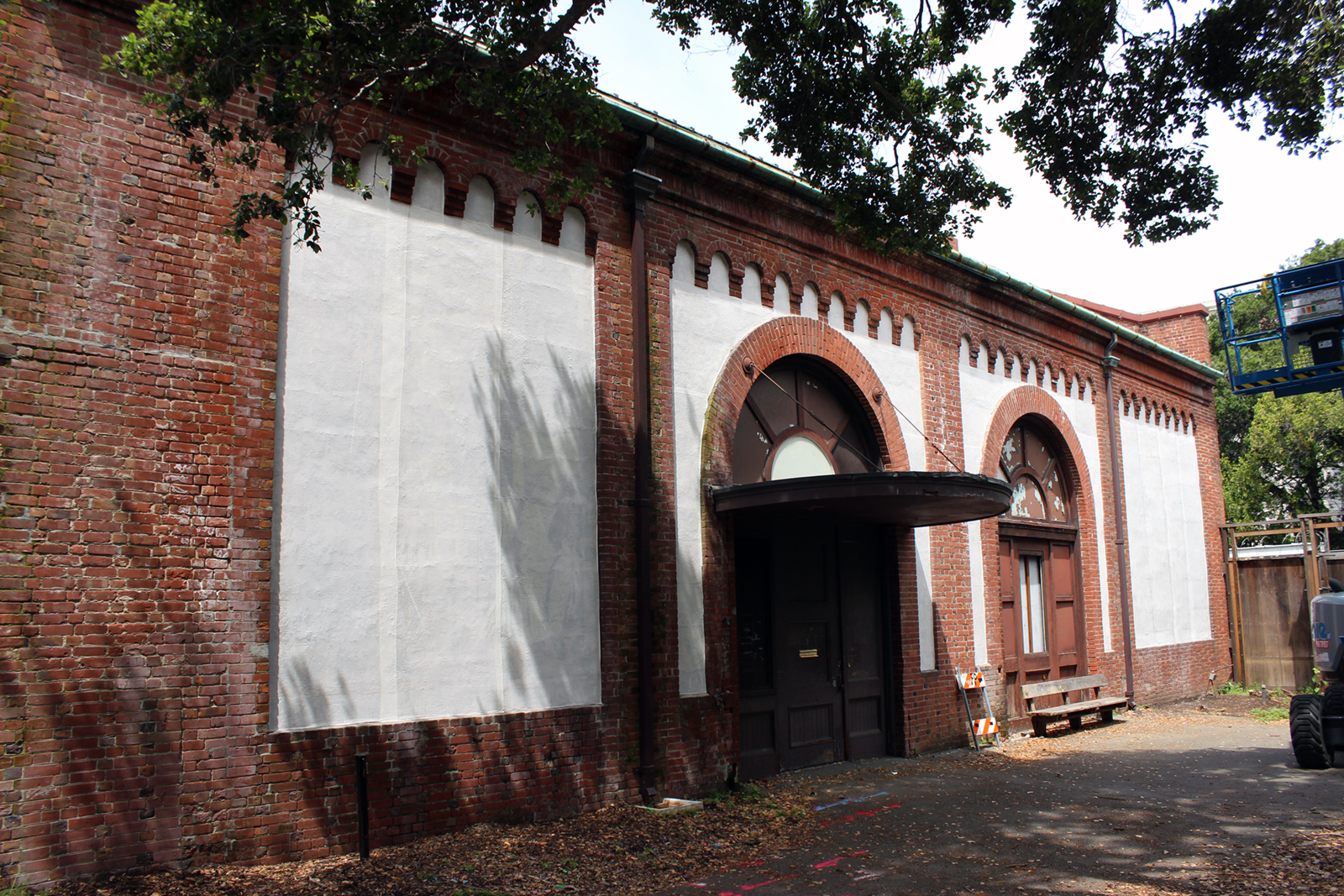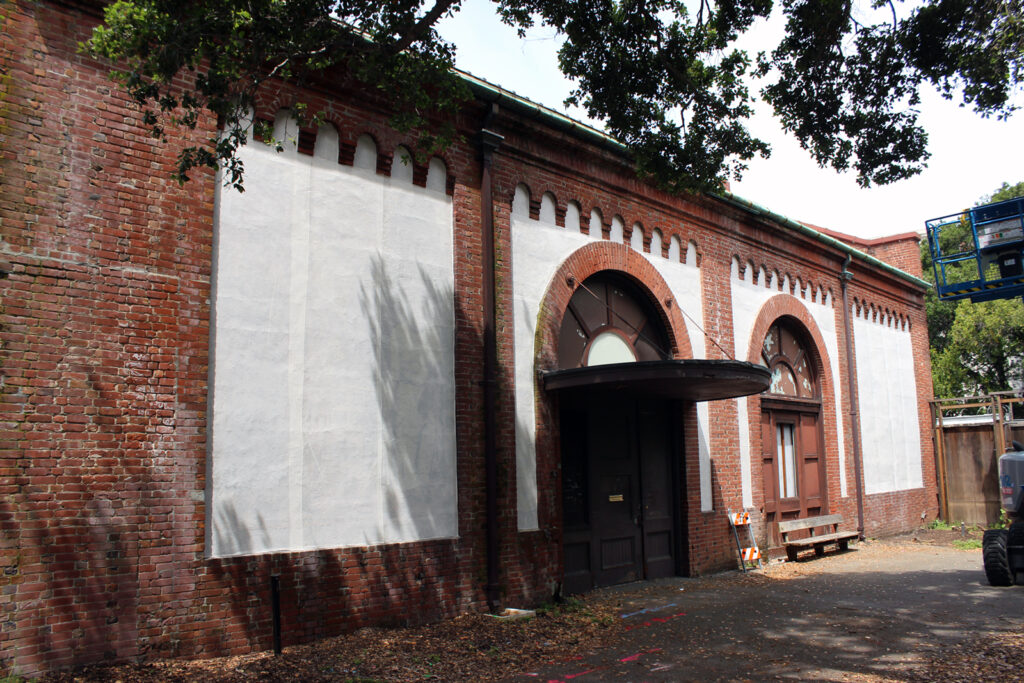 As we made our way past Sproul Hall, the Social Sciences Building, and the Architects & Engineers Building, I began to see an old brick structure just before a wooden bridge over Strawberry Creek. This looked like the Old Art Gallery I had seen in pictures, and as we came around the east side of the structure I was prepared to come face to face with the work of Helen Bruton for the first time. Suddenly, there it was, right in front of us—the work of Helen Bruton and Florence Swift—underneath white archival linen. We were too late. The murals had already been covered.
But this disappointment did not dim my spirits for long. This was actually a happy sight, a sign that the murals were safe and protected, and would one day be unveiled as part of the new clean energy powerhouse. That would give us another reason to visit this beautiful campus and finally see these works by Helen Bruton and Florence Swift, made by their hands almost 90 years ago.
Changing tastes post-WWII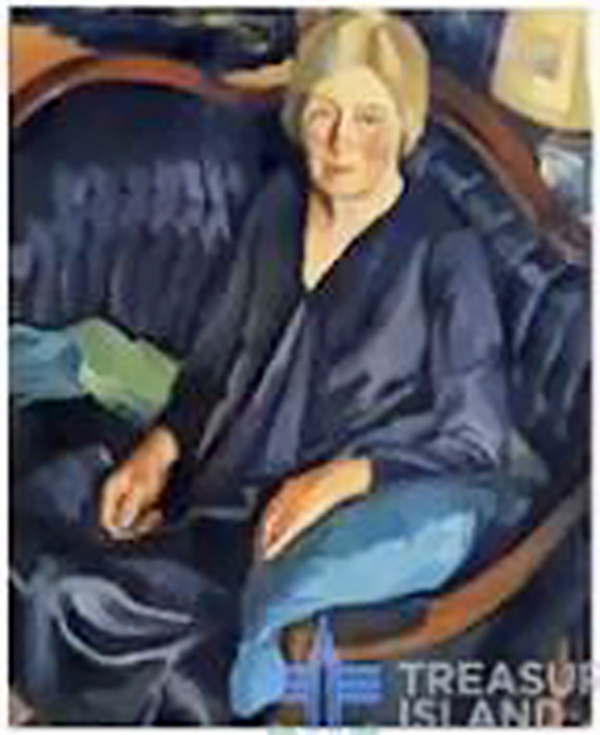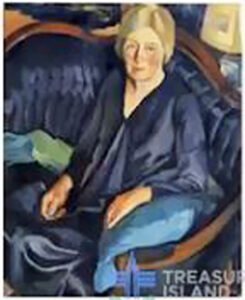 Not long after the UC Berkeley murals, the Bruton sisters took on their largest commission ever—the massive 144-by-57-foot mural that graced the Court of Pacific at the 1939-1940 Golden Gate International Exposition (see Part 2 of this story). The mural was a great success, and the sisters continued working on their specialties in the ensuing years. As World War II came to a close though, a new era commenced, and the "famous Bruton sisters" became victims of a changing art scene.
As explained by writer, archivist, librarian, and foremost Bruton scholar Wendy Van Wyck Good, "Modernism came to be associated with its male practitioners, and women were left out of the canon. This was especially discouraging for women artists like the Brutons, who were afforded so many opportunities through the WPA projects of the 1930s." Writer Jazmin Darznik added, "During those decades the Bruton sisters' emphasis on the American scene and the social realism of their WPA-era work also fell out of favor as a backlash against politically engaged art."
Nevertheless, all three Bruton sisters stayed active in their careers, continuing to work and evolve all through their lives.


The Bruton sisters' Terrazzo years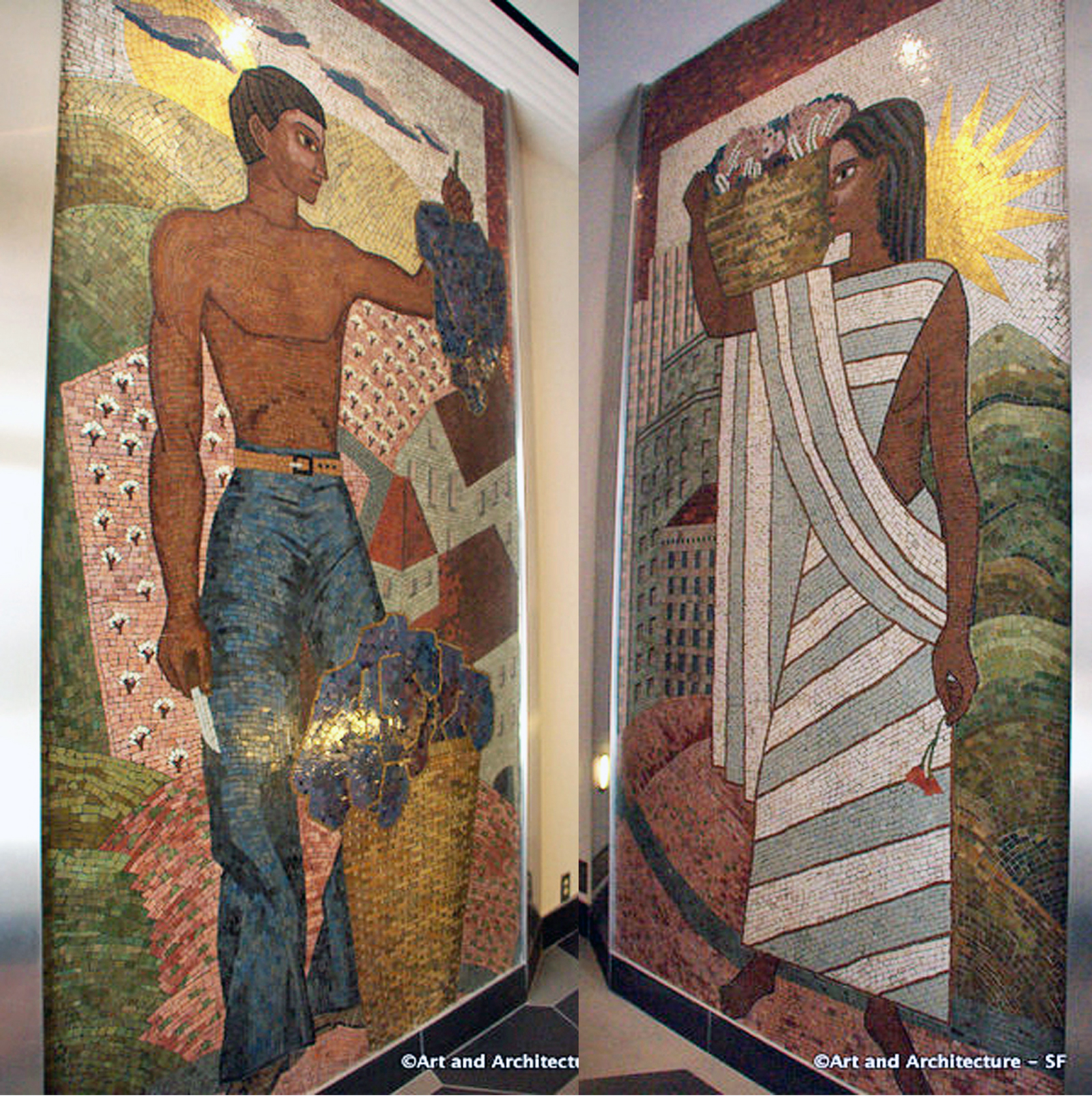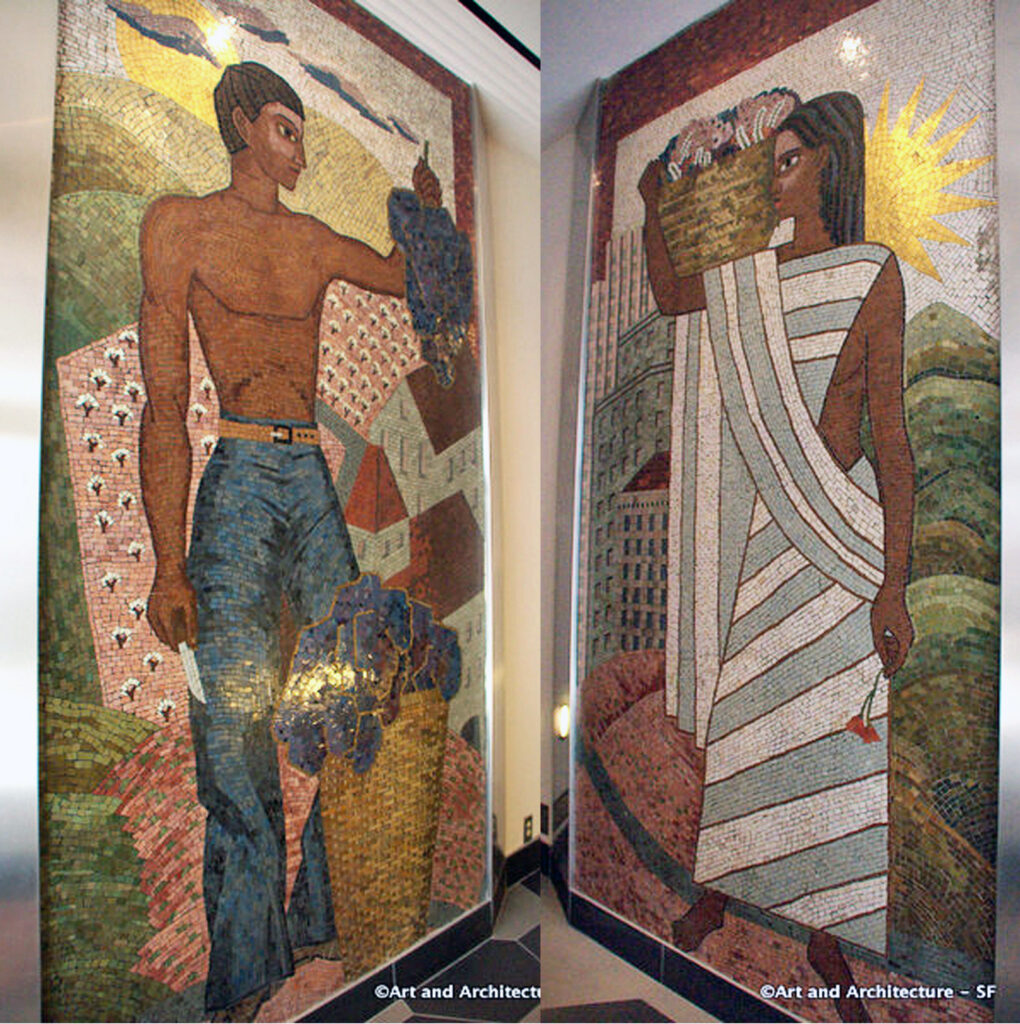 In the 1940s, Margaret and Esther, in particular, started moving more into terrazzo art. Terrazzo is an art form consisting of durable materials and chips mixed into a binder like cement or epoxy, and used to create murals, walls, countertops, tabletops, and other surfaces. They received commissions for this kind of work in hotels, cruise ships, homes, and commercial buildings. In 1944, Margaret and Helen moved to their Monterey house permanently, selling their home at 1240 St. Charles Street after 47 years of Bruton family ownership. Their mother, Helen Bell Bruton, lived until 1956, so she either came with them to Monterey or stayed with Esther and her husband Carl.
All three sisters died in Monterey—Margaret in 1983 at 89 years old, Helen in 1985 at 87 years old, and Esther in 1992 at 96 years old. They lived long, unconventional lives as full-time women artists, and left a lasting legacy that has come to be appreciated more and more over the years. New generations are coming to recognize their prodigious output and creativity over many decades.
Rest in art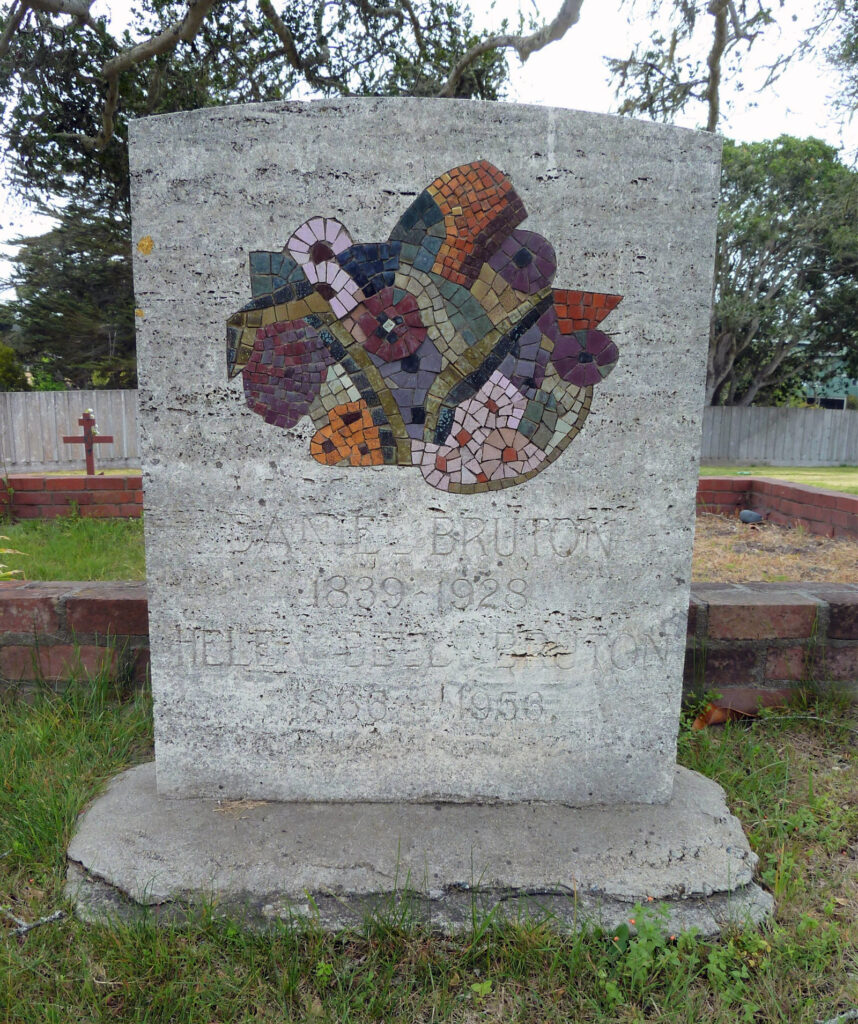 It's only fitting that the final resting place of the Bruton family—Daniel, Helen Bell, Margaret, Esther, and Helen—is under a simple yet beautiful mosaic headstone in a cemetery in Monterey. Also fitting is the name of their final resting place, Cemetery El Encinal, which harkens back to an historic and former name of the City of Alameda. Although the only names appearing on the headstone are of their parents Daniel and Helen, it is thought that their daughters are interred in this plot as well. Rest in art, Bruton sisters. The legacy you left lives on, and enriches our lives to this day. Like the homes you once lived in, you are among our Alameda Treasures.
Next up
The close of Part 2 suggested that "…we may even learn a bit about their grand home at 1240 St. Charles Street, something we haven't explored in detail because the Bruton sisters themselves are just too darn interesting." As it turned out, the fabulous Bruton sisters were still so interesting that they deserved at least one more article about their art careers. But perhaps next time we'll finally get to take a closer look at their historic home at 1240 St. Charles Street.
For more information on and photographs of Alameda's famous Bruton sisters and their art, visit Wendy Van Wyck Good's blog.
Contributing writer Steve Gorman has been a resident of Alameda since 2000, when he fell in love with the history and architecture of this unique town. Contact him via [email protected]. His writing is collected at AlamedaPost.com/Steve-Gorman.