Although there are many renowned builders who have left their indelible mark on the unique Victorian–era architecture of Alameda — among them Marcuse & Remmel, A.W. Pattiani, Denis Straub, Charles Shaner and David Brehaut — there is only one who has a whole neighborhood named after him.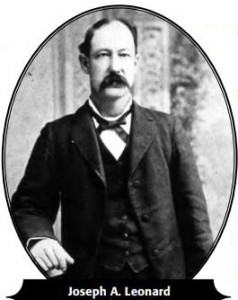 Joseph A. Leonard (1849-1929) built so many homes in Alameda that "Leonardville" is an historic district still on the maps to this day. There about 150 homes known to have been built by Joseph Argyle Leonard in Alameda alone, and his neighborhood was centered around Chestnut Station on the Encinal Avenue rail line. Most of his homes survive to this day.
Walk the streets around Union, Lafayette, San Jose, Clinton and San Antonio, and you are in the heart of Leonardville. Unlike Marcuse & Remmel, who specialized in high basement cottages, Leonard built mainly 2-story residences for a wealthier clientele.

In 1889 Leonard had a lavish home built for himself on the southwest corner of Union and San Antonio, where he would live with his family for the next 6 years as his business thrived and he became a wealthy man. Then, in 1895, although the market was softening and business was slowing, Leonard broke ground on his family's final grand mansion at the foot of Union St., right on San Francisco Bay. 891 Union is among "Alameda's Treasures" due to its history as the home of one of our great builders, its commanding location and size, and also because it was the last home he built in the neighborhood.
At a time when Queen Anne cottages cost about $2,500 and even grand 2-story homes could cost $6,000, this mansion cost an astounding $20,000 to build, indicating that no expense was spared. With a worsening economy and a worldwide recession that had started in the mid-1890's though, this would finally mark the end of Leonard's run in Alameda. He and his family only lived in this house for 4 years before selling it to George W. Emmons in 1900.
Leonard then found himself seeking further fortunes in Alaska on his yacht El Sueno for a couple of years — adventures that all ended as busts. He moved to San Francisco and reinvented himself there, going on to build hundreds more homes, including the ornate Vedanta Society Temple at the corner of Fillmore and Filbert, along with the Ingleside Terraces and Richmond Heights neighborhoods. He passed away at his home in Ingleside Terraces in 1929.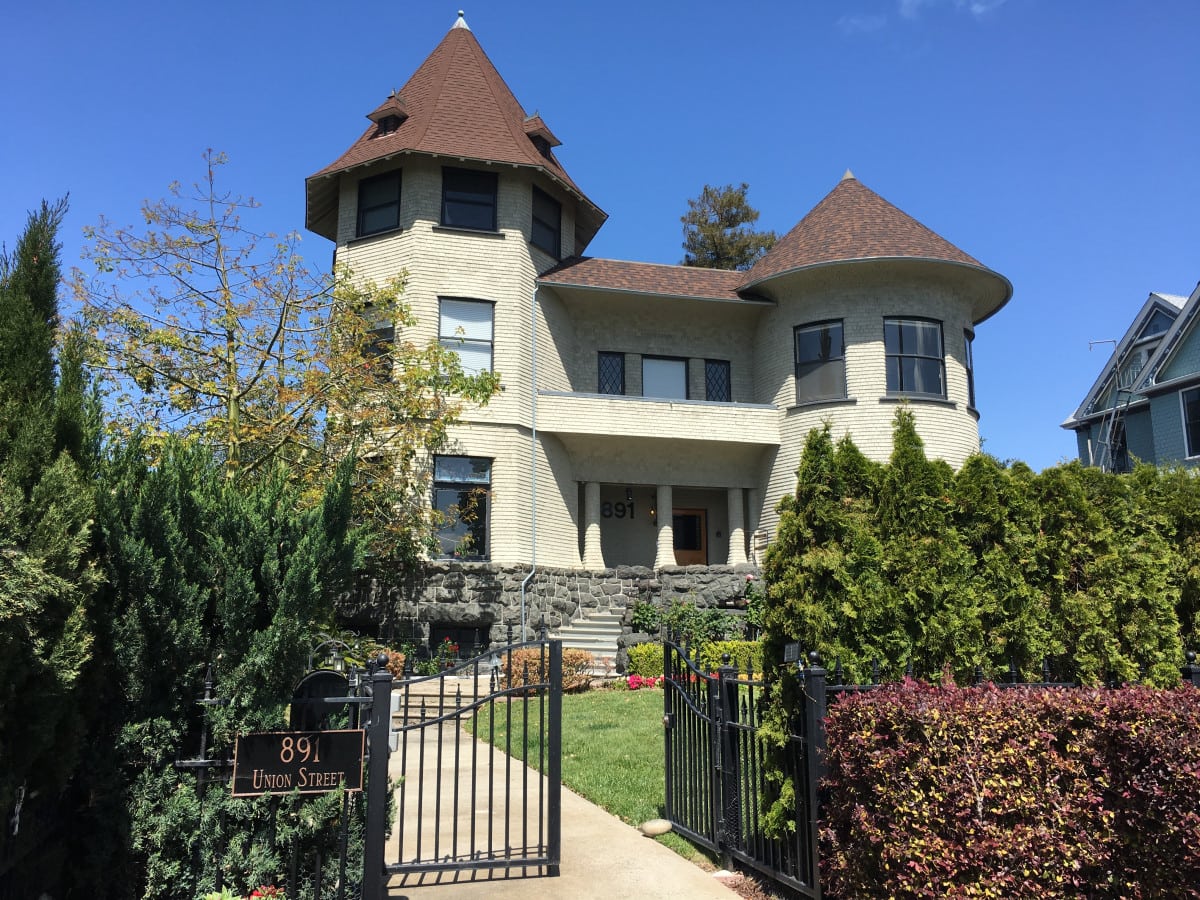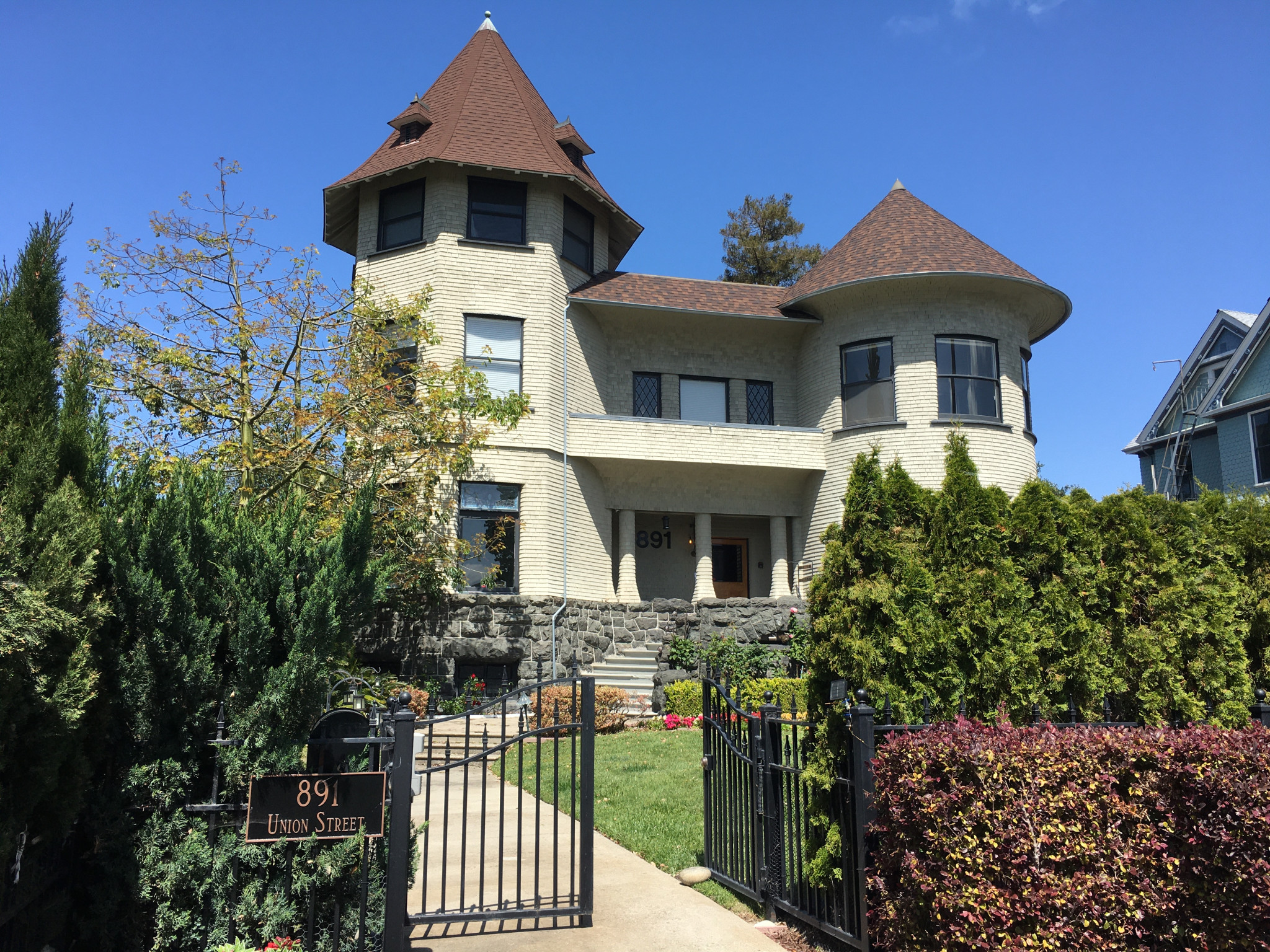 That brief thumbnail sketch just barely scratches the surface of the life of Joseph Leonard, but just feast your eyes on his final creation in Alameda at 891 Union St. Its once soaring roof has been diminished (to allow sunlight on the homes developed behind it, it is said), and its vast bayfront location has become a narrow lagoon. But the special grandeur of this home is immediately apparent to those who take the time to venture down to this quiet end of Union St.
The home was one of the earliest to be wired with electric lighting, and the impressive stone foundation base gives it a certain gravitas. The style is described as Transitional Romanesque-Queen Anne. The plain shingle style, and the absence of traditional Queen Anne fish scale textures, sunbursts and millwork are signs of Leonard's evolving style as the 1890s progressed and his desire to keep up with the times, moving into less decorative — yet still grand — Colonial Revival and transitional forms.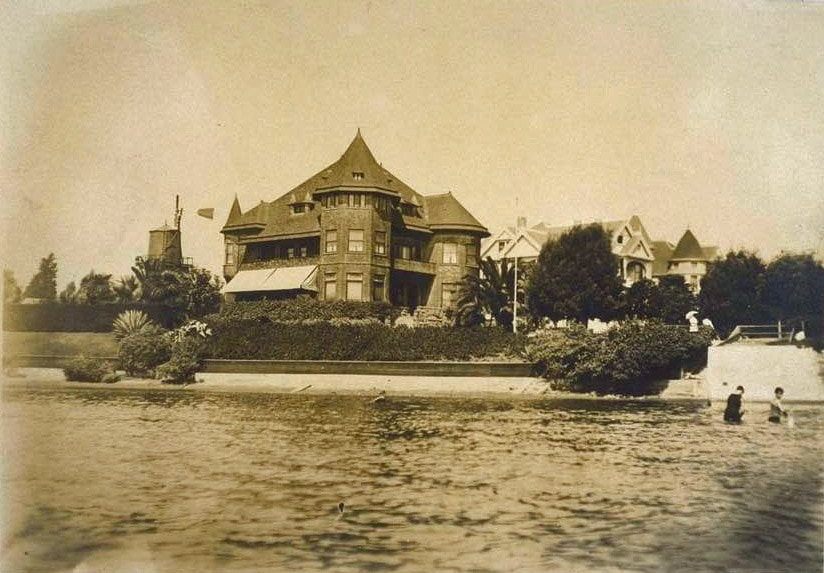 This home once had a view of the Encinal Yacht Club — also designed by Leonard — which sat at the end of a 1,000-foot pier in San Francisco bay off the end of Grand St, and where he served as Commodore. The Leonard family's first grand home, at the corner of Union and San Antonio is no more, a victim of the wrecking ball many years ago. But the fact that this masterpiece at the foot of Union Street still stands is something to celebrate; a survivor from another age, changed but not defeated. It stands tall still, just as Joseph Leonard did until he finally laid down his drafting pen for the last time in San Francisco at 79 years of age, as an extraordinarily productive life drew to a close.
For more information about Joseph Leonard and the Leonardville Historic Area, see Woody Minor's book, A Home in Alameda, available at the Alameda Museum.
Contributing writer Steve Gorman has been a resident of Alameda since 2000, when he fell in love with the history and architecture of this unique town. Contact him via [email protected]. His writing is collected at AlamedaPost.com/Steve-Gorman/.