Sleepy Alameda Point is home to rocket scientists who design and test satellite delivery vehicles.
Astra is headquartered in an unassuming black and white building just inside the former Naval Air Station at Alameda Point. Right in front of the building, along Main Street at the end of Pacific Avenue, is a public field where local children play soccer games. Most people driving past don't even notice the building or realize that space rockets are being designed and built inside the nondescript building.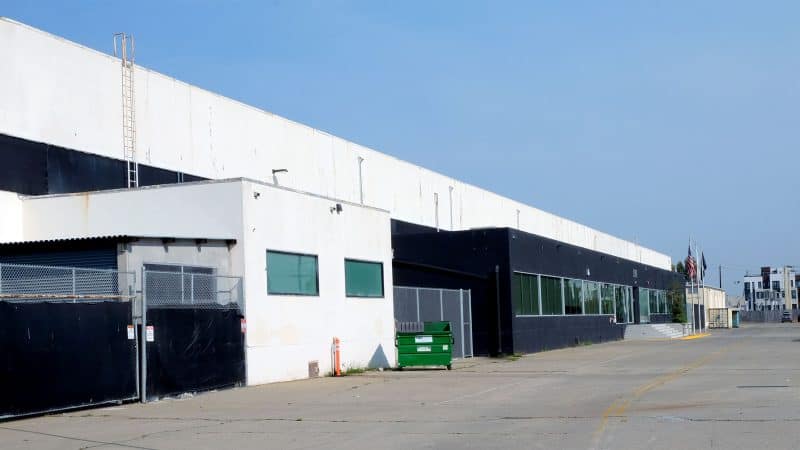 That's right, there is a rocket factory in Alameda! Astra, a company that designs and builds rockets capable of delivering payloads into low-earth orbit, makes its home in the same town where almost every street has a 25 MPH speed limit.
Startup to space in five years
Their website says: "Astra's mission is to Improve Life on Earth from Space™ by creating a healthier and more connected planet… Astra offers one of the lowest cost-per-launch dedicated orbital launch services of any operational launch provider in the world. Astra delivered its first commercial payload into Earth orbit in 2021, making it the fastest company in history to reach this milestone, just five years after it was founded in 2016."
Astra's current series of rockets, Rocket 3, can deliver small satellites. They have launched their vehicles several times, recently from both Cape Canaveral in Florida and Kodiak Island in Alaska. It was designed to fit into shipping containers to lower costs and facilitate shipping to remote launch sites and customers. Their new launch system is currently in development and will handle a payload of up to 600 kilograms (nearly 1378 pounds).
In addition to their launch services delivering commercial payloads to orbit, Astra works with NASA. They also build spacecraft engines for other companies, including the European aerospace conglomerate, Airbus.
Alameda Point offered unique opportunity for Astra
When the Navy departed Alameda, they left behind many buildings, some in better condition than others. As the City began planning for the future of the area, some proposals suggested tearing down the buildings that remained. Others suggested adaptive reuse, finding new tenants for the buildings, and renovating them for new purposes.
Alameda Point was a natural fit for Astra, which was founded in 2016 in a garage in San Francisco. Among the buildings the Navy discarded were some specialized buildings, including a former jet engine testing facility. That building presented a perfect opportunity for founders Chris Kemp and Adam London, who leased the building on Orion Street in 2017. Having their own testing plant in Alameda allowed Astra to test and refine their designs in-house in one central location, a combination of uses they were unable to find anywhere else.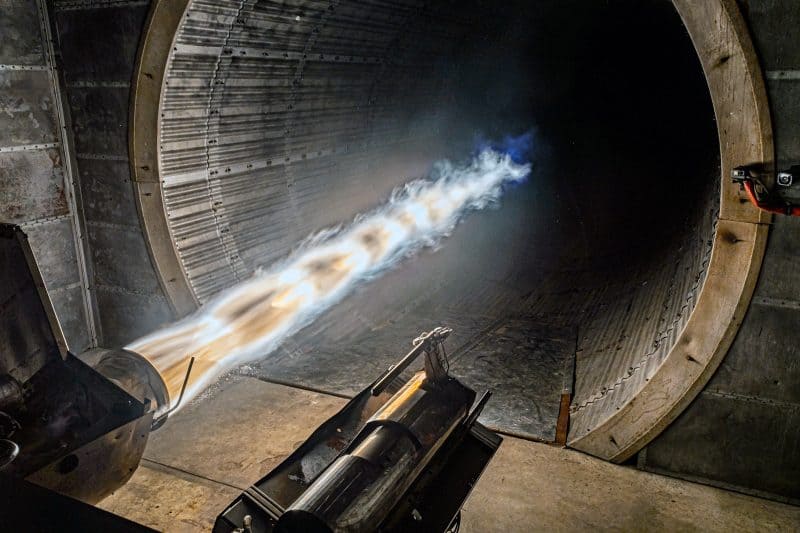 The testing facility features a central room encased in two-foot-thick concrete walls with security doors securing the chamber. The room looks like it could be the dramatic setting for an exciting adventure movie battle climax. Inside, a mount holds the engines for testing, directing their exhausts into long concrete tubes–with the same thick walls–and up an incline, venting to the outside. This muffles much of the noise made by the testing. The rest of the building was used for offices and research space, which quickly became pretty cramped.
New headquarters on Skyhawk
Astra moved into their current headquarters on Skyhawk Street in 2019. The building is right next door to the engine testing facility, which they continue to operate. Inside the black-and-white building is a massive open space divided into different functional sections including design studios, fabrication and assembly, testing, parts storage, and many others.
Models of Astra's rocket engines are on display near the entrance, showing off the inner workings and precise engineering that counteract gravity and hurl the craft into space. Dotted around the floor are small meeting pods, mobile enclosed areas with seating for a few people to have private discussions. Several larger pods serve as mission control during launches, full of video screens and data readouts, tracking every aspect of the rocket's flight. Employees are spread throughout the building, dressed casually while they work intently—some working alone, others in teams.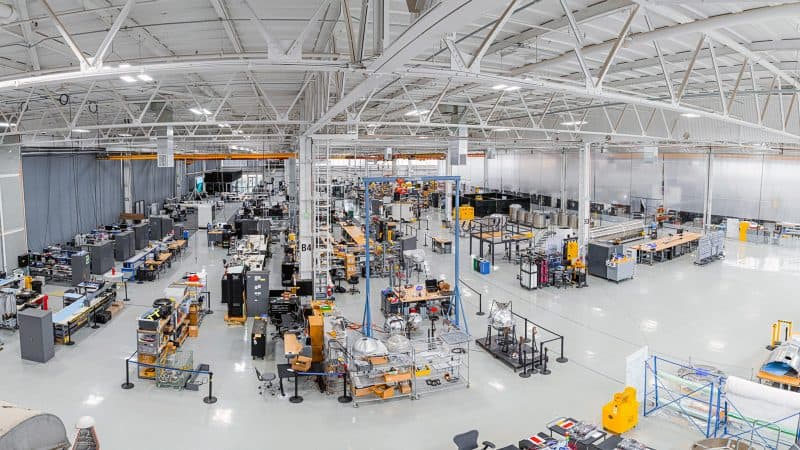 A few areas are dominated by massive metal forming and joining machines that make precision parts and secure welds that can survive the stress of space travel. But nothing commands as much attention as the nearly-fully-assembled rockets that fill the space at the rear of the plant.
Safety and security prioritized
As exciting and dramatic as they look, the rockets Astra builds in Alameda are not ready to blast off from the factory floor. None of the rockets in the plant have any fuel in them during any part of their construction. The assembly process is the same as that of an automobile manufacturer— the products are assembled and when they are ready for delivery, or deployment in the rockets' case, only then are they fueled. Of course, the engines that are tested at the facility next door do require fuel, but they are not fully assembled vehicles.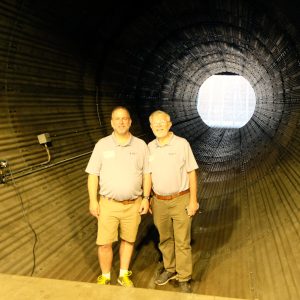 The facility is certified by the International Traffic in Arms Regulations or ITAR, which requires a high level of security. When Alameda Post Editor Dennis Evanosky and I visited Astra, we had to register for passes, provide documents confirming our identities, and provide proof of vaccination and a negative COVID test result from the previous 24 hours. We were escorted through the facility by a very welcoming group of several representatives of the company while we wore badges that clearly identified us as visitors.
The wide-open space has a shiny white epoxy floor, bright lighting, and separation between defined areas. The coating on the floor is extra thick, both as a precaution for any accidents during manufacture and to seal in any contamination left behind from the building's previous use by the Navy for testing propulsion systems.
Astra's growing needs
With more than 400 employees already working for the company, Astra is continuing to grow and expand. The careers page on their website lists several dozen positions that are currently open. To handle their growing needs, the company recently opened a campus in Mountain View and would like to grow their footprint at Alameda Point. Twenty percent of their employees live in Alameda, giving them an easy commute to the high-tech facility. Others commute into Alameda each day, helping to replace the employment opportunities that left with the Navy.
Alameda is home to a variety of high-tech and scientific companies, working in exciting fields like food sciences, bioengineering, medical research, and, yes, rocket science. Although we won't get to watch the rockets launching from Alameda Point, we still get to claim Astra as our hometown rocket company—one that is just down the street for some of us.
Adam Gillitt is the Publisher of the Alameda Post. Reach him at [email protected]. His writing is collected at AlamedaPost.com/Adam-Gillitt.