Green light for revamped Grand Street design and two new housing developments
On July 18, City Council approved additional funds and an updated design for the Grand Street Safety Improvement Project to include a raised two-way bikeway on the entire Grand Street corridor. Council also approved Alameda Point development agreements for the RESHAP (Rebuilding Existing Supportive Housing at Alameda Point) Project of 309 supportive housing units and the West Midway Project of 478 condominiums and townhomes.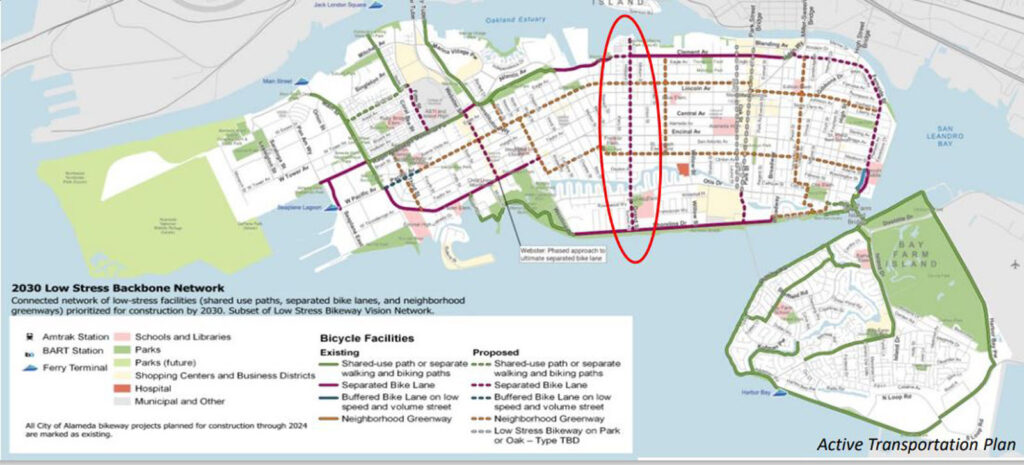 Controversial Grand Street design
To ease traffic, the City aims to make bicycling and walking more attractive and safe. The Grand Street corridor is a critical north-south link in the City's plan to create a low-stress bicycle network. The Active Transportation Plan recommends separated bicycle lanes, particularly since Grand Street is a high injury corridor that travels through the Wood Middle School district.
In November 2022, Council approved a plan for Grand Street with two-way bicycle lanes from Shore Line Drive to Otis Drive (Segment A) and one-way bicycle lanes on each side of the street from Otis Drive to Encinal Avenue (Segment B). Segment B included a meandering driving path with parking on alternating sides of the street. Council and community members generally supported the Segment A design. However, the Segment B design was controversial, with Grand Street residents and disability advocates particularly opposed and two of five Councilmembers voting against it.

Revamped design
Staff presented a new alternative with a raised two-way bikeway from Shore Line Drive to Clement Avenue, separated from traffic by parked cars. It has the advantages of a continuous bikeway for the entire corridor, which will reduce conflicts between motorists and bicyclists, and parking on both sides of the street, which will reduce parking loss. While the original design was estimated to cost $8,550,000, the revised design is estimated at $14,830,000 primarily due to the reconstruction of curbs and gutters on the east side of Grand Street.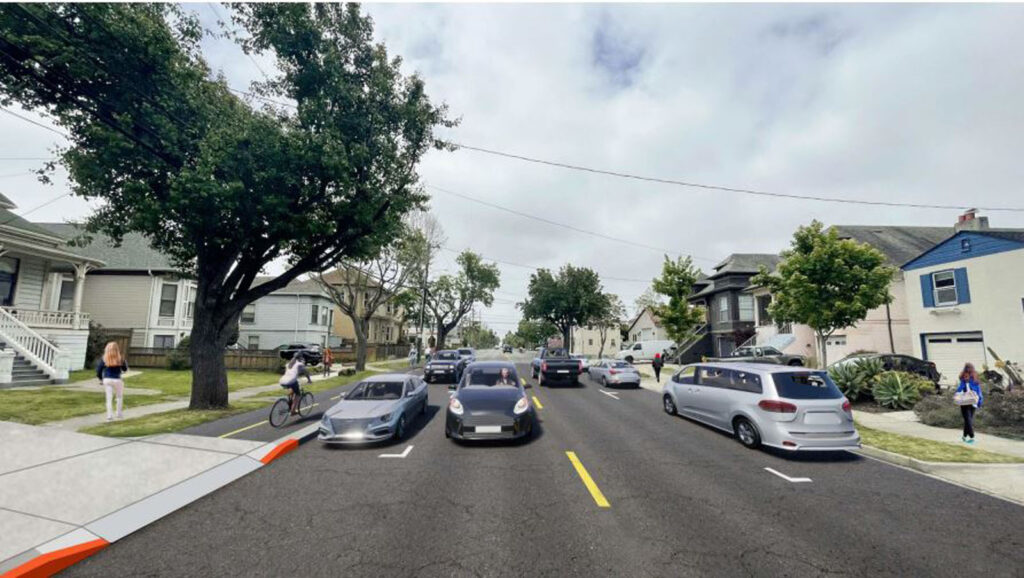 Public comment, including feedback from Grand Street residents and Bike Walk Alameda, generally supported the revised design, and Council voted 4-1 in favor. Council also voted 4-1 to amend the fiscal year 2023-24 budget to provide more project design and construction funds. Councilmember Trish Herrera Spencer voted against both motions, opining that recent Grand Street intersection safety improvements are adequate and further upgrading is unnecessary.
Staff expects construction to begin on Segment A in 2024 and Segment B in 2025. Work on Segment C (Encinal to Clement) may commence in 2028 or 2029, depending on the City's success in acquiring transportation grant funds.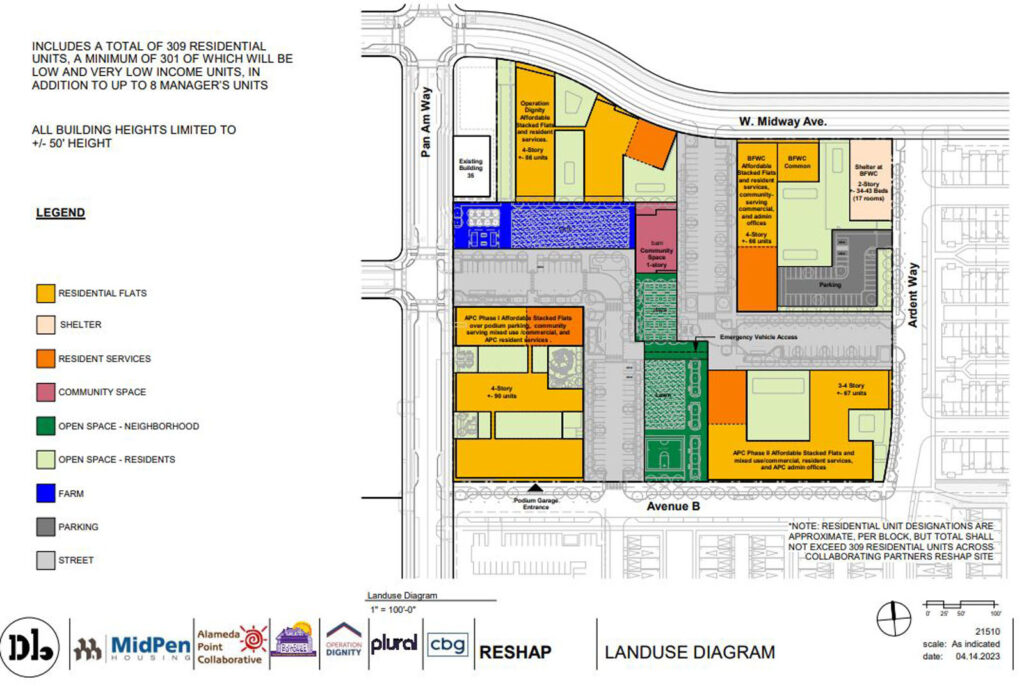 New housing projects at Alameda Point
Council also approved development agreements for the RESHAP Project of 309 supportive housing units and the West Midway Project of 478 condominiums and townhomes at Alameda Point.
RESHAP is a plan by MidPen Housing Corporation, in conjunction with Alameda Point Collaborative (APC), Operation Dignity, and Building Futures, to build and manage supportive housing for extremely low-, very low-, and low-income households. APC serves the formerly unhoused, while Operation Dignity serves veterans and Building Futures serves women and children escaping family violence. The campus will include on-site managers and services, commercial and community spaces, and public outdoor gathering areas.
The West Midway project comprises five neighborhoods of three- and four-story condominium and townhome buildings to be constructed over eight years. Its infrastructure will provide streets, bikeways, and pedestrian paseos that will connect West Midway to RESHAP and both to the Naval Air Station Historic District and greater Alameda. The project itself includes a commercial development across from Almanac Beer Company.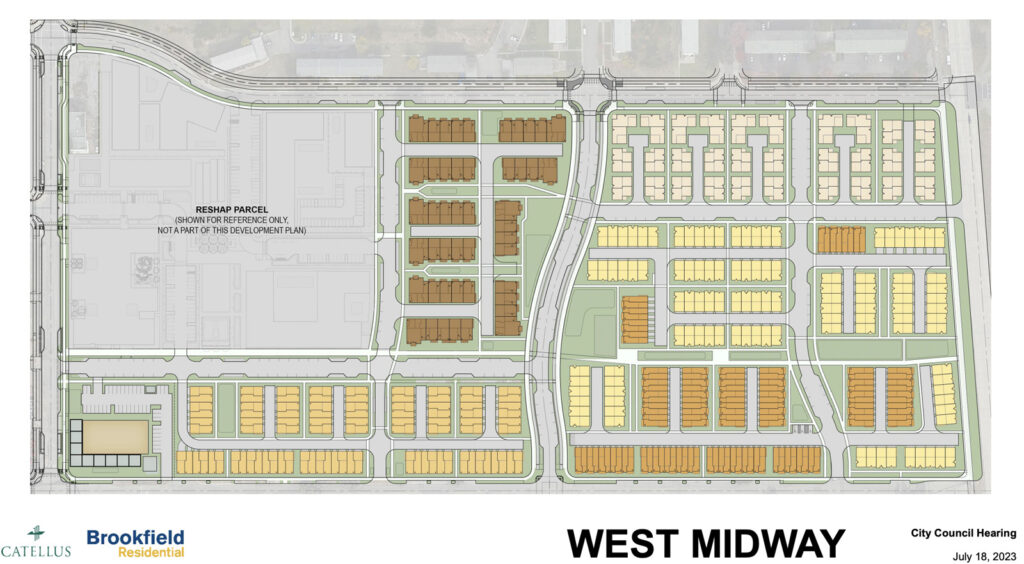 West Midway is critical to the City's Housing Element commitment to construct 1,482 housing units over eight years at Alameda Point. In addition to 478 homes, the project provides infrastructure and site preparation for RESHAP.
The development agreement provides a $9.5 million advance from the City's Alameda Point Fund for the developer to build RESHAP infrastructure and graded building pads before the market rate Midway Project, allowing RESHAP to proceed without delay. The developer must repay the funds with interest at a rate of prime plus 1%.
Together, the two projects include 147 new deed-restricted affordable housing units. RESHAP will provide 103 new affordable units (201 are replacement units), and West Midway will provide 44.
Public comment and Council vote
Public comment on the housing projects was largely in favor. Speakers representing the Bay Area Council, the Social Services Human Relations Board, local construction unions, Alameda Economic Alliance, East Bay Housing Organization, and others expressed support.
Vice Mayor Tony Daysog lauded the affordable housing. Councilmember Tracy Jensen said Alamedans have waited decades to use Alameda Point, and it is exciting to finally see its development. Councilmember Herrera Spencer objected to the City providing a loan to the developer, deeming it risky. She said she preferred supportive housing to be closer to schools and considered its proximity to Almanac Brewery problematic. Council voted 4-1 to approve the development agreements, with Councilmember Herrera Spencer voting against.
Contributing writer Karin K. Jensen covers boards and commissions for the Alameda Post. Contact her via [email protected]. Her writing is collected at https://linktr.ee/karinkjensen and https://alamedapost.com/Karin-K-Jensen.