On May 22, the Planning Board approved the West Midway Development Plan, which includes constructing 478 housing units, 10,000 square feet of non-residential uses, associated infrastructure, and open space on 26 acres of land at Alameda Point. The Board further recommended that City Council approve the West Midway Development Agreement with Catellus Development Corporation and Brookfield Properties at its meeting on June 20.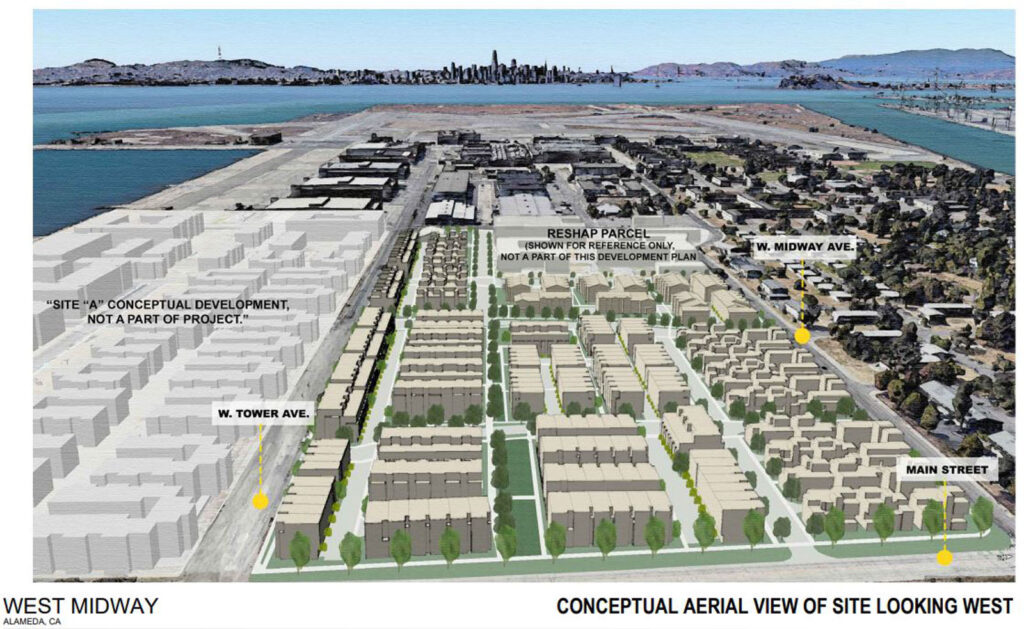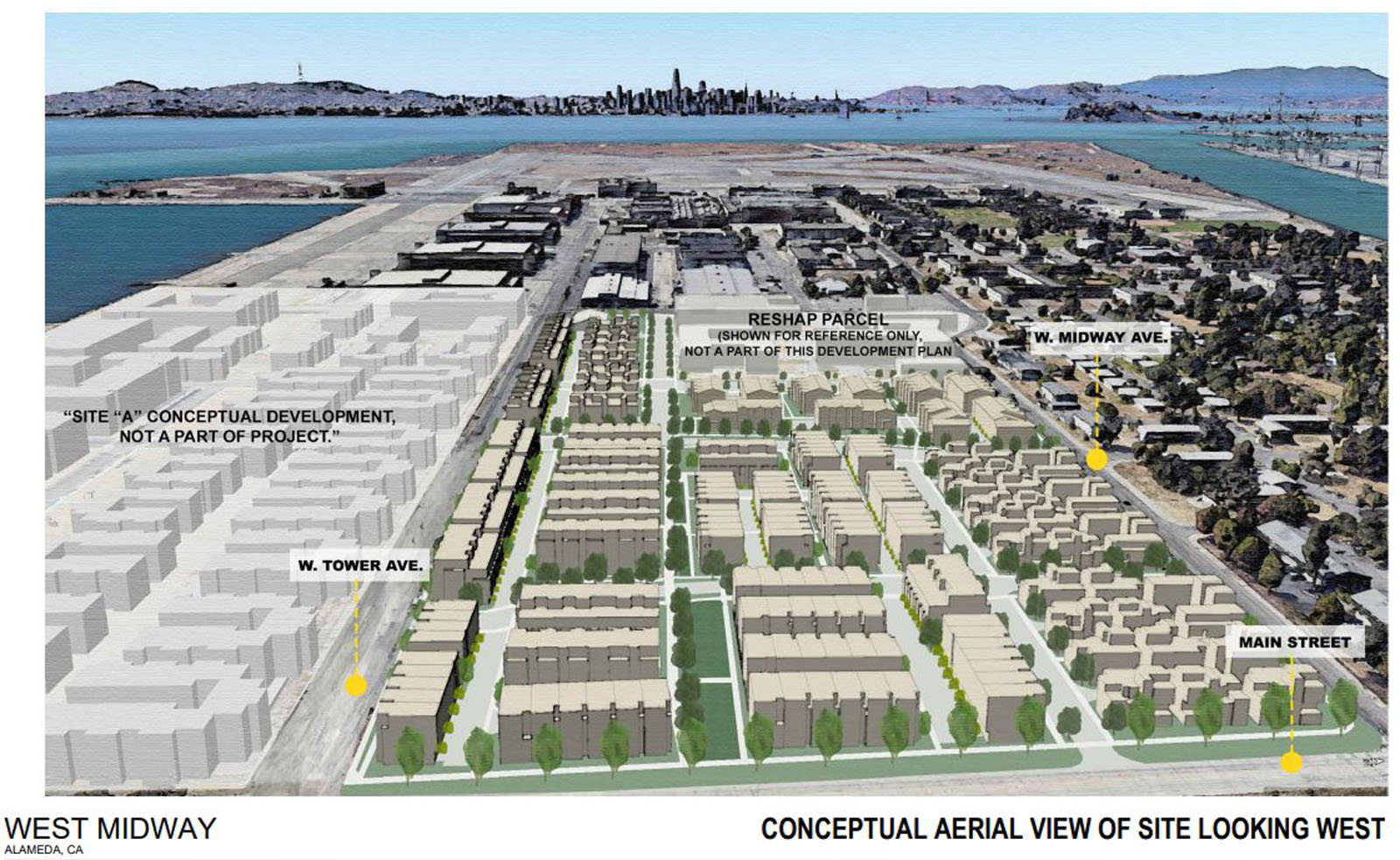 The Board also approved a design for constructing a central kitchen and warehouse at the Alameda Unified School District (AUSD) facility at 250 Singleton Ave.
West Midway Project
The West Midway Development is a priority project for the City of Alameda Housing Element, one of three that are critical to the City's commitment to building 1,482 housing units over eight years at Alameda Point. In addition to housing, the project provides vital infrastructure and site preparation for the adjacent RESHAP project.
The project comprises five neighborhoods of three- and four-story condominium and townhome buildings. Most residences face the street or a pedestrian paseo and are served by private garages accessed from a rear alley. Buildings range in size from two to eleven units. The project also provides a 7,500- to 10,000-square-foot commercial development at Pan Am Way and West Tower Avenue, across the street from the Almanac Brewery.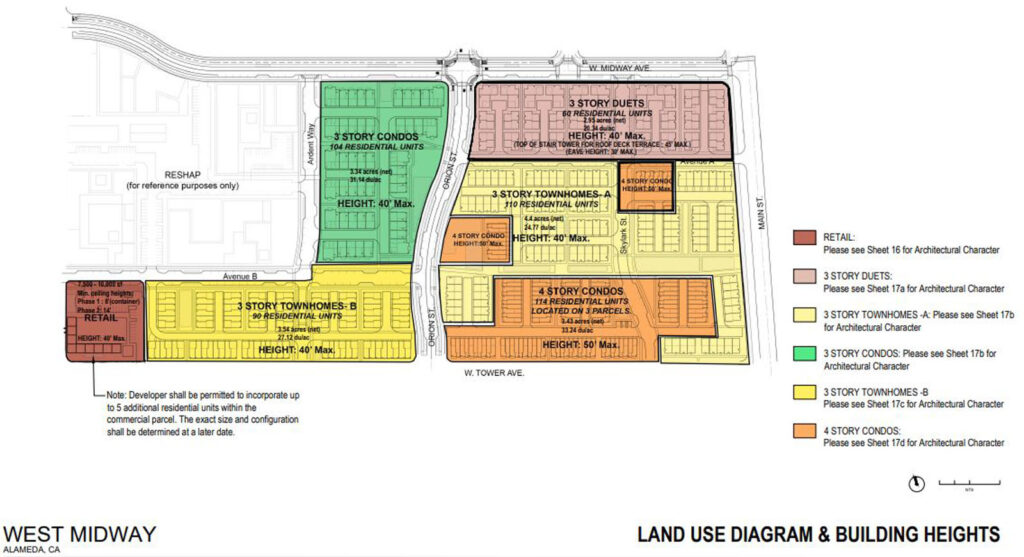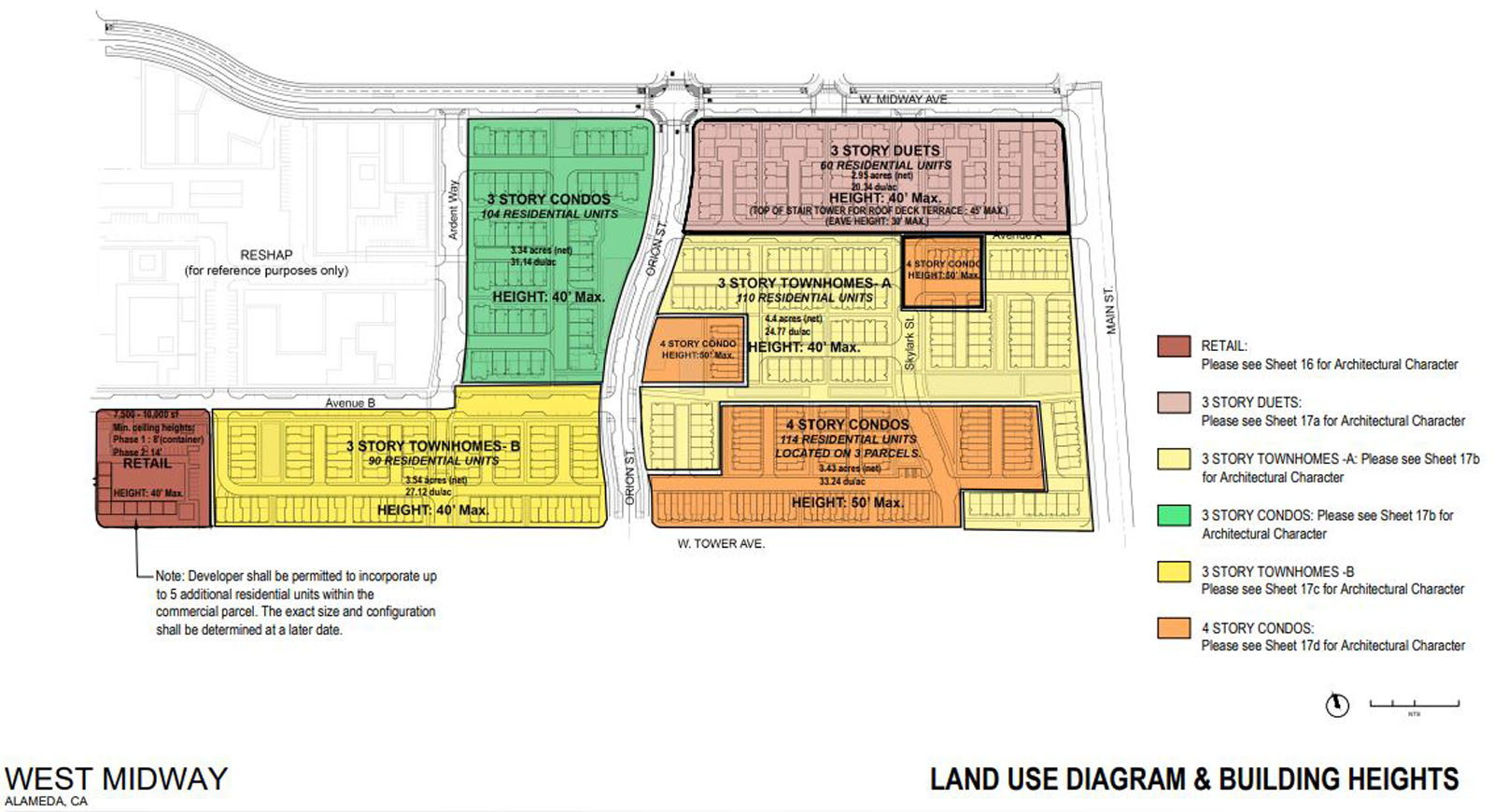 Affordable housing
The Alameda Point Settlement Agreement with Renewed Hope requires 25% of new Alameda Point housing be deed restricted for very low, low, and moderate income households. This includes 10% at or below low income and 15% at or below moderate income. The West Midway and RESHAP project together will satisfy this requirement. Together the projects provide 587 new housing units, requiring 147 affordable units.
Since the RESHAP project provides 107 new units for households at or below low income, the West Midway Project will include just 40 units deed restricted for sale to moderate income households (households with 80% to 120% of the area-wide median income (AMI)).
The project includes 43 "affordable by design" units for "workforce" households with incomes between 120% and 180% of the AMI. The initial sale of these units will be limited to households within the target income range, but these units will not be deed restricted.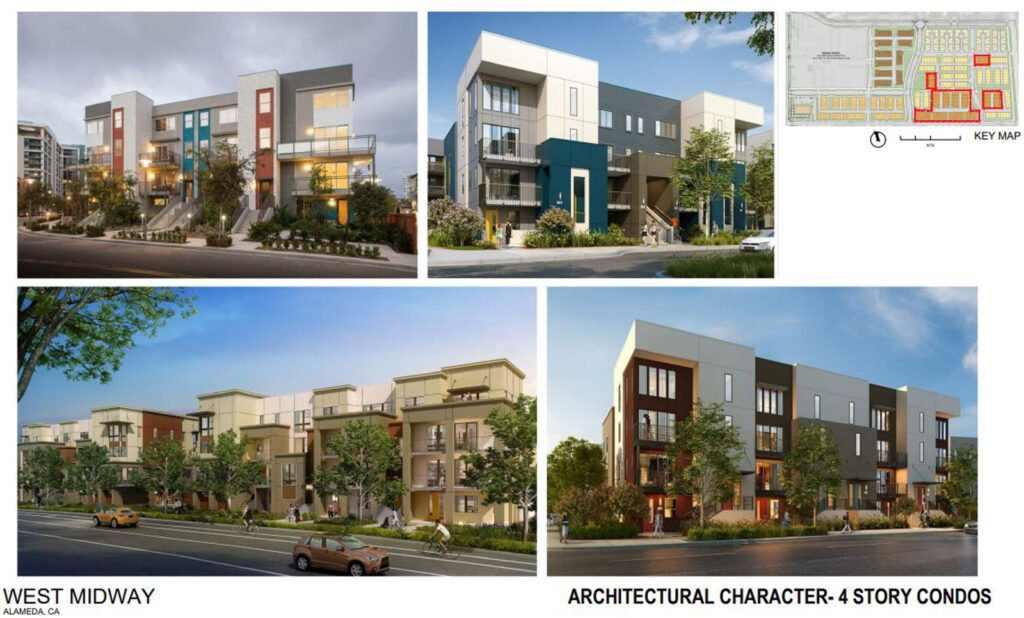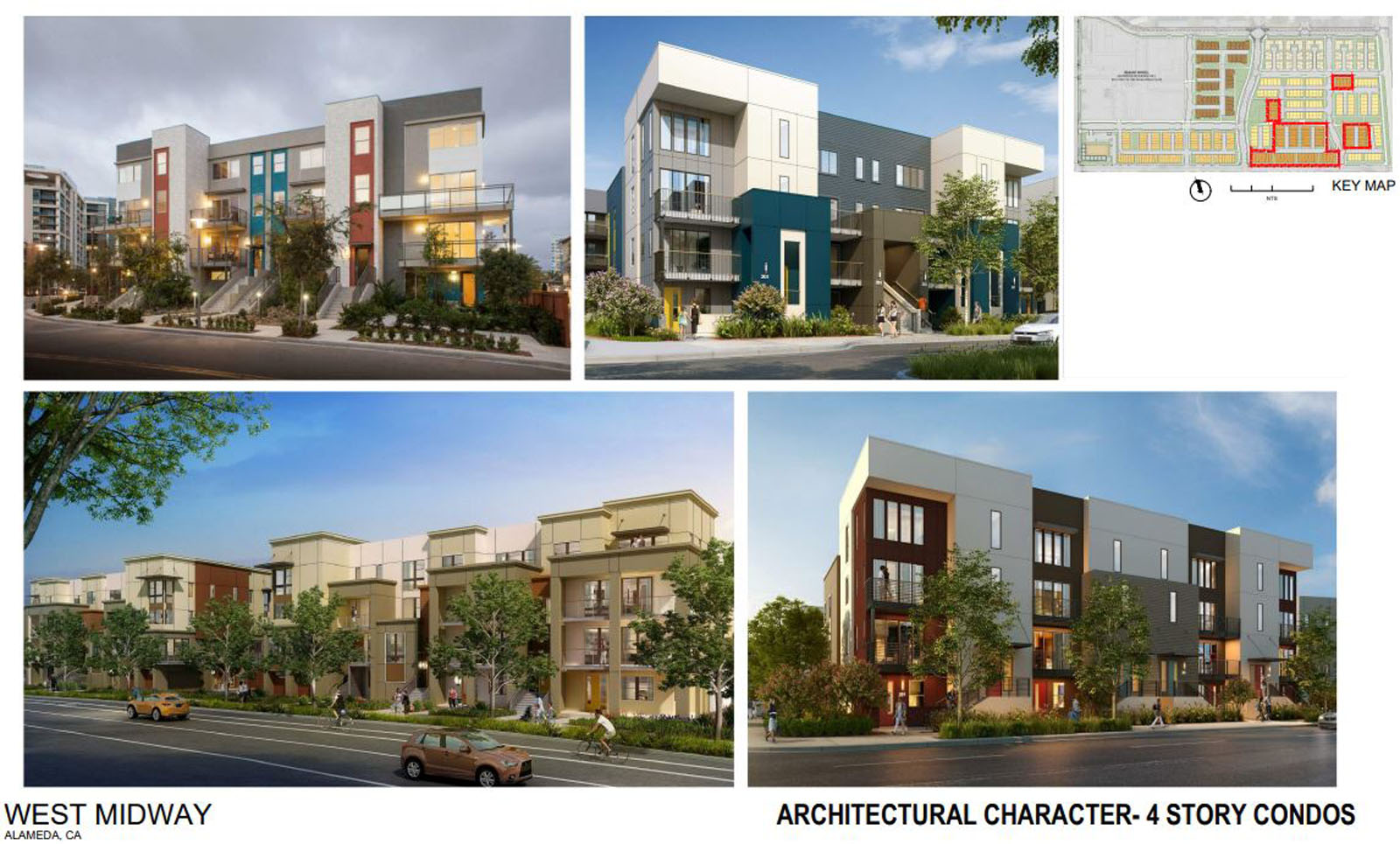 Active transportation and new public park
To encourage active transportation, the project includes a shared bicycle and pedestrian trail through the middle of the site as well as bike trails on the Main Street and West Midway Avenue frontages and Orion Street. This bicycle and pedestrian network will connect four small internal parks to the regional park at Seaplane Lagoon and the Main Street Neighborhood Park planned for the next phase of Alameda Point. The West Midway project will contribute $2.5 million toward constructing this new park.
The project site is served by AC Transit and is within walking distance of two ferry terminals with access to Oakland and San Francisco. As members of the Alameda Transportation Management Association (ATMA), residents will receive transit passes, electric bicycle rebates, and other transportation services.
Board vote
After imposing conditions related to improving pedestrian-friendly architecture and adjusting setbacks, elevations, and mailbox locations, the Board voted 5-0 to approve the Development Plan. It recommended that City Council do likewise when it meets to review this issue in June. Board members Ron Curtis and Hanson Hom were absent.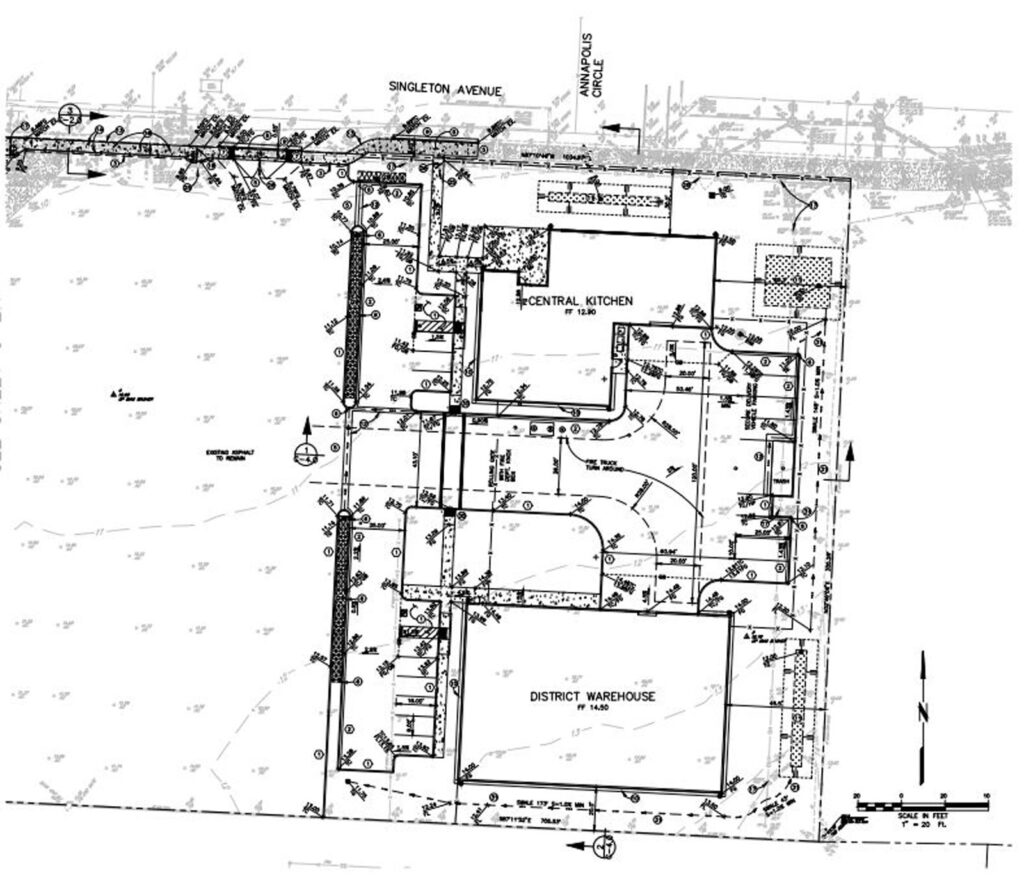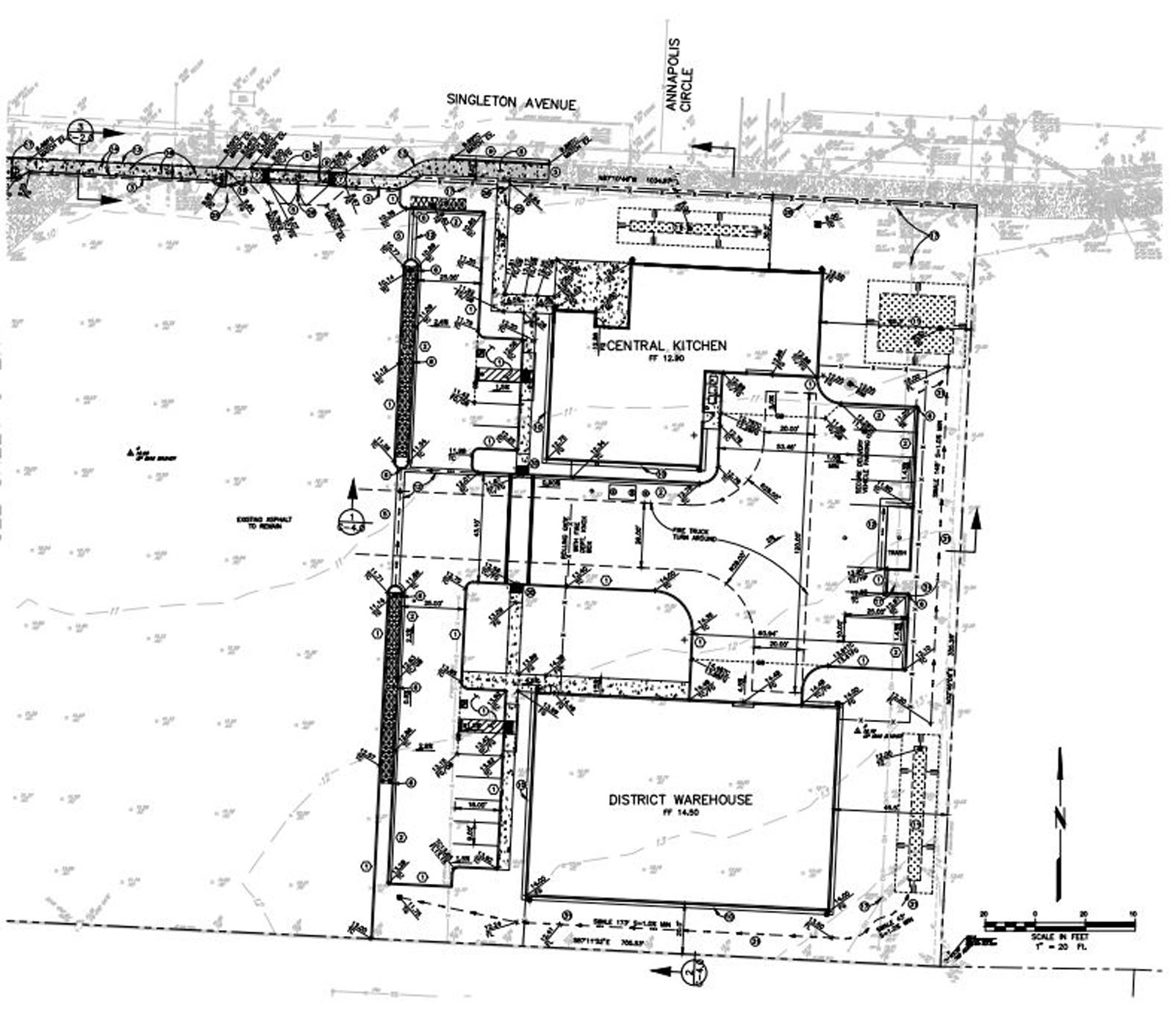 New AUSD kitchen and storage
In other business, the Board reviewed and approved a design to construct a central kitchen and warehouse at the AUSD property at 250 Singleton Ave. The property, which served as the George P. Miller Elementary School from 1980 to 2006, is now the AUSD maintenance yard. The proposed project would involve a 2.77-acre portion of the 6.73-acre property.
AUSD's current food service facilities are based out of Wood Middle School and are undersized and outdated to service the District. This new project will include a kitchen and food storage facility sized to meet the District's current needs for all its facilities. It will also include a second building to provide general storage.
After imposing some conditions on the design related to adding more landscaping and natural light and improving sustainability, the Board voted 5-0 to approve the design.
Contributing writer Karin K. Jensen covers boards and commissions for the Alameda Post. Contact her via [email protected]. Her writing is collected at https://linktr.ee/karinkjensen and https://alamedapost.com/Karin-K-Jensen.