Planning Board approves RESHAP project to build 309 housing units
On May 8, the Planning Board unanimously approved a development plan and agreement for a project called RESHAP–Rebuilding Existing Supportive Housing at Alameda Point. It will include 309 housing units for low-income, very low-income, and extremely low-income residents, with associated services and community spaces, and up to eight units for on-site managers and staff. The project is bordered by Midway Avenue, Ardent Way, Avenue B, and Pan Am Way, and will replace 200 deteriorating Navy dormitory units in the Main Street neighborhood.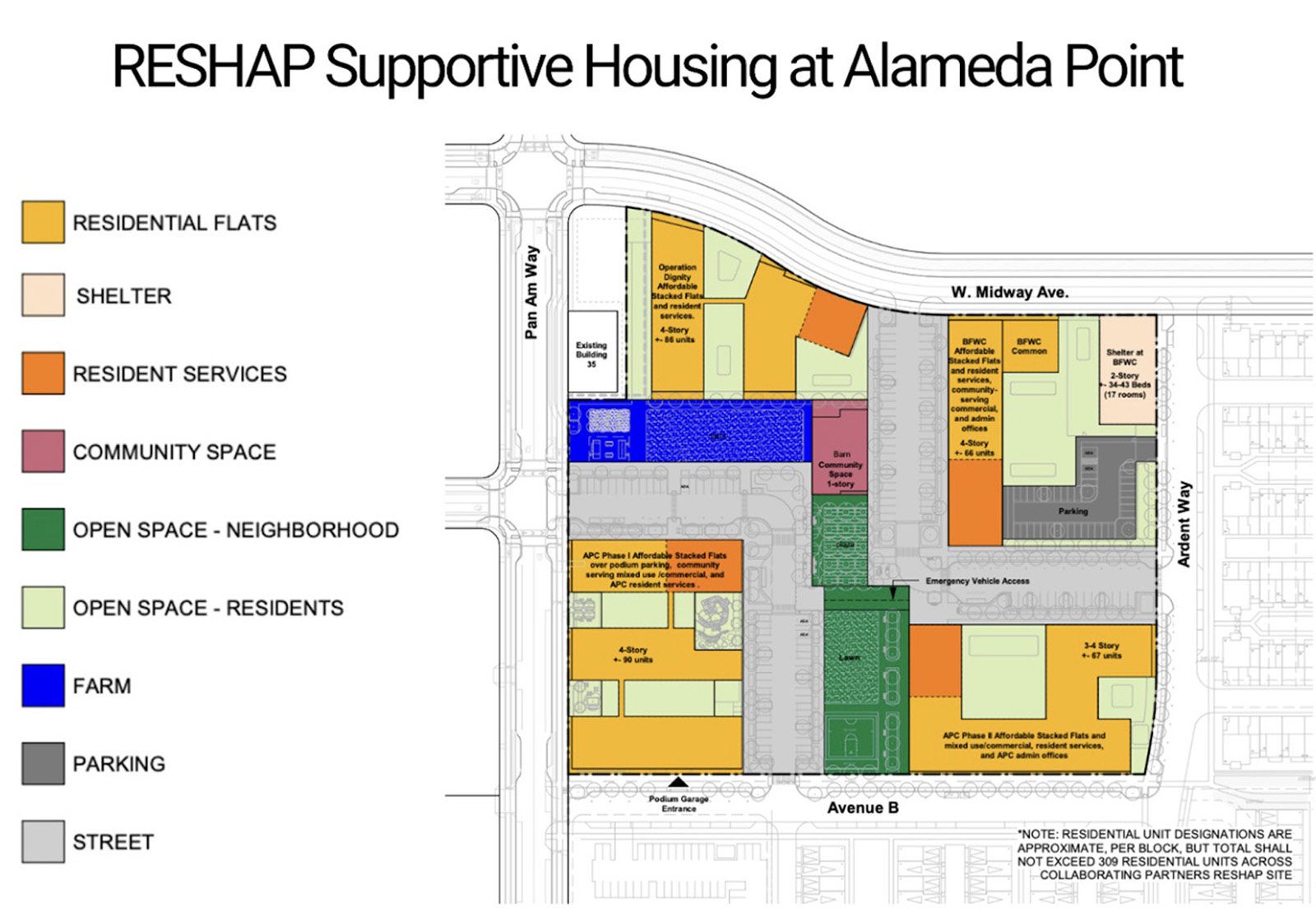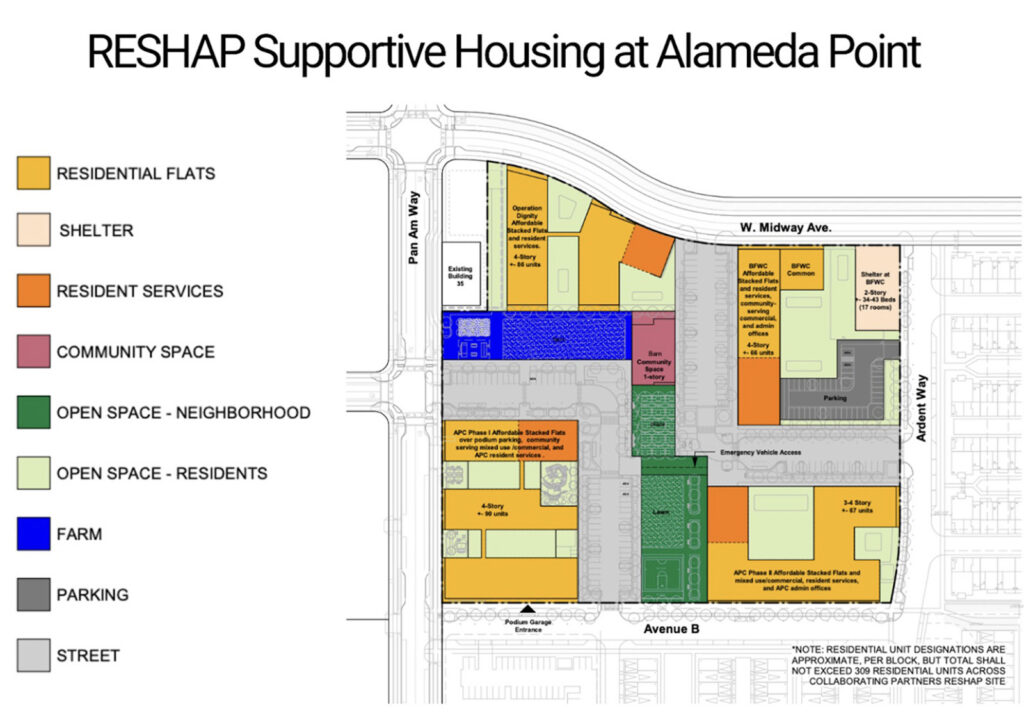 Background
Rebuilding, expanding, and improving supportive housing and programs at Alameda Point has been a longstanding goal of the City's General Plan and Housing Element. The Housing Element commits the City to construct 1,482 housing units over three projects at Alameda Point from 2023 to 2031. The projects are the Site A project, RESHAP project, and West Midway Project. The Site A Development Plan and Agreement have already been approved. The Planning Board will consider the West Midway Project for approval at its next meeting.
The RESHAP project's collaborating partners include Alameda Point Collaborative (APC), Building Futures with Women and Children (BFWC), Operation Dignity, and MidPen Housing Corporation, the developer. APC, BFWC, and Operation Dignity collectively provide affordable housing and supportive services to over 500 formerly homeless residents, with each partner specializing in complementary skills.
APC focuses on families, BFWC focuses on women and children escaping domestic violence, and Operation Dignity focuses on veterans. Together, they provide job skills training, mental health counseling, access to meals, and opportunities for social enterprises to break the cycle of homelessness.
Campus plan
The plan provides a pedestrian-oriented community campus with safe spaces for residents who may have suffered from trauma, while allowing residents to connect to the larger Main Street Neighborhood by street and through open spaces.
An active farm and new "barn" structure with a commercial kitchen will serve as a gathering space close to APC's existing Ploughshares Nursery and farm, supporting the site's "urban agriculture" identity. A landscaped community plaza will connect the barn, community spaces where residents receive supportive services, and smaller areas such as courtyards, children's play areas, and private open spaces. The apartments will be in three- and four-story elevator-served buildings with ground-floor commercial tenants and administrative offices. The project is served by AC Transit and is within walking distance of two ferry terminals.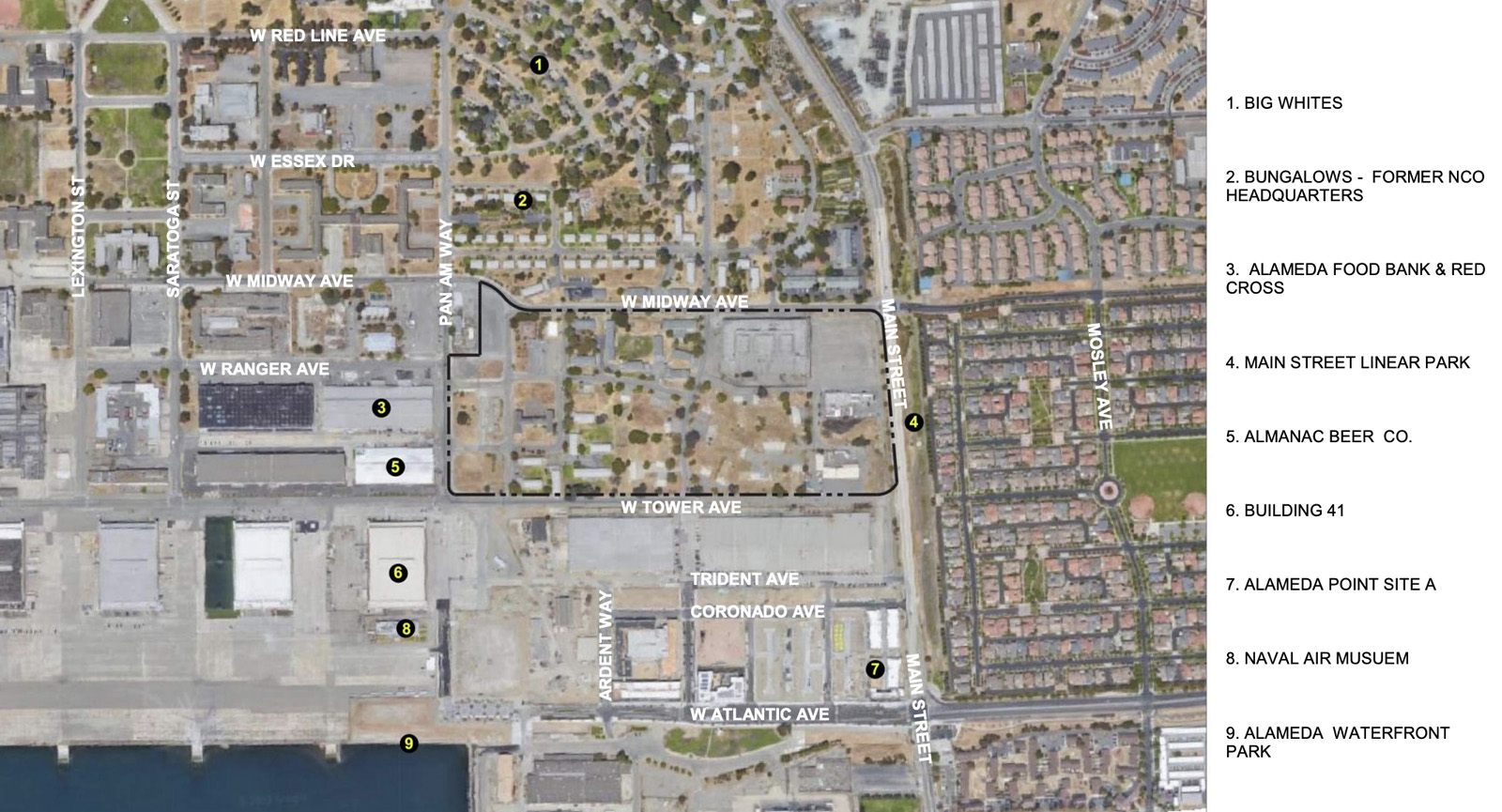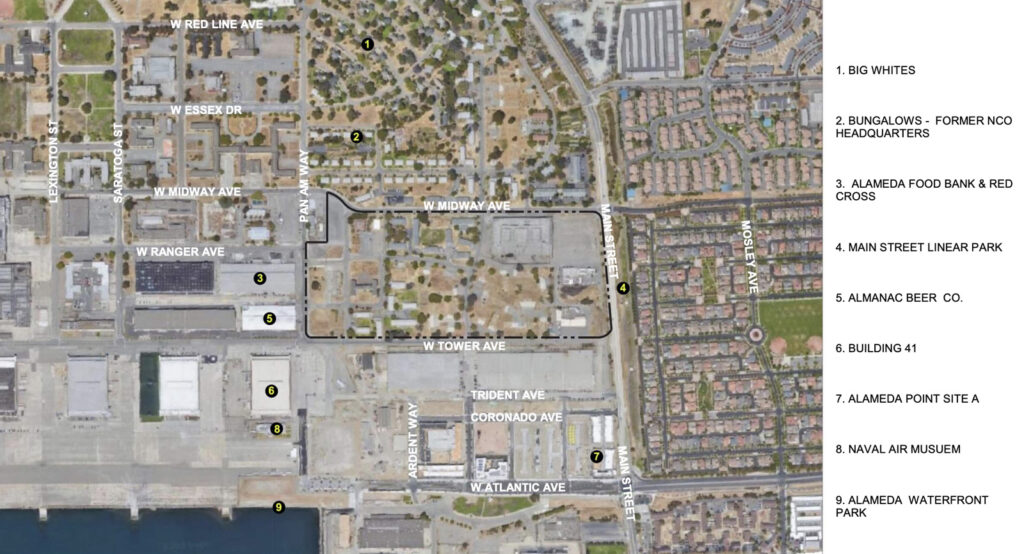 Infrastructure challenge
Alameda Point provides an excellent opportunity to build, but the area lacks EBMUD wastewater and potable water, AMP power, communications, and stormwater systems. This infrastructure is expensive and time-consuming to build. Planning, Building, and Transportation Director Andrew Thomas noted that although the City is at the beginning of its eight-year housing cycle, this project needs to start soon because it will take several years to install the utilities. The campus will be constructed in phases over the next eight years.
Planning Board approval
Board Member Alan Teague commented, "One of the reasons I joined the Board is projects like this. I want to see this built as quickly as possible." The Planning Board unanimously approved the RESHAP Development Plan and recommends that City Council approve the Development Agreement with minor specific waivers to be delineated between the City Attorney and the developer. The RESHAP Development Plan and the Development Agreement will now go to City Council for final approval consideration.
Contributing writer Karin K. Jensen covers boards and commissions for the Alameda Post. Contact her via [email protected]. Her writing is collected at https://linktr.ee/karinkjensen and https://alamedapost.com/Karin-K-Jensen.