A generation passes, Frances McCord stirs up the town, and a new family moves in with an eye for restoration.
In our previous chapter exploring the history of the 1892 home at 2242 San Antonio Ave., Beatrice Ash was making oil paintings in the living room art studio and her husband, Elbert Ash, was building a sawmill in the backyard. That was in the 1940s and 1950s. Their grandchildren used to love to come over and play on the sawmill, and then see what grandma was painting.
The end of an era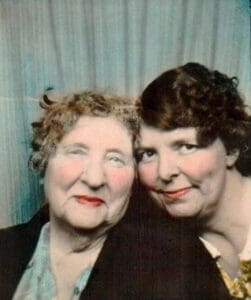 On May 23, 1968, tragedy struck the Ash household. Beatrice Ash died suddenly at home, apparently of heart failure, as she was getting off of a couch. She was just 68 years old, and her death hit all of her loved ones very hard. Her husband Elbert carried on for almost another year, continuing to rent out the upstairs apartments and the backyard cottage for income, until he too died on March 6, 1969, at 79 years old. The Ash ownership of this San Antonio Avenue home was now coming to a close, taking its place in history next to the previous McCord family ownership, and the Fargo ownership before that.
Frances McCord causes a stir
Before we move on to the next generation, though, another historic story has come to light. It involves a curious event that occurred within the McCord family, one of the earliest owners of this home. On June 27, 1902—12 years before William Peoples McCord purchased the home at 2242 San Antonio Ave. in 1914—a headline appeared on the Hanford Sentinel, in the hometown of the McCords. The headline declared, "She Is Insane." It told the story of 16-year-old Frances McCord's appearance in the business district at 10 o'clock that morning.
Frances was the daughter of the late Dallas McCord and his wife Emeline McCord. Dallas had been killed in a farming accident in 1891, when Frances was just 5 years old. His death left his wife a widow and his 6 children fatherless. This tragedy must have hit the family hard, perhaps especially young Frances. Whether or not this loss played into Frances' mental state throughout her life is not known, but the main complaint against her on that June morning in 1902 seems to be that she was simply walking down the street singing. When City Marshall Frederick stopped her and asked her where she was going, she replied, "It's none of your business and I will sing until I die," according to the article in the Sentinel.
A deputy sheriff soon joined the party, and when they attempted to bring Frances McCord to jail, a terrific struggle ensued, according to the Sentinel report, which noted that "the officers will carry the marks of her kicks for some time." Frances McCord was detained in the hospital ward of the county jail for a few days, and finally brought before a judge and board of examining physicians. "After a short examination, the unfortunate girl was adjudged to be insane and committed to the state asylum," another article reported.
The state of asylums
At this point it's relevant to point out that being committed to an asylum in the 19th and early 20th century didn't necessarily require any proof of mental illness. All it took was the word of a husband to have his wife committed, for example. The sorts of things listed as grounds for being committed in the 1800s included such vague terms as hysteria, brain fever, dissipation of nerves, self-abuse, feebleness of intellect, immoral life, mental excitement, periodic fits, uterine derangement, seduction, imaginary female trouble, and even novel reading. Women were most often the victims of these sorts of declarations of insanity, and once committed to an asylum often had a hard time getting out.
It is in this context that I see this episode in the life of Frances McCord as perhaps less a matter of mental illness than a simple episode of a spirited young woman finding her way and being clamped down on by society's expectations at the time. Indeed, as a newspaper article on her hearing reported, "She showed no signs of being vicious or any desire to hurt anyone, except when she was not allowed to have her own way, and then she would fight for her rights, as she called them."
Frances McCord later in life
By 1909, Frances McCord was no longer in the grips of insanity hearings or jail, and had married George Horace Stebbins. In 1912 they had a daughter, Dorothy. The 1910 and 1920 censuses show her living in Fresno, a little more than 30 miles away from Hanford. It would seem that Frances had recovered from her earlier troubles, and had gone on to have a good life. However, her death on March 6, 1923 in Santa Clara, California, at just 37 years old, was a final sad note in a life that had seen tragedy. I only hope her 37 years on earth contained as much walking down the street singing as she wanted, with no one telling her she was "insane" for doing so.
The old house changes hands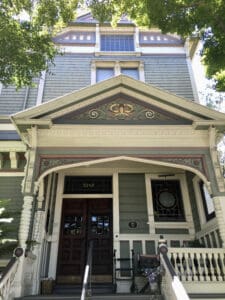 In 1969, with Elbert and Beatrice Ash both gone, the natural course of events would have been for the old house on San Antonio Avenue to pass to the next generation. The Ash's daughter, Evelyn Ash Strube, and her husband, Fred Strube, wanted to buy the home and keep it in the family. But the other heirs—Evelyn's brother Wayne and sister Barbara—wanted to sell the house. It wasn't a matter of money, since the Strubes were willing to pay more than a fair price, but in 1971 the house ended up being sold, ending the McCord-Ash ownership after almost 60 years. During this family's ownership, the home had hosted two weddings (one was a double-wedding; see Part 5 of this story), had a homemade scaffolding gracing the outside, an art studio and classroom inside, the arrival of grandchildren, the construction of a sawmill in the backyard, and the deaths of beloved family members.
At this point, the upstairs was still subdivided into apartments, and it would be up to the next owners to restore the home to its original single-family status. Those new owners would be Jim Smallman and his wife Marilyn. Jim has been active in restoring Victorian-era homes for many years, and indeed, his love affair with these restorations began with the purchase of 2242 San Antonio Ave., which needed some TLC at that point.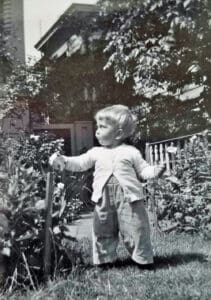 A new era
And so we have come full circle, as one of my earliest articles on our Alameda Treasures now directly connects with this current series. And that's the thing about looking into old houses. It ends up becoming less about the wood, the glass, the architectural style, and the decorative elements, and more about the people who have made these houses their homes over the decades. It's about how they lived, their joys, their tragedies, their funny stories, and how lives intersect in surprising ways. As we continue our exploration of 2242 San Antonio Ave., we'll learn about new owner Jim Smallman's passion for restoring old homes, how the backyard ends up getting expanded into the yard next door, and what happens to the Strubes once the old house is no longer in their family.
Special thanks to researcher Kate McAnaney for discovering the 1902 articles on Frances McCord.
Contributing writer Steve Gorman has been a resident of Alameda since 2000, when he fell in love with the history and architecture of this unique town. Contact him via [email protected]. His writing is collected at AlamedaPost.com/Steve-Gorman.