A deadly altercation for the McCord family before they lived at 2242 San Antonio Ave., and a happy wedding memory.
In previous articles on the historic Fargo House, we learned about the McCord family connection and how William Peoples McCord (1831–1914) was a successful farmer and rancher in Hanford, California. He purchased the home at 2242 San Antonio Ave. in 1912 for his son Burnside McCord (1863–1927) and daughter-in-law Catherine McCord (1859-1947), who had been living in Alameda at the time. Burnside and Catherine had been married in Oakland in 1890 and had a daughter, Beatrice Wayne McCord, born in 1900.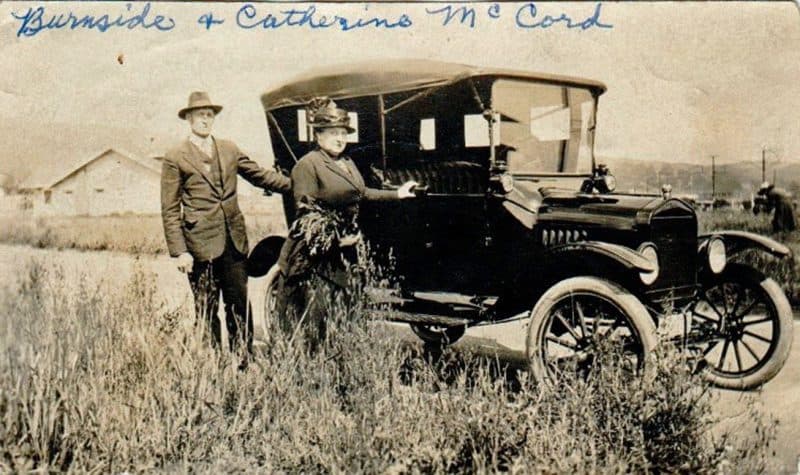 The McCords – and the Fargos before them – had endured much tragedy in their lives, but the wedding in 1890 and their residency at 2242 San Antonio Ave. seemed to be a happy time for the McCord clan. The contentment was enhanced by other family members living at two nearby houses,  2249 and 2250 San Antonio Ave., which W. P. McCord had purchased for them.
An altercation at the polls
The story wouldn't be complete without mentioning one other tragedy that had befallen the McCord family while they still resided in the Central Valley. May 21, 1894 was Republican primary day in Hanford. James McCaffrey (1844-1894), son-in-law of W. P. McCord, was present at the polling place. McCaffrey was married to Alice McCord (1850-1911), daughter of W. P. McCord. A young man named William Ryan showed up at the polling place, using crutches from a previous altercation during which he hit a man over the head with a rifle and received a gunshot and stab wound to his leg in return.
When Ryan presented his ballot, his eligibility was challenged due to a dispute over his residency as well as a previous ballot he had presented just a few weeks prior. Also present at the polling place was George B. McCord (1844-1913), younger brother of W. P. McCord. Words came to blows, and a fistfight soon engulfed the schoolhouse that was hosting the election.
From fists to guns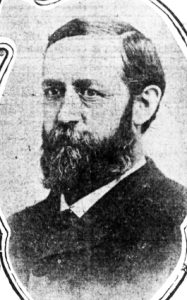 As William Ryan and his father, James O. Ryan, continued to fight those assembled, James was reported to have urged his son to "shoot the sons of b****es." At that time, Ryan returned to his horse and wagon, grabbed his Remington .44 caliber six-shooter, and opened fire into the schoolhouse, which was then occupied by eight men. During the melee, there were many near-misses before James McCaffrey, who was standing inside near the door, was struck by a bullet that penetrated the wall, passed through his abdomen, and then crashed into the school organ. McCaffrey died almost instantly.
Near the end of the fusillade, another shot rang out from a different location. This shot hit James O. Ryan, father of William Ryan, and was later determined to have been fired by George B. McCord. At the end of the fracas, a broken crutch lay on the ground, bullets were embedded in the blackboard and school desks, and a body lay on the floor. By the end of the day, though, the clerk had nevertheless counted the votes and certified the election. Democracy had prevailed, even if violence marred the proceedings.
The aftermath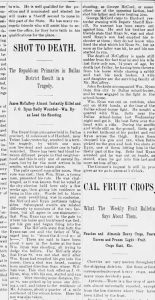 William Ryan was arrested and jailed for his attack, James O. Ryan died a few days later from his wounds, and George B. McCord was not charged, since his actions were deemed to have been in self-defense. Perhaps young William Ryan should have thought twice before attacking the polling place, since George B. McCord was a Civil War veteran who had experienced many battles, survived a prisoner of war camp, and also had served as a county sheriff. The reckless actions of Ryan led to the deaths of two men, including his own father. The death of James McCaffrey was made even sadder by the fact that he and his wife had lost their only son, 14-year-old William McCaffrey, just a few days earlier in a horseback riding accident. Now, Alice McCaffrey McCord would mourn her son and her husband, both lost in the same week.
A wedding in the McCord family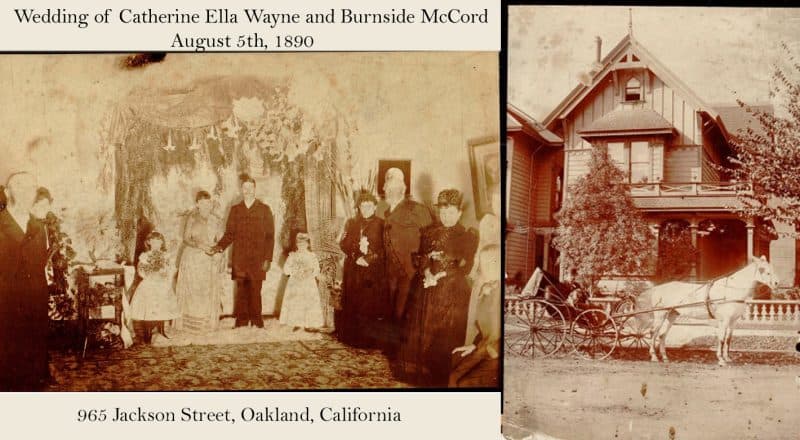 Returning to happier times, the wedding of Burnside and Catherine McCord occurred on August 5, 1890 at the home of Catherine's older sister, Anna Eliza Wayne, in Oakland. In a rare vintage photo provided by William Peoples McCord's great-great-granddaughter Carol Strube Gustaveson, one can see the happy young couple at center, with family members surrounding them. At their right is the patriarch W. P. McCord, with his wife Sophia by his side.
At the time of the photograph, McCord would have been about 60 years old, and his wife 57. Also seen in the photo collage is the actual home at 965 Jackson St., where the wedding took place. That house is no longer there, and the block is now totally dominated by nondescript apartment buildings. 965 Jackson was the home of George Warren Fillmore and Anna Eliza Wayne Fillmore, who had been married 10 years earlier, on January 28, 1880. It appears that in those days, it was more common to have wedding receptions at home, rather than at the expensive venues that became more common in the next century.
Up next for 2242 San Antonio Ave.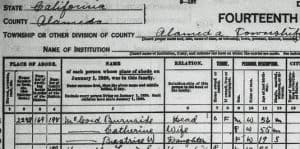 As the story of 2242 San Antonio Ave. continues next week, we'll learn why William Peoples McCord finally moved to Alameda, joining his children there. We'll also see how future generations of the McCord clan made this house their home for almost six decades, creating more memorable and previously unknown stories for us to explore.
The author wishes to extend his continued thanks to Kate McAnaney for her help with genealogical research, and digging up fascinating historic newspaper articles for this story.
Contributing writer Steve Gorman has been a resident of Alameda since 2000, when he fell in love with the history and architecture of this unique town. Contact him via [email protected]. His writing is collected at AlamedaPost.com/Steve-Gorman.