The Strube family grows, the Ash family embarks on a building project.
As our exploration of the historic home on San Antonio Avenue continues into the 1940s and 1950s, the Strube family and Ash family live side-by-side. Elbert and Beatrice Ash are living in the main house, and their daughter Evelyn is living in the cottage in the backyard with her husband Fred Strube and their young children Fred and Carol. As you may recall, Beatrice Ash is the granddaughter of the patriarch of this Alameda clan, William Peoples McCord (1831-1914).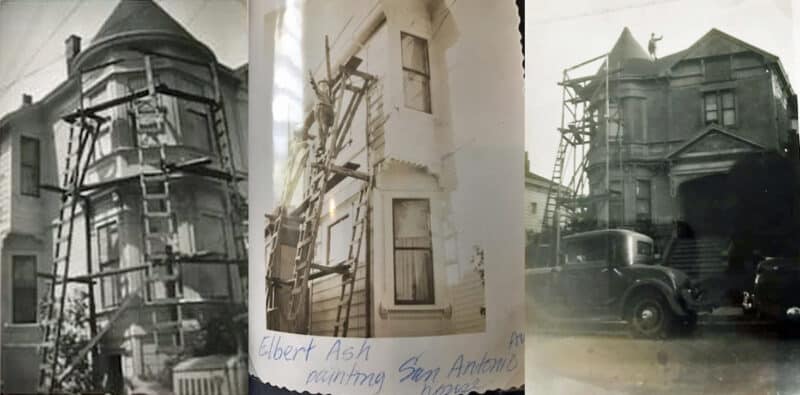 Strube family blossoms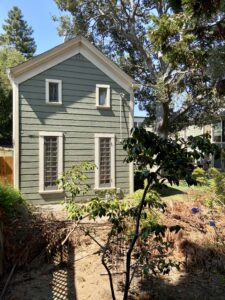 The small, narrow backyard cottage was described by Fred Sr. as "hot in the summers and cold in the winters," with no shower or refrigerator, just a cooler. Nevertheless, as someone who grew up in a duplex apartment with my grandparents living right upstairs, I know that this kind of closeness can lead to fond, priceless memories of your parents and grandparents. The Strube family had been living in the cottage since they got married in the main house in 1947. By 1952 though, their family was growing and they found themselves living in San Francisco, where another son, David, was born. They had moved to San Leandro by the time Jeanne was born in 1955, and then came back to Alameda, where Joel and Beatrice were born in 1960 and 1962, respectively. By this time, the Strube family was much too large for the cottage, and moved into a home on Bayo Vista Avenue, just a mile from the family home on San Antonio Avenue.
A house of art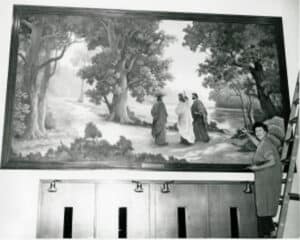 Meanwhile, the living and dining rooms of 2242 San Antonio Ave. had become something of an art studio. Beatrice Ash (1900-1968) had attended the California College of Arts and Crafts, later renamed California College of the Arts. She specialized in oil painting, and was a member of the Hayward Art Association, the Society of Western Painters, and the Alameda Art Association. Her painting "Vanity" won first prize at the Alameda County Fair in 1951. She taught weekly art classes in the home, and in 1956 painted a large 8-by-20-foot mural for the Maxwell Park Church of Jesus Christ of Latter Day Saints. The mural was completed in sections in her studio, then assembled onsite at the Oakland church. The unveiling ceremony, complete with remarks by the bishop, took place on June 21, 1956.
Later, starting around 1960, Beatrice's daughter Evelyn also began painting in this home, commuting from her house on Bayo Vista Avenue. She became an accomplished artist in her own right; her charcoal on canvas drawing of 2242 San Antonio Ave. appeared in Part 2 of this story. Knowing that this historic home also served as an art studio and classroom just adds one more detail to the already rich tapestry of this Alameda Treasure.
Father and son
Elbert Ash was keeping busy as a handyman. He loved to save money by doing his own home maintenance and repairs. He regularly took on the job of painting the entire house as well. Neighbors used to fear for his life as he scampered around on his homemade scaffolding held together with rope and old nails. Photos show him high off the ground, waving from his rickety scaffolding. His penchant for frugality was legend, and a family story has it that he once refused to give his wife Beatrice $20 for something she needed. So the next time she cut his hair, she only cut half of it, saying he had to pay her $20 if he wanted the other half cut. He finally relented and gave her the $20. Having lived through the Great Depression, Elbert probably never got over the habit of being frugal and saving for a rainy day.
Hanging from scaffolding wasn't Elbert's only adventure. Around 1946, he and his son Wayne decided to take a road trip up to Alaska. Wayne had just been discharged from the Navy and was 23 years old. Elbert was 57. While driving up the Pacific coast, however, they became very interested in sawmills and never made it to Alaska. Instead, they came back home where Elbert began a project of building a working sawmill in his backyard of 2242 San Antonio Ave. The details of this sawmill were memorialized in hand-written notes by his daughter Evelyn Ash Strube in 1993.
The tale of a sawmill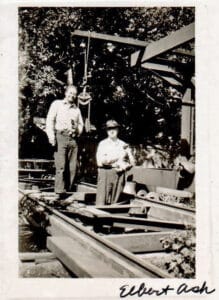 Evidently it took a long time to finance and build the backyard sawmill, but Elbert really enjoyed the process of planning and assembling it. A lot of the metal work was done at Laney Trade School, so the labor didn't cost much. Evelyn remembers welders coming over to the house when her son Fred Jr. was a baby. So not only did the Strube family live in a small, narrow cottage with no shower and no fridge, but they also had a sawmill being built right outside their cottage's front door! These are the memories that make great family stories.
Wayne was employed as a ship fitter at the Mare Island Navy Yard at that time, and spent his spare time helping his dad with the sawmill. They never fully completed the sawmill, but it was well-built and worked to a great extent. It was all steel, and featured heavy duty 26-inch-diameter diameter saws, three General Motors 6-71 diesel engines, and 6-foot-gauge tracks in two 30-foot sections.  The tracks were used to guide logs into the cutting blades. Elbert's grandchildren loved to play on the sawmill when they came over to visit, and they have fond memories of climbing on it. How many kids get to play on an actual sawmill apparatus at their grandma and grandpa's house?
This sawmill was meant to be portable, so rather than running a working sawmill and lumberyard in his backyard on San Antonio Avenue, Elbert imagined contracting out his sawmill or just selling it outright. In the end, the sawmill became outdated and was never fully completed. When Elbert died in 1969 at 79 years old, his beloved sawmill ended up being sold for parts and scrap value, for $1,500. But the value of this sawmill to Elbert, and the joy and purpose he got from planning and building it, was priceless. And as an Alameda historical note, I know of no other residential house in town that once had a working sawmill in its backyard.
Decades of history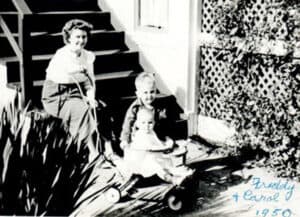 Much like getting to know a person, getting to know a house often involves sitting on a porch listening to stories and learning about all the things that make that person or house what they are. Having spent some time sitting on the porch of this home at 2242 San Antonio Ave. hasn't been just getting to know a house, but a whole colorful cast of characters, starting with Earl A. Fargo in 1892 and following the joys and tragedies that have occurred with all of the people who made this house their home over the decades. And there are still more stories to tell as I continue exploring the hidden history of one of our Alameda Treasures. At some point we'll move on from this house, but as I like to say, "when you strike a rich vein of gold, you keep digging."
Contributing writer Steve Gorman has been a resident of Alameda since 2000, when he fell in love with the history and architecture of this unique town. Contact him via [email protected]. His writing is collected at AlamedaPost.com/Steve-Gorman.