Today's Alameda Treasures are a pair of Queen Anne beauties created in 1891 at 1833 and 1837 Clinton Ave. by renowned local builder Joseph A. Leonard (1849-1929). They were restored by preservationist Jim Smallman [PDF] starting 118 years later. Entombed in stucco for decades, these homes once again grace the Leonardville historic district with all of their original charm and detail restored, both inside and out.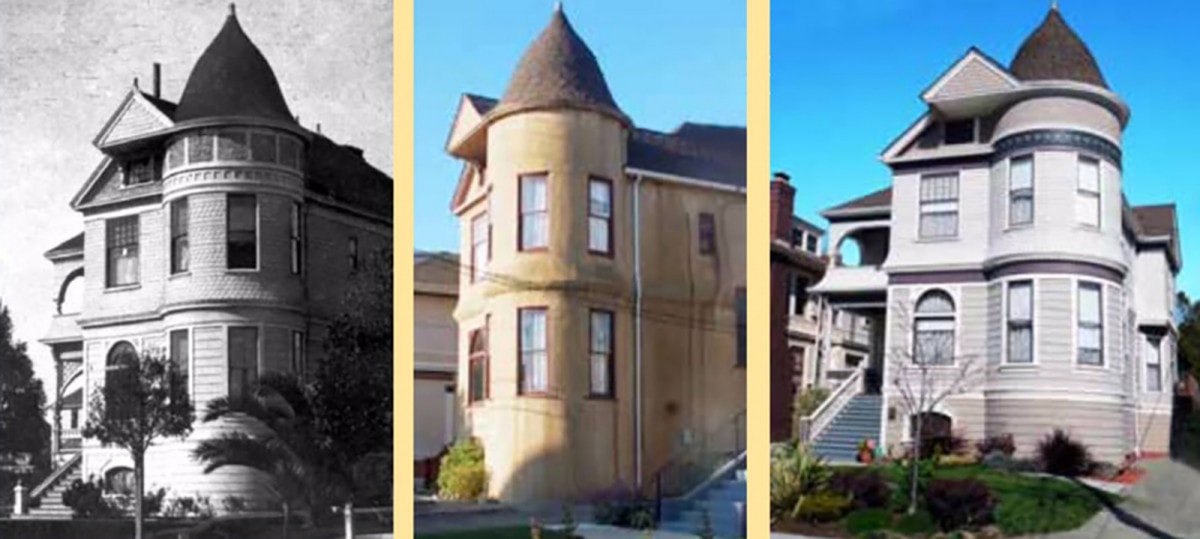 Jim Smallman's love affair with Victorian-era architecture in Alameda began in 1971 when he purchased a large but dilapidated Queen Anne residence at 2242 San Antonio Ave., built by Thomas Pyne in 1891. It had sat vacant for 3 years, and was previously converted into dreary apartments in the 1930s, with much of the work done without permits or inspections. Jim dedicated much of the next decade to bringing his home back to original condition, doing much of the work himself.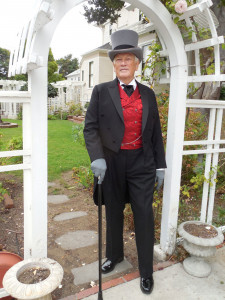 As if he didn't have enough on his plate with all that 'sweat equity' work going on, in 1977 Jim acquired the neglected Italianate cottage next door at 2246 San Antonio, which he also began work on. Then, in 1978 he purchased the two Joseph A. Leonard Queen Anne residences at 1833 and 1837 Clinton Ave. that we are taking a look at today.
These fraternal twin sisters were under the same ownership in the 1960s when they were entombed in stucco exteriors. The rich interior details were largely left intact though – other than the house at 1833 having been divided into 2 units. 1837 was a rare example of an intact, large single-family Joseph A. Leonard residence that had not been subdivided. These Queen Anne ladies remained cocooned in stucco for the next three decades while Jim finished restoring his own house and the neighboring property at 2246 San Antonio. He also was busy raising a family and with his career developing construction management software. The homes remained rented out to tenants as Jim moved to southern California in 1989 to teach high school mathematics.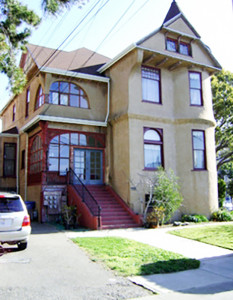 Finally, Jim retired and returned to Alameda in 2008. The time had come at long last to set his sights on these Clinton Ave. treasures and begin the painstaking process of restoring them to their original grandeur. In 2009 and 2010, the corner house at 1837 was restored, beginning with the interior. Although the interior was largely intact, including rare, coffered ceilings, curly redwood paneling, walnut and mahogany staircases, beautiful mantels and encaustic tiles, work still needed to be done to bring it back to its former glory. Along with a new foundation, structural upgrades, new electrical and plumbing, the kitchen and bathrooms were also restored to modern functionality with period correct aesthetics.
Although the exterior had been covered in stucco, there were intriguing bulges and patterns that hinted at the original ornamentation that might have survived underneath. Working carefully with a diamond blade cutting saw, John Jameson, of John M. Jameson Construction, slowly began to reveal the original details hidden below for nearly 50 years. Portions of the upper siding required repairs, and missing elements were recreated using paint shadows left by the original moldings. Non-original glass enclosures were removed from the porch entry and balcony above. For his incredible work bringing this Alameda treasure back to life, James Smallman received an Alameda Architectural Preservation Society Award, and the home was showcased on the Fall, 2010 Alameda Legacy Home Tour, hosted by the Alameda Museum and the AAPS.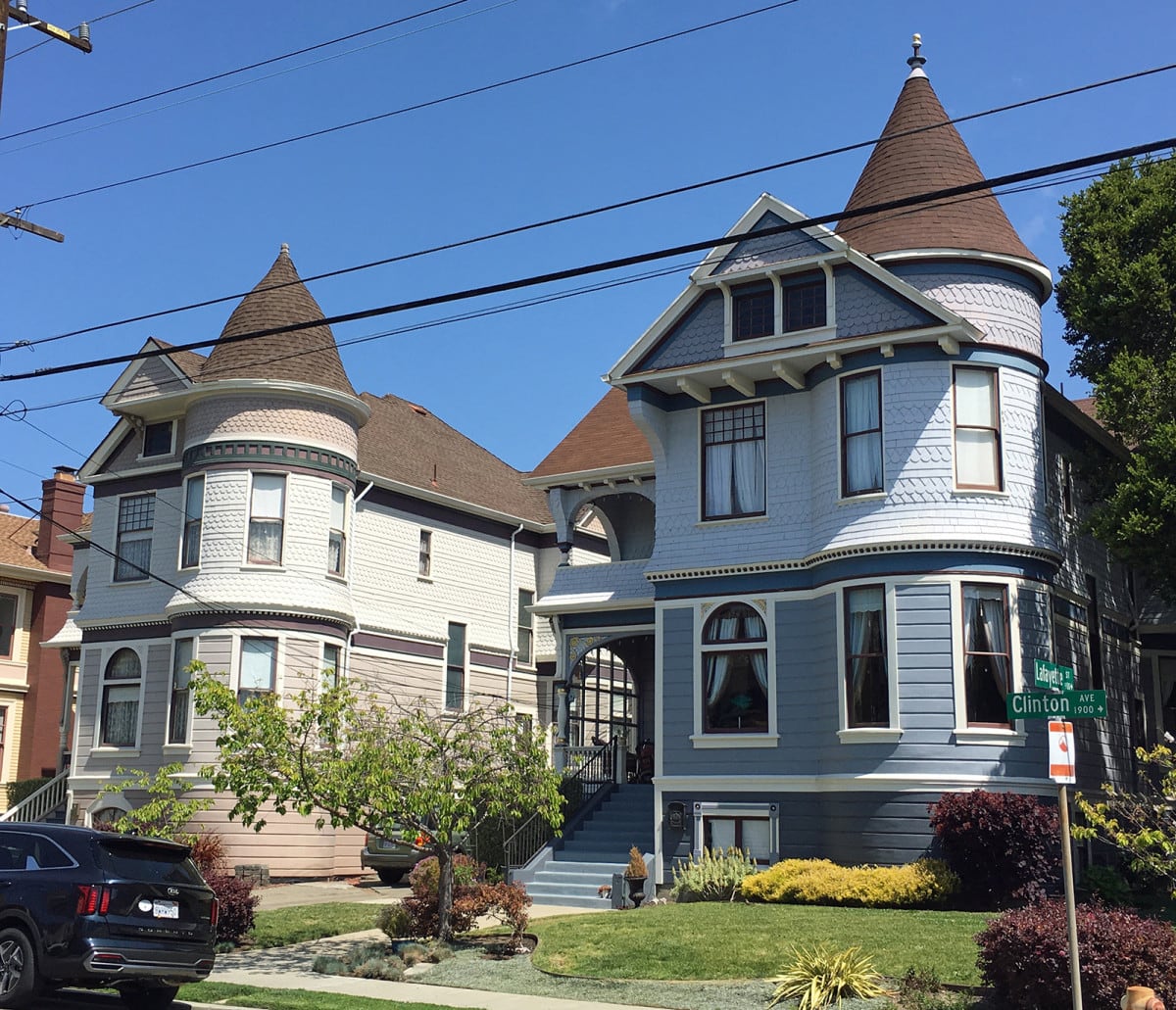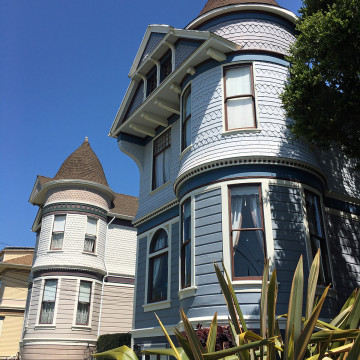 In 2011, work began on the sister house at 1833 Clinton Ave., with John Jameson once again stripping stucco and restoring exterior trim, along with other less visible work like a new foundation. A tasteful color scheme was created by color consultant Bob Buckter. The work continued into 2013, with the final results bringing Jim's longtime dream to fulfillment. The assertive towers of these homes, along with the corner balconies, are signature elements of Joseph Leonard's most dramatic Queen Anne work, along with the superbly crafted interiors. Mr. Leonard would surely be pleased to see these fine examples of his work still standing so proudly today, 131 years later. And for his long and extensive work on preservation in Alameda, Jim Smallman — and his grand homes — are recognized today as being among Alameda's treasures.
For more information, see Betsy Mathieson's article "The Patient Preservationist," about Jim Smallman and his restoration work on Clinton Avenue.
Contributing writer Steve Gorman has been a resident of Alameda since 2000, when he fell in love with the history and architecture of this unique town. Contact him via [email protected]. His writing is collected at AlamedaPost.com/Steve-Gorman/.