The first Ash family child is born, the Great Depression hits, a generation passes on, and the historic house watches over another family wedding.
With their daughter Beatrice now married, Burnside and Catherine (Kitty) McCord continued to enjoy life on beautiful San Antonio Avenue. On October 23, 1923, they welcomed their first Ash family grandchild into the world, Wayne Elbert Ash (1923-1993), whose proud parents Elbert Ellis Ash and Beatrice Wayne Ash (McCord) lived in San Jose at the time. Then, on April 3, 1926, they were blessed with the arrival of a granddaughter, Evelyn Dorothy Ash, mother of the two main sources for this story, Carol Strube Gustaveson and Fred Strube. Sadly, Burnside McCord only got to enjoy knowing his new granddaughter for about a year and a half before he passed away on November 16, 1927, at age 64. His wife Catherine would live 20 more years in the family home at 2242 San Antonio Ave.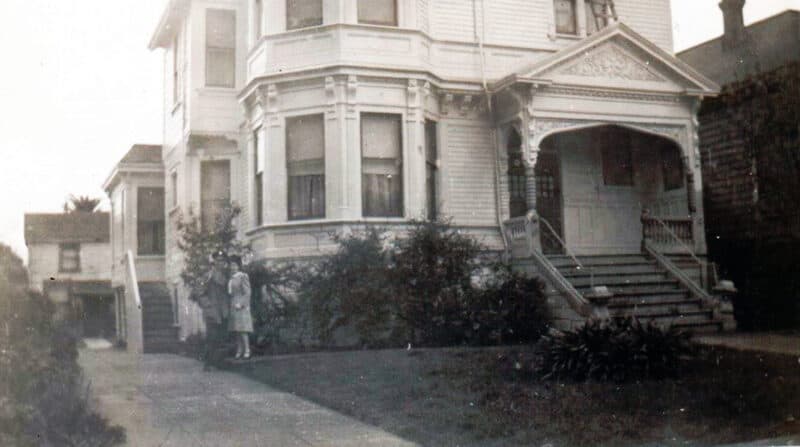 The Great Depression hits the Ash family
On March 30, 1929, the Ash family was blessed with another baby girl, Barbara Katherine Ash. At that time, the Ash family was living in San Jose, where Elbert Ash ran a shoe store on Second Street. They had bought a new home at 771 North Third St. just prior to the birth of their daughter Evelyn in 1926. Soon afterward, the difficult period in American history known as the Great Depression was about to begin.
Beginning with the stock market crash of October 1929, the country, and indeed the world, entered into a period of economic downturn and unemployment that would become the worst in modern history. Few families and businesses escaped the downturn unscathed, and by the end of the Depression (commonly thought to be 1939), the Ash family had lost their shoe store and home in San Jose. They moved in with Beatrice's mother, Catherine "Kitty" McCord, at 2242 San Antonio Ave. in Alameda.
A house and cottage full of history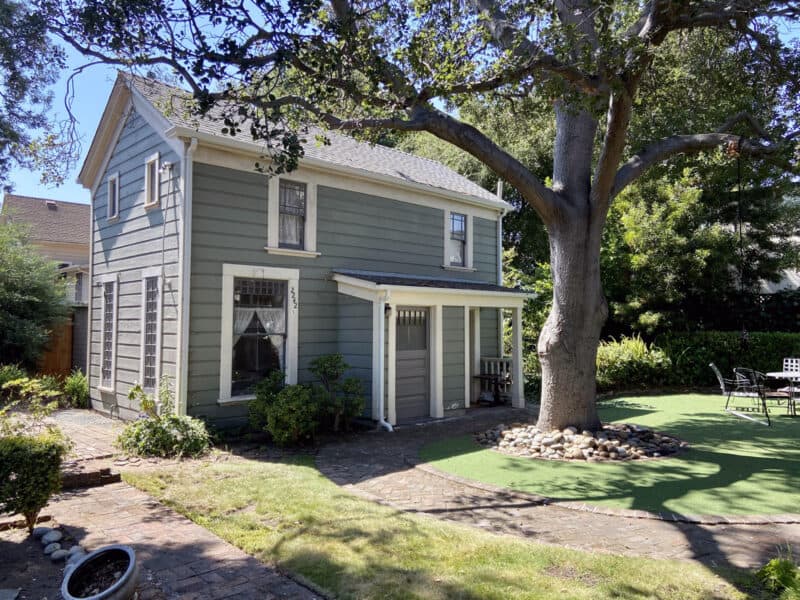 At first, Elbert and Beatrice lived in the cottage behind the main house. By that time, Kitty was 81 years old and in need of some assistance around the big house anyway. She would eventually be diagnosed with brain cancer and lose her sight, requiring even more care. Catherine "Kitty" Ella Wayne McCord passed away on June 27, 1947, in her home of 35 years. She was 88 years old.

At the time of Kitty's birth in 1859, James Buchanan was president, and Abraham Lincoln was still a year away from running for the presidency. She had lived through the Civil War, World War I, the Great Depression, and World War II. In her lifetime she saw the arrival of electricity, the automobile, the telephone, radio, television, and commercial air travel. It was an extraordinary time period to have lived through, and as she was laid to rest, another generation now took their places as guardians of the historic home on San Antonio Avenue.
Elbert and Beatrice Ash's children – Wayne, Evelyn, and Barbara – grew up in the big house and attended Alameda public schools. During World War II, Elbert remodeled the upstairs into apartments to house workers from the Alameda Naval Air Station. Alameda's population grew at this time, along with the Bay Area in general, as workers moved here to work in shipyards and other facilities that contributed to the war effort. It was common for homeowners to take in boarders and add apartments to their properties during these years.
Another wedding in the Ash family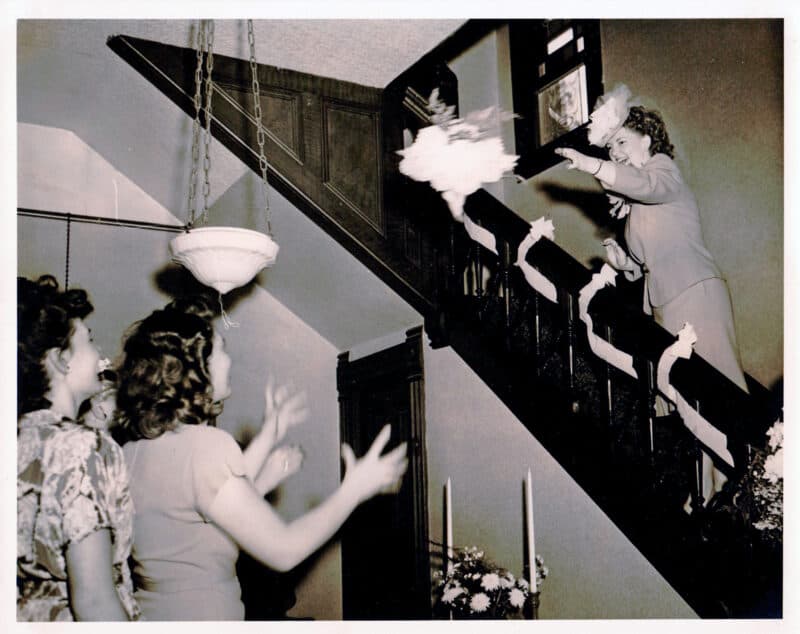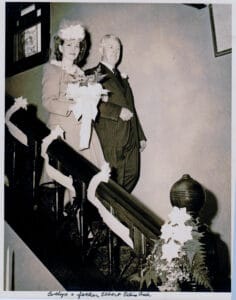 As time went on, the Ash family children finished school and eventually the day came when Evelyn met Fred Strube at an Oakland roller skating rink in October of 1946. They dated for four months before Fred proposed to Evelyn on the front steps of 2242 San Antonio Ave. They were married on May 25, 1947, and once again the old family home was the site of a wedding, just as it had been on June 5, 1921, when  Evelyn's parents Elbert and Beatrice were married there in a double wedding ceremony. (see Today's Alameda Treasure – 2242 San Antonio Ave. – Part 5) Life had come full circle.
After they were married, Evelyn and Fred Strube moved into the cottage in the backyard, which had been vacated by Evelyn's parents, Elbert and Beatrice Ash, now living in the main house. Fred Strube describes the cottage in the following passage from his life history: "Our first home was the cottage behind the Victorian home we had been married in. It had two stories with steep stairs. It had one-and-a-half bedrooms, one bath (no shower), and a closet. The front room, kitchen, and pantry were downstairs. The front room had a gas heater in it. There was no refrigerator or ice box, just a cooler (screened in outside) accessed from the kitchen like a cupboard. It was hot in the summers and cold in the winters."

Time moves on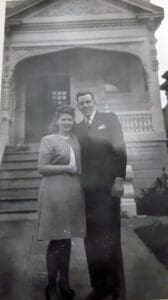 Grandma Catherine passed away in June, a month after Fred and Evelyn were married, and thus the generations once again were shifting and taking their places in the ancestral home. By 1948, a new baby had arrived to live in the cottage – Fred and Evelyn's first child, Freddy Strube. By 1950, Freddy had a baby sister, Carol Strube. These two youngsters, decades later, have become my main sources for tracing the history and genealogy of this interesting family line in this historic home.
I'm so glad I happened to pass by 2242 San Antonio Ave. earlier this year, take a photo of it, and share it on The Little City of Alameda Facebook group's page. There it was seen by Fred (Freddy) Strube, great-great grandson of William Peoples McCord, who contacted me and started this whole fascinating journey that has taken up much of my time these past months. And there's still more to tell, including the story of how 2242 San Antonio Ave. became the only Alameda house I know of that had a working sawmill in its backyard.
Contributing writer Steve Gorman has been a resident of Alameda since 2000, when he fell in love with the history and architecture of this unique town. Contact him via [email protected]. His writing is collected at AlamedaPost.com/Steve-Gorman.