The McCord family bids farewell to another three members and new memories are made at a double wedding.
The McCord family history continues today with another death. In 1911, William Peoples McCord lost his dear wife, Lois Sophia. She was 78 years old at the time of her death, and William was 80. Being retired from farming and ranching, and with his wife now gone, William moved to Alameda to be with his children the following year. As you may recall from a previous article, McCord had purchased three homes, all on the same block in Alameda, for his children. The home at 2242 San Antonio Ave. housed his son Burnside, 2249 housed his son Douglas (Doug), and 2250 seemed to be used as a rental.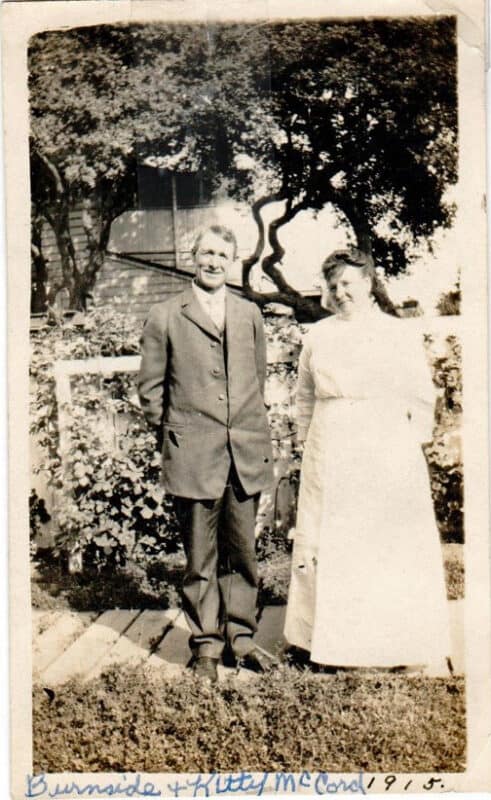 More death for the McCord family
2250 San Antonio may have been intended for William Peoples McCord and his wife Lois, but she died before they could move. It also may have been intended for McCord's daughter Alice, who had lost her husband James McCaffrey in a shootout at the polling station in 1894. (See Part 4 of this story) But she died in 1911 at just 61 years old. So the year 1911 turned out to be another sad one for the McCord family, with both Lois Sofia McCord and her daughter Alice R. McCord leaving this earth in the same year. Lois died in April and Alice in December.
In 1912, William Peoples McCord left Hanford, California, his home of 26 years, and moved in with his son Doug in Alameda. Here, the man who had worked so hard and achieved so much for his family—and endured much tragedy along the way—would live out his final years surrounded by family. He died at his son Doug's home at 2249 San Antonio Ave. on October 30, 1914, at the age of 83. His body was transported by train back to Hanford, and interred at Hanford Cemetery on November 1, 1914, alongside his wife Lois Sophia.
A man who had lived through the presidencies of Andrew Jackson, Abraham Lincoln, Ulysses S. Grant, Theodore Roosevelt, and 15 other presidents, and who lived through the Civil War and saw the end of slavery in America, was now gone. He left behind two sons and 10 grandchildren, along with nieces and nephews to carry on the McCord family legacy.

A doubly good day
2242 San Antonio Ave. remained the home of Burnside McCord and his wife Catherine, also known by the nickname "Kitty." They had a daughter, Beatrice, who was born in 1900. The McCord family carried on a normal, happy life in Alameda, with no known tragedies. In the 1920 census, Burnside's occupation was listed as a landlord of apartment buildings. So in addition to renting out 2250 San Antonio, he likely had other income properties as well.

On June 21, 1921, a happy event occurred at the house. On that day there was a double wedding ceremony, attended by 25 guests. Mr. and Mrs. Burnside McCord's daughter Beatrice (1900-1968) married Elbert Ellis Ash (1890-1969), and Elbert's sister Gladys Vivian Ash (1900-1988) married Thomas Charles Ward (1898-1962). Each couple acted as maid of honor and best man to the other couple, as the weddings occurred one right after the other.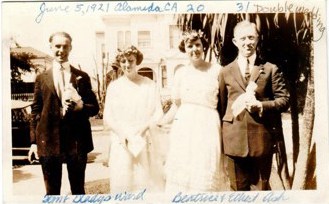 The unique wedding was reported in the Alameda Times-Star, as well as the Hanford Morning Journal. The stories described the two brides as dressed alike in white satin, with orange blossoms in their hair. The home was decorated with palms and flowers, and a wedding breakfast followed the ceremony, with tables decorated with pink and white roses. Mr. and Mrs. Ash then left for their month-long honeymoon, which was spent in the Sierra. After returning, they lived in San Jose, where Elbert Ash was engaged in the shoe business with his father Frank. Mr. and Mrs. Ward also lived in the Garden City, as San Jose is known.
Living memory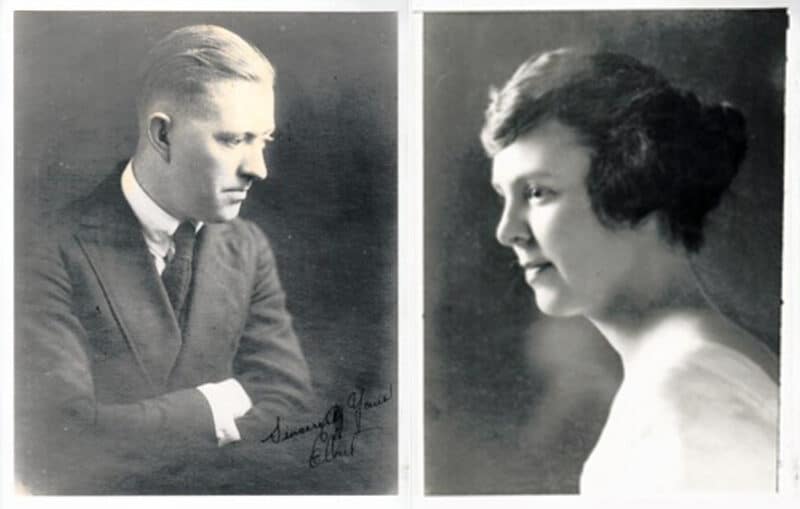 At this point in the story, we are far enough along in the history of 2242 San Antonio Ave. that there are living ancestors who remember the Ashes and the Wards. Elbert Ash and Beatrice Ash are the grandparents of Fred Strube, of White Salmon, Washington, and Carol Strube Gustaveson, of Redmond, Oregon. Strube and Gustaveson are great-great grandchildren of William Peoples McCord, the man who bought this property in 1912, and have been invaluable in sharing photos and family history, including detailed accounts of McCord family history.

The thing about family history, and human history in general, is that it has to be preserved and passed down over the generations or all of the details and stories will be lost. And that would be a shame, because these stories are so interesting. They also connect us to the people in the past in a way that makes them more real to us, more alive, and not just two-dimensional black-and-white images on the page. These connections to our shared experiences and shared humanity is what fascinates me about the past, and inspires me to continue to explore the hidden history of our Alameda Treasures.
In coming installments in this series, we'll discover more about the Ash residency in this house, find out why neighbors feared Ellis Ash's home-rigged scaffolding, and why he built a sawmill in the backyard.
Contributing writer Steve Gorman has been a resident of Alameda since 2000, when he fell in love with the history and architecture of this unique town. Contact him via [email protected]. His writing is collected at AlamedaPost.com/Steve-Gorman.