Over 130 years, the Fargo house has seen its fair share of life and death.
San Antonio Avenue is one of my favorite streets in Alameda, due to the incredible variety of beautiful and historic homes along its entire length. In recent articles in the Alameda Post, we explored the former home of Captain Charles Lutjens, at 1717 San Antonio Ave. Today, we travel about five blocks east and take a look at what's known as the Fargo House at 2242 San Antonio Ave., a Victorian-era home with its own storied past.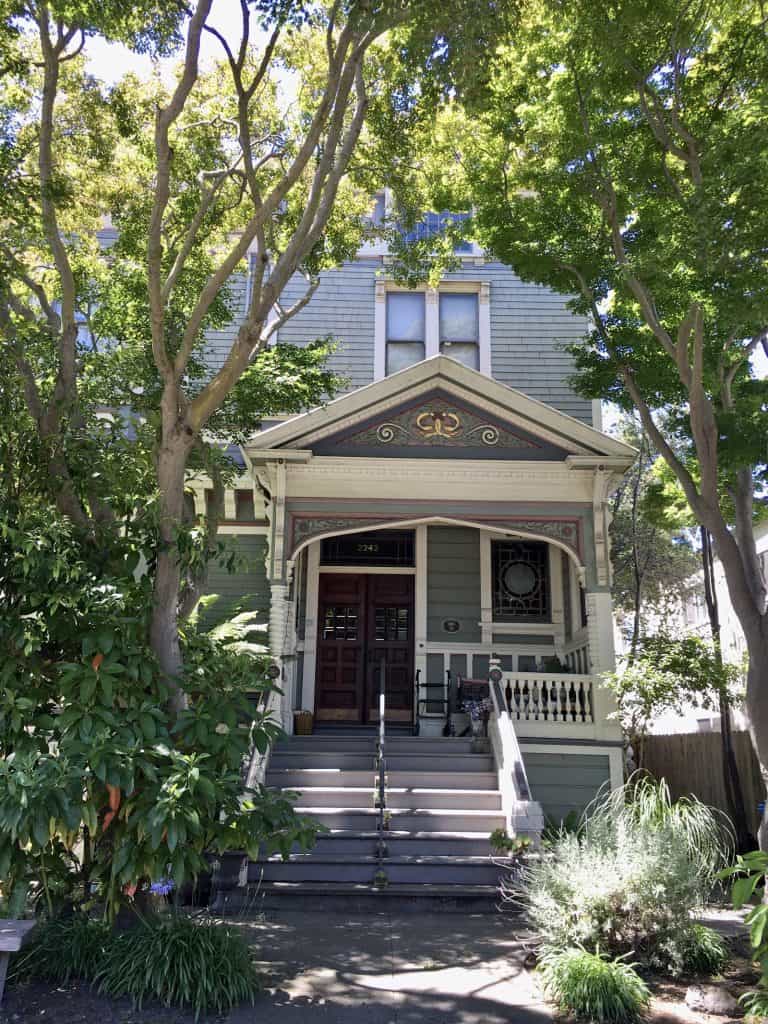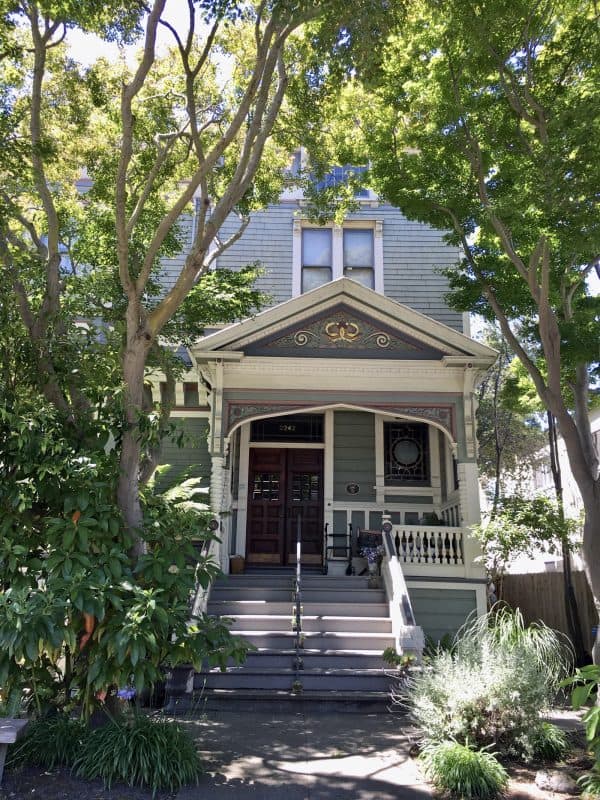 Built in 1891 by Thomas I. Pyne, 2242 San Antonio Ave. is a Queen Anne residence that originally cost $5,000. I sometimes think of this neighborhood as "Pyneville" due to the fine collection of homes built in this area by Thomas Ireland Pyne in the late 1880s and early 1890s. Born in Devon, England, in 1840, Pyne was a carpenter who emigrated to the U.S. and made his way to Alameda, where the growing city supported an industry of builders and developers. He may not have built as many homes as local builders like Joseph A. Leonard, A. W. Pattiani, or Marcuse & Remmel, but those he did build were of exceptional quality. The home at 2242 San Antonio Ave. is a good example of Pyne's work, with its classic Queen Anne elements, including a corner tower, stained glass, wide porch with turned columns, textured shingles, richly decorated gables, brackets, and welcoming double doors.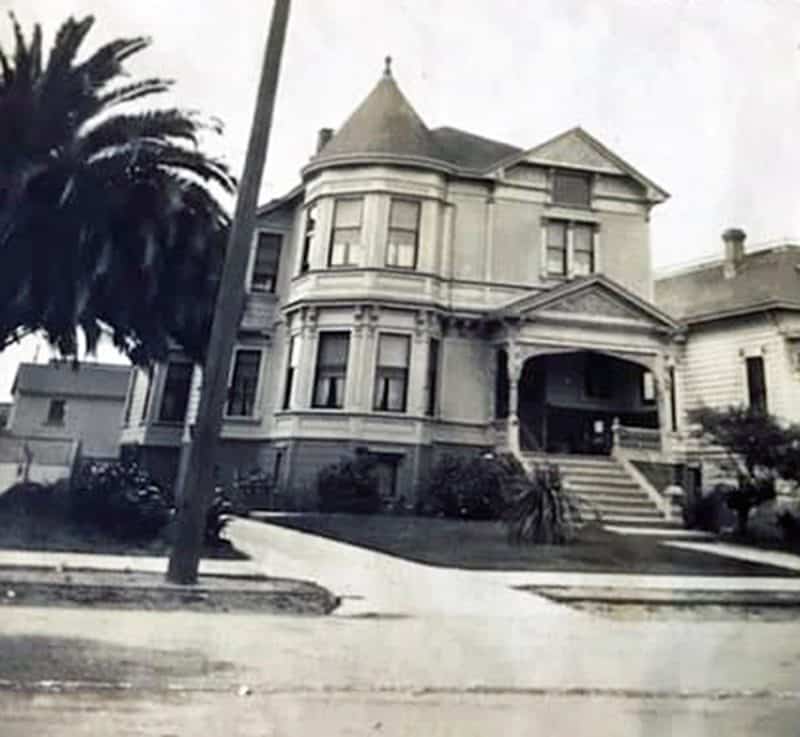 The owner and his wife settle in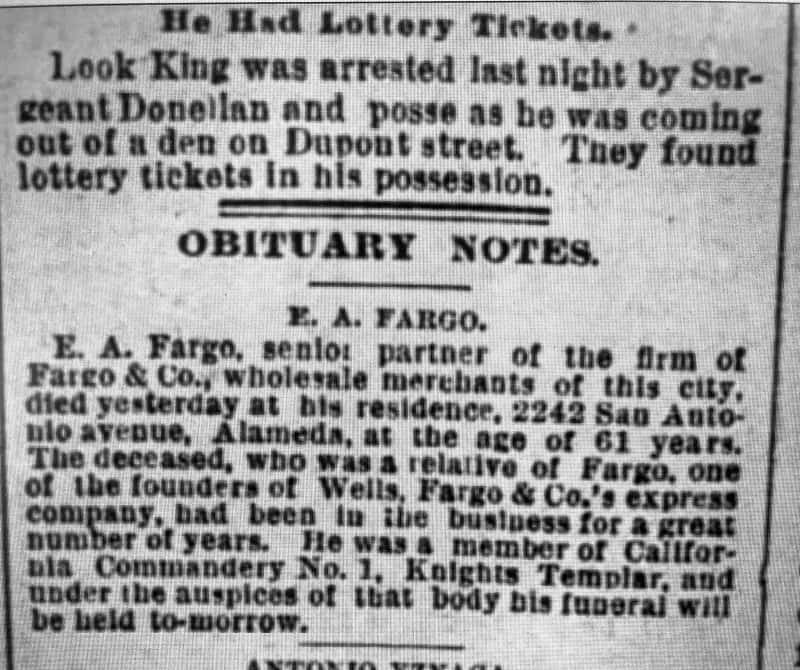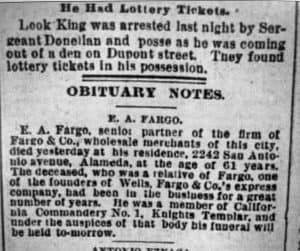 The first owner of the home was Earl Alexander Fargo (1827-1892), a relative of one of the founders of the Wells Fargo Express Company. Wells Fargo Express was established in 1852 to handle the banking and transportation needs prompted by the California gold rush. Earl Fargo himself was an importer of wholesale wines and liquors, with his offices located at 316 Front St. in San Francisco. He married Molly A. Diamond (1836-1911) in 1865 in Gold Hill, Nevada, and they had two children, Callie (Calvin) and Maude. A sad note in this story is that genealogical researcher Kate McAnaney discovered death notices for Callie and Maude, issued just two days apart in September of 1873 in San Francisco, where they were living at the time. Callie was just 7 years old, and Maude only 5 and a half. What caused this unspeakable tragedy is not known, but records do indicate a cholera epidemic in the city in 1873. Sanitation in San Francisco was not great at the time, and various outbreaks would occur with some regularity, including cholera, bubonic plague, and influenza, not to mention diphtheria, which was a leading cause of death among children around the world.
Earl Fargo only enjoyed the house at 2242 San Antonio Ave. for about a year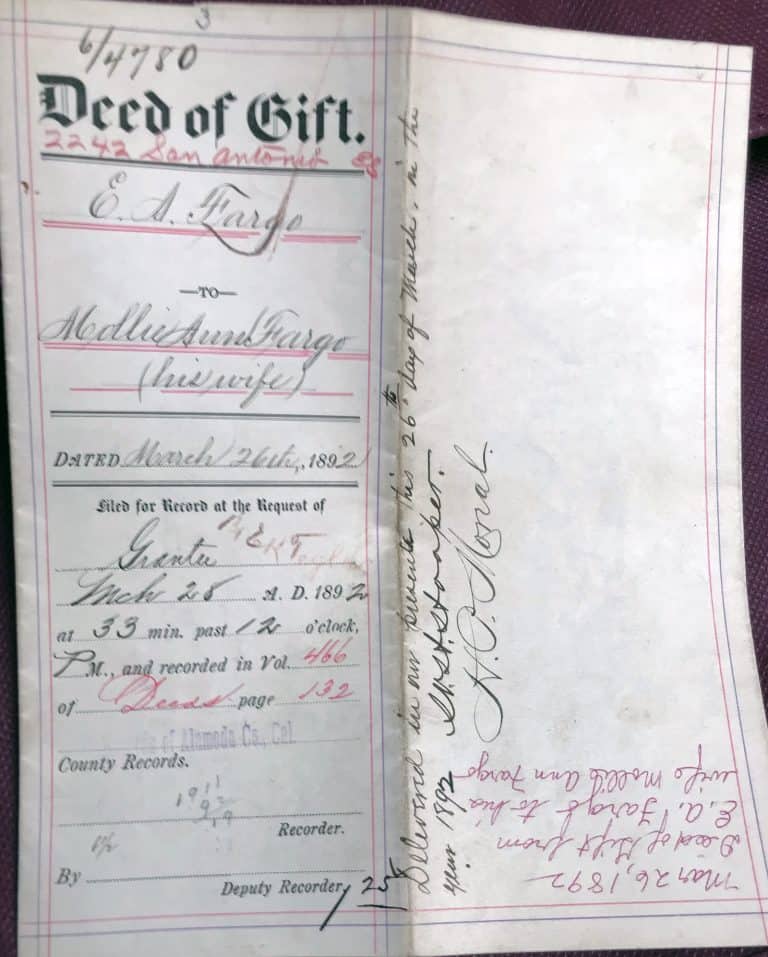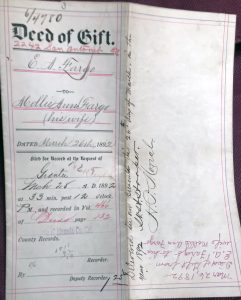 Jumping ahead 19 years to when the Fargo family moved to their new home in Alameda, is another sad note in this story. Earl Fargo died in May of 1892, probably less than a year after moving into his new home, leaving his wife Mollie a widow. Rare original documents recently obtained from a former owner of the home shed some light on this tragic time in the life of the Fargo family. The document is a Deed of Gift from E. A. Fargo to his wife Mollie Ann Fargo, dated March 28, 1892, just over a month prior to his untimely passing on May 6. The cause of death is not known, but the fact that Fargo had the time to ensure that ownership of the home was officially transferred to Mollie suggests that he had a terminal illness and was getting his affairs in order. Mollie Fargo continued to live in the home for another 18 years until her passing in December of 1910.
In 1908, Mollie Fargo suffered a stroke at home, as was reported in the Alameda Daily Times on December 17 that year. Mrs. Fargo was described as usually having friends or relatives with her, but she had been alone for two weeks when the paralytic stroke occurred. After spending two days and nights collapsed on the floor in a downstairs room, she was finally found unconscious by her nephew, W. Diamond. The hall gaslight had gone out, and the house was filled with flammable and noxious gas. Had she not been discovered in time, she could have been asphyxiated or the gas could have ignited, causing a catastrophic explosion, perhaps even worse than the one that blew off Captain Lutjens' hair at 1717 San Antonio Ave. nine years earlier. As it was, she did end up living a couple more years, finally succumbing to health problems in late 1910.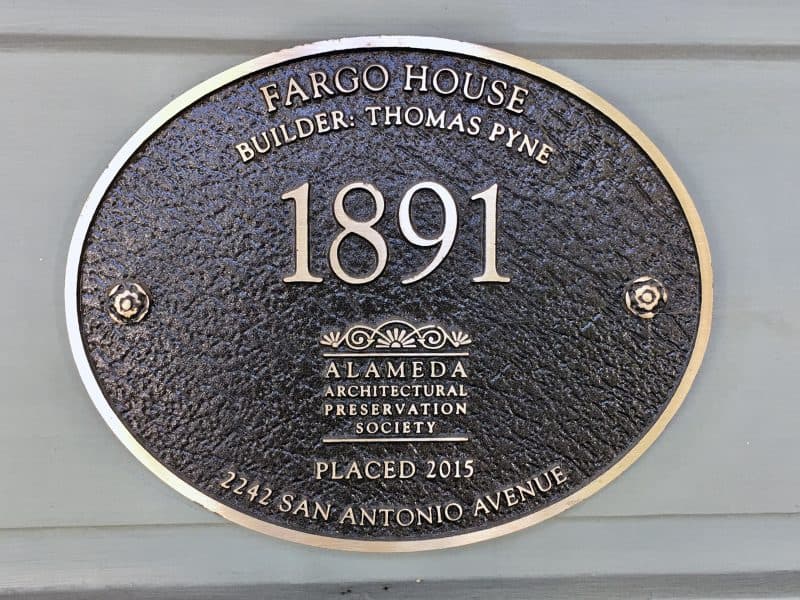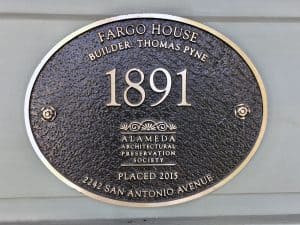 But the Fargo family's problems didn't end there. About a year and a half after Mollie Fargo's passing, her elderly sister, Susie Diamond (1837-1912), of Hanford, California, arrived in Alameda to appear in court to address the details of her sister's estate. While she did make it to Alameda, she never made it to court, and instead ended up traveling back to Hanford in a casket the very next night. In the next part of the story of the Fargo House, we'll learn what happened to Miss Diamond, and what came next for 2242 San Antonio Ave. As I like to say, every old house has a story to tell, if you take the time to do some digging. In this case, the digging has led to some very interesting stories from the past—some tragic, some uplifting, and all part of the drama of everyday life that our old Alameda Treasures have witnessed over the generations.
Contributing writer Steve Gorman has been a resident of Alameda since 2000, when he fell in love with the history and architecture of this unique town. Contact him via [email protected]. His writing is collected at AlamedaPost.com/Steve-Gorman.