The Lutjens house is on San Antonio Avenue, near the corner of Grand Street.
This story begins the way many do, with a mistake, a wrong turn, a chance discovery. And like many seemingly wrong turns, it led to an interesting destination, one I probably wouldn't have discovered otherwise.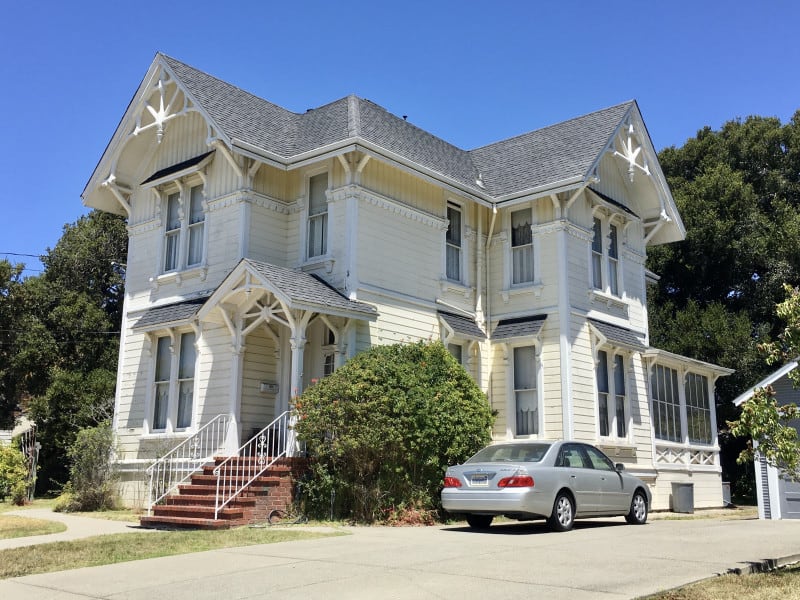 A couple of months ago I asked local genealogy enthusiast Kate McAnaney to look into the ownership history of my house at 1717 Grand Street. I knew that the woman from whom my wife and I bought the house in the year 2000 had lived in it her whole life, and that it had been her parents' home before that. The house was built in 1939, so I wondered if there had been any other owners.
What Kate found surprised me, since the residents listed in the 1940 census (the Blairs) reported they had been living in the house in 1935—four years before city records show the house being built. I was intrigued, thinking that maybe our house actually was older than the city's records indicate, and that it may have had an even longer history. But further cross-checking of the other names on that 1940 census page for Grand Street indicated that they all actually lived on San Antonio Avenue.
Census mistake listed 1717 San Antonio Ave. as 1717 Grand St.
Apparently, the census taker had accidentally written Grand Street in the box where San Antonio Avenue should have been written, thus the Blairs actually were residents of a much older house at 1717 San Antonio Avenue. The San Antonio house is very close to the corner of Grand Street, so perhaps the census taker had been working on Grand Street as well and got confused. This is just a small example of how a simple data entry mistake can create an inaccuracy in the historical record.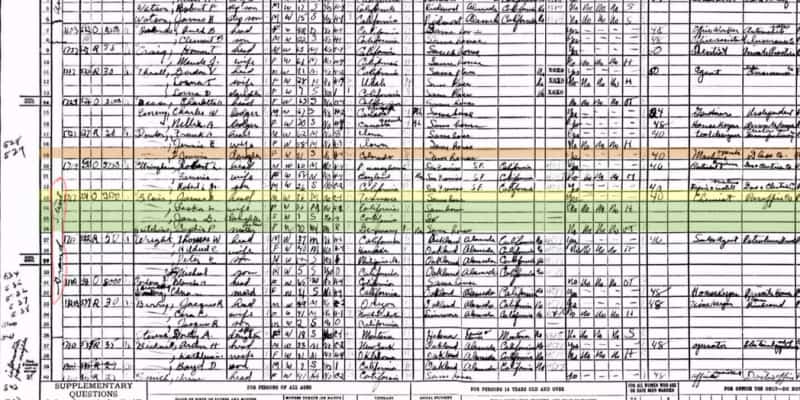 And so begins our look into today's Alameda Treasure, the stately home at 1717 San Antonio Ave., connected to me and my home simply by a matching house number and a mistake made by an unknown census taker more than 82 years ago. But this mistake was a bit of serendipity, and I'm grateful for where it led.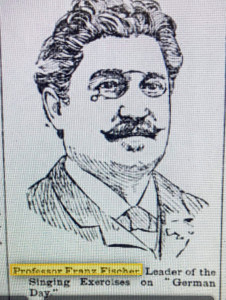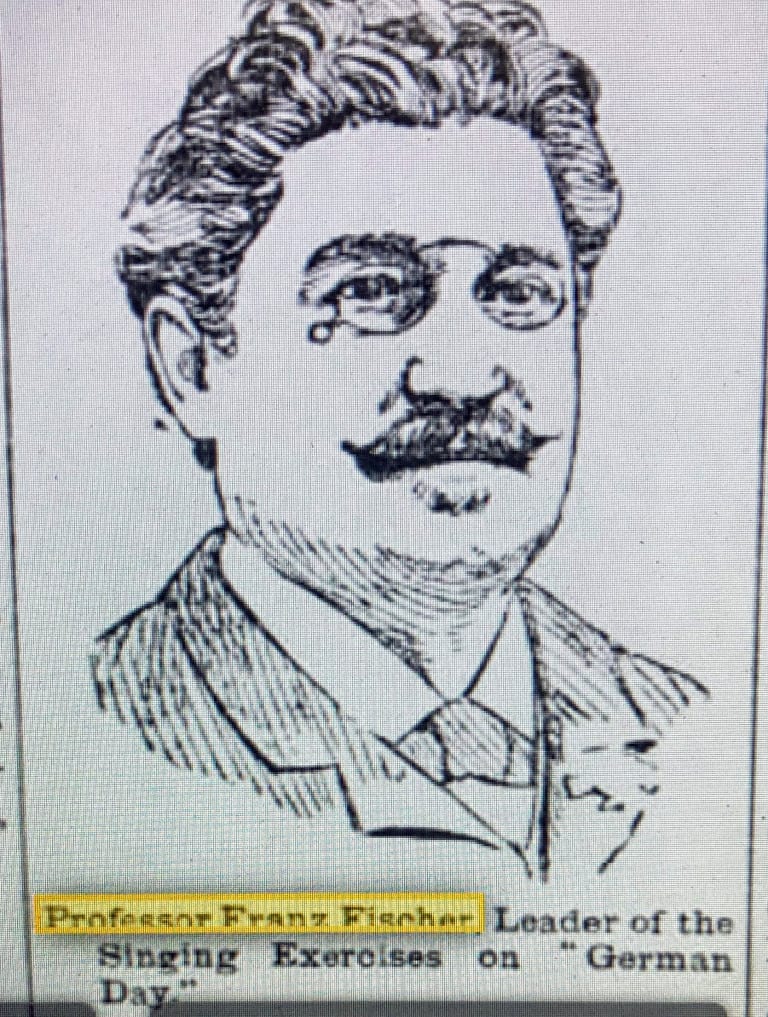 This large home was built in 1878 and is described by Alameda historian George Gunn as Swiss-Gothic style. I can also see it being described as Stick style. The original cost was $4,000, and alterations were made in 1882. The later alterations and additions cost $2,000. The first owner was Parlan R. Cunningham (1835-1899), foreman at Pacific Lumber and Milling Company, Oakland Point. There is a record of it being sold to J.R. Spring in 1882, coinciding with the alterations and additions, which were probably done by this new owner. By 1899 the home was owned by Charles (Claus) Lutjens (1841-1913), a native of Wurzburg, Germany. Thus begins the 123-year history of the Lutjens family and their descendants at 1717 San Antonio Ave.
Lutjens had emigrated to the U.S. in 1868 and was naturalized in 1873, just five years later. He married Pauline Sophie Fischer (1869-1941), also a native of Germany, in 1896, and they were living at 3329 19th St. in San Francisco before their move to Alameda in October of 1899. This address on 19th St. is the same address that was home to Franz and Jennie Fischer, the parents of Pauline Sophie Fischer. Her father, Franz Fischer, is listed in an 1876 San Francisco directory as a "professor of vocal and instrumental music."
Captain Charles Lutjens' occupation was described as Master Mariner, and his primary business was hunting seals, and sometimes otters, in Alaska. His ship was named the Kate and Anna, and he spent at least several months a year in Alaska and along the west coast on sealing expeditions.
Lutgens was charged with violating seal hunting laws
Newspaper articles from December 1895 describe charges made against Lutjens, along with two other sea captains, for allegedly hunting seals in a restricted area without proper permits. The charges, brought by U.S. Department of the Treasury prosecutors, claimed that 390 seals were taken by Lutjens, a cargo of skins worth $4,000. In his defense, Lutjens claimed that he had done his utmost to obtain the special licenses, but none were obtainable at the customs house and that the sealing regulations for 1895 did not arrive in time.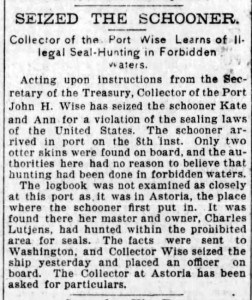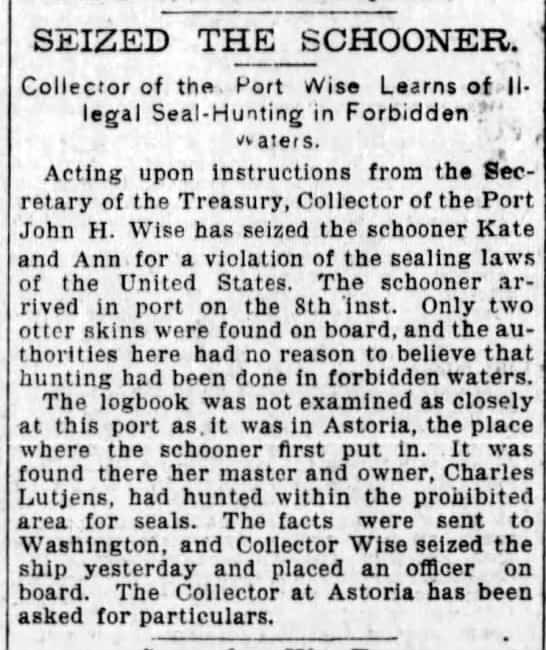 How the case was resolved was not reported in the article, but Lutjens was able to continue seal hunting until 1913, when he died on the job in Nushagak, Alaska, at the age of 72. At that time, his wife Sophie was just 44 years old and had two children at home (one son, Paul, had died six years earlier at age 9). She had two daughters, Margaret, age 24, and Alaska, 9. It's not hard to imagine the inspiration behind the name of their younger daughter, Alaska, known also by the nicknames Laska or Saska. Alaska Lutjens (1904-1994), would marry James Bennett Blair (1904-1993), a native of Tennessee, and continue the family legacy at the home on San Antonio Ave.
In the next installment, we'll learn about the interesting life of Alaska and James Blair's daughter, Alameda High School Class of 1956 graduate Jane Blair. On a 1966 UC Berkeley Peace Corps trip to India, she met her future husband Ernest Petersen, who had joined the Corps in 1963. They would marry and then spend the next 20 years traveling and working overseas in such places as India, Egypt, and Somalia, in the foreign service of the U.S. Department of State. Afterwards, they'd return to their family home in Alameda and continue their careers and interests. We'll also look back at a harrowing incident in 1899 that almost destroyed the house at 1717 San Antonio Ave., and could have ended the life of Charles Lutjens in one large explosion.
Historic homes and architecture are interesting, but what can be even more interesting is getting a glimpse into some of the lives that have been lived behind those walls over the generations. Once you do that, you begin to look at these homes differently, as sites that contain hidden stories waiting to be discovered. We'll discover more of those stories in part 2 of this story, coming soon.
For more information on Captain Charles Lutjens' sealing expeditions, see his 1892 deposition.
Special thanks to Kate McAnaney for help with genealogical research for this article.
Contributing writer Steve Gorman has been a resident of Alameda since 2000, when he fell in love with the history and architecture of this unique town. Contact him via [email protected]. His writing is collected at AlamedaPost.com/Steve-Gorman.