More secrets of the Lutjens House are revealed.
In this final chapter of the story of 1717 San Antonio Ave. [See Part 1, Part 2, and Part 3], we explore more secrets of the historic 1878 Lutjens House, along with adjoining properties that have been owned by the family for generations. As readers of this series already know, none of these details would have been known to me if a clerical error on a 1940 census form had not confused my house at 1717 Grand St. with the Lutjens house at 1717 San Antonio Ave. Thus began my look into the interesting history of the Lutjens House.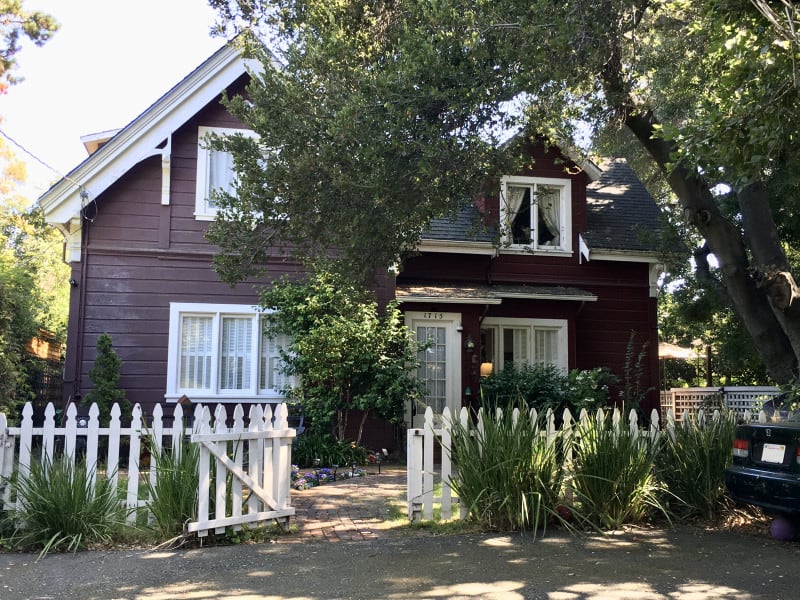 The carriage house at 1717 San Antonio Ave.
Hidden by an old oak tree, the former carriage house for 1717 San Antonio Ave. is nestled in a peaceful spot to the left of the main house. It was built in 1882 by A.C. Gilbert and Company, with architects Babson and Seadler. This same team made $2,000 worth of alternations and additions to the main house at that same time. This work precedes the ownership of the Lutjens family, and dates back to the period when original owner Parlan R. Cunningham sold the home to J.R. Spring. Charles Lutjens would purchase the home in 1899.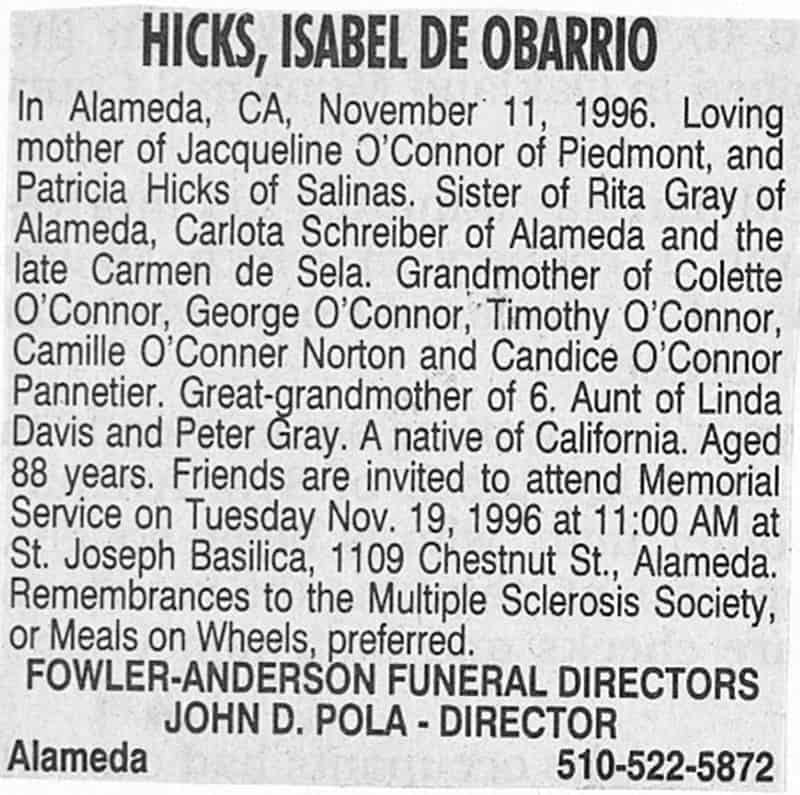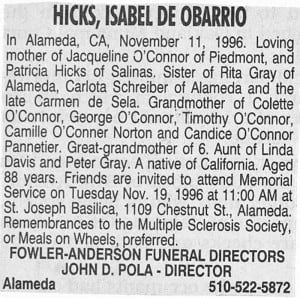 After being used as a carriage house for some years, the structure was converted to residential use. It was home to various family members and tenants before being sold to tenant Isabel Hicks, with the agreement that the Lutjens family would have first right to purchase it back should Isabel ever decide to sell. Hicks was born Isabel Obarrio Lyons in Panama City, Panama, in November 1907.
Her parents, Dr. Pedro de Obarrio Vallarino and Carlota Lyons Orillac, brought her to the United States in 1908 when she was just a one year old. This early immigration for Isabel may explain why her 1996 obituary describes her as a California native. By 1920, census data shows Isabel living in Alameda, and at some point, she married a Mr. Hicks. It is not known when they separated, but Isabel raised their daughters on her own as a single mother.
Isabel Hicks was employed in real estate until symptoms of multiple sclerosis rendered her unable to continue working. In her later years, she lived alone in the carriage house until her passing in 1996. At that time her heirs sold the carriage house property back to the Blairs for $250,000. To this day it's still owned by the estate and is a rental property.
A little-known fact about the carriage house is that the carriage lamps mounted on either side of the front door originally came from a car owned by Isabel's father Pedro, who was a doctor and car enthusiast. In the early days of automobiles, they used oil or kerosene lamps, just like you'd see in a home or on a train car.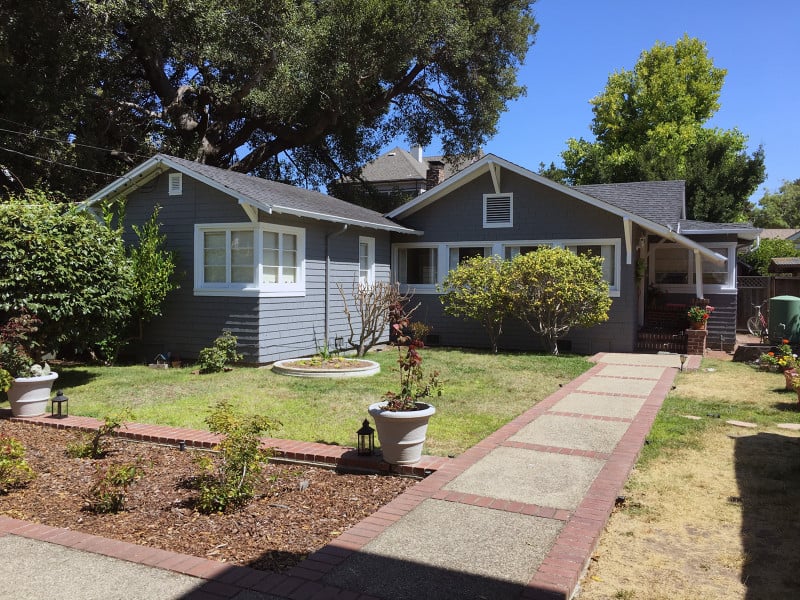 The chicken coop at 1717 San Antonio Ave.
To the right of the main house is a garage, and behind that, a cottage. Real estate records list a 1918 date of construction for the cottage. It is said to originally have been a chicken coop, so the 1918 date may be when it was remodeled and expanded into a cottage. That would have been five years after the passing of Captain Charles Lutjens, so it's possible the cottage was constructed to provide income to the widow, Sophie Lutjens, and her daughters Alaska and Margaret.
Decades later, the cottage became the home of Ernie and Jane Petersen when they returned from 20 years overseas, while Jane's parents Alaska and James Blair lived in the main house. Ernie and Jane moved into the main house after Alaska and James had passed, by 1994. Decades later when Ernie and Jane were also gone, the cottage was finally sold to a neighbor and friend of the family in 2021. So the cottage is no longer part of the old Lutjens estate, but the old carriage house still is.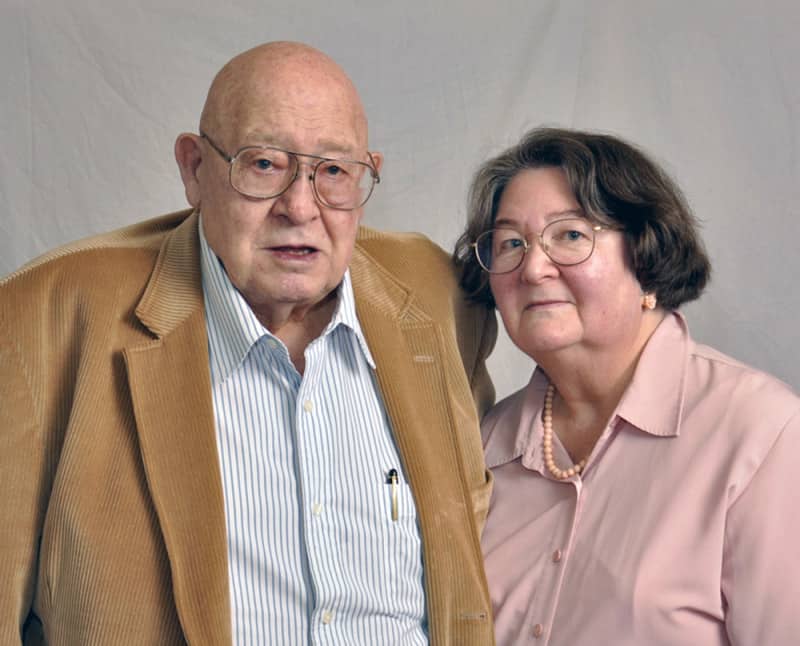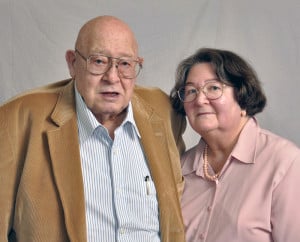 Ernest Petersen in India
An interesting story has come to light about Ernie Petersen's time in India, when he was serving in the Peace Corps and then the U.S. State Department. His experience with farming allowed him to help Indian farmers increase their crop yields by a significant percentage. His fertilizer and irrigation techniques helped feed millions of people during a time of famine.
India's first Prime Minister, Jawaharlal Nehru (1889-1964), heard about Petersen's success and ordered, "Bring that boy to me!" The two hit it off, and Nehru "stole" Ernie away from the U.S. Agency for International Development in order to work with him on agriculture in India. Nehru served as Prime Minister until May of 1964, so that does align with Ernie's time there.
Both Jane and Ernie are remembered as being very intelligent and well-read, reading multiple newspapers a day. Jane also is remembered as being a fan of the Stephen Colbert show and coffee-flavored ice cream. And while Jane was known as being a little more on the quiet side, Ernie was a big, gregarious presence. Friends remember him having a "lead foot" on the accelerator when driving his car, and he liked to be prepared for all situations. He kept a rubber inflatable boat in the backyard, to be used in case of some kind of emergency like a flood or an earthquake. Where he intended to go in that boat is unknown, but apparently it gave him some reassurance to have it there, just in case.
Another neighbor tells the story of how it was suggested to Ernie that he have some curbside trees planted in front of his house by the city, since a particular area was vacant of trees. Ernie agreed, but only if the trees were planted exactly according to his specifications. Ernie was a stickler for how cars parked in front of his house, and he directed that the two trees be planted so that they delineated three parking spaces. This satisfied Ernie's sense of order. He was known as the "guy who always knew what to do," and was a trusted counsel in matters large and small.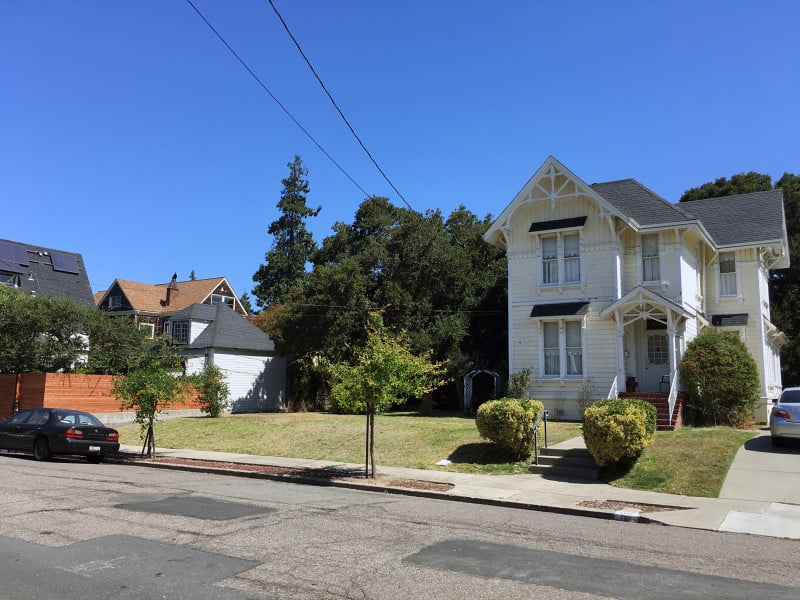 The Lutjens-Blair-Petersen family history at 1717 San Antonio Ave. is a long and colorful one. What's amazing to me is that I stumbled across this house accidentally, and then found its past so interesting and rewarding to dig into. I am grateful to that unknown census taker who, decades ago, accidently wrote in Grand Street where he should have written San Antonio Avenue, thus sending me off on this journey. I hope you have enjoyed the exploration of this Alameda Treasure as much as I have.
---
The details and descriptions in this story are accurate to the best of my ability, but since they have come from a variety of sources, no guarantee can be made as to their complete accuracy. Hopefully the overall picture of the family and the house ring true, even if some minor errors have entered the historical record over the generations.
Thanks once again to Kate McAnaney for her invaluable help with historical research for this story. Special thanks also go to Nancy Rogers, Beth Sibley, Hale Foote, Marilyn Sharron, and all who were involved in revealing the hidden history of the Lutjens House.
Contributing writer Steve Gorman has been a resident of Alameda since 2000, when he fell in love with the history and architecture of this unique town. Contact him via [email protected]. His writing is collected at AlamedaPost.com/Steve-Gorman/.