Alameda resident seeks home's Russian connection.
I recently went on an Alameda history walk with Dennis Evanovsky and Adam Gillitt of the Alameda Post. Along the way I saw a house on Paru Street near the corner of Central Avenue that stopped me in my tracks because of its unusual architecture. As my friend and I were marveling at the details in structure and embellishments, another walking tour participant told us that it used to be a Russian Embassy. Now it really had my attention! I decided to see what I could find out if, when, and why it was a Russian Embassy.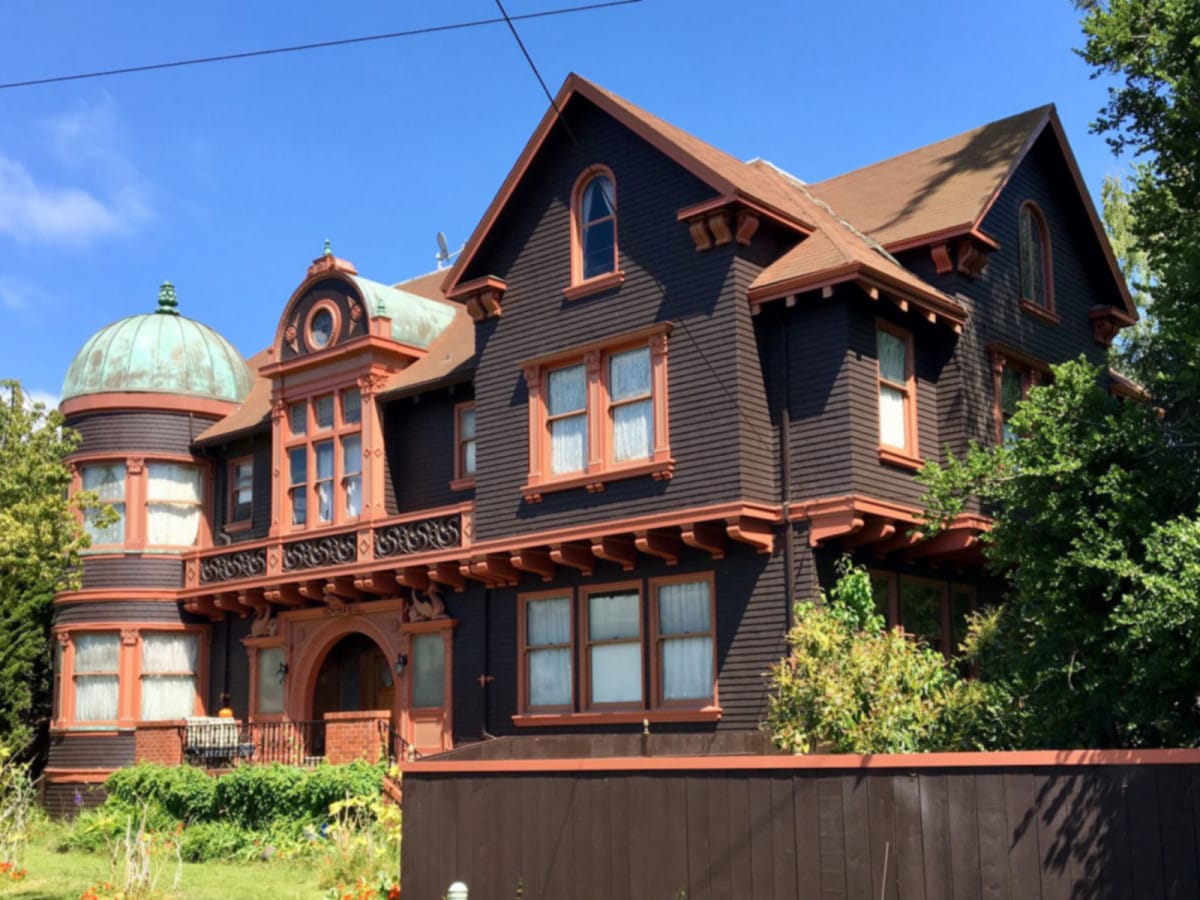 The first thing I discovered was, even though the front of the house faces Paru Street, the address is 1601 Central Ave. Alameda Museum curator emeritus George Gunn listed the build date of the house as 1901 in his book Documentation of Victorian and Post Victorian Residential and Commercial Buildings 1854-1904. He noted that Harvey H. Dana was the original owner. Previously, in the 1900 census Dana was recorded as living at 1502 Grand St., very close to the lot on Central. I started my genealogy sleuthing with him.
When I pursued comments from Little City of Alameda Facebook group that stated the house "was built as a wedding present for the original owners" and that the Danas "went to Venice on their honeymoon, hence the Venetian glass, and style," I found the following: Harvey Howe Dana married Elizabeth Lillie Pearce in 1895. He also applied for a passport in 1895 with his occupation listed as medical student.
When I saw that the Danas' first two children were born in Marburg, Germany, I suspected the couple had gone to Europe for more than just a honeymoon. There is a prestigious medical school in Marburg, so presumably that's where they were headed, perhaps after their honeymoon in Venice. However, in 1900 they are recorded living in Alameda, and he is listed as a capitalist, not a doctor. In all future censuses and directories his occupation is realtor. I wondered why and decided to look into that.
Harvey Howe Dana's background
Dana was born in Virginia City, NV in 1872, and seemed to be in business with his brother-in-law, Louis  Drexler Drexler. Both men had probably profited in the Gold Rush Era by not focusing their efforts on finding gold, but rather on managing the gold that others found. Drexler's wife was Fanny T. Howe; Dana's wife was Fanny's sister Mary. Mary Dana died a week after giving birth to Harvey. Ten years later, in 1882, Drexler and Dana relocated to San Francisco, where they continued using their entrepreneurial skills to amass money and property.
In the 1887 directory, Drexler is listed as "President of California Jute Mill and is living at 1411 Van Ness with his brother-in-law George Dana and young Harvey." George died that year when Harvey Dana was 15. Fanny Drexler died in Dec of 1890. Louis Drexler died in 1899 an article in the San Francisco Call about his death explains "Drexler Left Estate Worth Many Millions" (Volume 86, Number 84, dated 25 August 1899).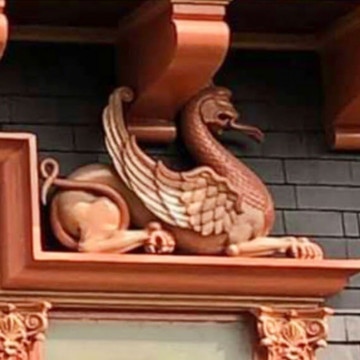 Drexler remarried after Fanny died, and he left a substantial part of his property holdings to his nephew Harvey — probably enough to finance a really spectacular house with Venetian glass windows on a large corner lot in Alameda! Or, as one story suggested, Drexler may have given Harvey and Lillie the money to build the house as a wedding gift. Either way, the money to build the house was given to them as a gift. After his uncle's death and with many new properties to manage, Dana may no longer have had the time or interest in pursuing a medical career.
An intriguing detail on the exterior of the house that everyone notices is the pair of ornamental dragon-like carvings over the entry door to the house. They may indeed be dragons, but since they reminded me of heraldic symbols like you see on a family crest. I explored a bit and found that a griffin is a symbol used on the Drexler surname crest. I looked at countless images online of dragons and griffins and it is my opinion that this pair are griffins, not dragons. The fact that a griffin provides a connection to the family who built the house is convincing to me.
Census Records Incomplete
The house itself has a confusing relationship with census takers. The 1900 census lists a family by name of Nahl living at 1601 Central, however in subsequent censuses (and directories) this family is actually at 1412 Paru St., next door to the property. My theory is that when the 1900 census was conducted, the 1601 house was under construction and the census taker made a mistake on the address for the Nahl family.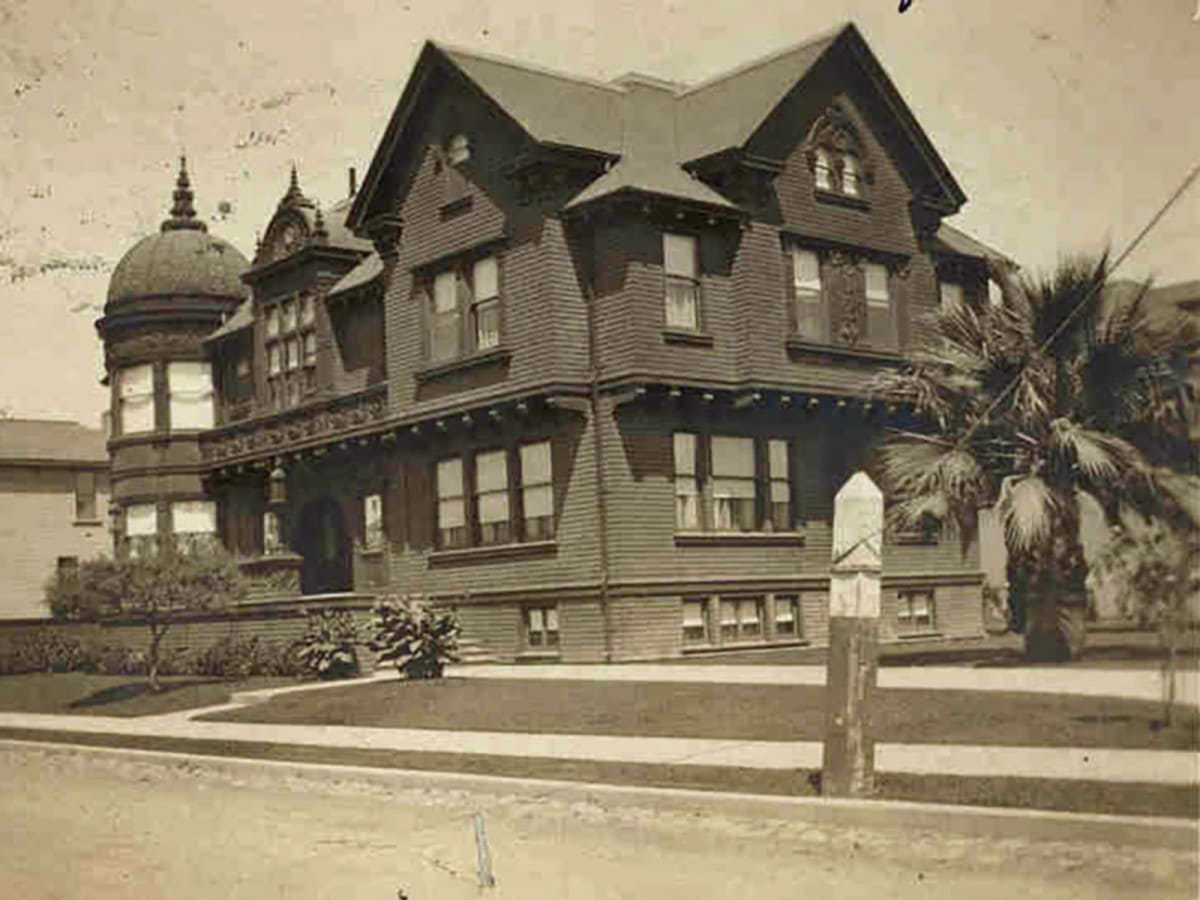 The Danas lived on Grand Street until 1902 when presumably the house was complete. 1903-1906 Alameda city directories list Harvey Dana at 1601 Central Ave. By 1908, he had moved his family to Santa Clara where he continued to work as a realtor. The Danas may have continued to own the property and only have come back for temporary stays until the property changed hands around 1910.
It would seem to be another one of those Alameda mansion-owner stories where the wealthy residents only stay for a few years before returning to the more exciting society life in San Francisco. However, in the Danas' case, the timing suggests that they may have been so affected by the 1906 earthquake that destroyed their inherited properties in San Francisco and may have damaged their home in Alameda.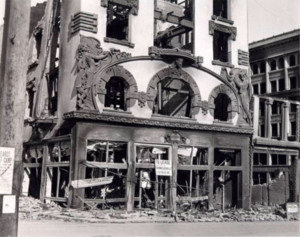 I found one photo of the Dana Building at 212 Stockton St. in San Francisco that was severely damaged in the earthquake. From maps of the destruction, it also appears that the home where his uncle lived at 1603 Van Ness Ave. was destroyed on the second day of the fire. For whatever reason, Dana moved his family to the San Jose/Santa Clara area and continued his career as a realtor there.
Subsequent Owners
Starting in 1911 and continuing through 1920, Alameda directories show Charles Schleisinger, a realtor, owning the property at the 1601 Central Ave. In the 1930s the house seems to have been omitted from the census. I 'walked the streets' page after page in the census along Paru and Central but the census taker did not enumerate any house where 1601 sits. The Schleisinger family had gone back to San Francisco by this time. Perhaps they still owned the home and were just not there on census day?
By 1935 the Johnson family was living in the house. In the 1940 census the house is listed on Paru Street with the number 1402, and the census taker has crossed out his first entry of 1601 Central Ave.! On today's Google maps both addresses show the same location on the corner of Central and Paru.
In 1940, the home's residents are listed as James George Johnson, his mother Ella, and brother Charles. I tracked this family back through earlier years and found that his father was Edward Bingham Johnson, who had two other sons, Joseph and Ted, and a daughter Gertrude. In 1920 Gertrude married Ellsworth Berquest and the couple later came to live in the house. In 1942 on his draft card, James G Johnson lists himself with 1601 Central Ave. as his home address. From locals who posted comments, it sounds like the Johnson family owned it until the late 1970s. Charles died in 1969, James died in 1978, Berquest died in 1974, and Gertrude died in 1979.
The home is now owned by Allen Michaan, owner of Michaan's Auctions at Alameda Point and the Grand Lake Theater in Oakland. He is said to be "dedicated to preserving historical architecture." It is still a single-family home.
No Proof it Was the Russian Embassy
After all my research, I still couldn't find any documentation about this home serving as the Russian Embassy. The only times I could see where this home may have been used as such, officially or unofficially, would have been after the 1906 earthquake when Dana may have given temporary shelter to people from the quake who had some connection to Russia. Another possibility might be the late 1920s, when it could have been used temporarily for some diplomatic purpose. Otherwise, no mention is ever made of a Russian Embassy. If someone knows more about the Russian connection to the house, I hope that they will enlighten us all.
Kate McAnaney is an Alameda resident who loves house history and genealogy.