This is part of our ongoing series of Dave LeMoine's memories of growing up in Alameda. Further installments will be published every Friday.
Summers would find us at the private beach, which lay in a natural notch that collected mountains of driftwood from all over the bay. Many mounds of timbers, logs, piling, planks, balsa wood, and Navy rafts no longer needed (probably from World War II), had been discarded or fallen off ships. They made great paddle boards and floats for swimming. We built rooms on the beach large enough to stand in, then covered them with the driftwood. No one passing by had any inkling there were secret rooms inside; to them it was just a giant pile of driftwood. Behind Beach Road lay open fields all the way to the old Oakland Airport, more military bunkers, and a shooting range full of broken clay pigeons.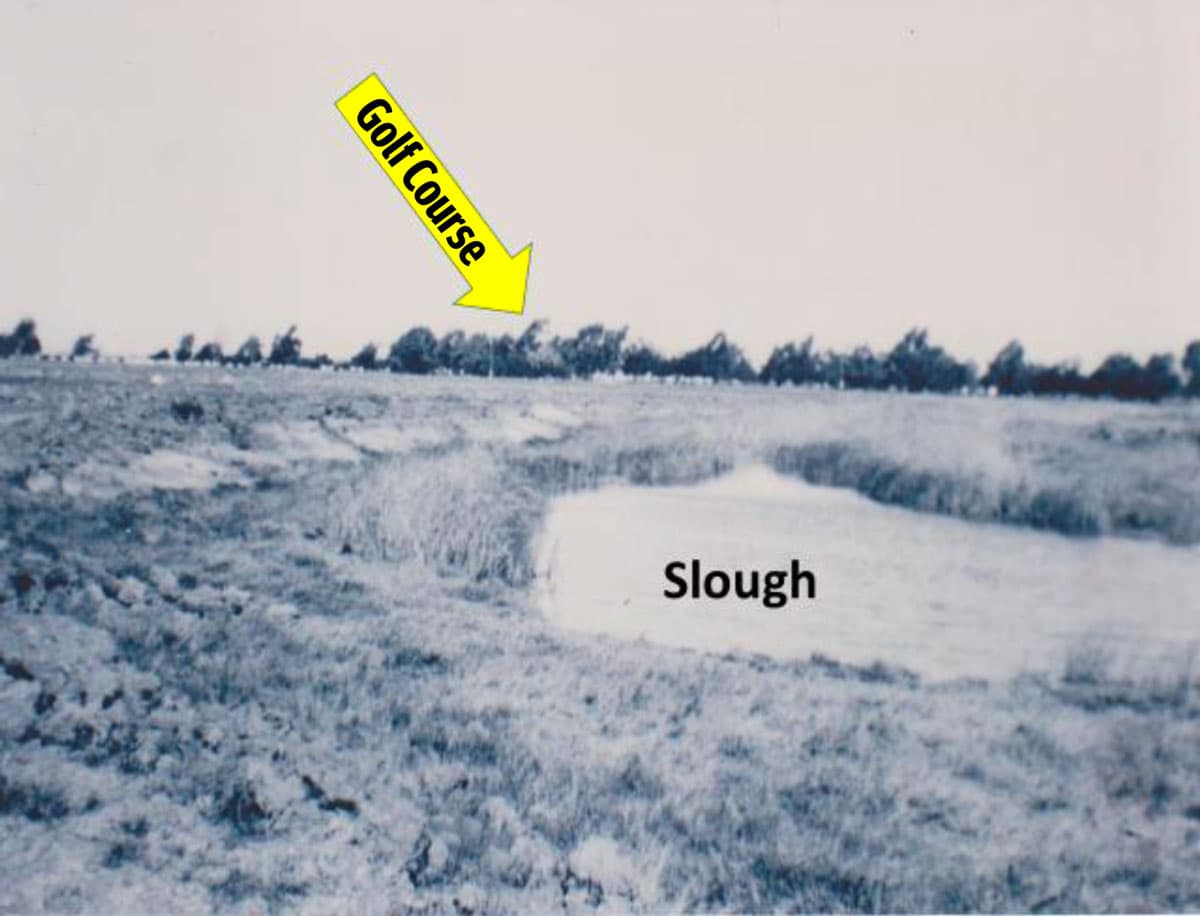 Between our house and the course lay fields of grass. Bill, Steve, Jerry, Harvey, Mickey, Tom H., Tom C., Kenny, Norman, the McGregor brothers, Jim, and I built flat-bottom swamp boats one summer to explore the cattail-clogged waters of our kingdom. We caught mallard ducks and jack rabbits. At that time, the Beach Road gang would challenge the Garden Road gang to rock wars. Armed with the finest round rocks, pockets bulging to the point of pants cuffs dragging, with garbage can lids held high, we would attack in a hail of stones and a few tears. That is, until one or more of the moms would shout from their porches, "Enough already! You'll shoot your eyes out!"
The Golf Course
To the West was the 18-hole golf course. Between our house and the course lay these fields of grass, two cattail-encircled ponds (now part of the newer 18-hole course), with a strange anomaly I couldn't explain, giant fissures in the ground. We called them the "cracks." Snaking all over the open areas, these cracks, some as deep as three feet, and three to four feet wide, were perfect to build forts. Scattered in the four foot high grass around the cracks were great two-foot diameter balls of sunbaked clay. We would stack these balls in circles two high, then cover the top with plywood. The forts would seem to disappear in the tall grass and were perfect for planning night sorties to the golf course while smoking rolled up brown paper bags. We learned quickly not to suck too hard or you could taste a little flame with the smoke. After dark, faces blackened and on a low crawl, we could retrieve a bucket of balls from the shallows of the course ponds in a half hour. There was money to be made but always cognizant of the night patrolling groundskeeper, Ed Arata, who scared us to death. The golf balls could then be sold to a neighbor who cleaned and resold them to the course, kind of like early recycling. Through responses to my stories, I finally understand that the cracks were caused by liquefaction during earthquakes sometime in the ancient past, but still no answer about the balls.
Over the years, we dug connector channels, tying crack to crack, so that we could move without being seen from the surface over many acres. At intervals, we would cover a part of a crack with plywood, backfill with dirt and, "Voila!" an underground room. With .22 caliber rifles slung over our shoulders, we roamed these fields, beaches, and farms stopping our conversations just long enough to watch DC-3's or TWA Constellations (nicknamed Connies) coming in for a landing. An added treat would be an occasional B-36 or flying wing passing over. No kid could have had a better environment growing up. In bed at night, as the planes descended over our bedroom for a landing, you could see the flames from the exhaust, a true sound and light show.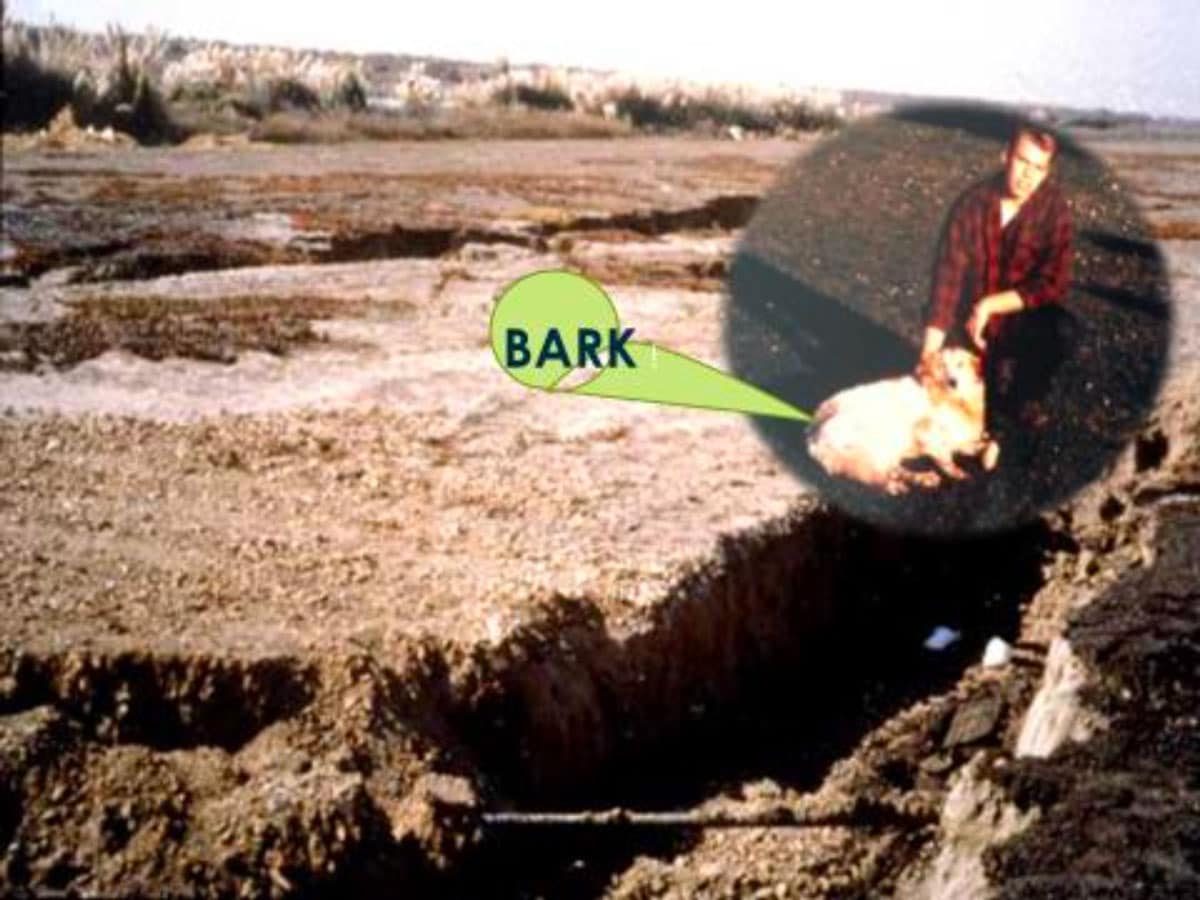 We were seen as the poor kids, a little different, the other side of the dumps, in the farms. It was our secret, and very few of the Mainlanders, as we called the kids on the main island, knew of our paradise that lay just over the bridge. A hermit lived behind the dumps near the Oakland border close to the Raiders training facility. We would spend a great deal of time sneaking up on him, telling stories about how much he loved to eat children. If the truth were known, he just wanted to be left alone.
A New Island
One summer (the year escapes me) arriving at the private beach, we saw a great dredge anchored maybe 200 yards out in the bay. As summer progressed, an island appeared and, off of this island, the water was deep enough to dive from the edge of the sand; there had never been deep water here before. We would swim out every afternoon after the dredge quit and jog the island, which could be a little treacherous due to liquefaction. Running along, you could sink to your chests, and have to breaststroke to get out… not too smart, but we lived.
After one of these long days of sinking in the mud, covered with that bay residue, I arrived home.
Mom said, "You're not coming in my house looking like that! Hose yourself off, remove your clothes in the garage, and then you can enter."
As I pulled off my wet, almost new, T-shirt, it tore apart in my hands. Thinking back now, we had been dipping in all sorts of chemical-laced sand from the bottom of the San Francisco Bay which had accumulated over the centuries, and didn't have a clue of the danger. There were probably heavy metals, and maybe a nuke or two. That might be why I am bald today! A note to the residents of Harbor Bay Isle if you're having trouble growing plants: Remember that you are sitting on sand sucked from the bottom of the bay near Yerba Buena Island.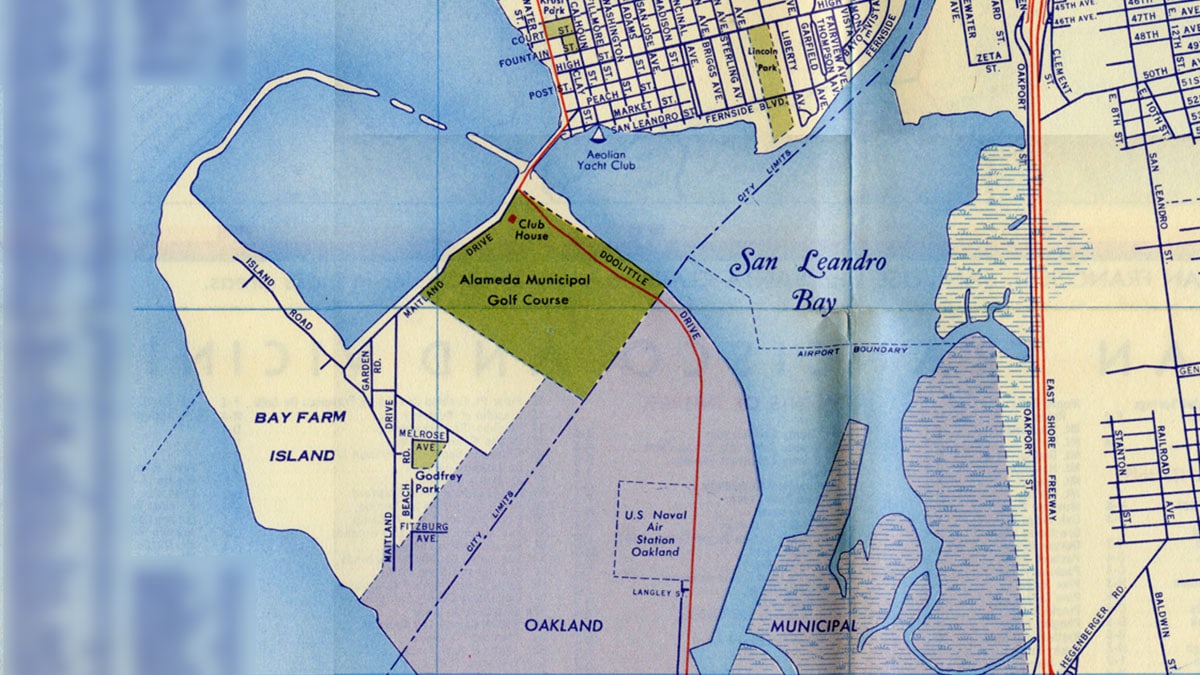 As time passed, that small island continued to grow and soon became a dike that extended from the end of Maitland around to the San Leandro Marina. As the dike was completed, a set of pipes was installed through it near Maitland, to allow the water level inside the dike to maintain bay level. That meant that, on an outgoing tide, you had to keep your distance for fear of being sucked through the pipe to the bay side. On the incoming tide, great four-foot torrents of water would explode from the pipes. We could stand above the superstructure of these pipes, dive into the waterfall, and be projected along the sandy bottom as far as we could hold our breath, then sometimes feeling the sharks and bass spookily rubbing up against us.
At this time, we hadn't a clue that we were swimming in what would become the new Oakland Airport. When the dike was finished, it was time to fill in the airport. The pipes were sealed at low tide and evaporation took over. As the water dried up, the fish inside were trapped. Soon water was reduced to small ponds teeming with fish. People would congregate around these ponds to take home their limits. Eventually, we could reach down and grab the fish by the tail; the hardest part was transporting them home for dinner.
In the sand, which had once been covered by bay water, appeared the wreckage of aircraft that had crashed over the life of the old Oakland Airport. The skeletons of a couple of rusted World War II fighters, with guns still attached, were found… just another benefit for the Bay Farm Island boys.
The Rise of Harbor Bay Isle
Soon another dredge and fill project – Harbor Bay Isle – changed the face of Bay Farm Island forever. No more farms, no more destroyers, no more duck blinds, a new bridge, no more cracks, no more dumps or sloughs, no more private beaches. Open acres became tightly packed, two-story houses, as progress came to my wonderful little island.
In earlier days, we could walk from Maitland along the water's edge, all the way around our island to the bridge in about three hours. While beach combing, shooting our .22s at bottles and debris, or passing an occasional duck hunter, we talked and dreamed of our futures. This is just a snippet of my memories as a boy in paradise. The island — the Ratto, Silva, Sores, and Olivera farms, the close-knit families, and no locks or keys for our homes — was truly a sanctuary for a boy who had lost his dad at age 8, but was safe and secure in this simple spit of land called Bay Farm Island.
David LeMoine is retired from the Alameda Fire Department, and now lives in Eagle, ID. These stories are excerpted from his book, I Could Have Died a Thousand Deaths, published by Big Boots Publishing of Redding, CA.