This is the first part of an ongoing series of Dave LeMoine's memories of growing up in Alameda. Further installments will be published every Friday.
This is the way it was in the 40s, 50s and 60s in a great American city called Alameda, in a much simpler time. Where money was tight, people worked hard, and a friend could be greeted on Park Street for coffee. A time when Tucker's ice cream cones were less than a buck, Ole's served up amazing waffles, and the smell of chicken frying as you passed by Lola's restaurant could bring you to your knees; Lincoln and Franklin Park's picnics on Sunday afternoons; cruising South Shore in my '32 Ford. And the biggest traffic bottleneck, once a year, was at High Street and Thompson Avenue (Christmas Tree Lane), Santa in the center divider, with people passing and children laughing in a holiday mood. We would periodically become stuck in traffic, waiting for the bridge to close after the Johnny Peterson tugboat, with barge in tow, passed through for Tidewater Sand and Gravel. The Fourth of July parade, driving Fire Engine One. Firemen sitting in front of old Station One on Webb Avenue, leaning back on the antique captain's chairs talking with the kids, and families together in a city called Alameda, attached to a landmass called Bay Farm Island.
I am now retired from the Alameda Fire Department, living in Redding, California, but always return to my home, Bay Farm Island. As a child of eight, arriving home in our driveway at night, we could see forty pairs of eyes staring back at us in the headlights, those crazy jack rabbits! They used to run through the airport by the thousands in the 40s and 50s, stopping takeoffs and landings, until men with shotguns and my dog Bark culled the herds. I can remember delivering many Times-Star and Tribune Newspapers to the whole island as well as a few farmhouses. I hated the winter nights with that bay headwind blowing, long dirt road bike trips for four or five farms. But now the memories are great. The perspective of the farmers is one look at Bay Farm. But the 15 to 20 kids who migrated in, and combed every square inch of our Island, saw this land with a different set of eyes.
Bay Farm in the 1940s
Here's more of the story: I was born in 1941. My family moved to Bay Farm Island in 1947, the second Alameda Fire family to arrive; Frank Lufkin and his family preceded us, living on Garden Rd. The Beach Road group of firemen came next. My dad and mom bought the lot at 255 Beach Rd. and, with the help of Dad's firefighting buddies, cleared a plot of land next to Godfrey Park.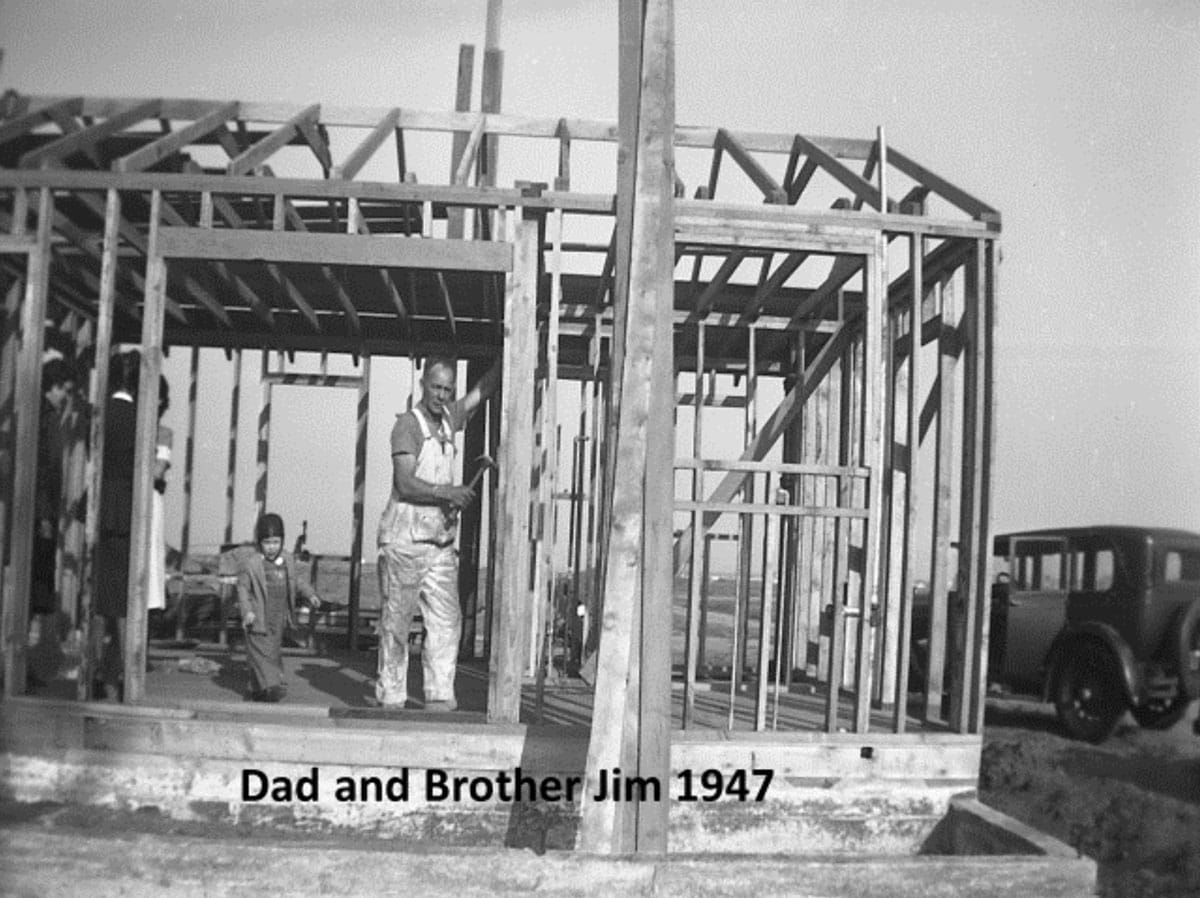 Dad built a small, 800 square-foot dwelling and, after he died in 1949, Russ, Ben and some of the other fire guys added two bedrooms, a bath, and garage to make things easier for us. Our family was the first of 12 fire families to build on Beach Road, followed by Red French, Tex Evans, Jimmy Smith, Brad Nichols, Ben Eardahl, and Russ Smith. Then came Bob DeCelle; Bill Simon, across from the park; and further down, Archie Waterbury; Noel Van Derhagen; and Clark Magby. As I write today, September 21, 2015, I am viewing the video of a house fire. In the video are Engine Four, Engine One, and Truck One pulling up to extinguish a fire at 219 Beach Rd. Ironically, the house was built by Jimmy Smith (an Alameda fireman), my dad, and a dozen or so firefighters around 1949 or '50 with me looking on. Sixty-five years later, I am witnessing its destruction and am the only one that can tell this story.
Most of those small houses were partially built with scrounged lumber removed from military barracks torn down after World War II. As a 7 year-old, I spent my free time at the Godfrey Park sandbox, or watching the firemen help each other in home construction. I later followed my dad into that fire family, and had a great 25-year career serving our city. The chief who hired me was Ernie Servente. I can still remember him crawling out from under our house, as his part in our construction was the plumbing.
Beach Road was gravel then. The only paved road on all of Bay Farm Island was Maitland Drive. In those years, if you had any reason to go to the Main Island, you would cross a two-lane, center-pivot bridge that, in the winter, could be closed a couple of times a year for a super-high tide. Dropping off the bridge onto a two-lane road, you would see to your right a 15 foot-high gravel dike that extended all the way to open farmland. The dike held back the bay water. The other side of this dike was the future location of Harbor Bay Isle.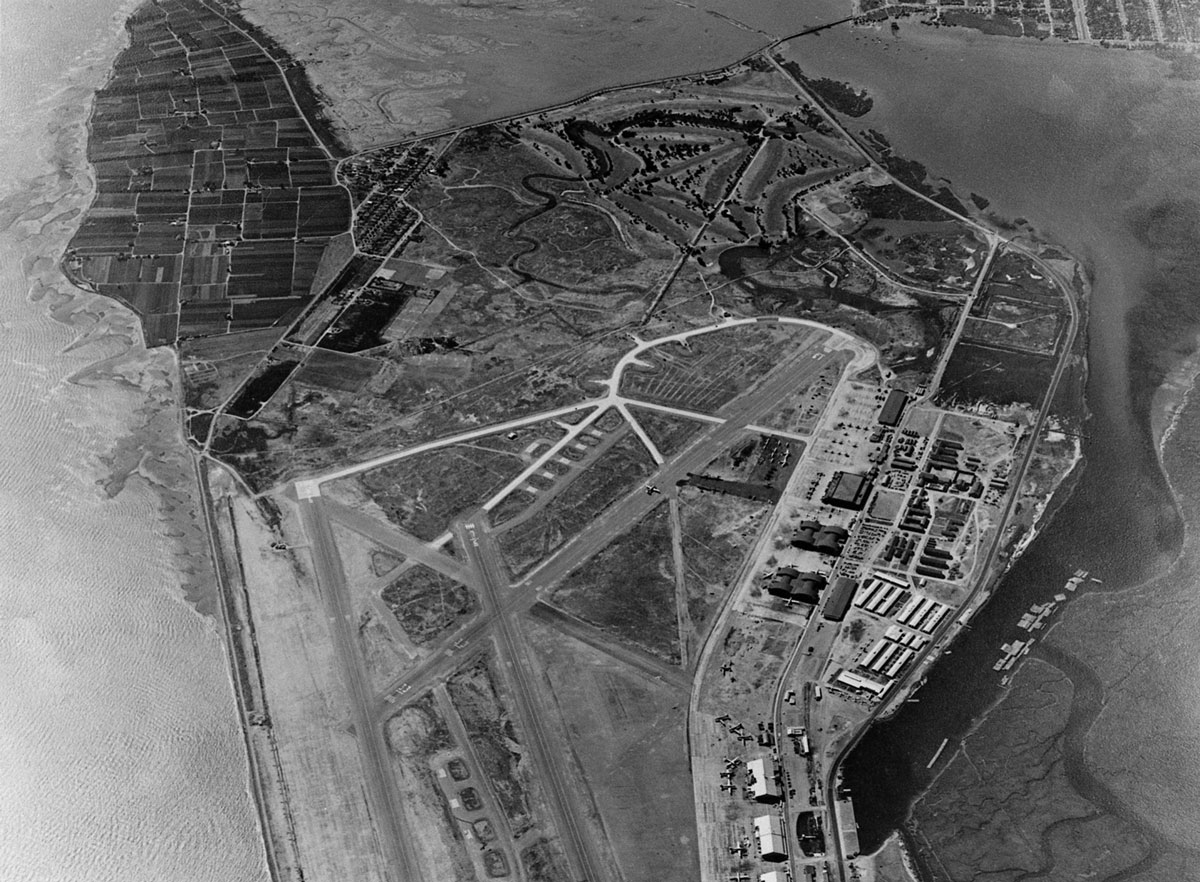 The dike was located in what is now the center divider of Island Drive. The other side had that infamous concrete wall separating Island Drive from the Alameda Golf Course. The year of 1947 also brought our fire department drill tower, the tallest structure on the east end of town. It's still standing, though condemned, at the entrance of Alameda Golf Course.
That wall still brings back such memories! At 17, after football practice, with no school bus to ride at that time of the night, I would walk from Thompson Field, down Park Street, and run to High Street (uphill both ways), over the bridge to the wall, climb and walk, or run, the wall past the tower, or I would walk the top of the dike looking across the mudflats and see the destroyers in the distance silhouetted in the setting sun. Much of the time, I could travel from the bridge to Maitland Drive without seeing a car.
Life During Wartime
During the Korean War, there was a military artillery base and radar emplacement with bunkers at the corner of Maitland and Island Drive. Continuing on down Island, it ended in farm fields, now Mecartney Road. Making a right turn onto a dirt road, along the mudflats, this area is now part of Harbor Bay. Further down the dirt road stood a couple of old houses on pilings; the houses would have water under them at high tide. The owner of one of the houses, I believe his name was Lehi Torrey, had accumulated old buoys, floats, and all kinds of water vehicles, from balsa wood rafts to landing barges. Past the houses, through a cable gate onto the Ratto farm and out to the end of the road was a great sandbar, turning left to eucalyptus trees and a duck blind on stilts over the water. Continuing left around the point, following the waterfront, you would pass a wonderful beach house with plate glass windows, a patio and, what looked to me like, Hawaiian outrigger canoes on either side.
Returning to this wonderful beach, you would turn right to a row of World War I ships that had been sunk as a dike to protect the area between that point and Island Drive. The dike had failed sometime in the 1930s, and the land had been reclaimed by the fish and ducks. Seemingly, only the farmers and Islanders, as we called ourselves, knew about and used this beach.
The farmers treated us well, allowing us to roam freely on their property. What fun! We called the ships "destroyers," climbing and exploring all over them. The ships had rusted through in many places and were very treacherous for the uninitiated. If you looked down through the rusted decks into the ship's holds, you would see sharks, stingrays, and striped bass swimming in and out, a boy's paradise. Leaving that beach, we would travel the gravel road all the way to Melrose and Maitland Drive. Down Melrose, you would cross Beach Road and go directly into our driveway. Standing in the driveway, to the left was Godfrey Park, straight ahead you had a clear, unobstructed view all the way to the Olivera and Silva farms at Maitland and Fitchburg. Again, down a dirt road toward the end of what is now Oleander and Magnolia, stood the Silva/Soares and Olivera private beach. Only we Islanders were granted access.
David LeMoine is retired from the Alameda Fire Department, and now lives in Idaho. These stories are excerpted from his book, I Could Have Died a Thousand Deaths, published by Big Boots Publishing in Redding, CA.