Walter Blair built the Broadway & Piedmont Horsecar Line in 1875, the same year the Alameda, Oakland & Piedmont Railway began carrying passengers through Alameda and into Oakland. Blair played a role in developing the AO&P, and its cars resembled the one seen here on Blair's line. Horsecars served Alameda until 1891, when the technology to electrify the lines was introduced.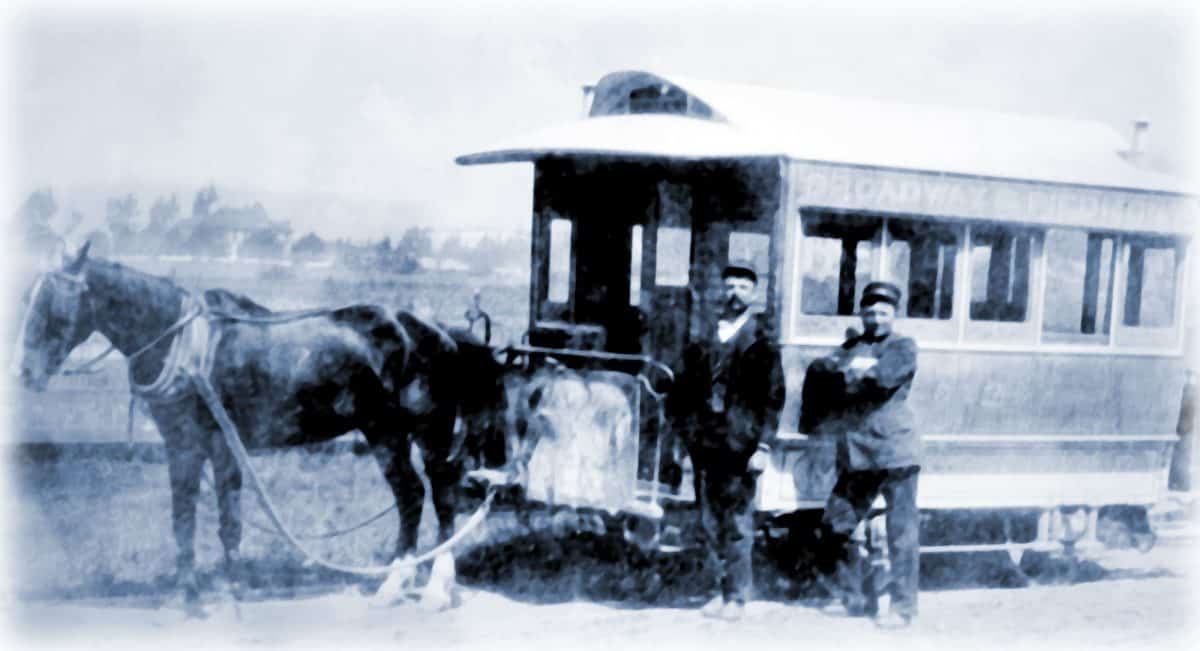 Horses were expensive when AO&P began operations: ones capable of pulling streetcars cost about $200 each at the time, about $3,500 in today's money. Despite the cost, these animals could only pull cars like the one pictured for a maximum of 12 miles a day. A typical horsecar line owned at least a dozen horses, and they had to be housed and fed.
July, 2022 – Alameda's Innovative Streetcars​
Saturday July 9 — Alameda's Horsecar Lines
Join Dennis Evanosky for an imaginary ride on two of Theodore Meetz's three horsecar lines and a visit to Fassking's Hotel. Meet at Union Street and Santa Clara Avenue. at 10 a.m.
Each horse devoured some 30 pounds of hay and grain, and the horsecar lines were responsible for cleaning up and hauling away the animal's "leavings," which amounted to some 20 pounds every day for every horse. Things got so bad in England that The Times of London declared a horse-manure crisis in 1894. At about the same time, Frank Sprague was busy developing the solution: street cars that ran on electricity. We'll cover Alameda's switch to electric powered streetcars during our next tour on July 16.
Dennis Evanosky is an award-winning East Bay historian and the Editor of the Alameda Post. Reach him at [email protected]. His writing is collected at AlamedaPost.com/Dennis-Evanosky.