This week,
Alameda Post
Editor and award-winning historian Dennis Evanosky will take you not only on an imaginary electric streetcar ride through Alameda into Oakland, but on a train ride up Oakland's Courtland Creek and into Leona Heights in the Oakland Hills. Join Dennis and the
Post's
publisher, Adam Gillitt, at 10 a.m., this Saturday at Park Street and Blanding Avenue. The 90-minute tour will start and end at
Coffee Cultures
, 1926 Park St. [NOT at Webster and Atlantic, as previously stated.]
Tickets are $15 in advance
.
On August 31, 1892, the Alameda, Oakland, and Piedmont Electric Railway (AO&P) incorporated. William. M. Rank served as the new company's president and general manager, E. S. Denison as secretary, and T. F. Scanlon as treasurer. This new company had purchased the Alameda, Oakland, and Piedmont Railway, a horsecar line, from Theodore Meetz, and invested in electrifying the line.
In 1881, Werner von Siemens introduced this revolutionary way of driving streetcars along the world's streets and literally putting thousands of horses out to pasture. At first, the cars' power came from the rails, instead of the overhead line. In 1888, American engineer Frank Sprague patented the design that allowed electric streetcars to collect energy from an overhead trolley pole.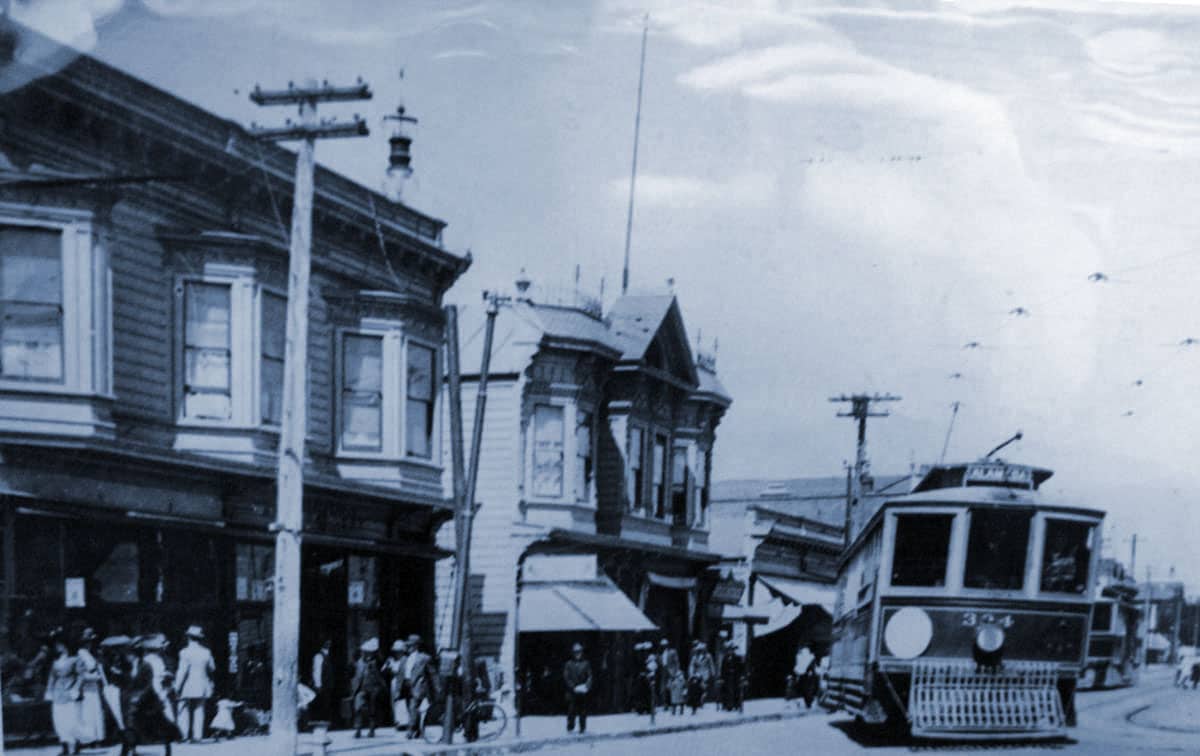 Vernon Sappers describes the conversion in his Key System Streetcars: Transit, Real Estate and Growth in the East Bay. Sappers tells us that Rank and company transformed Meetz' horsecar barn on Webster Street into a power station. A pair of boilers powered two 500-volt generators. The company sent the electricity from this power plant though overhead wires along the streetcar lines. The streetcars fed their onboard electric motors with voltage they drew from these wires using Sprague's trolley poles atop the cars.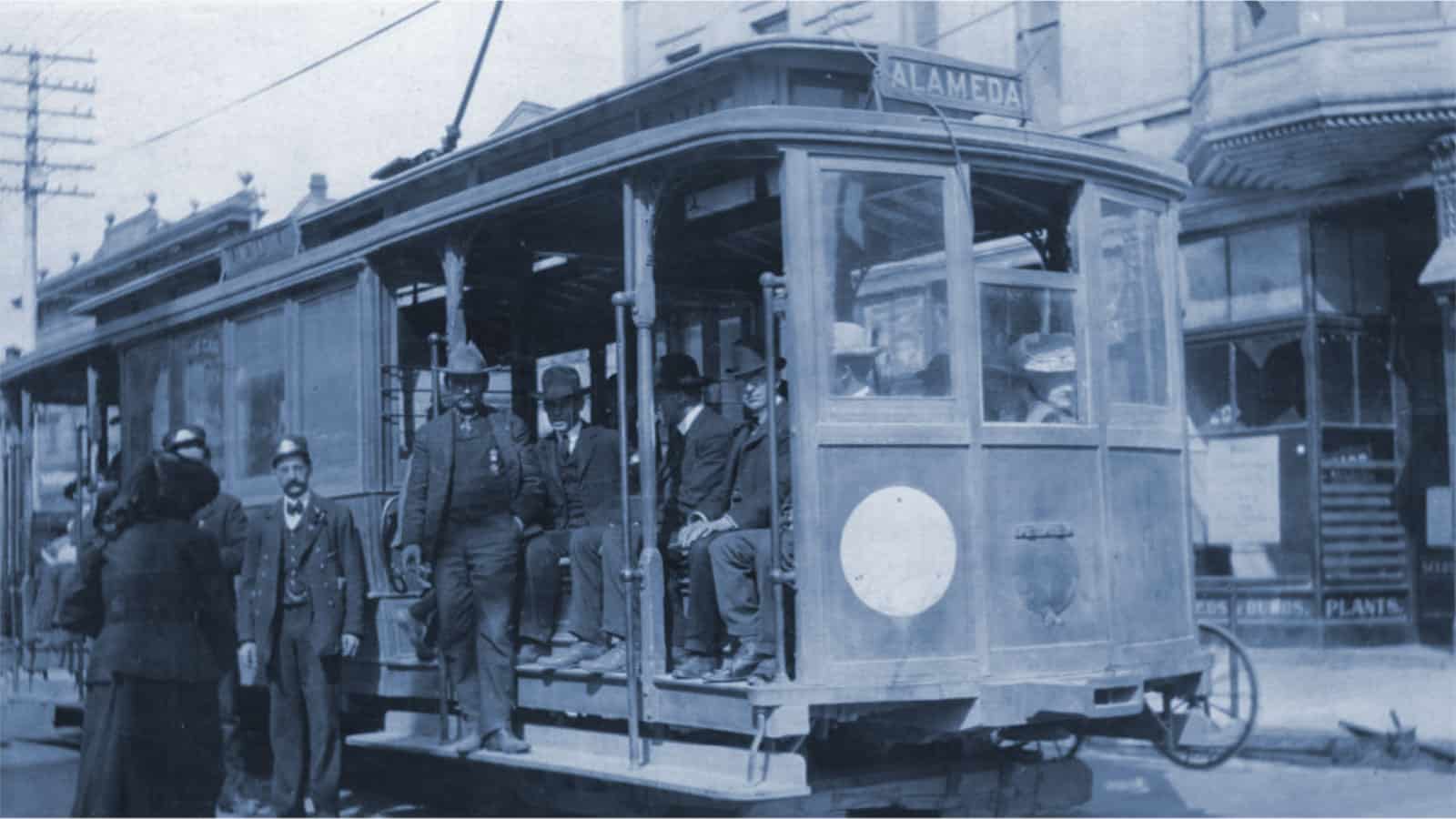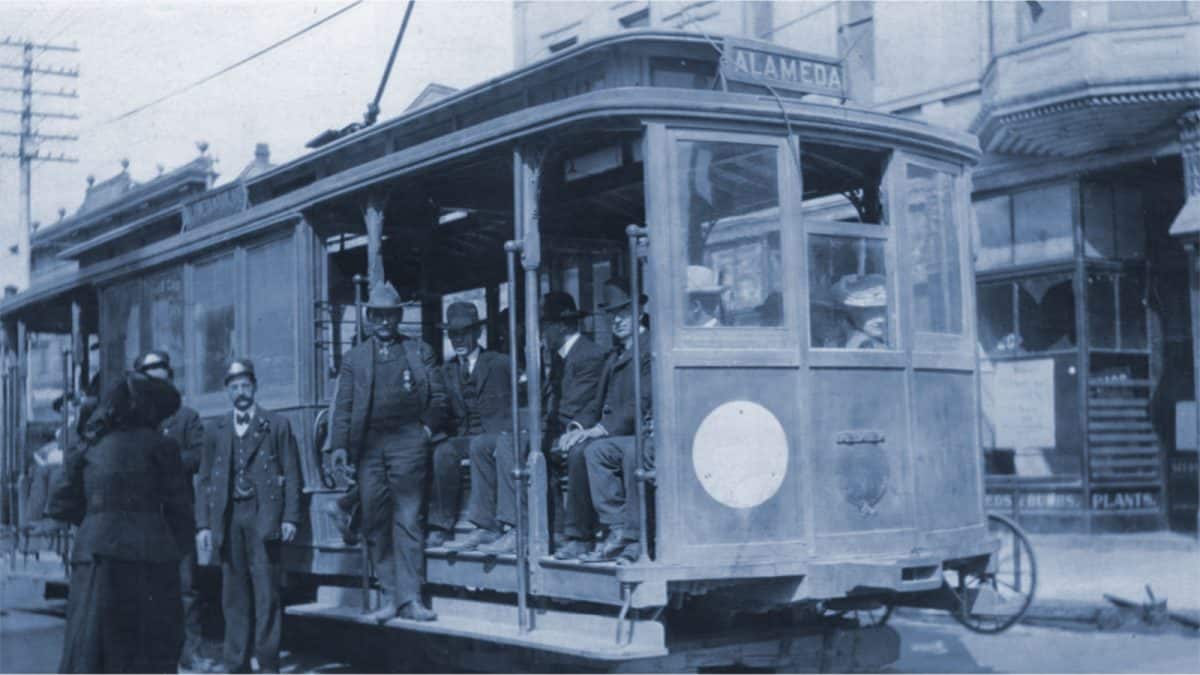 On May 6, 1893, the company began running an electric streetcar line that connected a small train station that once stood at the intersection of today's East 12th Street and 22rd Avenue in East Oakland with a second train station in Downtown Oakland at Seventh Street and Broadway.
Ths new streetcar line took a rather circuitous route. They carried passengers from the East 12th Street railroad station southwest on 23rd Avenue and across the marshland to Park Street. (The Park Street Bridge would not appear on the landscape until 1896.) Passengers could disembark at the foot of Park Street and catch a ride on the William Rank's California Railway to Leona Heights. This railway station stood on Blanding Avenue east of Park Street from 1893 until its demise when the tidal canal was cut through.
This new electric line continued southbound on Park Street to Santa Clara Avenue, where it turned westbound on Santa Clara Avenue. The streetcars travelled along Santa Clara to Webster Street, where they turned north along Webster into Oakland. They traveled west on a right of way to Broadway and then north to the Southern Pacific Railroad station at Seventh Street.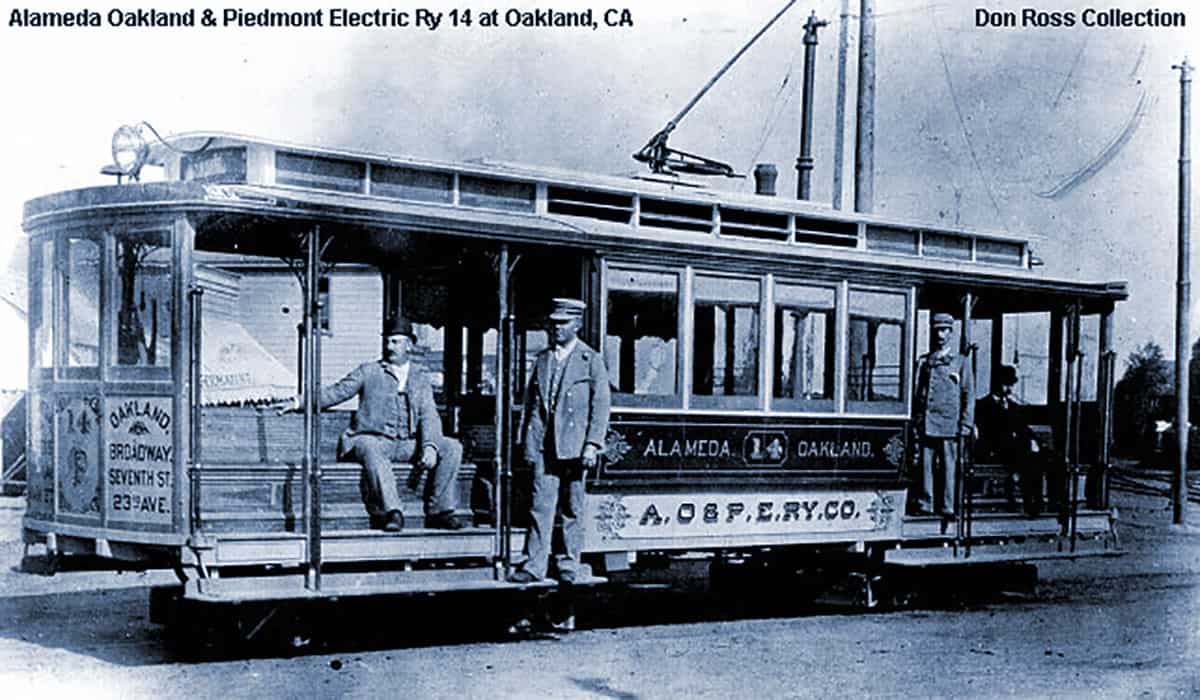 The AO&P built a line in Oakland to join the downtown SP station with the one at East 12th Street and 22nd Avenue. This not only created a more direct route for Oaklanders between these two stations but completed a circuit that carried passengers not only into Alameda, but along the small towns like Brooklyn and Fruit Vale that later became part of Oakland.
Join us this Saturday morning to see the routes the electric streetcars traveled and learn more about their history!
Dennis Evanosky is an award-winning East Bay historian and the Editor of the Alameda Post. Reach him at [email protected]. His writing is collected at AlamedaPost.com/Dennis-Evanosky.