Alameda began its existence on today's East End, and the domestic architecture therein reflects its birth. East End architectural styles range from the earliest in Alameda's history to the modern era. Only two of the many early homes survive, each in one of the two earliest Victorian-era styles. In 1854, the Webster family assembled a home on today's Versailles Avenue, just south of Encinal Avenue. At about the same time, the Christensens built a home on today's Post Street, also south of Encinal Avenue.
Cristopher Christensen arrived in Alameda sometime in the early 1850s and built a Greek Revival-style home for his family. Now greatly altered, that residence is arguably the oldest home in Alameda. It was known to be standing in 1855 but must have been built earlier. There is no documentation of the exact date.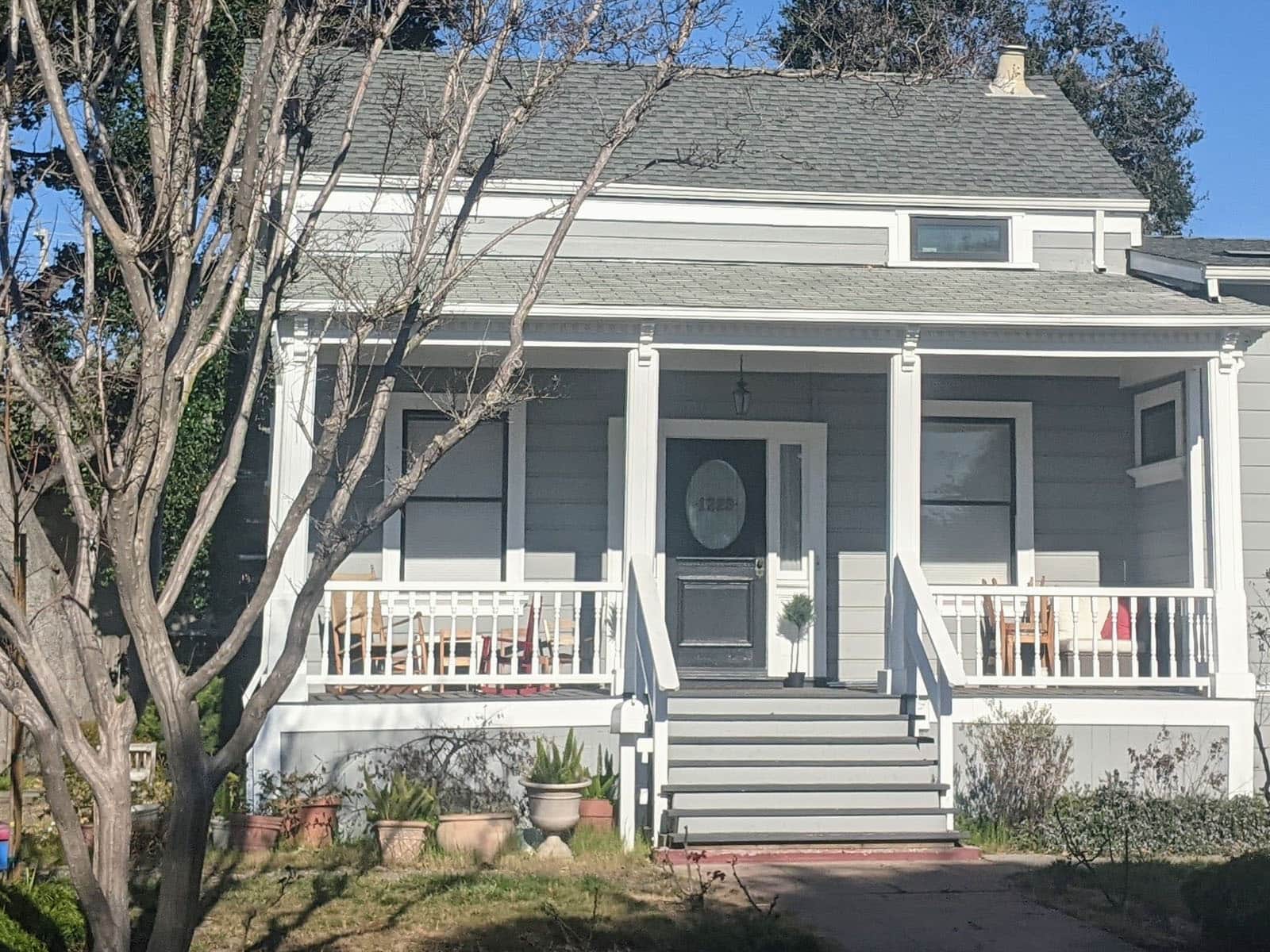 John Nelson Webster did not build his home, but he did assemble it from parts that were prefabricated on the East Coast and shipped to California around Cape Horn aboard the Henry Harbeck.  His home reflects a second early Victorian-era style, the Gothic Revival. The home mirrored the tastes that were popular at the time on the East Coast. Some attribute its style to landscape architect Andrew Jackson Downing, who believed that homes like the one Webster assembled should blend with the landscape.
Alameda's East End grew slowly. Three factors played a role in its gradual development. The East End was primarily used for farming. The founders of the Town of Alameda, William Worthington Chipman and Gideon Aughinbaugh, introduced fruit orchards and cultivated berries there. Meanwhile, the Civil War played havoc with normal life, as many returned East to join the fight and California used Alameda for training exercises. Then the disastrous winter of 1861-1862 flooded much of California, making cultivation of crops nearly impossible.
East End Architecture
Saturday August 13 — Part 1
Join Dennis Evanosky to investigate the 19th- and 20th-century styles in the area and learn the story of the homes on Christmas Tree Lane where a waterworks once stood. We'll investigate why Lincoln Avenue has that little bend, and crack what KQED calls the "bizarre urban legend of Alameda's little people houses." Meet at Lincoln and Versailles avenues. at 10 a.m. Tickets are $15 in advance, $20 at the tour.
More Tour Info ›
In 1864, A. A. Cohen, who lived on an estate not far from the Christensens and Websters, built a railroad stretching the entire length of the peninsula that later became the Island City. But when the San Francisco and Alameda Railroad began running in 1864, it bypassed the East End and made Park Street and environs more attractive. Methodists moved with their entire church intact from Jackson Street near Encinal Avenue to Park Street and Central Avenue. Today Peet's customers enjoy their coffee in a building on the "Methodist Block."
Some people did choose to build on the East End during this time, however, and we'll see homes in both the Italianate and Modern styles on our walking tours over the next three weekends. These two East End architectural styles reflect the turn to more sophisticated homes. The Modern style allowed the use of scroll saws on site rather than relying on parts assembled at the mill, as was done with the Italianate style. That allowed Modern style builders to make—and sometimes change—designs on site. Some refer to this Modern style as Eastlake, or with a term coined in the 20th century, Stick style. You'll learn why on our walks.
Of course, Alameda abounds with the popular favorite Victorian-era style, Queen Anne. This highly decorative style came to the United States from Britain at the 1876 Centennial Exposition in Philadelphia. We'll enjoy seeing the fancy fish-scale shingles, ornamental barge boards, and pendants that draw attention to the style's recessed windows. We may see a turret or tower (or both) and learn the difference.
Another style that came to life in Philadelphia but took a bit longer to spring to full life here was the Colonial Revival, Queen Anne's more sober sibling. The death of Queen Victoria, the arrival of Teddy Roosevelt's Great White Fleet, and the 1906 San Francisco earthquake kept Colonial Revival's more-restrained nature more in tune with the times. The Mansard style, which blossomed as Croll's on the West End, also appears in one interesting example on the East End. On our walking tour, we'll explain how the French came up with this design as a way to avoid paying taxes. We'll also show how the advent of bungalow houses, along with the Arts and Crafts movement, inspired new ways for people to live in the early 20th century.
There also will be fun along the way. We'll visit Tregloan Court and get to the bottom of all those stories about the homes that some claim were built for Little People. We will learn why some neighborhoods took shape the way they did. Then, we'll uncover Lincoln Avenue's secret—it runs just a little crooked for a reason. And there's surprisingly more to Thompson Avenue than all those lights at Christmas time.
Join Alameda Post publisher Adam Gillitt and me on Saturday morning, August 13, as we explore Alameda's East End architectural styles. We will meet this Saturday at 10 a.m. at Versailles and Lincoln avenues. We'll finish at about 11:45. Advance tickets $15. For more information about this and other tours, visit our History Walking Tours page.
Dennis Evanosky is an award-winning East Bay historian and the Editor of the Alameda Post. Reach him at [email protected]. His writing is collected at AlamedaPost.com/Dennis-Evanosky.