Parks, beaches, and trails. Districts with shops that fill almost every need. Restaurants that make every palate happy. Cultural centers that help us flourish. Homes in Victorian-era and Craftsman styles that decorate our surroundings.
These all serve as Alameda's calling cards.
The city's parks — including the new Jean Sweeney Park and Open Space and Bay Farm Island's seven-mile-long shoreline trail — make the city a welcoming place to unwind. Alameda's three-mile-long beach along Shore Line Drive includes a bird sanctuary. The San Francisco Bay waters and a park at the foot of McKay Avenue invite us all to relax, stroll, or picnic.
Change is constant in Alameda
Alameda has grown from a 19th century bedroom community to a city alive with new industry and proud of its first-class, award-winning schools. Things are changing here, though. Alameda residents watch today, as developers transform an abandoned Del Monte warehouse into housing, offices, and retail shops. Work will soon begin on the neighboring site, the Encinal Terminals. The changes at the Alameda Marina amaze some, startle others. People are beginning to call townhomes and apartments on Alameda Point home.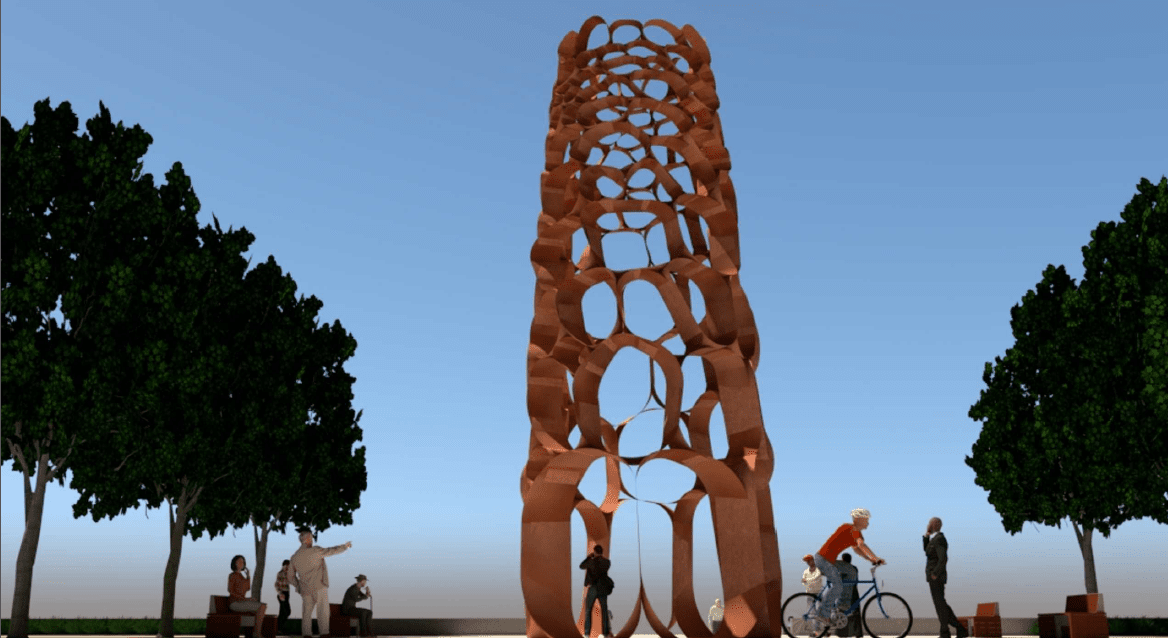 The Point served as the Alameda Naval Air Station from 1940 to 1997. The USS Hornet, the aircraft carrier that played an important role in this country's space program, berths at the Point. The city has redesigned the area around the Point's Seaplane Lagoon as a park that includes a ferry terminal to carry passengers to and from San Francisco. Stop by the nearby Naval Air Museum to learn more about the Point's role in naval history and don't miss the plaques on the East side of the lagoon that explain the role that this artificial body of water played when the Navy was here.
Alameda once had no parks that the public could enjoy for no cost. The City has transformed some of the private property here into parks. For example, employees at the Del Monte warehouse once parked their vehicles at today's Littlejohn Park. Three wealthy families, the Farwells, the O'Hara Taaffes and the Thompsons, lived in today's Lincoln Park. A portion of Washington Park was once home to Susan Hays, the wife of San Francisco's first sheriff and revered Texas Ranger Jack Hays. Jack was one of Alameda's first real estate investors. In 1854, he and his fellow Texas Ranger John Caperton purchased all the land between today's Broadway and Versailles Avenue from the Alameda's founders, William Worthington Chipman and Gideon Aughinbaugh.
Alameda – The City of Beaches and Homes
Private property owners once limited no-cost public access to the beaches. That changed in 1955, when voters approved the addition of 1,200 acres of new land. Along with the land that Utah Construction added came a long stretch of beach open to everyone. Utah also added new land to Bay Farm Island. This opened miles of trails along most of Bay Farm Island's shores. Alamedans can also walk the Bay Trail to enjoy the waterfront along the Estuary from the newly created Alameda Landing to the High Street Bridge. The Bay Trail winds past reminders of the industry that once filled most of the property here. Alameda Landing once served the Navy with warehouses and docks where its ships could pick up supplies. Today, you'll find new homes and a thriving shopping center.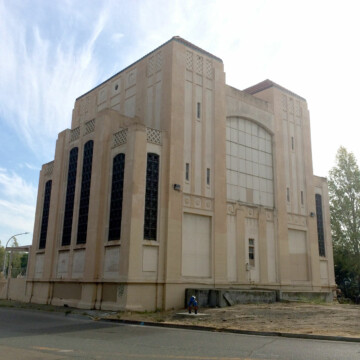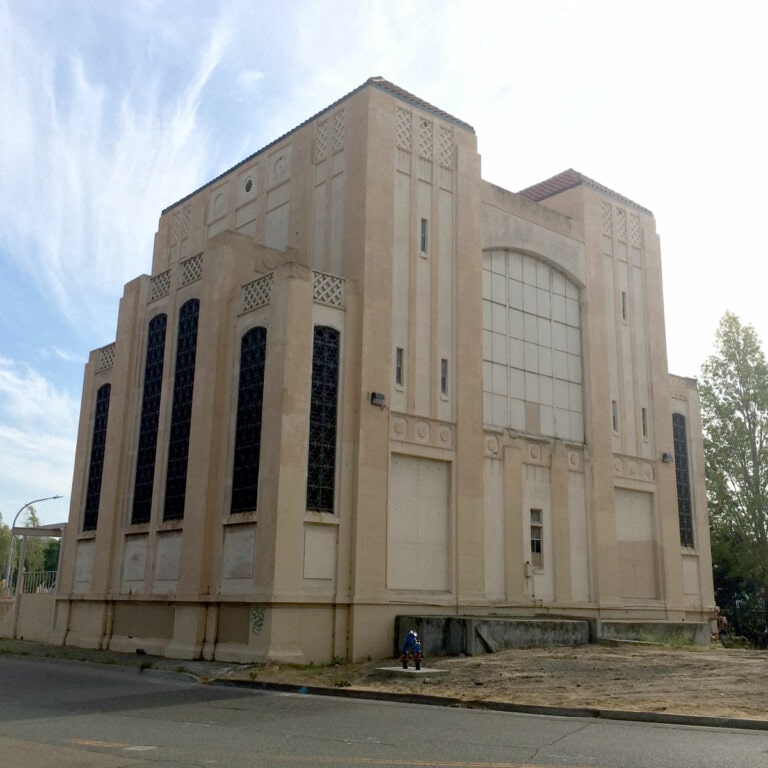 Follow Fifth Street to Mitchell Road at the Landing. Walk to the left, and you will come upon the tower for the Posey Tube, built in 1928 to accommodate traffic both in and out of Alameda. Alameda County installed the Posey's twin, the Webster Tube. The designers dusted off the 35-year-old plans, modernized them, and created a way for traffic to enter Alameda, reserving the older tube for those leaving the Island City.
Walk further east and you'll encounter a ghost — the shipways that Bethlehem Steel once used to launch its creations into the Estuary. The Bay Trail here takes you past some commercial properties and opens up into a surprise: a marina with a park whose trails wind next to ponds complemented with fountains. Walk along the trail past the Oakland and Encinal yacht clubs and you'll come upon the campus of Wind River, the computer software company. The pathway here has informative plaques that explain the history of the area, including the important role that Encinal Terminals played in the shipping revolution that changed that industry from break-bulk to containerized shipping.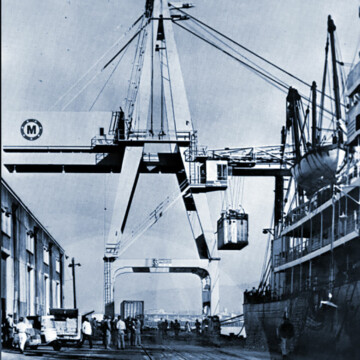 Another Alameda company played a significant role in this revolution. Pacific Coast Engineering (PACECO for short) built the cranes that made all this possible. The company still exists but has moved out of its shops on Blanding Avenue near Oak Street, where they built the cranes and where Perforce develops it computer software today. When you reach the Park Street Bridge, you'll find yourself at the spot where you could once buy a ticket and ride the California Railway to Leona Heights. That station was dismantled when they built the first Park Street Bridge in 1892.
Alameda's Shopping Districts – Park Street and Webster Street
There's much more to discover here and on all the trails that take you along the waterfront on both sides of today's Island City. A walk up Park Street will take you one of the City's premier shopping districts. You'll stroll past Alameda's former Auto Row to Tilden Way and Lincoln Avenue. The very first transcontinental railroad train steamed past here on September 6, 1869. The train station once stood at the site of today's Oil Changers. You'll discover food to suit anyone's taste buds on Park Street, along with small shops to suit your needs. Just off Park at Central Avenue is the Art Deco jewel, the Alameda Theatre, and a half block off Park on Alameda Avenue, you'll find the Alameda Museum, where you can bone up on the Island City's history.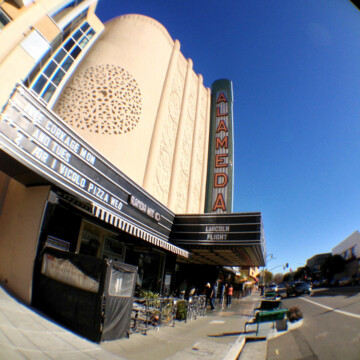 Alameda also has a shopping district on Webster Street with shops and restaurants. This locale also boasts the Pacific Pinball Museum. The Central Pacific Railroad once ran its trains on today's Lincoln Avenue and South Pacific Coast trains once plied Encinal Avenue from High Street to Sherman Street, where it met Central Avenue. These trains then used Central to make their way to its wharf on the far west end of Alameda. The trains are gone now but shops grew up at some of the stops along the way.
Stores at Encinal and Versailles avenues and Encinal at Morton Street and at Chestnut Street are just three examples. Signs emblazoned with trains remind us of these stops today. Utah Construction's creation of Alameda's new South Shore allowed space for a shopping mall, today's South Shore Shopping Center. Alameda's southern shoreline once stood about where traffic travels today's Otis Street in some places or on the south side of the lagoons in others.
Alameda boasts two cultural destinations: Rhythmix Cultural Works and the Frank Bette Center. Rhythmix hosts classes, workshops, and performances from artists who represent a mix of contemporary and traditional arts disciplines from around the world. Performances include a range of music genres. The Frank Bette Center for the Arts encourages artists, art lovers, and collectors to get involved with the arts and to carry on Frank Bette's legacy. Frank left this building, his home and workshop, to the nonprofit that runs the center today, when he passed away at the age of 99.
Alameda's Architecture – Victorian-era and Craftsman-style homes
Alameda's primary calling card is its array of Victorian-era and Craftsman-style homes. There are no Victorians in Alameda, but there are six styles of homes here that architects and builders conceived while Victoria sat on the throne from 1834 to 1901: Greek Revival, Gothic Revival, Italianate, Modern (also called Eastlake or Stick style), Queen Anne and Colonial Revival. Alameda has examples of all these styles. In addition, the Island City sparkles with various types of Craftsman-style homes. The Storybook style also shines here. Storybook style sprang from the memories of men and women who served in the American Expeditionary Force in Europe during World War One. This special style has some whimsy to it.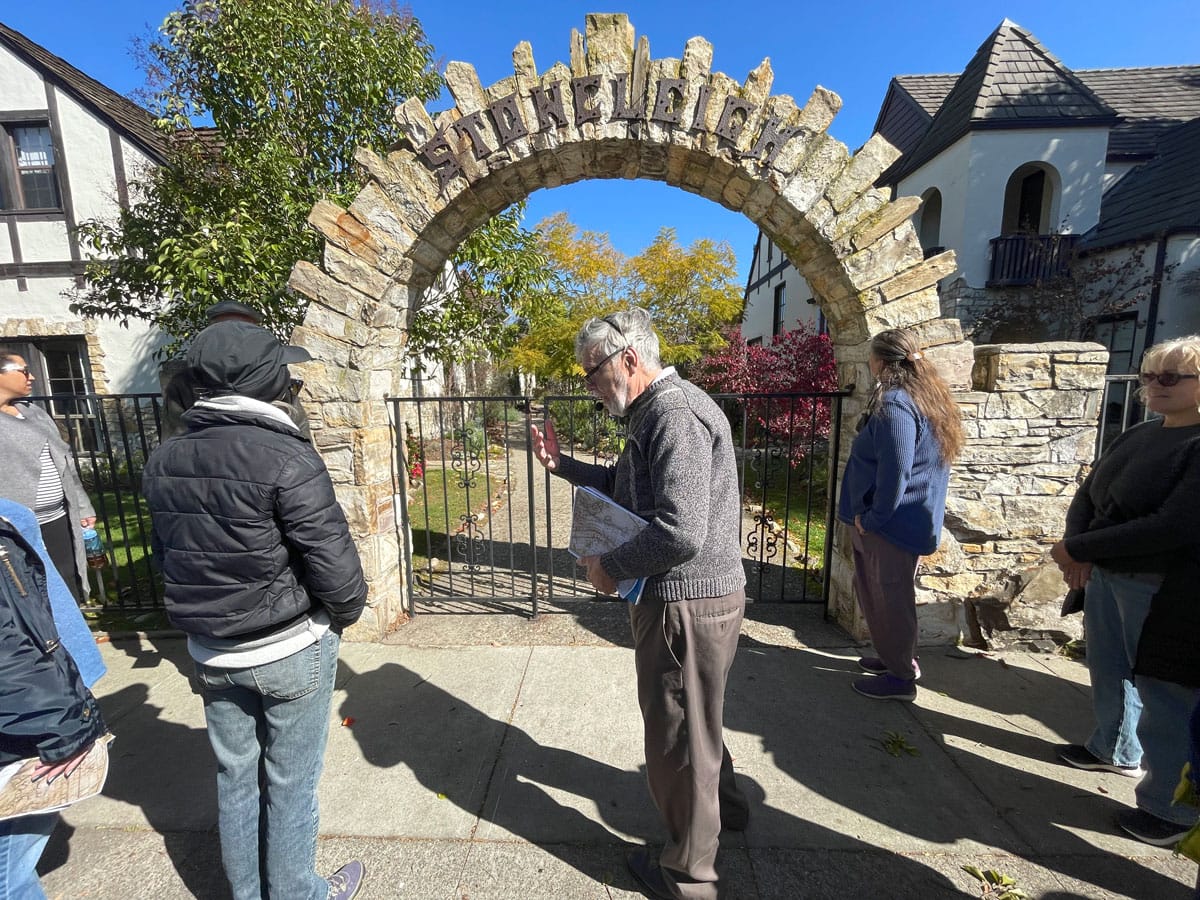 There are more than 1,200 Victorian-era style homes spread across Alameda. Franklin Park at Paru Street and San Antonio Avenue makes a good starting point to enjoy a look at homes built in these styles. Grand Street, just a block to the east, has homes of almost every Victoria-era style to delight the eye. While Craftsman-style homes also abound, the East End makes a good place to get to know these homes. A peek into Stoneleigh — a whimsical name in itself — on Santa Clara Avenue just across from Cottage Street will reveal a courtyard brimming with Storybook-style homes. Oddly enough, signage on the entrance on the North side of the courtyard located on Lincoln Avenue instead calls it "Stonehenge." The East End is also dotted with these homes.
Alameda's beaches, parks and paths; its stores, museums, and cultural centers; the City's theaters and shops, along with its wonderful collection of stylish homes all beckon you to visit, and maybe, just maybe, to stay.
Dennis Evanosky is an award-winning East Bay historian and the Editor of the Alameda Post. Reach him at [email protected].