Everything says go. The morning is warm, joints feel luscious, almost greasy. The sun is up early this time of year. It's also out late. Time goes slow in the afternoon, shadows move from firm to fuzzy. The evening birdsong drags in the heat. The space between my ponytail and neck—the kitchen, as I learned to call it growing up in Virginia—is wild and sticky. Summer is here.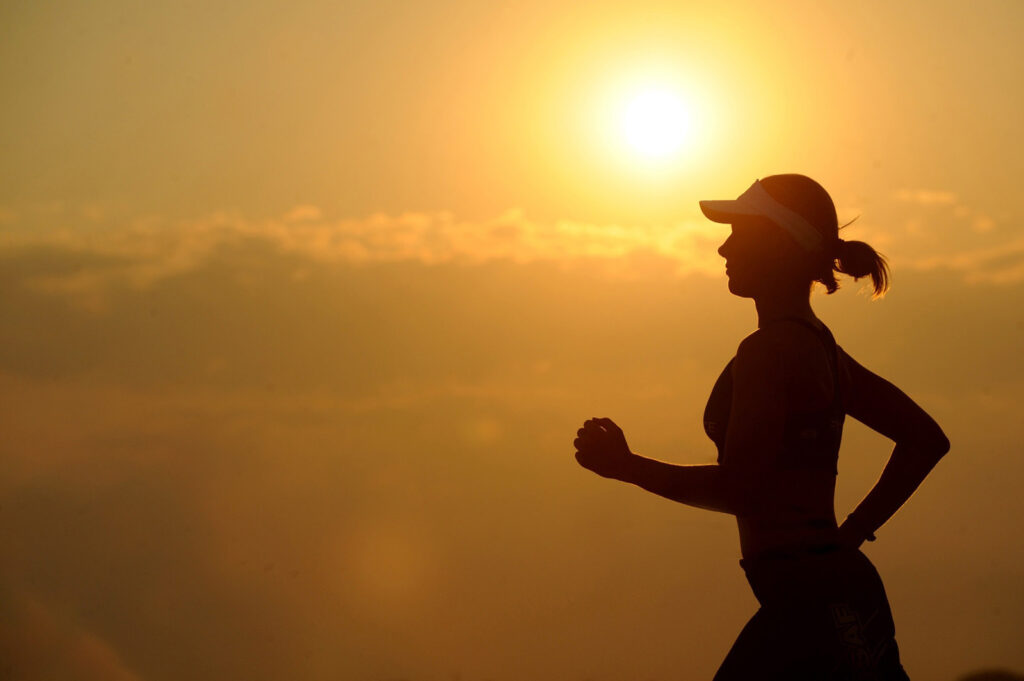 I am a sweater. I love the heat and a good shirt-soaked workout. I don't shy away from the sun or the price of being in it, so I love leathery faces and engraved tan lines. Dirt rings around my ankles—to be active, to me, is to be a little dirty. Scraping thighs on hip-high grasses and sand in my socks. This time of year, as the light sticks around, I get the urge to go. Find the dirt, pound the hard packed clay, see all the things, brightly lit.
A few thoughts on feeling good while running in the summer:
Hydration: I hate buying all the plastic things so I grab NUUN tabs at retailers like Sports Basement Berkeley. Plus I like the mix watery, not too sugary. Whatever you like, if you are sweating more than normal, add something besides water to your routine. Also, whoever brought too much water? Be that guy. There might be someone who needs it. Water bottle as a portable shower—I spray too much into my mouth and get a quick, cool splash down my front.
Hats: I love a hat because I hate to take sunglasses on and off. A hat ensures I keep my face a bit protected while enjoying the views. There are times when sunglasses are preferred – I love GOODR glasses. They are under $25, do not move while I run, and are easy to purchase. Grab them on Instagram or your local running store, Renegade Running Oakland, or Transports Oakland. (BTW don't we need a running store on this island?)
Sunscreen: I have gotten into the habit of making my own. I can limit the extra ingredients most brands have and determine how zinc-ey I want the recipe to be. I make my husband high zinc for surfing but for my everyday wear I go a little lighter. It has five ingredients: zinc, coconut oil, olive oil, cocoa butter, and beeswax. Who doesn't want that line-up on their skin? I order everything from Amazon and get one year's worth of sunscreen for about $50. The recipe is simple: two ounces of each ingredient melted double-broiler style and then poured into a reusable container. I use old jelly jars and tins. Save some money for your next high tor adventure—don't spend $20 a pop on sunscreen!  Editor's Note: The safety and efficacy of homemade sunscreen is unclear. 
Locations: This is the time to GO! You have more time before and after work because of the light. Or maybe you can choose when to go and, like me, you opt for the hot time of day. Regardless, take a little car ride to a new location to find a new place to explore. Push the limits, take in the gifts of summer. Totally worth it. Check out the East Bay Regional Park District's extensive trail series. A few of my go-to runs are Skyline Gate Staging Area via Stream trail to East Ridge (approximately 6 miles) and Strawberry Canyon to Lawrence Hall of Science, i.e. Jordan Trail (approximately 7 miles). Both have some hill challenges and views, lots of trees and ferns, and fresh air. Also, walking these with your dog or kids counts double because it's gotta be twice the time and heat exposure!
Plan an adventure: It doesn't have to be running. It can be walking, seeking, chilling in nature. The more you go, the more you go. We are heading on an epic road trip with lots of trails and miles of exploration. First to Mammoth, then Zion, and on to Jackson Hole, Bozeman, and Sun Valley. Your trip could be to the Iron Horse Trail, through the tunnel. Check it out, whatever the commitment level. Now is the time.
An added note on safety. Not everyone feels comfortable in unknown settings. Be sure to take a friend with you, join an existing group, or at least let the park ranger know you're going out solo and when to expect you back. Follow @wrceastbay (Women's Run Club East Bay) or @baybandits for runs that focus on safety and inclusion over speed.
Contributing writer Lena Jones is an event producer adventuring with her family in Alameda and beyond. Contact her via [email protected]. Her writing is collected at AlamedaPost.com/Lena-Jones.