Alameda's plucky troupe of Shakespearean actors, the Foodbank Players, is currently in the midst of a seven-show run of Romeo and Juliet as a fundraiser for the Alameda Food Bank. The Alameda Post caught up with director Gene Kahane to discover how it all started, how the Foodbank Players puts the community into community theater, and the director's hopes for the future.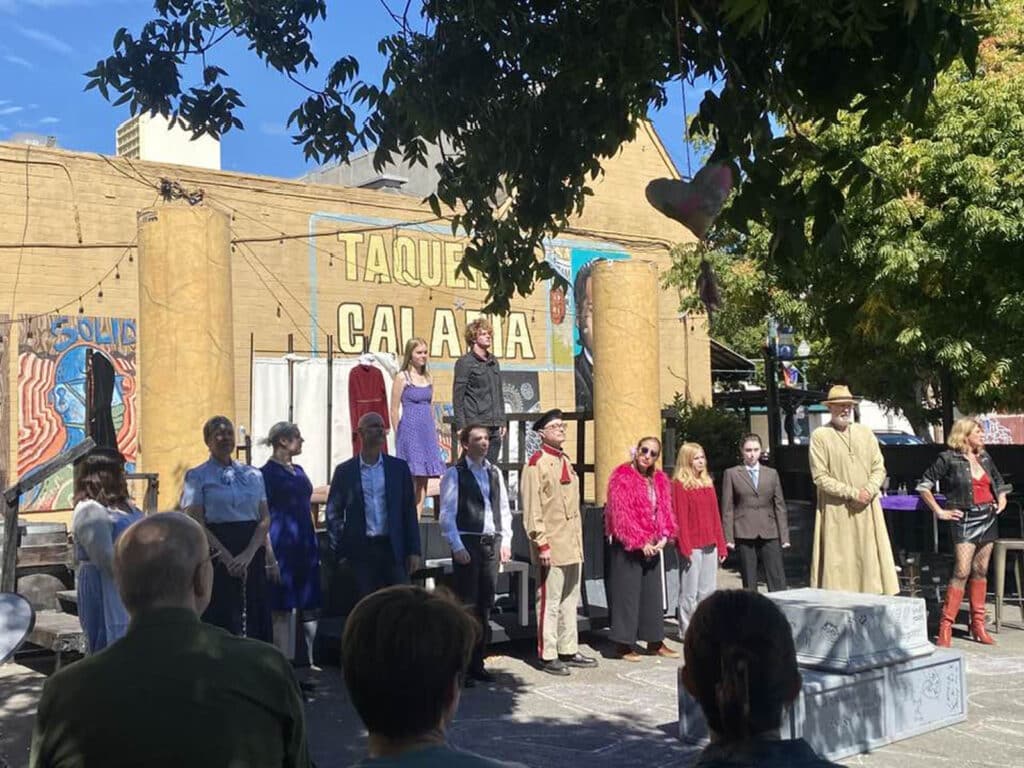 How did the Foodbank Players start?
It began when I was teaching high school and directing plays at Encinal High. I primarily did Shakespeare because there was no royalty cost, and I had good costumes. Whatever was left after I paid for a cast party and T-shirts—usually a couple hundred dollars—I got into the habit of donating to the Food Bank. It became a tradition.
After I retired, I was riding my bike around town one day and stopped by the Healing Garden. I thought, "Wow, there's a stage there. Maybe I could do a play." I contacted the West End Arts District about using it. No one in the larger community knew who I was, so I couldn't get enough actors. I did the play Sylvia with a cast of four. Ten days before we opened, the lead dropped out due to health issues, so I stepped in, reading from my script during the performance.
And still, we raised $2,000 over two shows! Everyone supported the joy of outdoor theater in an unusual space for a good cause. I thought, OK, let's do it again. That was two years ago. Romeo and Juliet is our sixth show.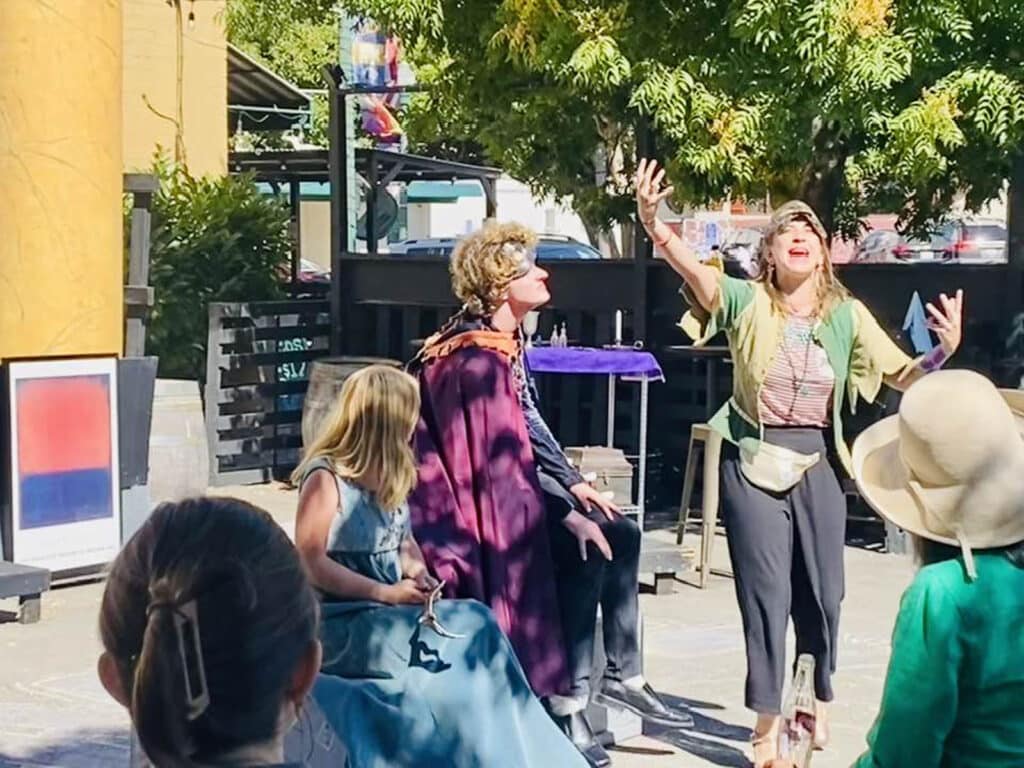 How has the community come together to make the Foodbank Players successful?
Community support has been extraordinary and multi-layered, encompassing individuals, businesses, the City, and nonprofits. People often approach me after performances and ask how they can get involved.
A fellow I'd worked with over 30 years ago came to our yard sale fundraiser and volunteered to design and pay for posters and banners. One of our actors volunteered to build and maintain our website. The mother of the actor who plays Tybalt in Romeo and Juliet is one of my former middle school students, and she runs the concession stand. All the actors are volunteers. These are generous gifts of time and talent.
I'm thankful for the Healing Garden neighbors, including the Calafia Taqueria, Patina and Rust vintage boutique, and the Fireside Lounge. When we started, Calafia allowed us to store set pieces in their storage room; they still allow actors to use their restrooms. We return the favor by getting meals there.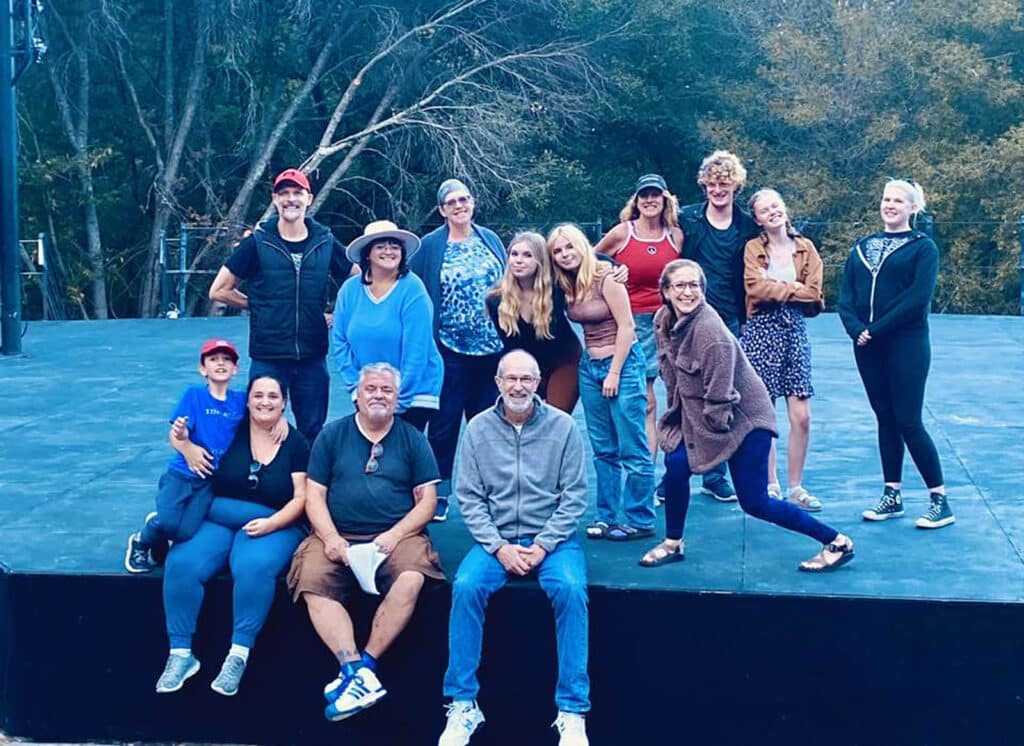 When we held a yard sale to raise funds for Hamlet, the Patina and Rust owners bought things to sell in their store. And when I wanted to freshen the front of the stage, the Fireside owner gifted us some of their excess paint. Small businesses are awesome—we need to support them.
First Congregational Church of Alameda allowed us to perform A Christmas Carol in their fellowship hall. Alameda Recreation and Parks Department waived the permit fees when we toured A Midsummer Night's Dream through Alameda parks. They also put up our posters in playgrounds. Similarly, Books Inc. allows us a large poster in their window.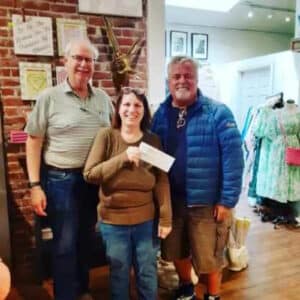 Now we're a sponsored project of the West End Arts District, an official 501(c)3 nonprofit, so we can get donations from businesses and individuals under their umbrella. Daisy's Mercantile on Park Street became our first sponsor. Santoro's Italian Market and Deli was next. Recently, we got our first grant from the Alameda County Arts Commission. That's worth several yard sales to us!
Now, we're looking to do A Christmas Carol in December. Ron and Barbara Mooney, the owners of Daisy's, hope to find an empty storefront on Park Street where we can rehearse and perform to bring people together for shopping, eating, theater, and supporting the Food Bank.
Can you share a story about a challenge you face?
A fun challenge is that the Healing Garden, where we perform most often, is an open space. People of all kinds wander in from the street. Once, a fellow was watching the show over the fence, so I invited him inside, then realized he was inebriated and drinking from a 40-ounce can. Yet he became so drawn into the play he was cheering loudly throughout, and in a moment of sadness, he was crying. When the show ended, he jumped up and hugged all the actors. The next day, he returned with his four-year-old son in a wagon to watch it again.
Similarly, when Lord Capulet yelled at Juliet and stormed offstage at a recent show, an audience member loudly ordered the actor not to talk to his daughter that way. The outburst startled the actors, and I worried he would go after the actor to defend Juliet, but nothing further happened.
Street noise is a problem. I have actors who struggle to be heard. We've started doing vocal work, which helps.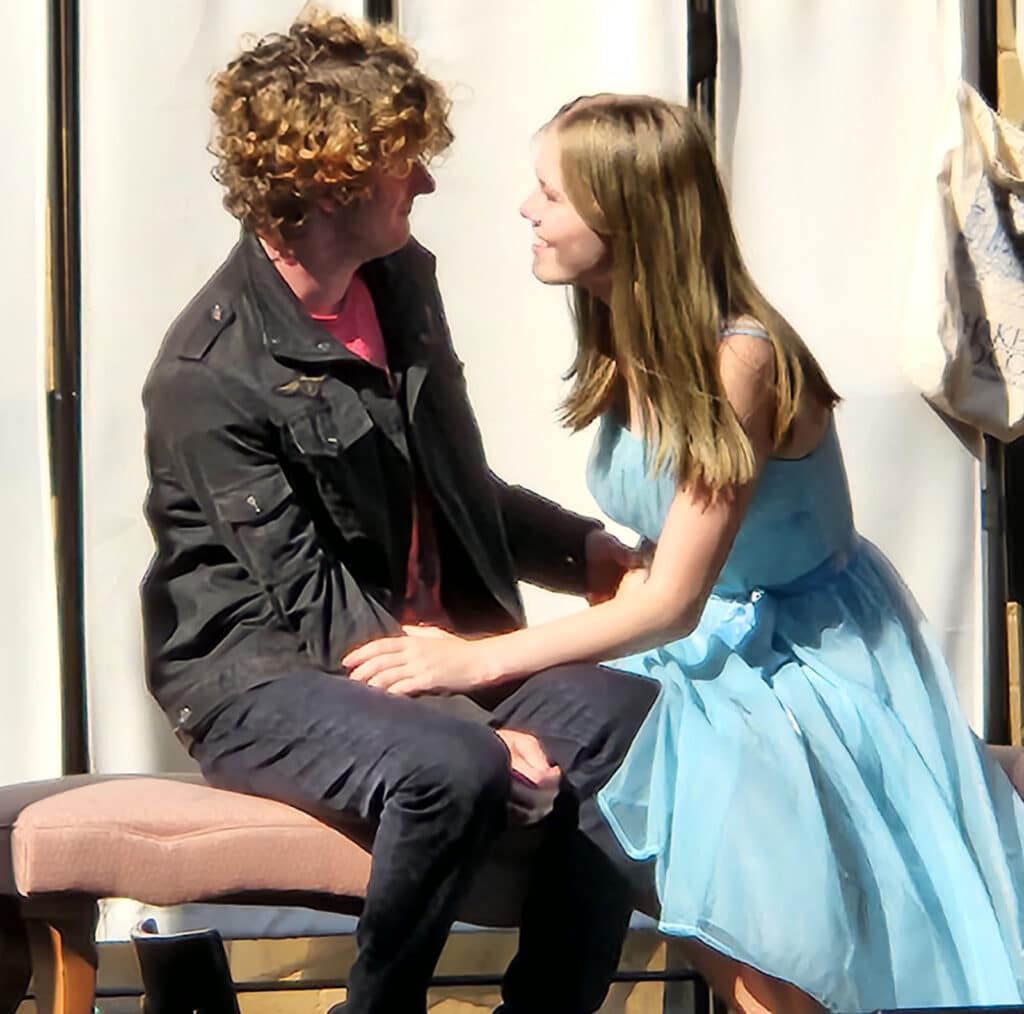 Romeo and Juliet has a cast of 14 actors, many with multiple costume changes. Where do you source costumes on a tight budget?
For many years, Cal Shakes held a costume and prop yard sale at the end of their season, and I would be the first in line at 7 a.m. to buy things. I've also shopped at the Oregon Shakespeare Festival sales. So I have a fantastic set of Shakespearian costumes I've used for 20 years that I keep in my garage.
And people are amazingly generous. Someone donated a beautiful Renaissance-style dress a while back. I'm also a big thrift and vintage guy. We got two of Juliet's costumes from Rocket Reuse on Park Street.
Part of the actor agreement is that the actors will provide some of their clothes where contemporary costumes are needed. Finally, my wife helps repair and fit costumes.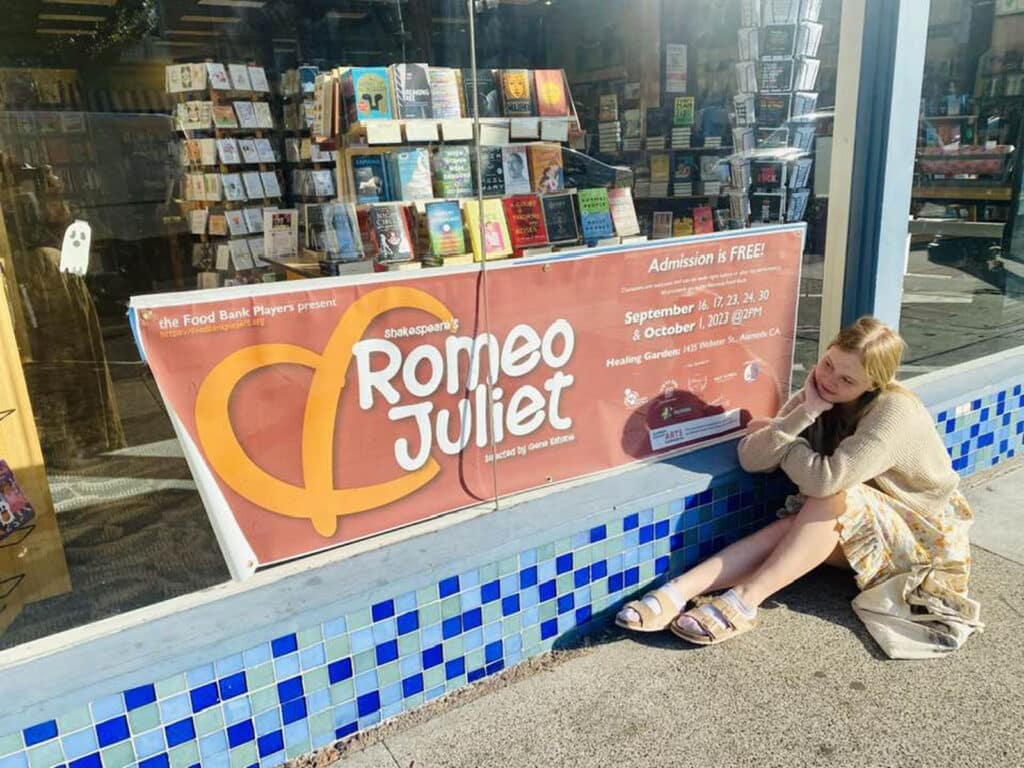 What are your hopes for the future?
Someone recently asked, "Do you see yourself doing this in ten years?" And my answer was, "Yeah, why not?" It's so satisfying. I hope to include more people in the productions to continue supporting the Food Bank. I've had actors who were previously clients of the Food Bank; their ability to give back to the community in this way is meaningful to them. And I've had people come to the shows and say, "I go to the Food Bank weekly. Thank you for what you're doing." To do this is blissful and beautiful.
People liked it when we brought A Midsummer Night's Dream to parks around town, and it's fun being a traveling Shakespeare company. I hope we can do that again, even though it's hard to transport sets. I use my own truck.
Officially, I'm pondering becoming an official 501(c)3 nonprofit. Unofficially, I dread taking on serious responsibilities like creating bylaws and developing a board. I love the idea of hey, here's some friends. Let's throw this together. Let's rehearse. Let's do a show and pass a bucket around. I keep a record of all the expenses and income. I'm responsible that way, but it's in a file folder.
Still, I know someone who works with nonprofit organizations and helps them become 501(c)3s, so I may reach out to get that done. In the meantime, I'm conscious of how fortunate I am to have this satisfying, fun project that helps a good cause. I can't imagine anything better.
The Foodbank Players will perform Romeo and Juliet at the Bruns Amphitheater on Friday, September 29, at 7 p.m., 100 California Shakespeare Theater Way, Orinda. The last two performances will be on September 30 and October 1 at 2 p.m. in the Healing Garden, 1435 Webster St., Alameda. The show runs approximately two and a half hours, including intermission. Admission to all shows is free, but donations for the Alameda Food Bank are welcome. Follow the Foodbank Players on Instagram.
Contributing writer Karin K. Jensen covers boards and commissions for the Alameda Post. Contact her via [email protected]. Her writing is collected at https://linktr.ee/karinkjensen and https://alamedapost.com/Karin-K-Jensen.