Santoro's Italian Market and Deli, located in a pink and white building on the corner of Fifth St. and Santa Clara Ave. in Alameda's West End, has been serving satisfied customers since 2009. Started by Mike and Heidi Santoro, this neighborhood favorite is the most authentic Italian deli in town. Born in Rome, Mike learned Italian cooking from his mother, Aida, and started working in an Italian Deli in Hollywood when he was only 12. Heidi had aspirations of owning her own business, so when they moved to Alameda in 2009, they started the deli together and run it to this day.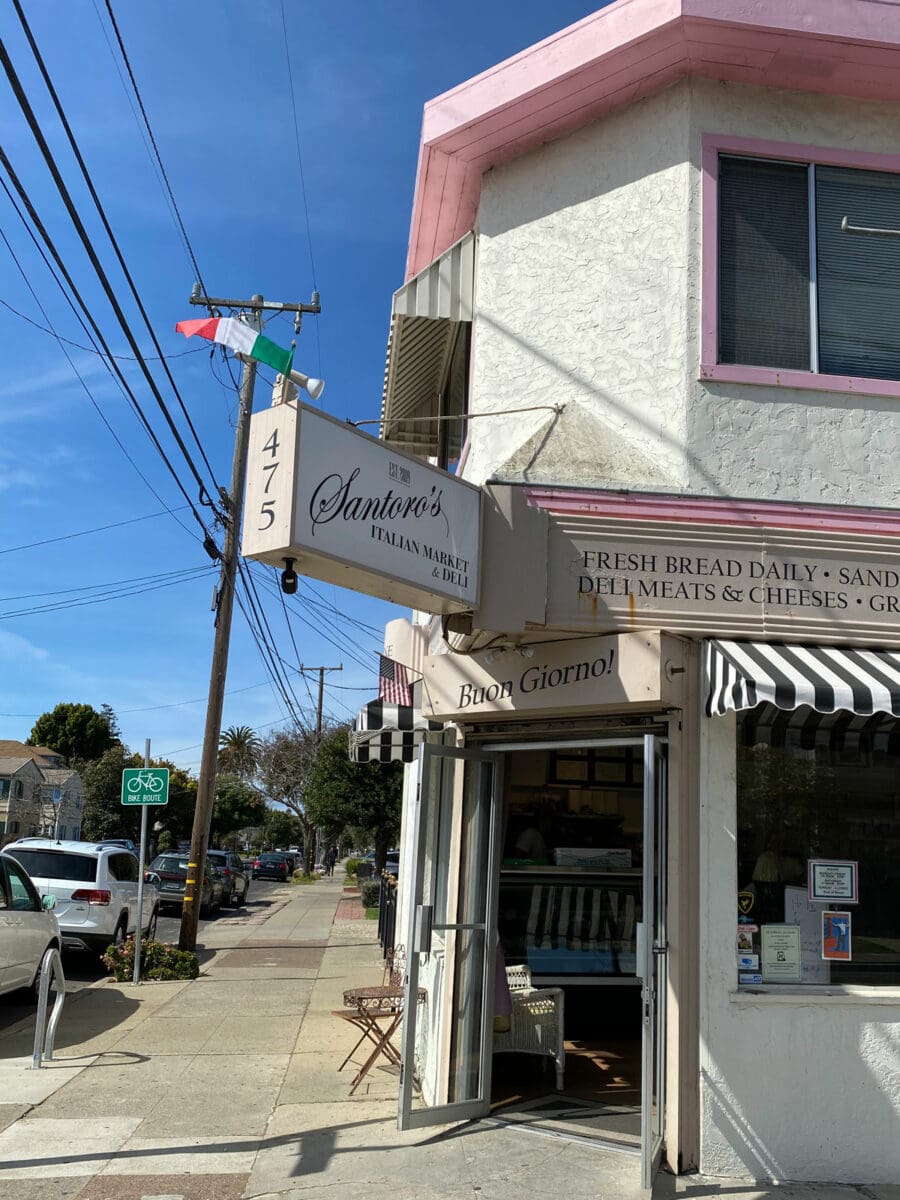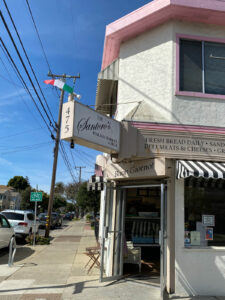 The space really does feel like an authentic Italian Market and Deli. The walls are decorated with photos of family and friends, memories and gifts from friends, and the main counter features a photo of the Trevi Fountain. Deli meats, salads and baked goods on display at the counter, and shelves of Italian groceries, desserts, pasta and gifts on the facing wall further enhance the feel of a family-owned business.
Every day, except Sunday, the primary focus for the staff is lunch. Featuring Boar's Head deli meats and Semifreddi's breads, each sandwich is hand-made to order by Heidi, Mike, and/or long-time employee, R.J. The sandwich possibilities are endless, with a choice of nine different breads, a dozen choices of meats, almost as many varieties of cheese, and condiments, veggies, and other extras. Prices start at $11, but can go higher as one adds extra meats and cheeses. There are three special combination sandwiches, and any sandwich can be toasted for an additional charge.
There are a rotating daily selection of side salads available as well as special offerings, like homemade lasagna, pizza, and other comfort foods. The cooler is well stocked with beverages, including beer, and there are many choices of chips and cookies to complement the meal.
The sandwiches are BIG! For some people they are enough for two meals, for others, they are just right. The bread is fresh-baked daily,  and the meats and cheeses are cut specifically for the sandwich and piled high — no stale, dry cold cuts here. There are also vegetarian options that are equally satisfying. Mike has passed along his years of experience in Italian delis to Heidi and R.J. – each is equally skilled and generous with their sandwich-making. All of the fresh ingredients combine to make a satisfying sandwich, every time.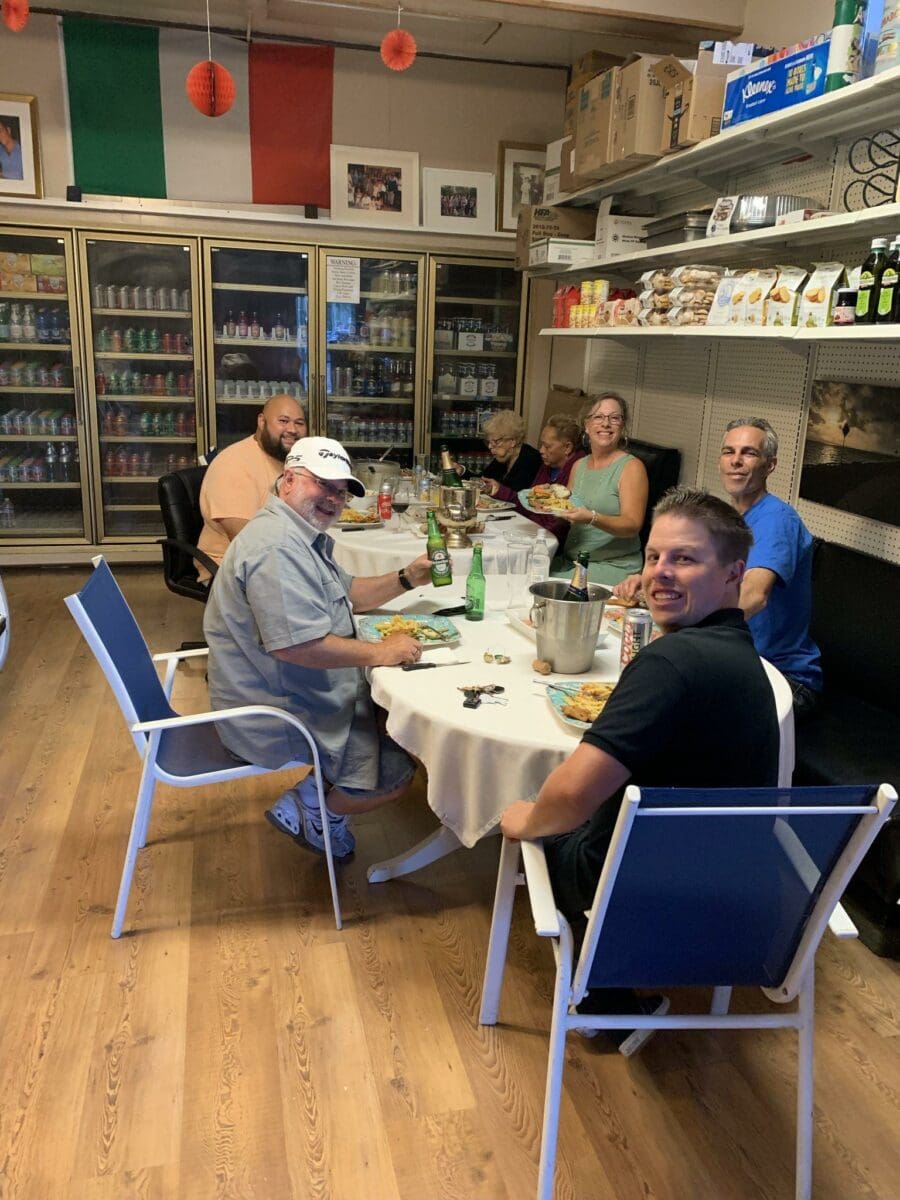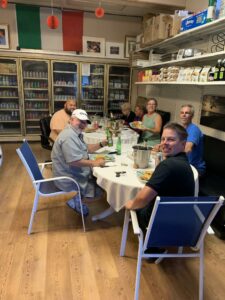 It's not just the delicious and filling sandwiches that keep customers coming back, though. Newcomers and regulars are greeted with the same warm enthusiasm and treated like family when they walk in the door. Mike and Heidi don't put on any artificial airs, either. Their affection for their customers and love of their business shines through. Their website declares, "We serve you the food we eat! We always offer excellent service, sometimes with a little attitude." If you prefer the cold impersonality of a franchised fast food chain, this attitude might be a little much for you. But, if you're like me, you will appreciate the passion they bring every day.
Some sort of home-made pasta or pizza special is usually available every day, many made from family recipes inspired by his mother. The specials are priced well, around $7 – $10 a portion. The cookies and side salads, although not made on site, are tasty and popular as well. And the selection of authentic goodies, ranging from specialty oils and pastas to panettone and biscotti are regularly stocked and provide a real taste of Italy. The deli also offers custom catering services for events and parties.
Because of their popularity during the lunch rush, especially with nearby Encinal and Island High school students flocking to the deli on their lunch hour, it's advisable to call in your order in advance. It helps drastically reduce your wait when you come to get your sandwich, and saves you an unnecessary trip if they run out of bread for the day.
This is only a minor quibble, however, as waiting a couple extra minutes for a sandwich of this quality is worth it, and their customers agree. On Google, Santoro's enjoys 4.7 out of 5 stars from more than 175 reviews, and 4.5 out of 5 stars on Yelp with more than 275 reviews.
If you want a big, tasty, freshly-made, and authentically Italian sandwich, you're not going to find a finer choice in Alameda than Santoro's Italian Market and Deli.
---
Santoro's Italian Market and Deli
475 Santa Clara Ave, Alameda CA 94501.
510-217-8710. SantorosAlameda.com
Our Rating: ★★★★★ (five stars)
Pros: Quality of sandwiches, portion sizes, reasonable prices, home-made recipes, friendly staff and welcoming atmosphere
Cons: Closing early when the bread runs out, some crowding and longer wait times between noon and 1 p.m.
Adam Gillitt is the Publisher of the Alameda Post. Reach him at [email protected].