Library hosts silly sleepovers for children's toy 'stuffies.'
Diaper Dog, Zuma, and other plush pals with adorable names recently spent the night inside the Alameda Free Library. Local children, ages 6 and under, bravely dropped off their beloved stuffed friends for a night without them at the library's "Spooky Stuffy Overnight."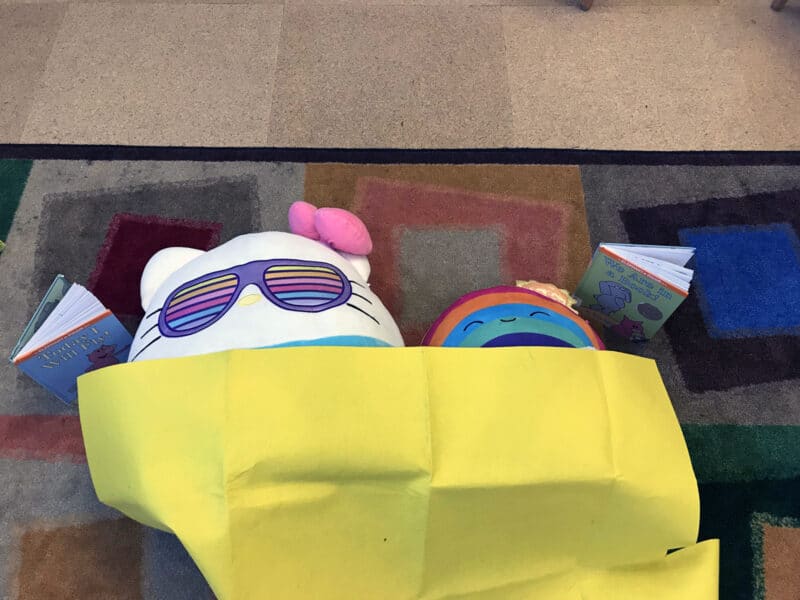 The library's free two-night event was first held at the Bay Farm branch on October 11, where they welcomed 22 stuffies. The West End location hosted 14 more faux-fur friends a week later on October 18.
Rosemary Van Lare, the librarian who organized both overnights, told the Alameda Post that this is the second such event of its kind in Alameda. The first Stuffy Overnights happened this past July at both branches as special Summer Reading programs. "They were so popular that we were asked to do them again and Spooky Stuffy Overnights were scheduled for October," Van Lare said.
The inspiration came from other libraries who have been hosting similar events across the country, Van Lare noted. The events are "a fun way to support the importance of imaginative play in childhood development," she said, and they "raise awareness of collections, programs and services the library offers through pictures shared on social media."
The participating stuffies wasted no time taking advantage of the libraries' many offerings.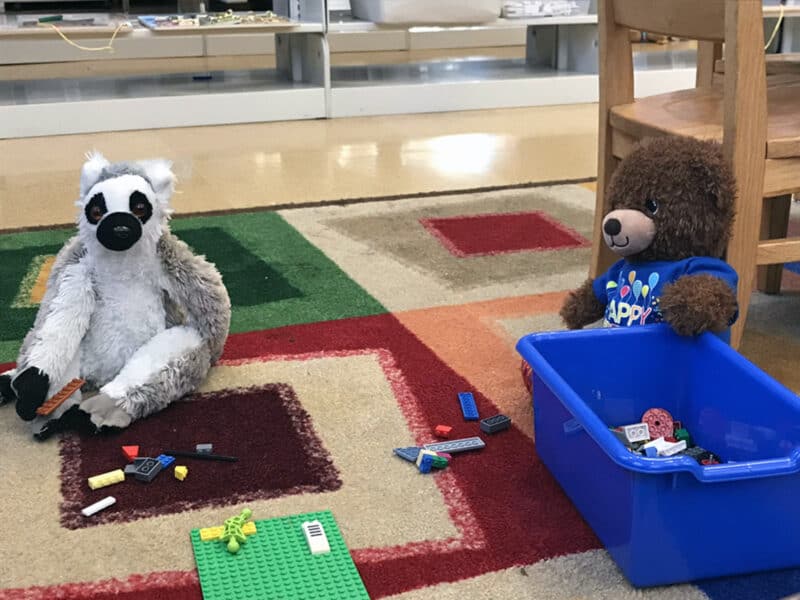 Some played with LEGOs.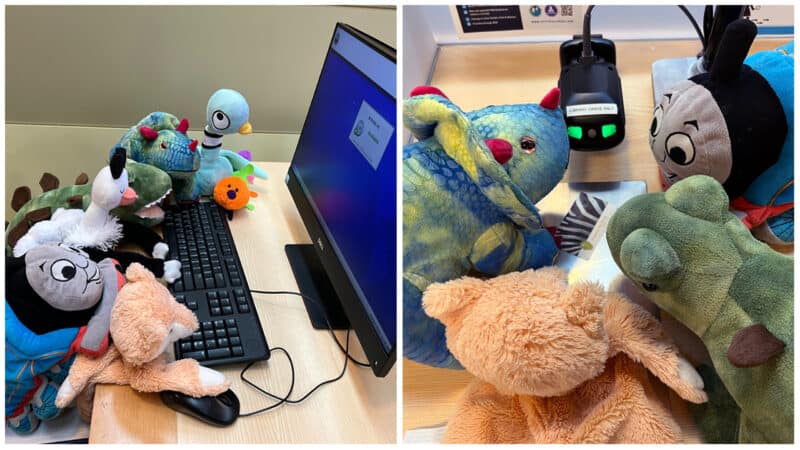 Others learned the ins and outs of researching books, and then checked some out using a library card.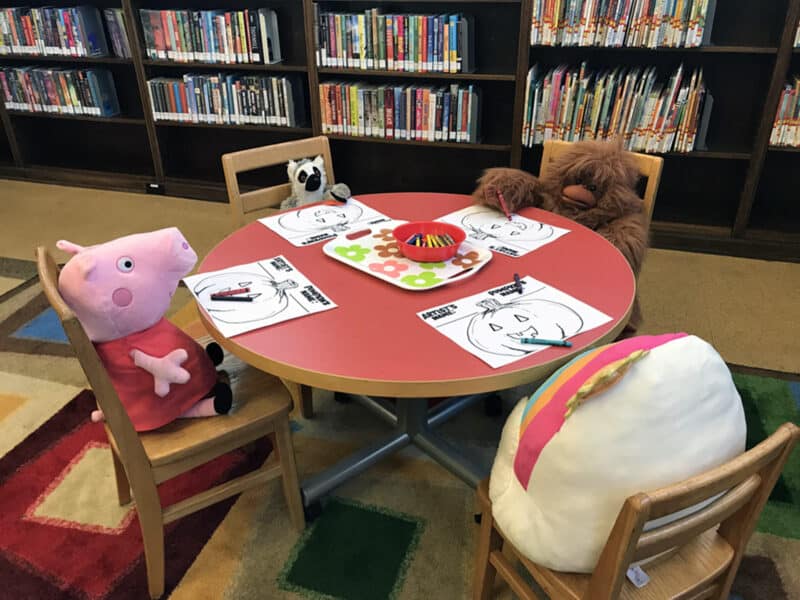 Honey, Miss Rosemary's storytime puppet orangutan and Overnight co-host, led a seasonal coloring page activity.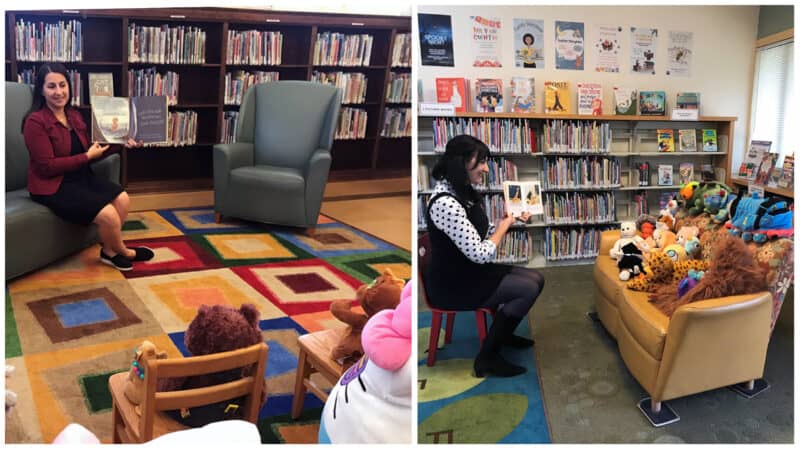 For a special spooky storytime, Miss Jessica (Luther) read picture books to the plushies at the Bay Farm branch, and Miss Fernanda (Nunez) read similar books to everyone in the West End.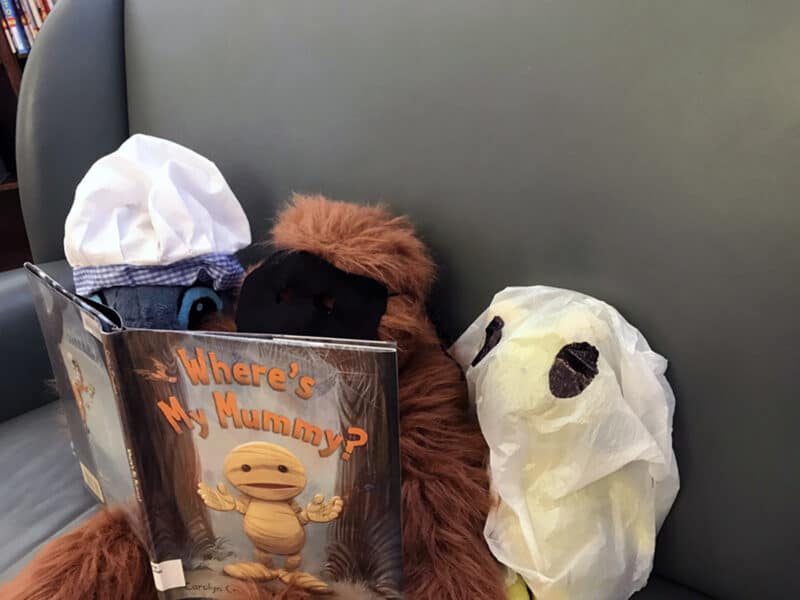 Even Honey the orangutan led a storytime.
Costumes were optional for the overnight library adventure. Most opted out but some arrived in their Halloween finest. Romi Rose, for example, was disguised as a ghost. Under her getup, fashioned with a white plastic bag and a black marker, Romi Rose is a frog. Stitch, presumably of Lilo & Stitch fame, donned an appropriately sized chef's hat. Honey preferred an air of mystery, wearing only a simple black mask.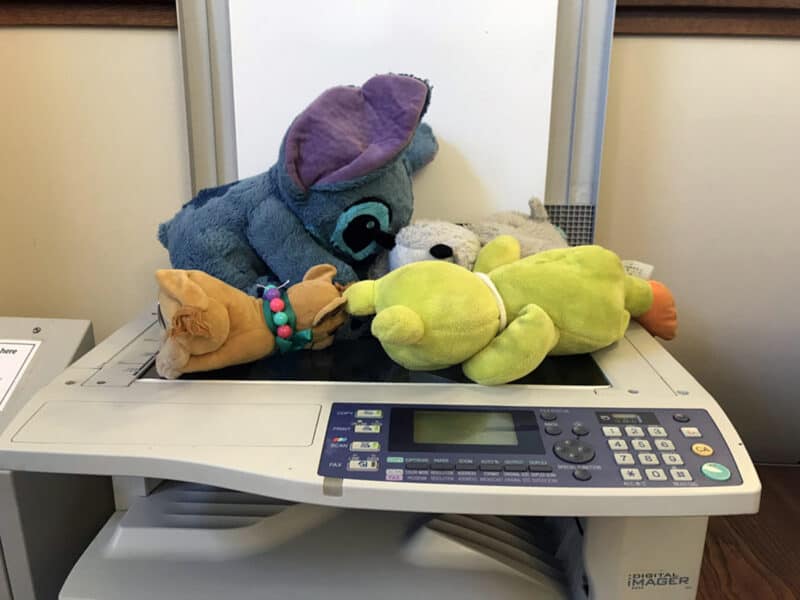 The Spooky Stuffy Overnight events went smoothly, save for one minor incident. When no one was looking, a few stuffies hopped on the photocopier for fun. No harm was done but the librarians have promised to be more careful next time.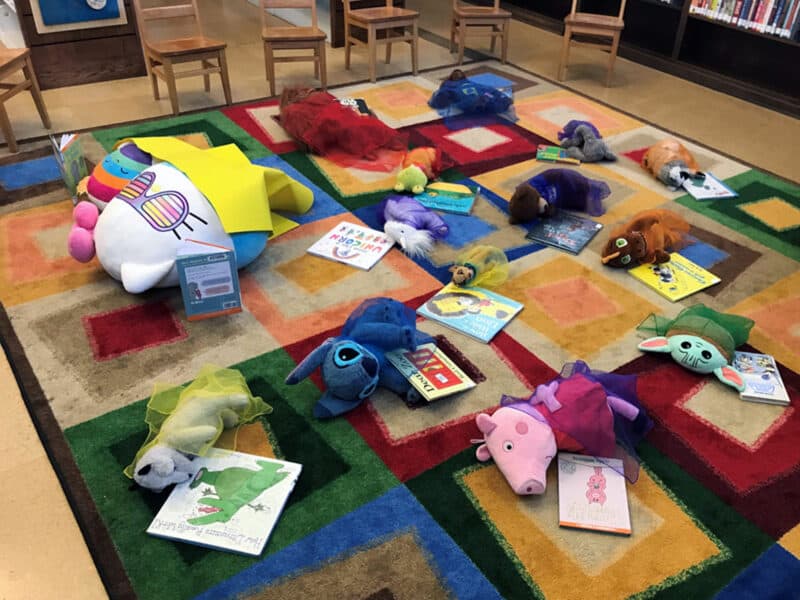 As each evening drew to a close, the stuffies prepared for "lights out." Each of them laid down for some shut-eye, cuddling up next to their favorite bedtime story, as chosen by their children at registration. Storytime scarves, in colors also picked by the children, acted as bedtime "blankets" until morning.
The following day, all the children were reunited with their plushies and sent home with a spooky photo frame kit. Families were also given a list of recommendations for slightly spooky books that can be checked out and read at home. Within 48 hours, a small curated set of images was emailed out to participating families, and soon after a website gallery was set up with more images.
Future Stuffy Overnights are in the works, though not yet scheduled. In the meantime, the library staff suggests visiting their events calendar and following them on Facebook.
Shoutout to the entire library team who make these and other events possible for our community: Eva Volin, Children's Supervising Librarian; Sierra Campagna, Adult and Branch Services Supervising Librarian; Jane Chisaki, Library Director; Trina Dikitanan, Computer Lab Technician and Website Guru; and the library technicians who provide storytimes at the branches including Jessica Luther at the Bay Farm Island Library and Fernanda Nunez at the West End Library.
Rusty Blazenhoff is a recovering East Coaster who still finds delight in what our great island has to offer. Contact her at [email protected]. Her writing is collected at AlamedaPost.com/Rusty-Blazenhoff/.