Alameda has a new place to purchase used books, and it's inside the library
The Friends of the Alameda Free Library has opened a small space near the café in the Main Library at Lincoln and Oak streets where patrons can find donated books for sale. They are curated by longtime professional bookseller Philip Barry, who was thrilled to develop a new space for Alameda community members to explore their interests and be exposed to new ones.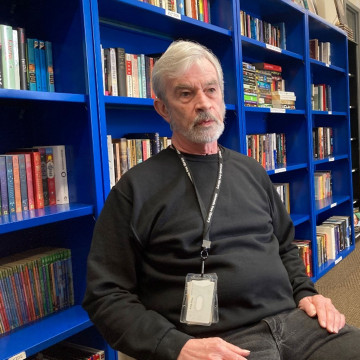 Barry is a newcomer to Alameda after long stints in Berkeley and Reno and his arrival was timed conveniently with the FAL's plans to convert a donated books sorting space in the Main Library into a retail environment it is calling Books for Friends, or BFF. "I just wanted to have my hand in books. I love books and I like working with people who love books," Barry says.
BFF is open noon to 4 p.m., three days each week: Thursday, Friday, and Saturday. It is staffed and run by volunteers. Most forms of payment are accepted, and proceeds go directly to library operations and programs.
FAL volunteers struggled through the pandemic for new ways to keep fundraising dollars flowing during a time when the group's big, twice-yearly, in-person used book sales at Alameda Point were not possible.
"We have accumulated 1,000 boxes of donated books in our warehouse and needed a way to sell them," explained Marcie Soslau, a volunteer who heads FAL's book sale committee. "Our goals were to replace some of the revenue we historically provide to the library and to reconnect with the community."

Anyone interested in donating books to Friends of the Alameda Free Library should call 510-747-7737 and leave a message; a volunteer will call back to arrange a time for drop-off.
FAL held a successful one-day pop-up sale for specific genres of books, such as mysteries. A small number of books are sold online. Then the idea of selling out of the sorting space came up. "We built it around Philip – his experience was critical to being able to create a shop and run it three days a week," Soslau said.
Barry spent weeks sorting through hundreds of boxes in the warehouse to choose those volumes that could help transform a small, nondescript room into an inviting used book space filled with high-quality selections in nearly every genre. Barry and his team focused specific effort on creating shelves of children's and young adult books, priced modestly to encourage reading by young people. Most of those books sell for $1 to $3.
He uses decades of experience understanding the publishing industry to choose books of interest to buyers, along with choices that could be delightful stumble-upon discoveries. Along with the usual genres such as fiction, mystery, suspense, science fiction, and non-fiction, there are two shelves of poetry and a few shelves of vintage and collectible books, among many other genres.
FAL continues to encourage donations of books, CDs, and DVDs as the sale space will need replenishment and there are hopes of reviving the big in-person sale on October 21-23. "The annual book sale is a chance for us to see our friends and supporters in person, so we look forward to bringing that tradition back to the Alameda community," said FAL President Karen Butter. "Books for Friends will also be a great place for supporters to shop between sales."
Donations sometimes arrive in unexpected ways; Barry tells of two volunteers who happened upon an estate sale on Paru Street that had boxes of books lining the sidewalk. "A guy came out of the house and said, 'If you're interested in these, I've got a lot more inside.' It turns out the man who'd lived there had collected tons of books, including well-made hardcover collections such as the Folio Society and the Library of America."
It's all a great retirement activity for Barry. "For someone who is passionate about books, I'm in heaven doing this," Barry says. "It's like Christmas morning for me."
Jan Greene is a volunteer for the Friends of the Alameda Library. Visit their website, AlamedaFriends.com.