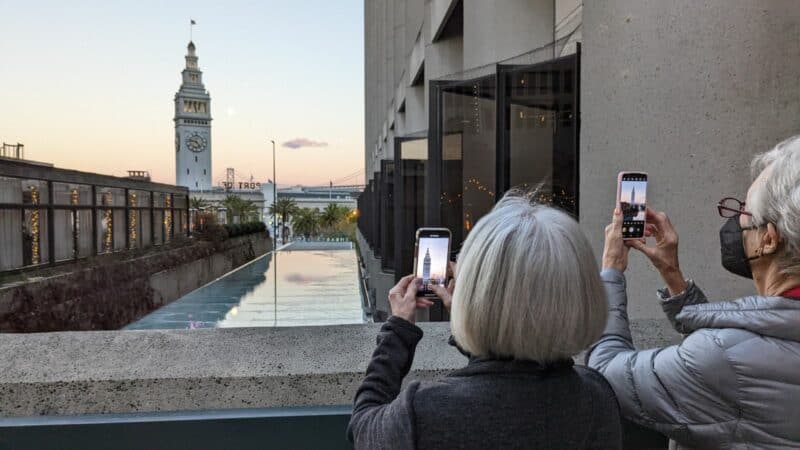 Much like you can join AARP at any age, when you turn 50 years old, you can join Mastick Senior Center. And I did, lured by inexpensive classes in ceramics, stained glass, and quilting, and the opportunity to spend time with members of the community I wouldn't normally have the chance to meet. In addition to hosting great classes, Mastick also offers outings—and I jumped at the chance to sign up for their San Francisco holiday lights tour on December 6. The annual event is very popular, so I was immediately waitlisted.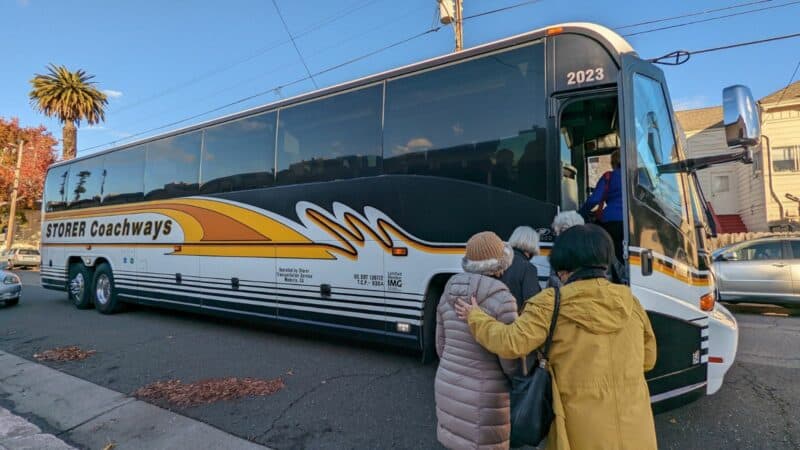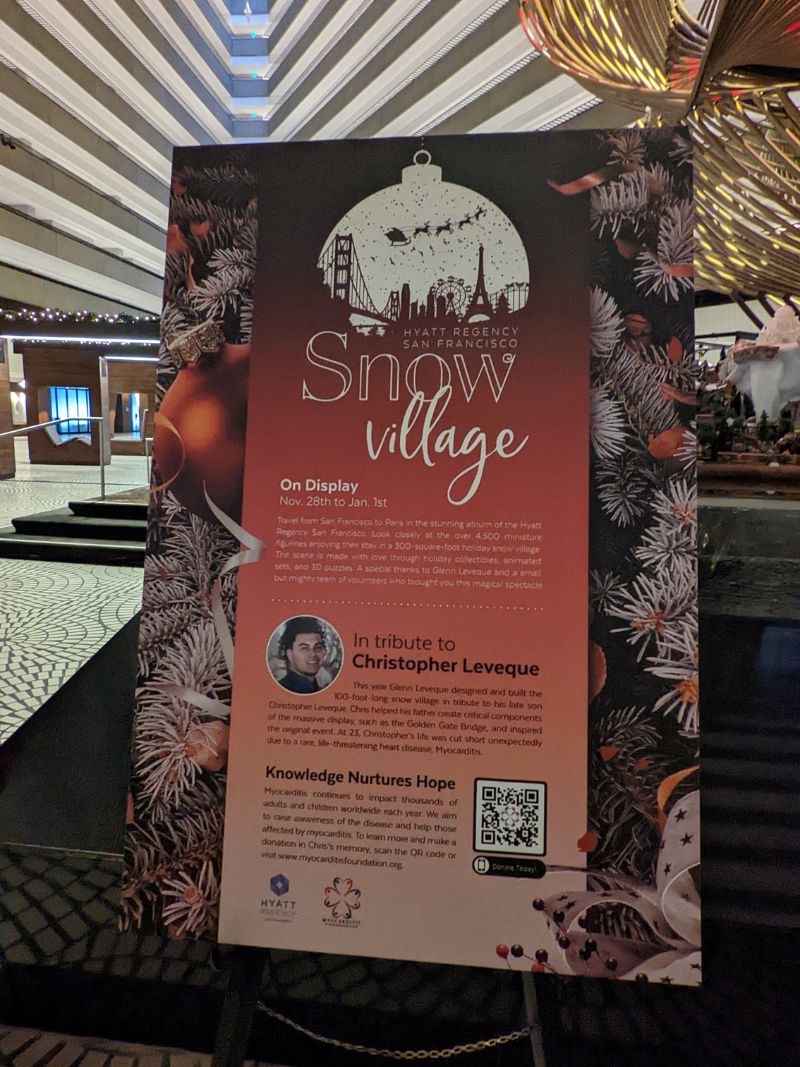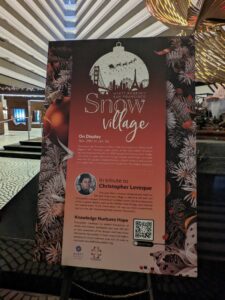 When I got a call a few weeks later that a space had opened up, I wasted no time signing up. We were instructed to meet at Mastick at 3:15 p.m. to board the bus for an evening of viewing holiday lights with legendary San Francisco tour guide Craig Smith, dining at Pier 39 restaurant Swiss Louis, and stopping for chocolate at Ghirardelli Square.
Our first stop was the Hyatt Regency, where we got off the coach and headed into the hotel's grand atrium. Under the base of Charles O. Perry's geodesic sculpture, "Sphere," we got to see the magnificent Parisian-themed "Snow Village." Unfortunately for us, the electricity for the village had gone down earlier in the day, so there were no lights or movement. But it was still quite lovely.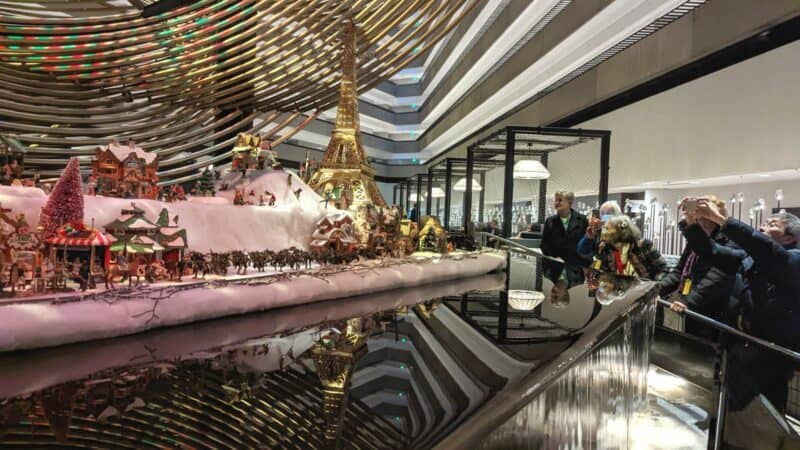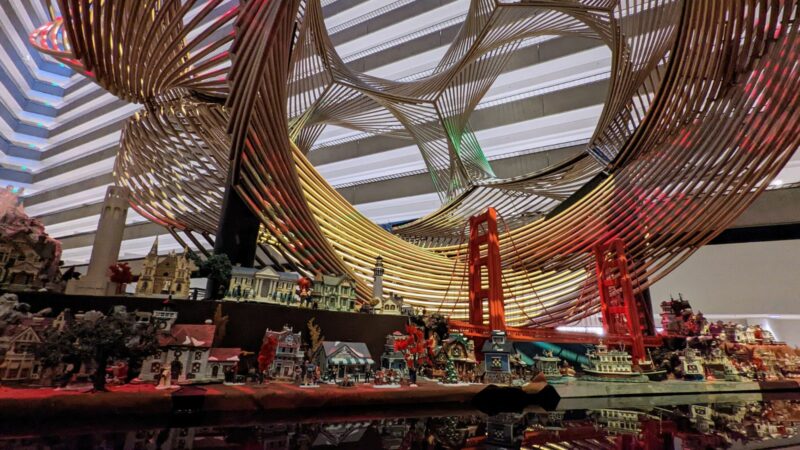 A few steps away from the display is a giant 40-foot-tall Christmas tree. Soon many of us were lining up to get our photos taken in the red velvet throne in front of it.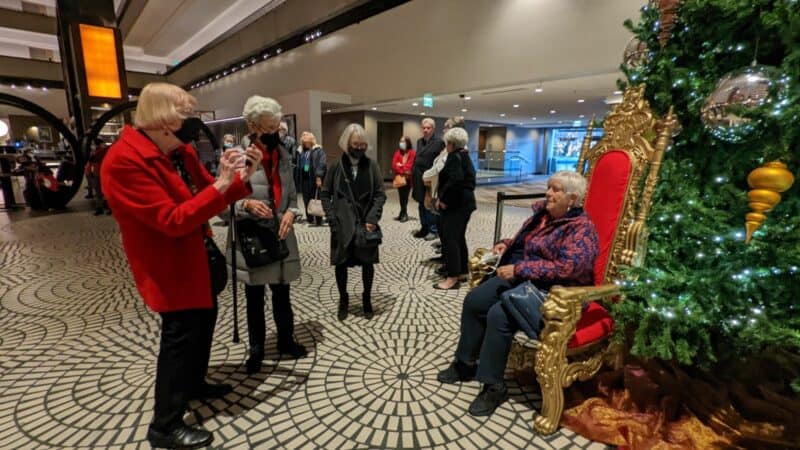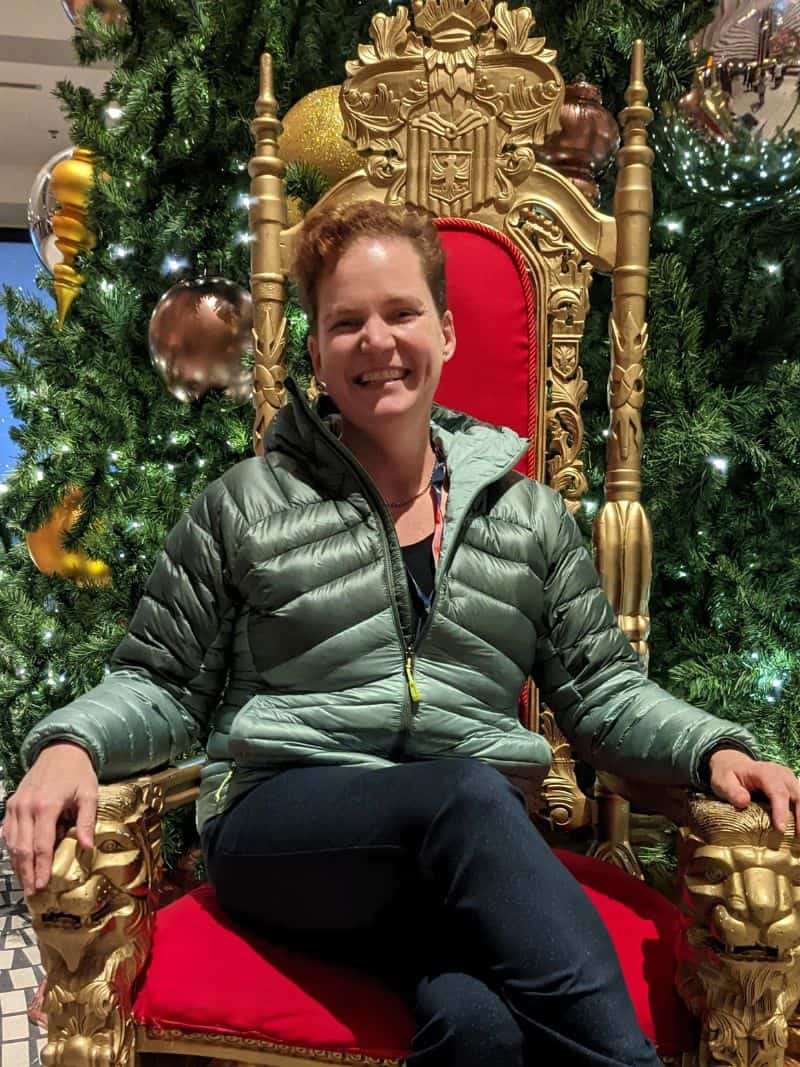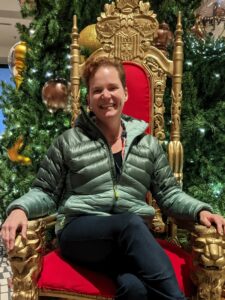 One funny sidenote: It was in this lobby where I was first confronted about my age by another Mastick Senior Center member, a woman, who said, "This is a senior trip. Why are you here? You're not a senior!" I replied, "Well, you only have to be 50 years old to get a Mastick membership, and I'm 52." There were audible gasps by other people nearby who were listening to our interaction. Then I felt eyes turn to me, apparently to get a closer look at my face. A different woman exclaimed, "I thought you were like 25!" That made me laugh. A few more times over the course of the trip I was asked about my age. I was the youngest one, but only by a year. Later on, I met another middle-aged woman who said she was 53.
We left the Hyatt and headed off to Pier 39 to see its 60-foot-tall Christmas tree's musical light show and to stop for dinner. While waiting for the show to start, several people in our group started singing Christmas carols at the base of the tree.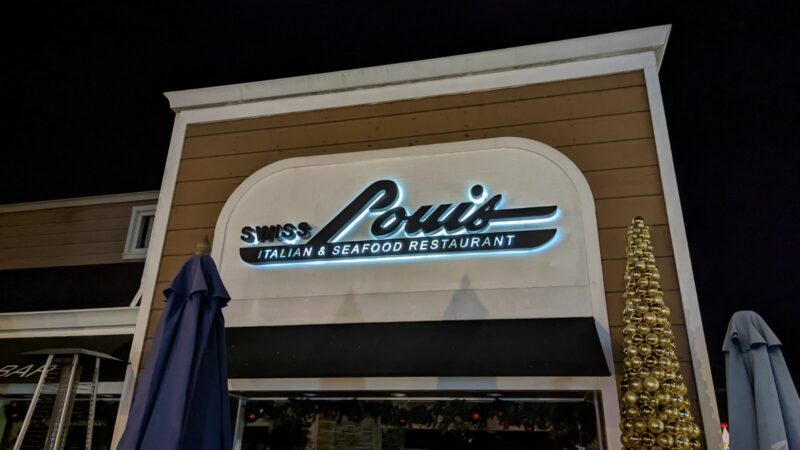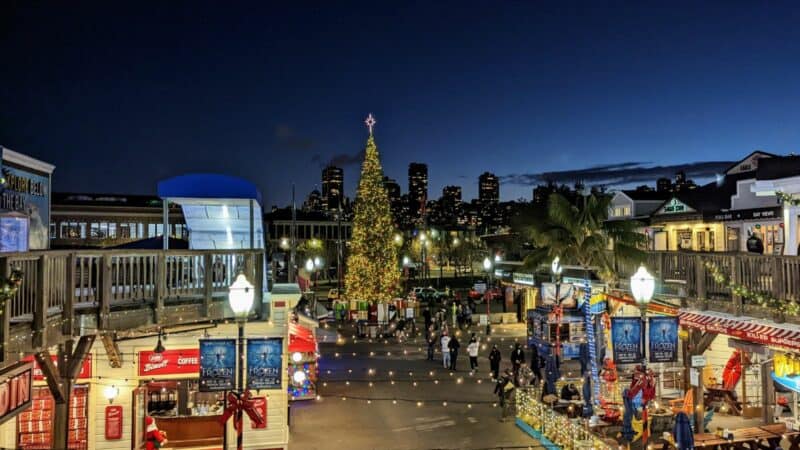 Bellies full of delicious Italian entrees and tiramisu for dessert, we boarded the coach for Ghirardelli Square. Our guide, Craig Smith, got on the microphone to crack jokes, sing old local jingles, and share points of interest. He also told us that he's been giving tours of San Francisco since he was a teenager.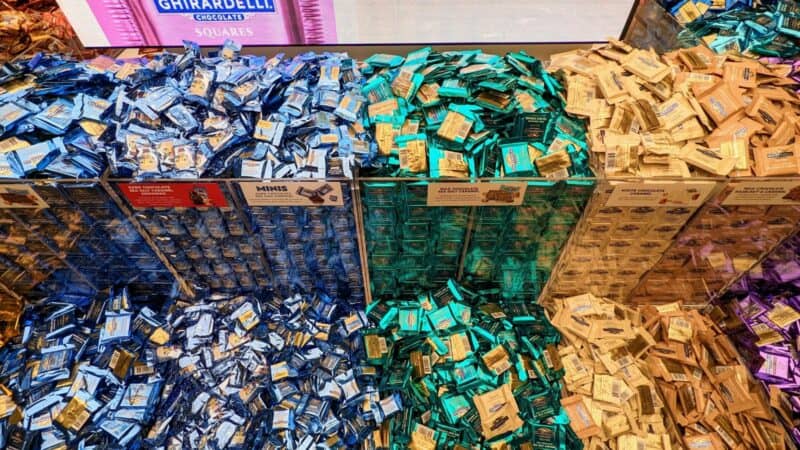 Craig handed us each a free Ghirardelli chocolate square after our 15-minute stop in the actual Square. We then made our way back to Alameda, taking the opportunity to admire many more holiday decorations as we weaved through the streets of downtown San Francisco, including Union Square.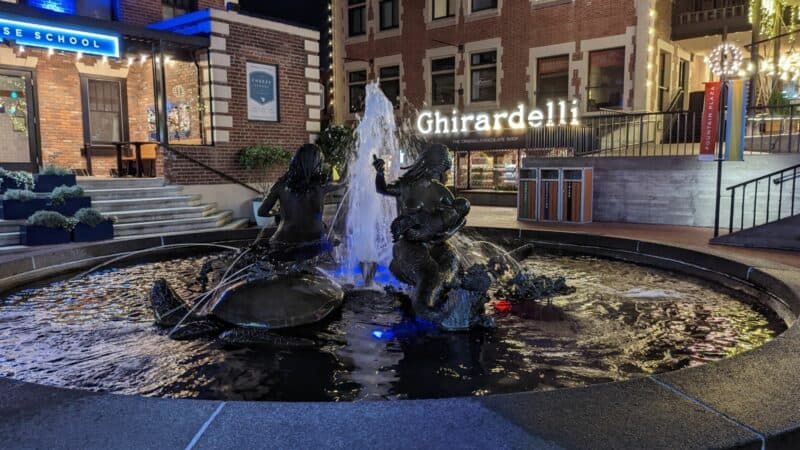 As the sun set on our tour, I couldn't help but feel grateful for the opportunity to experience the city in a new and festive way. The twinkling lights, seasonal cheer, and new friends I met made for the perfect holiday outing. I'm already looking forward to next year's tour and all the holiday magic it will bring.
Membership to Mastick Senior Center is free for adults 50 and older and is necessary to take classes or go on outings. Call 510-747-7500 to get a registration form. The center is a division of the Alameda Recreation & Park Department (ARPD) and its offerings are listed online. A little birdie told the Alameda Post that there's a "Boomer Dance Party" coming up at the Mastick Social Hall on Friday, January 20, from 1 p.m to 3:30 p.m. and it's only $2 (but you'll need your membership card in hand).
Rusty Blazenhoff is a recovering East Coaster who still finds delight in what our great island has to offer. Contact her at [email protected]. Her writing is collected at AlamedaPost.com/Rusty-Blazenhoff/.