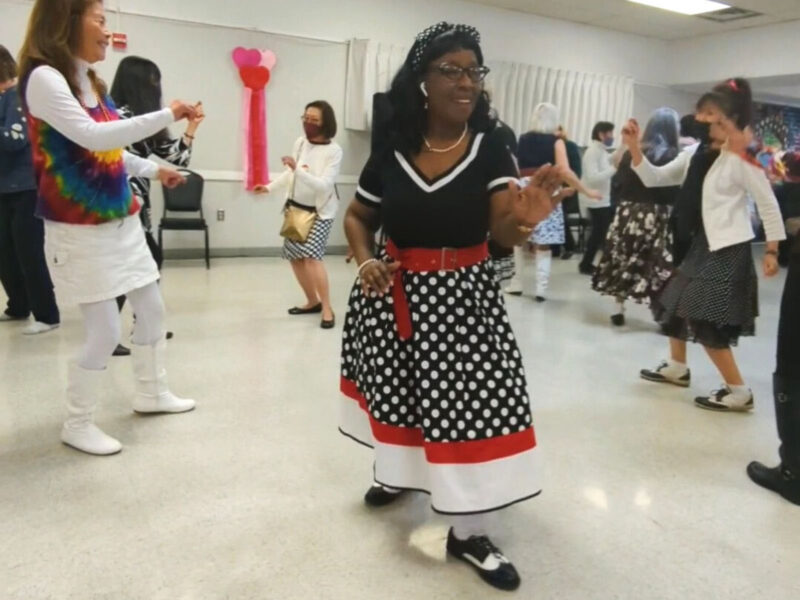 As I pay my two-dollar admission, I notice that no one is dancing at the inaugural Boomer Dance Party at Mastick Senior Center. Instead, I see two seated contestants—a man and a woman—trying to guess sound bites from TV themes and jingles of yore, like "My Favorite Martian" and "Wagon Train."
The rest of the crowd are sitting at tables around the dance floor eating snacks, like pretzels and potato chips, and listening to see if they recognize the audio clues being played.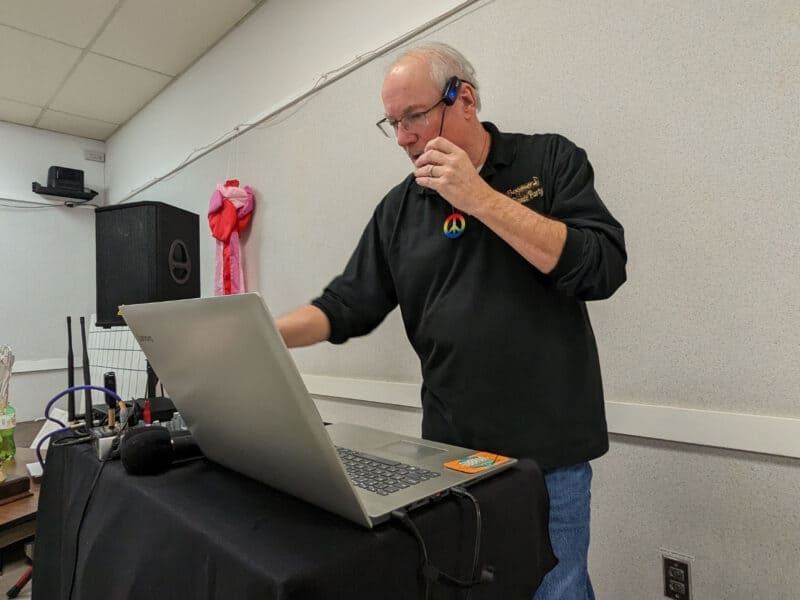 Mastick's social hall is decorated for  Valentine's Day and Boomer DJ Rob Schmidt is holding court, telling bad jokes, and moving the game along, in the back corner at his deejay station. He's wearing a headset on one ear, jeans, and a black polo shirt with "Boomer Dance Party" custom embroidered in gold thread on the chest—a gift from his wife Claudia, he later tells me.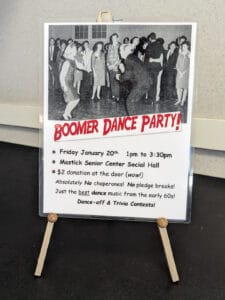 The game soon ends and the two contestants head back to their seats with oversized trophies for their participation. Now it's time to dance and few hesitate to get up for what Rob plays first, The Champs' "Tequila."
I make my way over to Rob to introduce myself, having already gone back and forth with him via email beforehand. He's in the middle of queuing up the next song but stops to say hello. Shaking his head, he says, "Someone young asked if I was going to play Earth, Wind & Fire! What I play is narrow," motioning his hands together. I ask, "Wait, how young are we talking?" His answer makes me chuckle, but he's serious, "Like 40!"
Boomer Dance Party is Rob's brainchild. He and his wife were frustrated by deejays who started their set with a few oldies and "wedding reception perennials" only to move into more contemporary music. "[It] just didn't do it for us," his website reads, "Seriously, have you ever watched baby boomers trying to dance to hip hop?" So, after getting the seed for the idea at an Elks' New Year's Eve back in 2011, he created a dance party for baby boomers by baby boomers. As a marketing and branding person, I appreciate this. This is a guy who deeply understands the power of a niche.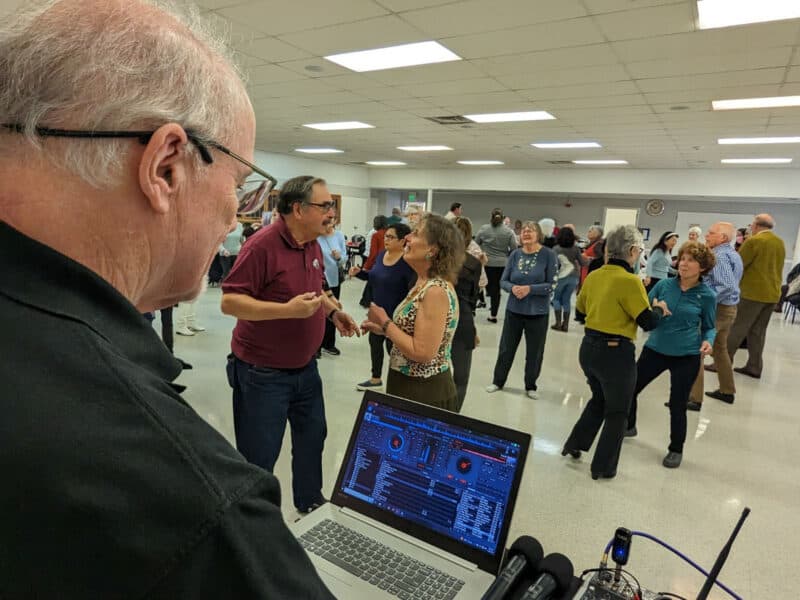 In an email, Rob told me that he is filling a genuine need, "What is called 'oldies' music today refers to music from the '80s and '90s. In 2007, KABL, the legendary radio station that broadcast '50s and '60s music went off the air. You might think that older folks would just go to Spotify or Pandora and create a profile, but they don't."
"They might find music from the '50s and '60s, but there is no place where they can go to dance to that music," he continued, "Maybe if they are lucky they will attend a grandchild's wedding and the deejay at the reception will spin a couple Sinatra or Bobby Darin tunes." And getting people on their feet is part of Rob's ultimate goal: "Bottom line is that older people need to keep moving and not disappear into the ennui that is bad enough for older folks."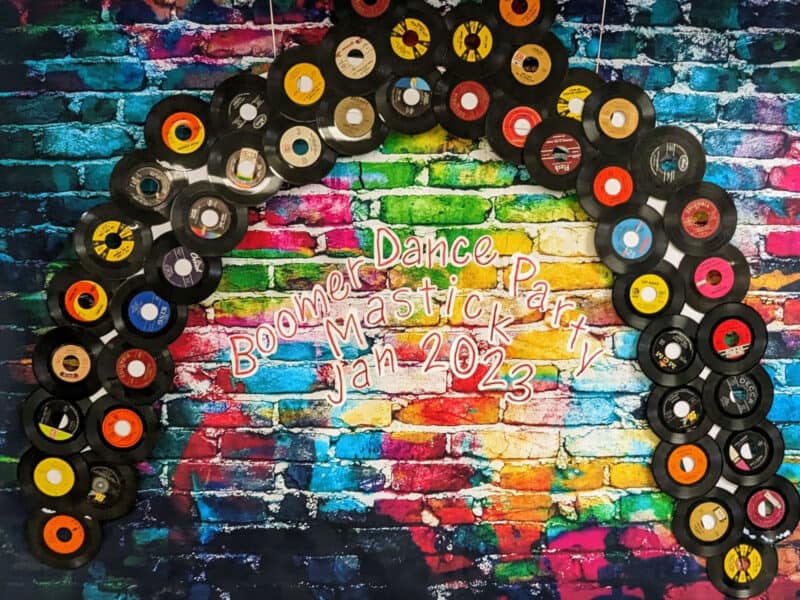 Even though I am not a baby boomer, and these songs are not from my youth, I am enjoying myself and feel welcomed. The atmosphere is wholesome, reminiscent of a high school dance from a past era but instead of teenagers, you've got folks 60 and up. Boomer Dance Party is good medicine because everyone is clearly having a good time.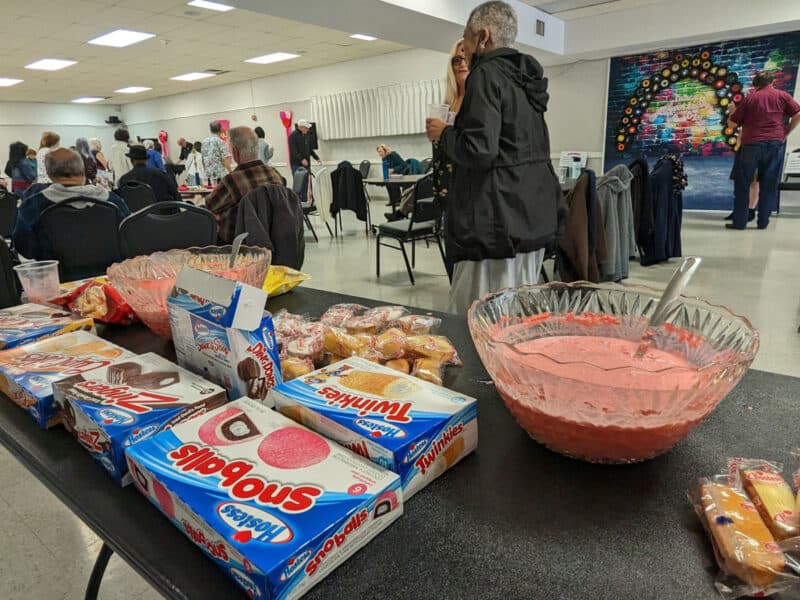 Even the snacks and refreshments are on-brand. There's a folding table off to the side that's unironically holding two crystal bowls of pink ice cream punch and a wide assortment of Hostess snack cakes. As I unwrap my Twinkie, I hear a song that's familiar. I check in with Rob to get the band's name. "Jr. Walker & the All-Stars," he replies. "Shotgun" is the song.
Rob purposely chooses tunes that can be danced to alone: "With older audiences the ratio of women to men is pretty low, so being able to focus on dances that don't require a partner solves a problem and ensures more bodies on the dance floor." This party is an exception. Of the 145 people in attendance, there is a good mix of men and women. Still, dancers are happy to do the Jerk, Monkey, Twist, Swim, Mashed Potato, and Pony.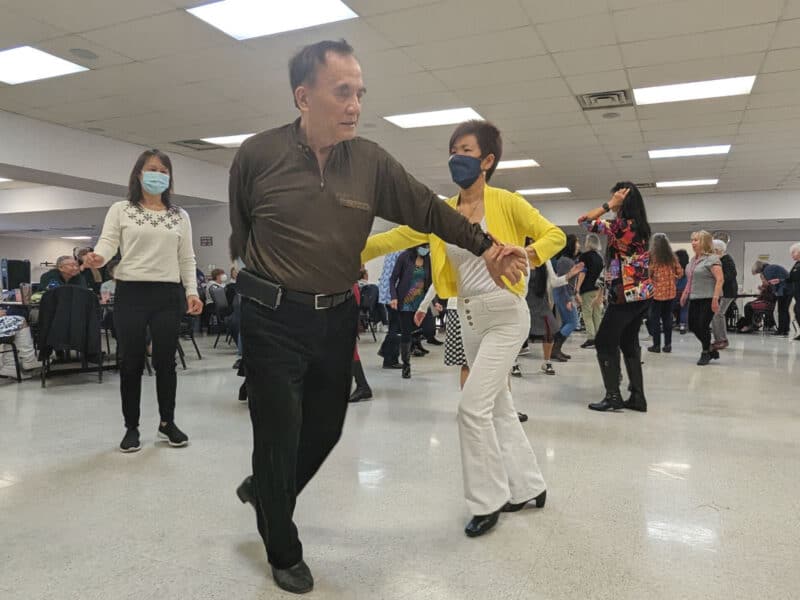 Some folks are dressed to impress in their "dance best." I spotted saddle shoes, rolled cuffs, and at least one vintage letter sweater. There were also tie dyes, peace sign necklaces, and swing dresses. There is no dress code, though. There are people, like me, wearing everyday clothes.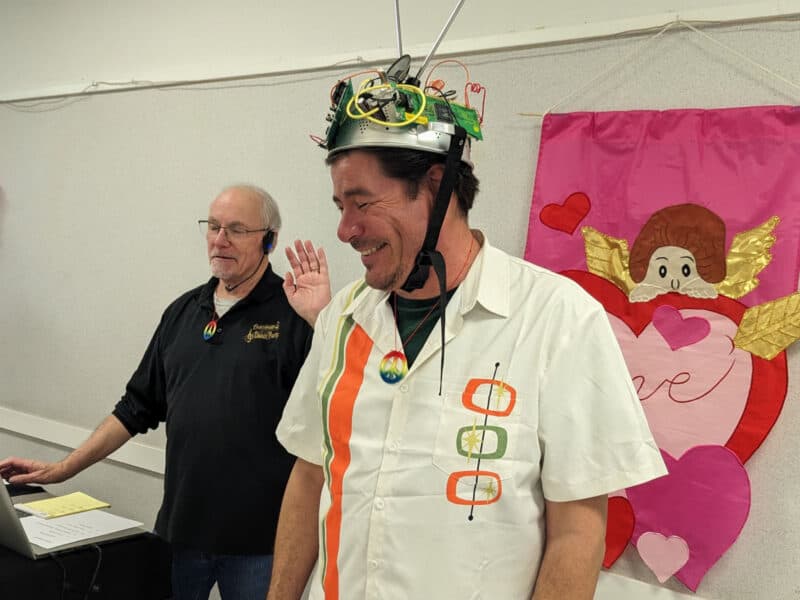 After several more songs, a "dance-off" is announced and the floor is cleared to bring up the finalists, pre-chosen by the team. Rob pulls out a colander with circuit boards and a "rabbit ears" TV antenna glued to it, and asks for someone to wear it to help judge the dance-off. Alameda Post's Marketing Director, John Sanchez, steps up to do the honor. The dancers dance and the audience votes with cheers and claps. The winners are awarded their own oversized trophy and free passes to Subpar Miniature Golf.
Then there's more music and more dancing. I head out early but the party continues.
Want to get in on the next one? Of course you do! Mark your calendar for the afternoon of Friday, April 21. Rob is hosting a Disco Inferno-themed Boomer Dance Party at Mastick. He's bringing a mirrored ball, disco-type lights, and a playlist that promises something for everyone. So, dust off your bell bottoms and widest collar polyester shirt because there will be prizes for the best disco costumes. There will also be other contests, including dance-specific challenges, so brush up on the Hustle as well. Rob jokes: "Mastick will definitely be 'Stayin' Alive.'"
Rob is also working on getting his party on Mastick's calendar on a quarterly basis. This summer, he hopes to host a beach/surf-themed party because, as he writes, there is "tons of great dance music from that period." Down the road, he wants to bring "British Invasion" and "Texas Roadhouse" themes, all leading up to the "Mother of All Senior Proms," which will include a royal court in sashes, tiaras, and crowns. Admission going forward will be increased slightly to $3 so Rob can "splurge on refreshments."
For now, take a moment to read this blog post Rob wrote. It lists what he, as a boomer deejay, offers over a standard one. One fun example: "Knows his Johnny Mercer from his Nelson Riddle, Tommy Newsom from Billy May, and thinks George Martin and Henry Mancini were gods."
While a Mastick membership is not required to participate in these events, eligible adults (50 and over) should definitely apply for one. It's free and they have terrific classes, trips, and other offerings. Call 510-747-7500 to get a registration form.
Rusty Blazenhoff is a recovering East Coaster who still finds delight in what our great island has to offer. Contact her at [email protected]. Her writing is collected at AlamedaPost.com/Rusty-Blazenhoff/.