Bear's-Eye View of Alameda for August 21, 2022.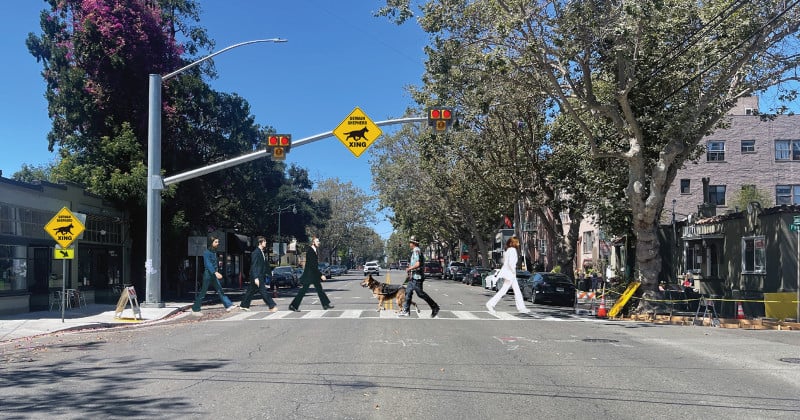 My lead story and image for this week's report is called "Envisioning Canine (and Pedestrian) Safety," because I have only seen the plans for this particular intersection as presented and approved by City Council on April 20, 2021. Thus, my informed speculation above of what the "flashing pedestrian beacons" will actually look like at the corner of Central Avenue and Page Street.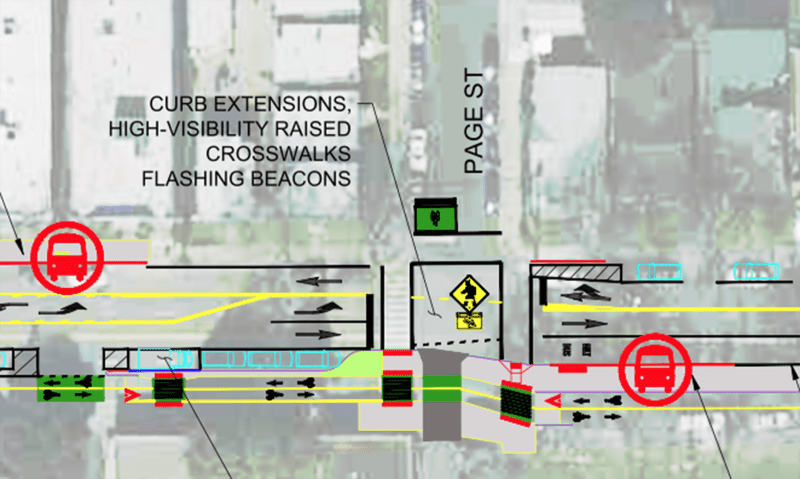 Last week's installation of the support members for these beacons raised a few eye brows on social media. Now, I don't mean to cause a poop storm by reporting on this item… But I have tried to cross at this intersection on several occasions while cars sped by. Even when I took that first step into the intersection, cars on both sides of the street did not stop.
Is it a big pole? Yes, absolutely. But is it overkill? Well, I am no structural engineer, but my guess is that if you need an arm long enough to cross three lanes of traffic and hold the weight of a bunch of flashers, you need something pretty darn big.
Personally, I would rather have the overkill pole than to have one of my furry friends or a human companion injured or killed by a distracted driver.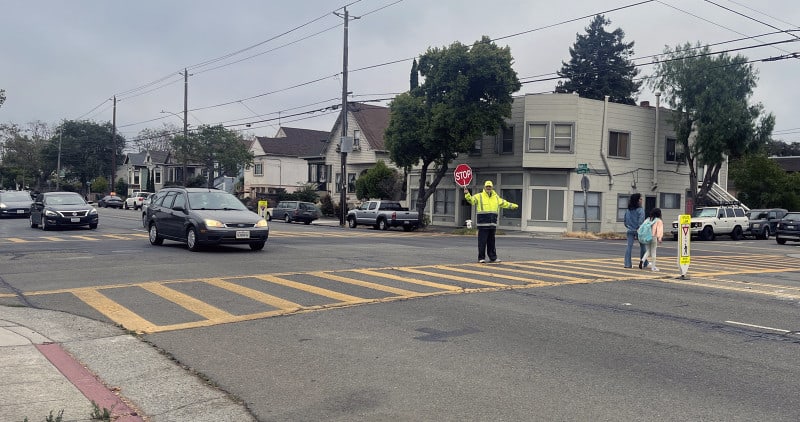 Staying on the subject of public safety, school is back in session and everyone needs to be extra careful when traveling around town especially at intersections. My human companion chatted with the crossing guard at the corner of Ninth Street and Lincoln Avenue. The guard said that even though he is dressed in florescent yellow garb and frantically waving a big red STOP sign, some drivers still don't stop.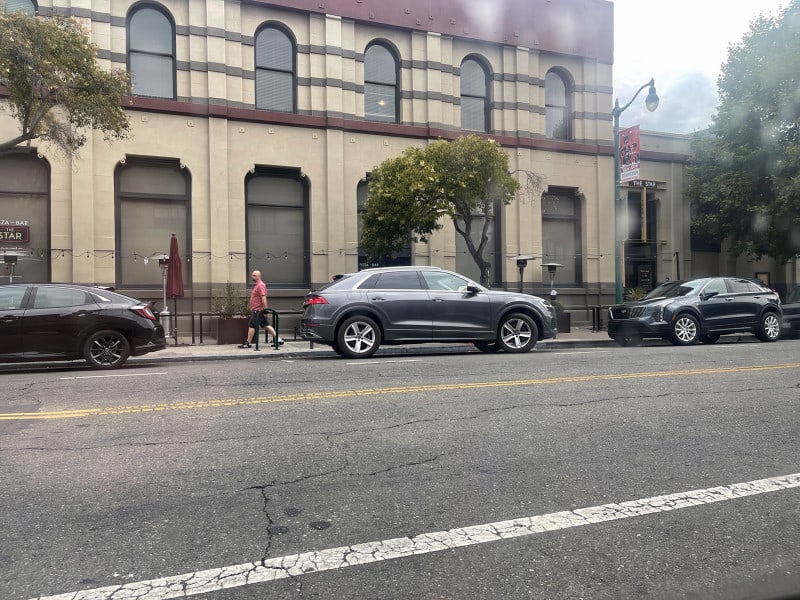 There are some crazy drivers out on the street, and a few weeks ago, I saw one that bristled my fur. This dude was driving on Central Avenue and pulled into the oncoming traffic and parallel parked on the wrong side of the street. Really!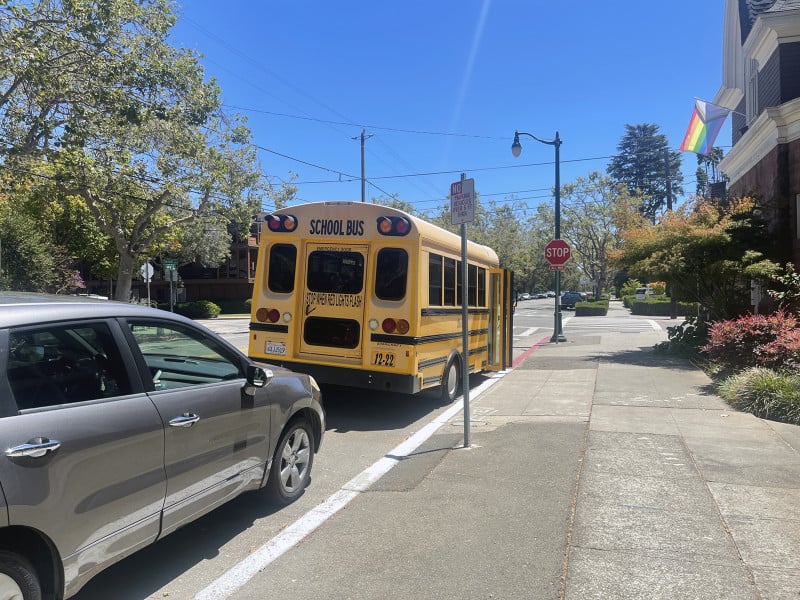 Then, there's the bus driver that may have issues with estimating heights. This one is kind of important, because the bus blocks the STOP sign.
OK enough ranting.
There is a new art installation over at the Jean Sweeney Open Space across from the Rotary Club of Alameda Pavilion. While it is cleverly disguised as a stationary rock, if one imparts some energy into the sculpture, it becomes a kinetic piece of art.
There is a lot of tree trimming going on in the City, and I was happy to learn that someone inspects the trees before the arbor folks start cutting looking for critters. Speaking of critters, I was walking around the Bay Farm Island bike bridge and witnessed the migration of pelicans gliding towards the Bay, possibly to catch an evening meal. These guys rode the wind so effortlessly for so long. Nature is truly amazing.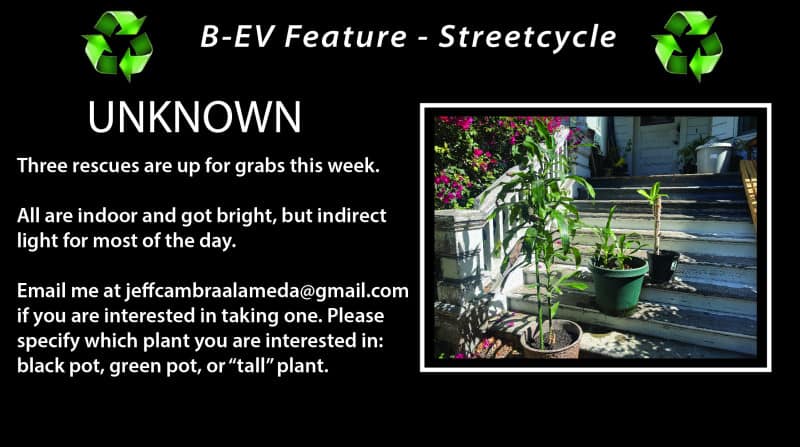 Onto my regular features, I have three plants for the offering this week. All three have been located indoors in a location that gets bright but indirect light. No direct sun. If you are interested to adopting any of these beauties, please email my human companion at [email protected]. First come, first served, and be sure to indicate the plant you are interested in.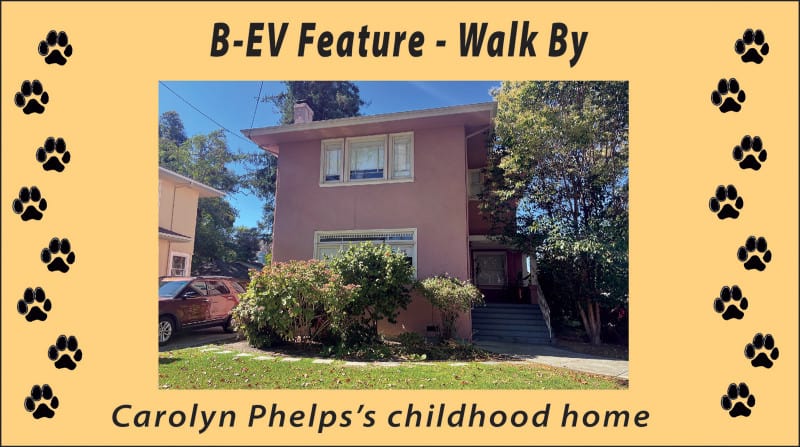 Last week, I thought I featured Carolyn Phelps' old family home, but I got the addresses confused and used the image of her current home instead. For this week, I managed to get things right. Sorry about that Carolyn.
In closing, I leave you with the words of Sgt. Phil Esterhaus from Hill Street Blues. "Let's be careful out there."
Mouf, Roving Reporter
Bear's-Eye View of Alameda
Mouf and his human companion can be reached via [email protected]. Their stories are collected at AlamedaPost.com/Jeff-Cambra/. All photos by Jeff Cambra.