Three new public art pieces: Beken and Alameda Afore at Alameda Point; Rockspinners in Jean Sweeney Open Space. And, take the public art master plan survey.
Over the past week, three greatly-anticipated public artworks were installed, transforming Alameda Point and Jean Sweeney Open Space for decades to come. All three artworks were funded by Alameda's Public Art Commission (PAC), by grants for public art dispersed in 2018. Funding comes from a percentage of development costs for major construction and renovation. Developers can choose to install art on their site, or contribute to the Public Art fund and allow the City to decide how to use the money. A recent example of public artwork installed on site by a developer is the new Tidal Arch by Adrien Segal on the Exelexis campus on Harbor Bay Parkway.
"It is so exciting to see public artworks like Beken and Alameda Afore transforming the landscape of Alameda Point," said Public Art Commission Chairperson Adam Gillitt. "Our city is fortunate to welcome such grand place-making sculptures from artists Dewitt Godfrey and Rodrigo Nava. We are especially grateful to Stephanie Hill of Alameda Point Partners who has been instrumental in ensuring these two magnificent artworks came to fruition."
Beken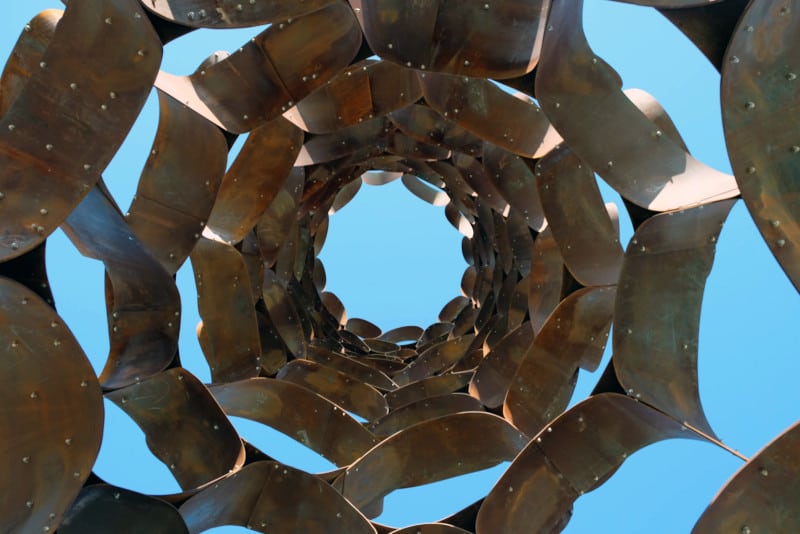 The first piece, Beken, by artist DeWitt Godfrey, is a 32-foot corten steel sculpture located at the new Alameda Point Waterfront Park. The sculpture is composed of cellular forms, which takes its cues from lighthouses, channel buoys, and frontier guard towers. The artist's goal was to create a form that is massive in scale, but visually light and airy, providing a destination from afar and a sense of place from within.
"I want to thank the team at Trammel Crow Residential and srmErnst, specifically Kristal Railsback, Joanna Julian, and Stephanie Hill, and for the City of Alameda, Amanda Gehrke and Walker Toma, for sticking with Beken through the many pandemic delays and disruptions," said Beken artist DeWitt Godfrey. "While this has taken longer than anticipated, I believe it has been worth the wait. We are thrilled with Beken and the breathtaking site it occupies; it is an honor to be part of this important step in the reimagining of the Alameda Point waterfront."
Alameda Afore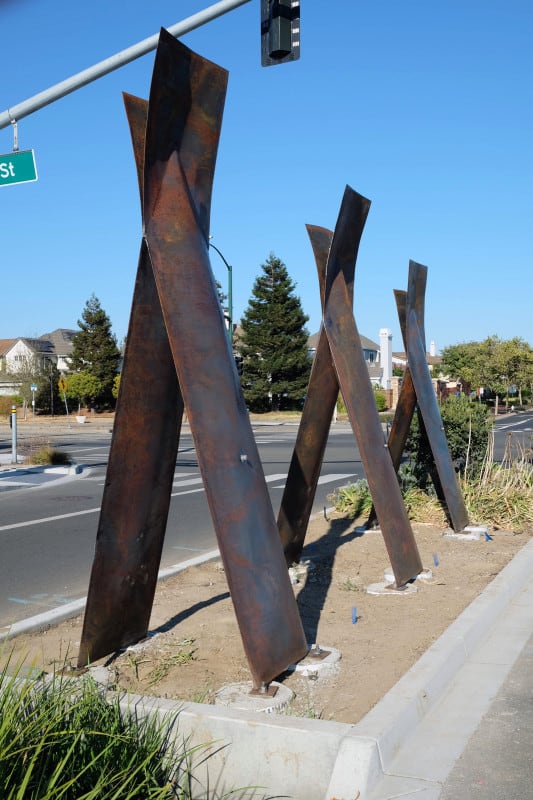 The second piece, Alameda Afore, designed and fabricated by Rodrigo Nava, anchors the intersection of West Atlantic Avenue and Main Street. Made of Cor-Ten weathering steel, the sculpture pays homage to Alameda's naval history. The triptych of median sculptures is strongly contemporary, celebrating the renewed purpose of Site A.
"This work was made possible through excellent collaborations between Trammell Crow Residential, the City of Alameda, Russ Nygaard PE, and Stacey Lindell of the Lindell Artist Agency, and my wife, Amanda Nava and family. A special thanks to Svendsen's Marine and Michael Tosse who graciously provided storage and on-site support throughout the installation," said Alameda Afore artist Rodrigo Nava. "Everyone involved worked patiently and with good humor to navigate this complex installation during difficult pandemic conditions. We are very proud of the work and being a part of the Alameda community."
"Beken and Alameda Afore fulfill Alameda Point Partner's public art obligation for the Site A development," said Community Development Director Lisa Maxwell. "Looking forward, we anticipate additional development at Alameda Point which, along with these two beautiful sculptures, will continue to add vibrancy and texture to this part of the island and the City of Alameda as a whole."
Rockspinners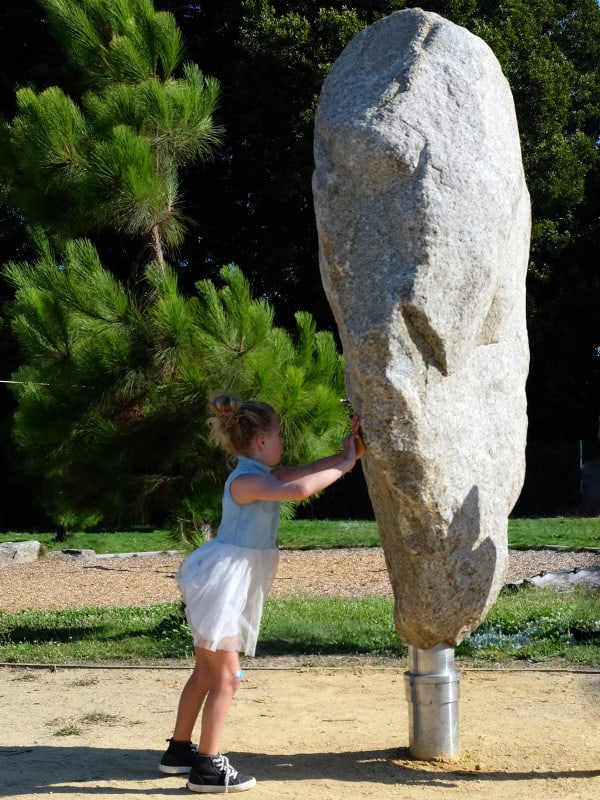 Thursday saw the completion of the installation of the third work, Rockspinners, by kinetic sculptor Zachary Coffin. The pieces are a synthesis of art and science and play. In two locations inside Jean Sweeney Open Space, the artist installed multi-ton boulders, perfectly balanced on metal armatures. They have been engineered to allow even very small children to get the rock spinning. The pieces are designed to invite interaction from adults and children of all ages, and to bring playfulness to the natural surroundings of the open space.
Public Art Survey
The City and the PAC continue to work on developing a master plan for pubic art in Alameda and invite your input and vision for the future. The survey takes around five minutes to complete and will be available at www.alamedaca.gov/artsurvey until October 3, 2022.