Exploring Alameda's Newest Park. Bear's-Eye View for August 28, 2022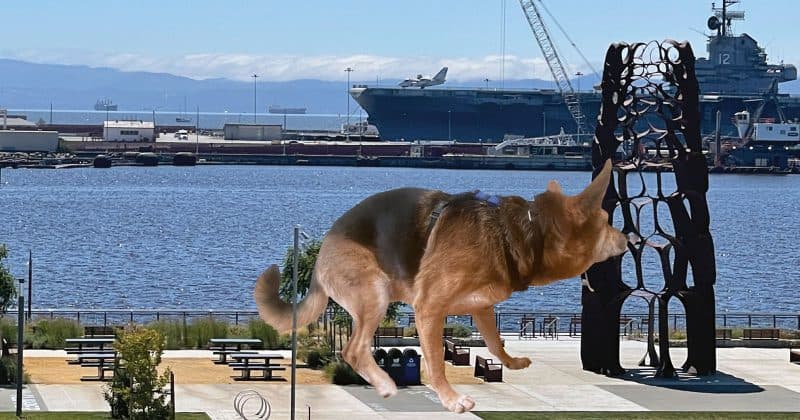 Last week, the Alameda Post featured the newest public art being installed around town. I had already covered the Spinning Rock located in the Jean Sweeney Open Space and the partial installation of Beken, the massive sculpture located in Waterfront Park.
I figured it was time to head back to the park and sniff out the fully-installed Beken sculpture and check out Alameda Afore—another sculpture, created by Rodrigo Nava, that was installed at the intersection of Main Street and West Atlantic Avenue. You can read about DeWitt Godfrey, the creator of Beken, and Rodrigo Nava in the August 19 edition of the Alameda Post.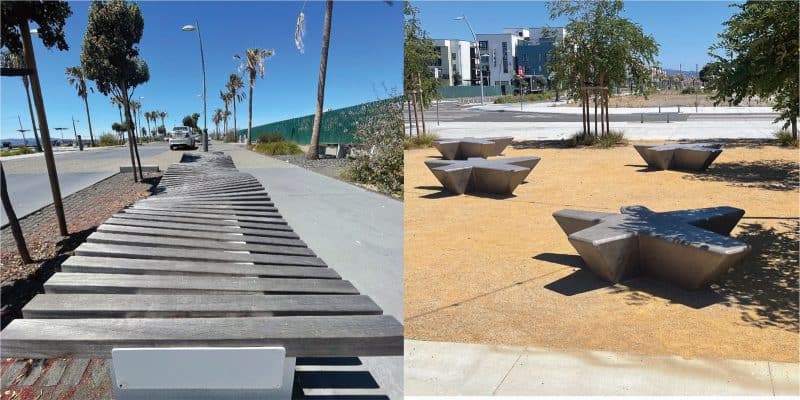 In addition to public art, Waterfront Park is a great place to hang out with your human companion. There are some crazy benches that look like a drunken sailor made them and another set that reminded Jeff of "jacks."
I asked him who the heck is Jack and why is there more than one of them. He tried to explain it was a kid's game but I didn't get it. Here's an explainer video for all of us that are not 100 years old.
All I can say is young humans were easily amused in the olden days.
Back to Waterfront Park. For the younger set, there is a really cool jet left over from the days when Alameda Point was a naval air station. Oh, and I should also mention the incredible views of San Francisco and points south.
I have had a lot of requests for the Walk By feature so I am doubling up this week. Wende Gee Brock's Alameda home and Frederica Kapp's family home and bakery were real close to each other, so I was able to get these shots on the same walk. Don't worry Pam Nolan, I will get to your place and get it into next week's report.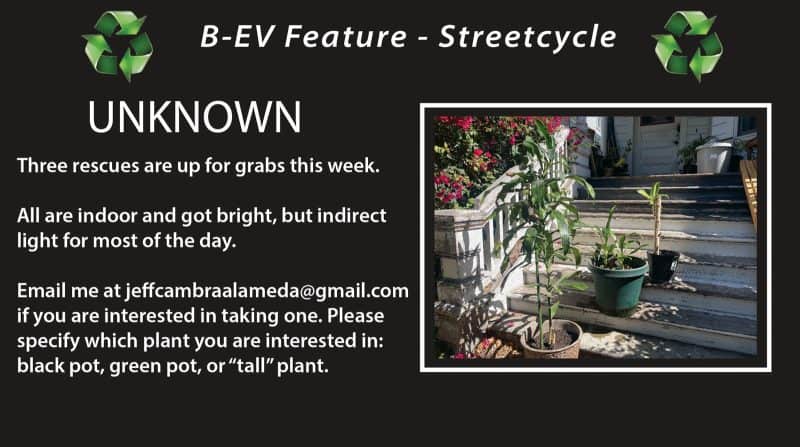 For this week's Streetcycle, I still have the two smaller plants of the three pictured. These are much smaller and will easily fit into a car.
Finally, I want to make it very clear that I do not consider squirrels—in any form—public art.
Mouf, Roving Reporter
Bear's-Eye View of Alameda
PS: Hope you enjoy my homage to the early Japanese special effects crews.
Mouf and his human companion can be reached via [email protected]. Their stories are collected at AlamedaPost.com/Jeff-Cambra/. All photos by Jeff Cambra.