I love these pictures that our Animal Care Manager Amanda McNair and I took with 90-pound Modi, a big, goofy, and very energetic FAAS pup waiting to find his forever home. For one lucky family, Modi will soon fill their home with endless "big" love!
At Friends of the Alameda Animal Shelter (FAAS), it's clearly a lot of big love that has made our work possible over the past two years. As all of us adjust to a new, post-pandemic reality, the one question most of our supporters ask me is, "What is happening to all the animals who were adopted during the last two years?"
I'm happy to report that the vast majority of animals adopted from FAAS have not ended up back in the shelter as their humans return to the office.
This is a testament to our hardworking staff and volunteers who care deeply about each animal. From intake to medical care to training to adoption, our team works tirelessly to find the best outcome for each animal. The work isn't easy, but our staff and volunteers never cease to amaze me with their unending compassion and dedication.
Pandemic puppies
FAAS and our sister shelters are, however, starting to see an increase in strays and owner surrenders. Many of these pets are what our staff affectionately call "pandemic puppies."
These are dogs who were typically bought online as puppies and never received proper training or socialization. One year and 60 pounds later, they are ending up in shelters like ours. They require additional training and, because of their large size, are harder to place with foster volunteers or in forever homes.
To help these gentle giants find the forever homes they deserve, during March we're reducing their adoption fee to $40.
This fee includes a spay or neuter, all vaccines, licensing, and access to free, ongoing training through our Sasha Training program.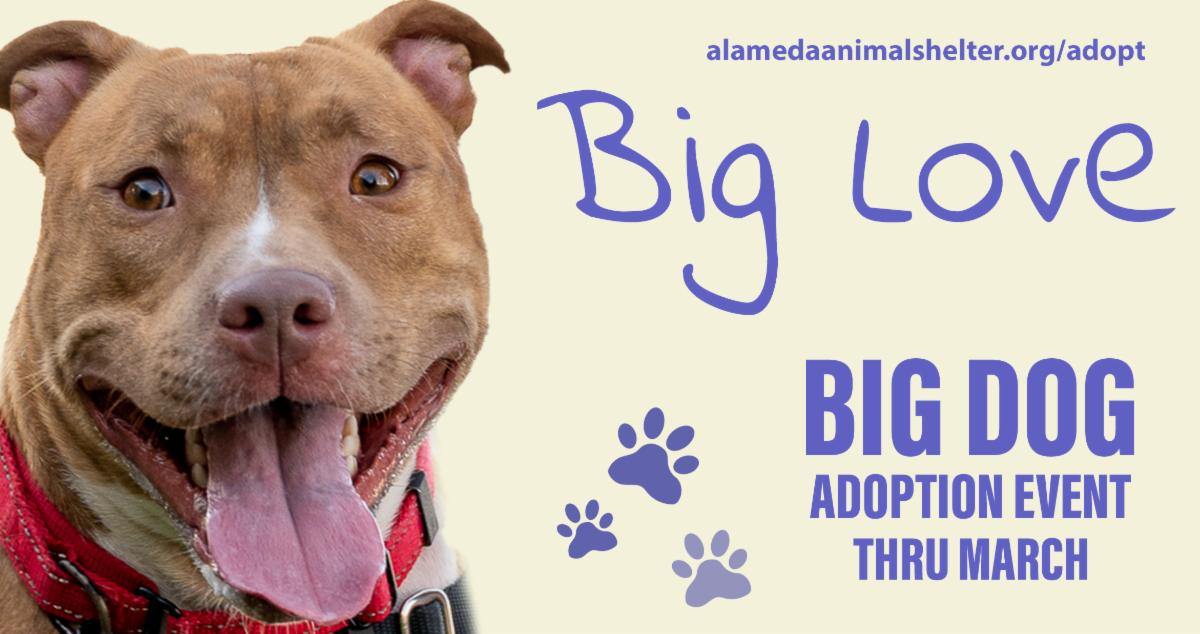 To meet our big dogs (as well as the rest of our available pets) please visit our Adoptions Page.
No matter how these large-breed dogs found their way to FAAS, they all deserve a second chance.
They deserve to "go big" AND go home!
John Lipp is CEO of Friends of the Alameda Animal Shelter. Contact him via AlamedaAnimalShelter.org.
---
Editorials and Letters to the Editor
All opinions expressed on this page are the author's alone and do not reflect those of the Alameda Post, nor does our organization endorse any views the author may present. Our objective as an independent news source is to fully reflect our community's varied opinions without giving preference to a particular viewpoint.
If you disagree with an opinion that we have published, please submit a rebuttal or differing opinion in a letter to the Editor for publication. Review our policies page for more information.