The organization has made it easier than ever to walk dogs
It's getting late. The volunteer dog walkers are gone for the day. The oddly pleasant smell of Buckeye disinfectant wafts from the floors of the Friends of the Alameda Animal Shelter (FAAS) kennel, freshly scrubbed in late afternoon.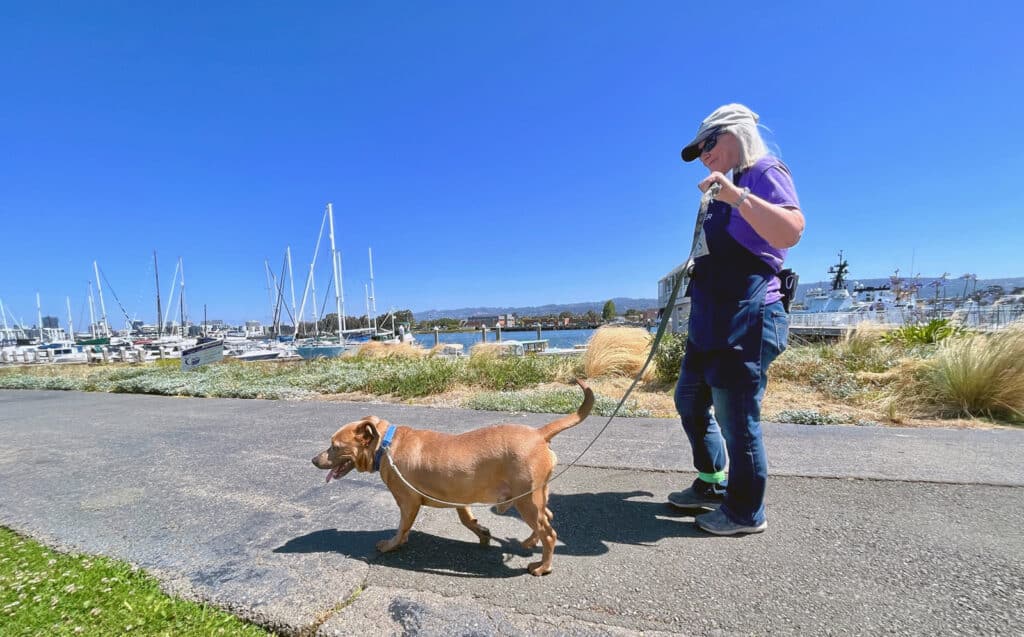 On the dry-erase board near the entrance to the kennel, four dogs have red circles by their names. These are the dogs who haven't gotten any walks today, and may not get the exercise they crave or the break from kennel life they need.
FAAS's kennels are full—brimming with dogs who need loving homes after being surrendered or getting lost and never found. It's this way at shelters all over California these days. Really, all over the nation. But that's a story for another time.
Here, there are just too many dogs for staff and the current canine volunteers to walk.
Yet somehow, the remaining dogs get leashed and harnessed and walked. Maybe their walks are slightly shorter than usual, or staff tasks have been reprioritized, or someone opted to stay late. Kennel care workers don't like it when a dog has to stay in a kennel all day. So they make it work whenever possible, and sometimes when it seems impossible.
The dogs return, one by one. All the red circles now have a "W" (for walk) inside them. The mission of getting every walkable dog out for some exercise and quality time with a human is accomplished.
At least for today.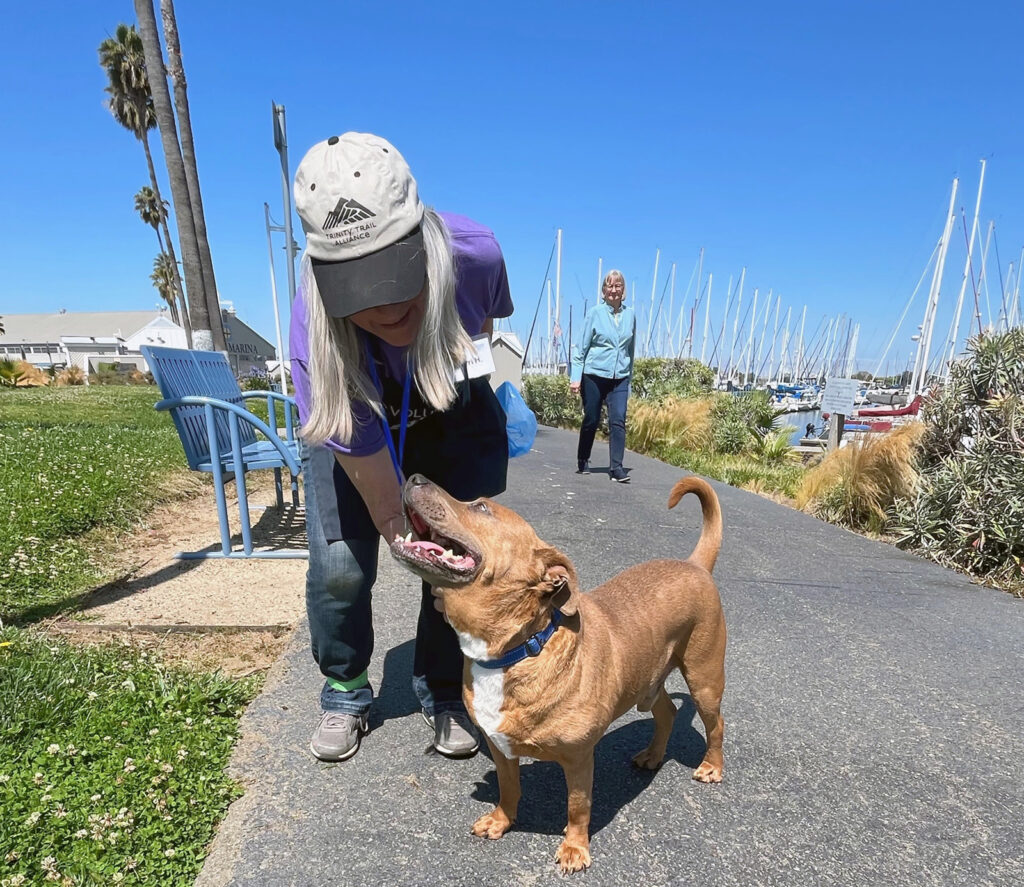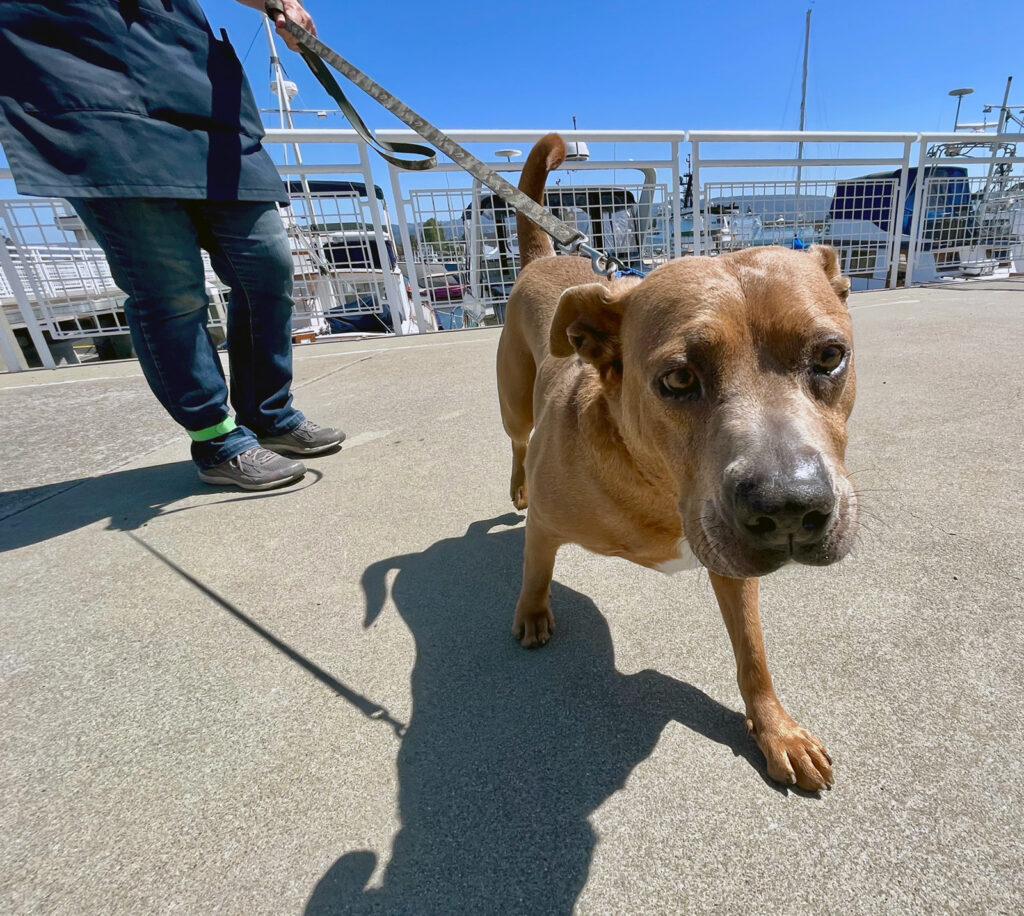 'Want to Go for a Walk?'
Ask just about any pet dog this question, and after a couple of beats of staring at you to make sure you really said those words, the tail sets to wagging, and paws start dancing on the floor. If a dog could talk, the answer would be something like, Wow a WALK?! Yes, yes, oh YES!!! 
Walks for pet dogs are an essential part of a healthy, happy life. Their senses come to life as they catch up on the latest pee-mail, feel the breeze in their face, and maybe score a roll in soft grass. And they get to exercise, which decreases stress and is essential for body and soul.
For a shelter dog, going for walks has all these benefits, and many more:
Like their housed counterparts, shelter dogs love going out. When some see a potential walker approaching, it's as if they live for these moments. They may jump a few feet in the air, or wag so fast their tails are a blur, or bark nonstop. Or all three at the same time, in some cases.
Walking gives them a much-needed break from the noisy, stressful life in a kennel.
Shelter dogs who go for walks regularly tend to have fewer stress-induced illness, and better mental health.
They remember—or sometimes learn for the first time—that there's a world outside the kennel.
Dogs don't get so used to the kennel that life outside is scary and stressful.
Devoted as shelter staffers are, they can't socialize and interact with dogs as much as they'd like. On walks, dogs get to practice these important skills with a person who is paying complete attention to them.
Dogs often get basic training on walks.
All of these serve not only to make dogs happier, but more adoptable. This is really the biggest benefit of all, since finding a loving home is the best thing that could happen to a shelter dog, and is the goal of any shelter for every dog.
Our Postcaster grabs the leash!
Alameda PostCast host Scott Piehler decided to check out the new dog walking initiative at FAAS on Thursday.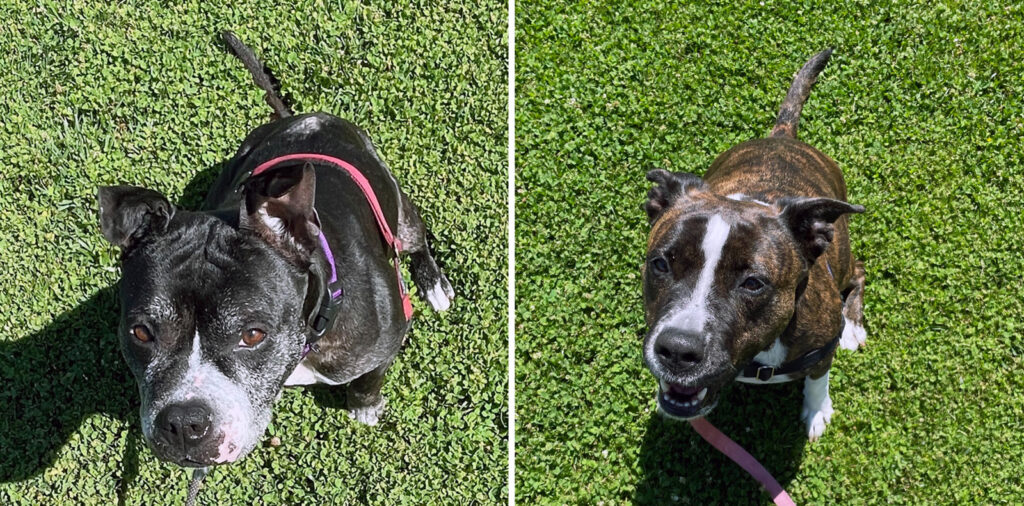 "Agatha and Bailey really made my day," Scott said after returning from back-to-back walks.  "The process is super simple. Just show up and let them know you're available. They asked me if I had experience with larger dogs, and when I told them yes, they sent out Agatha. We explored the area around the Marina, and had a great 'sniffari.' After about 30 minutes, we returned to FAAS, and I met Bailey. She was raring to go, but as a slightly older dog, we kept the walk a bit shorter, just a tick over 15 minutes. I could really tell that both dogs were happy to be exploring on a beautiful sunny Alameda day."
Scott definitely recommends the experience.
"It's such a win-win," he said. "You get to help out the great folks at FAAS, get some exercise, and you get to meet some pretty cool dogs. What more can you ask for? I'll definitely be back."
FAAS makes walking dogs a walk in the park
Like many other shelters, FAAS has a robust volunteer dog walking program. It usually requires completing a 1.5-hour canine class and a few sessions of shadowing before participants can go into kennels and walk dogs on their own. (The FAAS volunteer application is online.)
But more recently, in an effort to get every dog walked at least once a day, the organization made a pioneering decision: The shelter, at 1590 Fortmann Way, has started opening its doors every day of the week from 11 a.m. to 3 p.m. to anyone 18 and older who wants to walk a dog.
"Just come to FAAS during those times and ask to walk a dog," says Steve Ferguson, FAAS operations director. "It's that simple."
No formal training is needed. Staff will try to match volunteers with the right dog, and will provide some info on how to best walk a particular dog, as well as where to walk near the shelter. (Front desk attendants will hang onto your car keys or ID while you're gone.)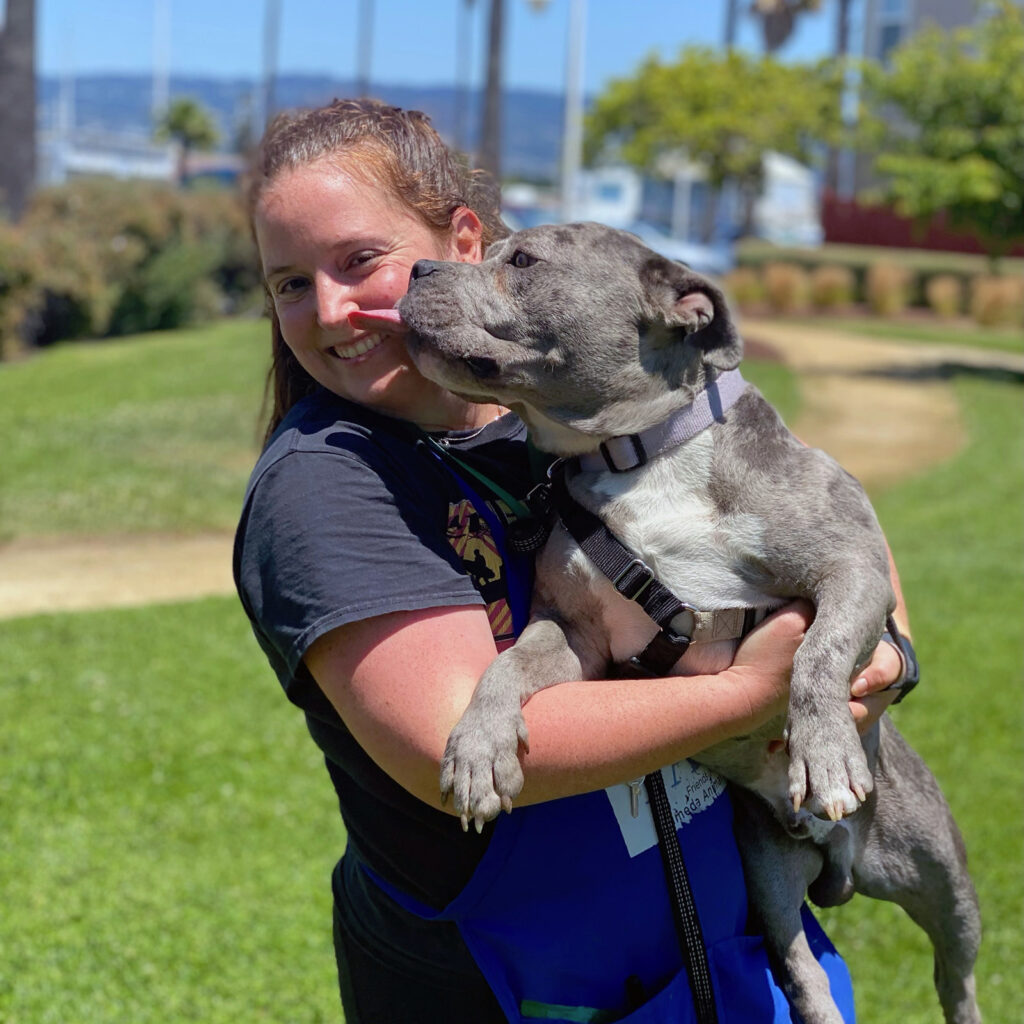 Walkers report that they often get as much happiness as dogs do. "The dogs are totally different dogs from when they're in the kennel to when we take them out," says Rachel Allen, a support team lead at a tech company who also is a longtime FAAS volunteer. "It makes me so happy to see them relax and become themselves. They get to put their feet on grass and sniff the ground and not have to deal with constant barking."
FAAS's location—just a minute or so walk to the Oakland Estuary and Grand Marina, and almost directly across the estuary from Coast Guard Island and its impressive cutters—makes for especially scenic walks.
Volunteer Engagement Manager Monica Fischer encourages any adult who loves dogs and wants to help out—and get exercise to boot—to consider either of FAAS's dog-walking options.
"If you don't have a dog, or are in between dogs, or have a dog but want to do something extra, please consider walking a shelter dog," she says. "It's the favorite part of a dog's day. Come be a dog's highlight."
The fine print: Walks are available, weather permitting. During busy times or when FAAS is short-staffed, there may be a 10- to 15-minute wait before staff can go to the kennels to get a dog. Youth must be 16 or older to accompany an adult on a walk.
Maria Goodavage is Communications Manager for Friends of the Alameda Animal Shelter (FAAS).